I'm not a fan of sewing summarize : I always prefer to go ahead and concentrate on the future. But I noticed that often, in the comments, questions come back : "but do you wear all your dresses?" (…) "you must not have the place to store them all!" And other questions of this type.
Most of the time, I write my articles as soon as I finish my sewing. So it's too early to really judge the dress in daily life. So I sincerely wanted to take stock of my seams of 2016. To prove to you that yes, I have the place and the opportunity to enjoy the 100% successful sewings, because in the end they aren't numerous ! And yes, the creative process is far from easy : and even after years of sewing, I crashed very regularly.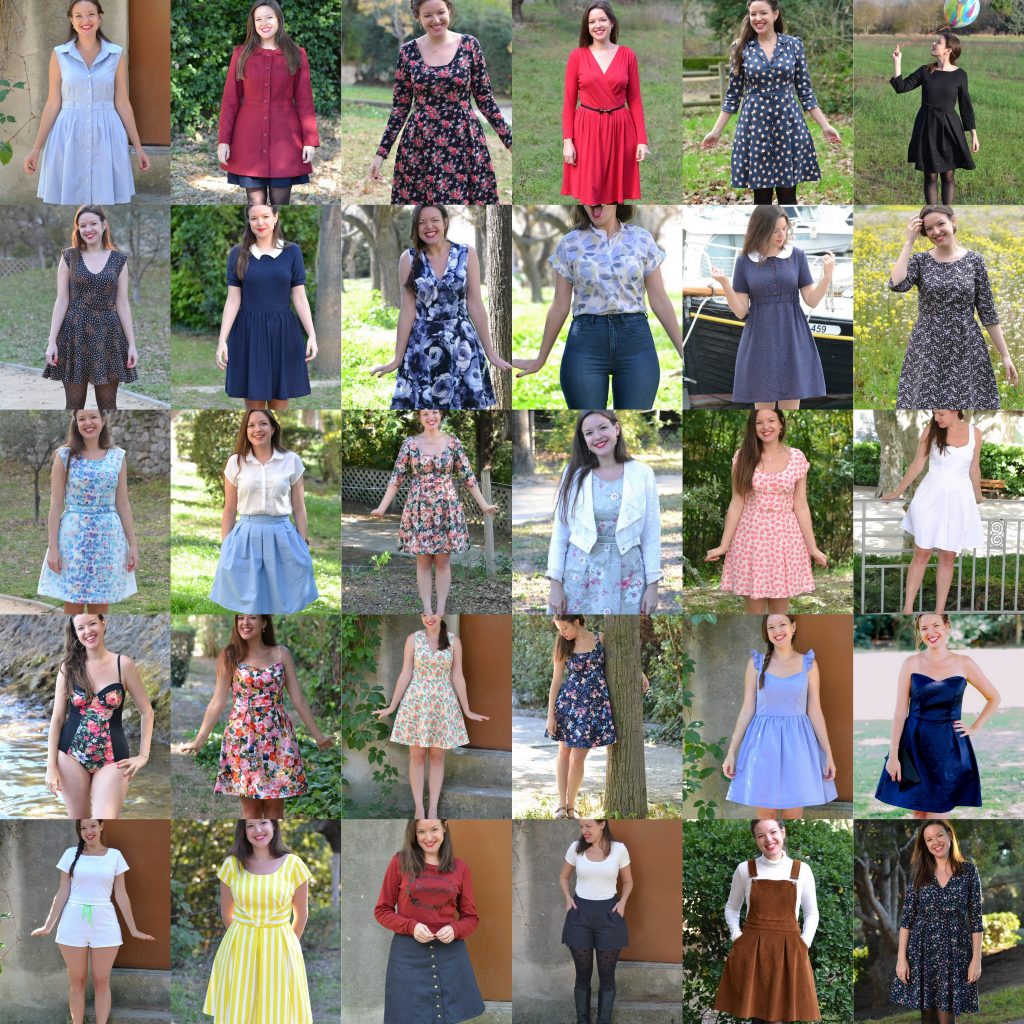 (At startup I wanted to list all 2016, but I didn't find it pertinent to take stock of the last December ones, too close temporally speaking, so I started the balance sheet to December 2015)
~~~DECEMBER 2015~~~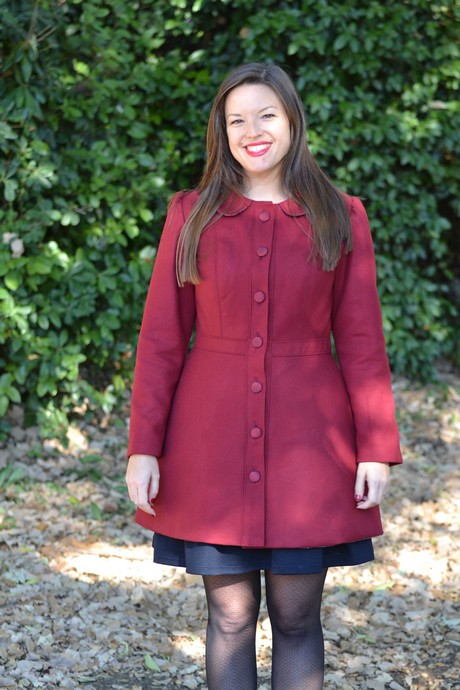 Pavot : 100% WIN ! It's very simple: I wear it almost every day! I alternate with a RTW warmer coat, which I have for years. That's why I'm drafting a coat: Pavot is not warm enough in the winter, but in a half season jacket it is perfect.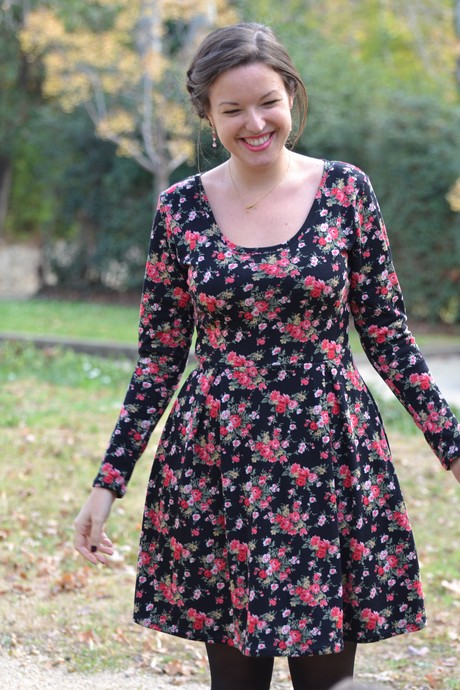 La robe Stéphanie : 100% WIN !!! One of the dresses I wear the most in winter. Besides, if I listened to myself, I would wear it every day. 😀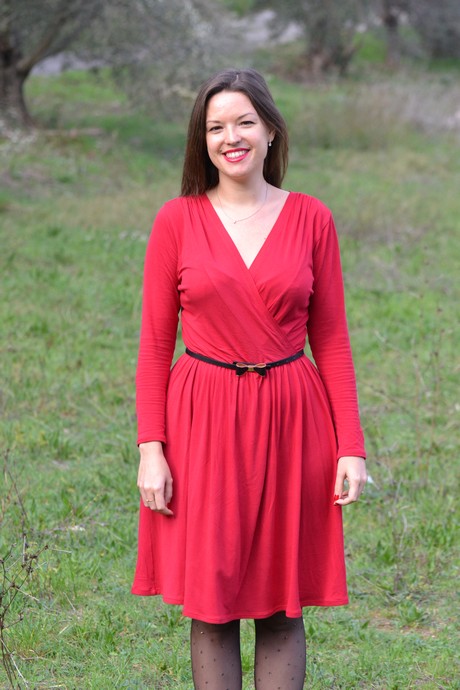 Christmas Wren : Half-fail. Between the red knit fabric which continues to rub off even after so many hand washes (and which has unfortunately ruined the white collar of my first Moneta after an unexpected passage in a machine), the waist which is too low and this soft fabric that sticks to my curves, I wear it only rarely. Clearly when I have nothing left to wear. 😀
~~~ JANUARY~~~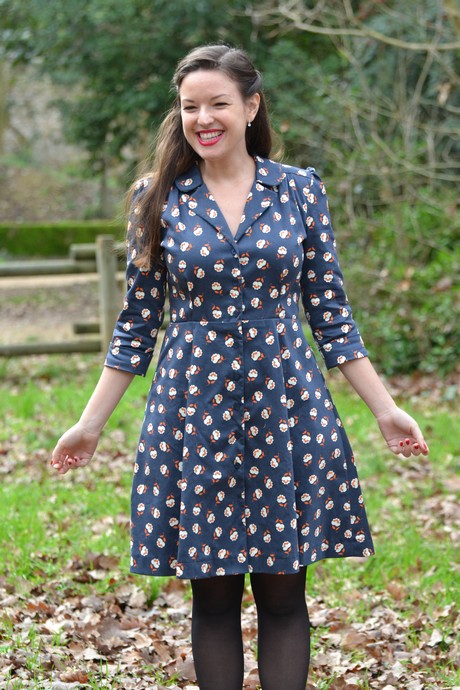 Vintage shirt dress, le retour  : 100% WIN ! I wear it very regularly, and each time I think the same thing: "SEW YOU A NEW ONE FOR GOD'S SAKE !" 😀
~~~FEBRUARY~~~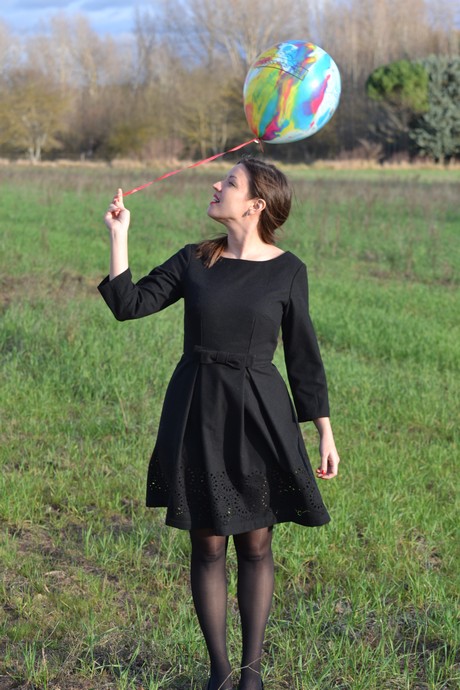 Emery d'hiver : FAIL ! Two reasons for this: one, the wool flannel is very warm. Much too warm for our Mediterranean latitudes! 😀 And then, the flannel is quite thick, and doesn't contain the slightest elasticity: result, it is not comfortable at armholes, while I wear very regularly my 2 other Emery. I keep it in case one day I have to drink a warm wine on the edge of a ski slope, way Hollywood star. (Which will never happen.: D)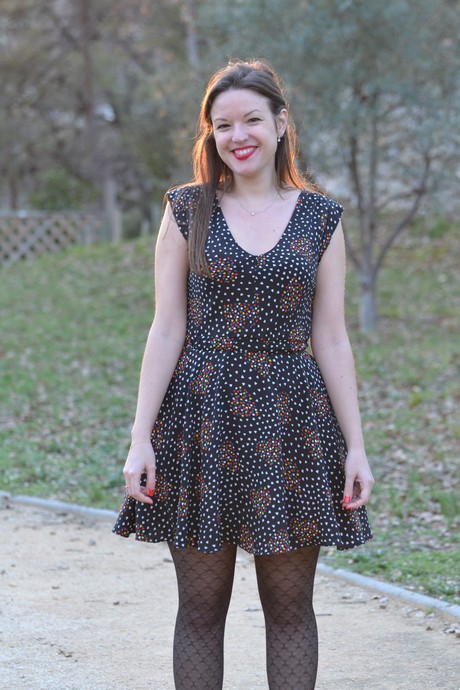 Réglisse de Saint-Valentin : FAIL ! And for a very simple reason: it's a summer dress, made in a dark color. While I never wear dark in summer. Result, not worn only once this summer. :/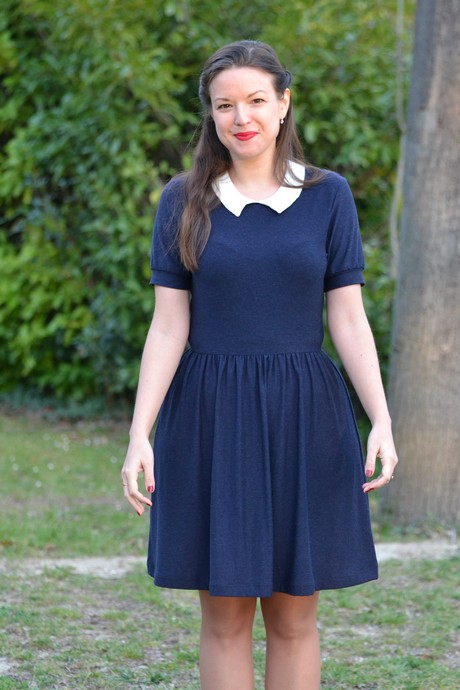 Ondeta : Half-fail. The concern is that the knit fabric is very elastic, the waist is too low. I would have to undo it, reduce the bodice a little, gather my skirts and reassemble the whole. And seamstress ladies, between sewing and repairing, what do we prefer to do ??? 😀 😀 😀
~~~MARCH ~~~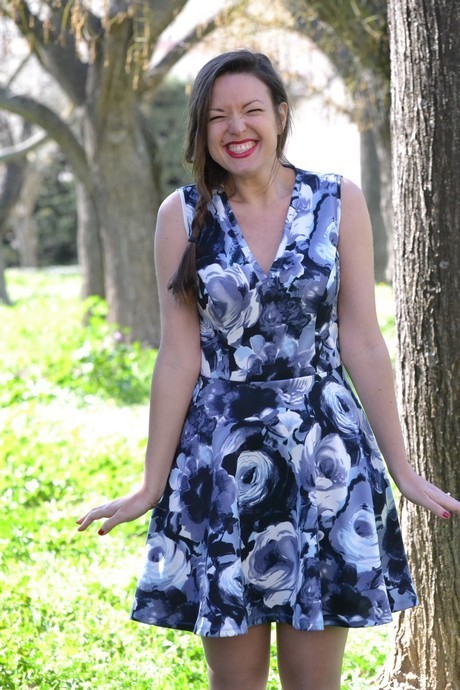 Zéphyr : Half-Fail, and for a silly reason! In fact, I regularly wore it in the spring, and then this summer, I still thought that this dress kept me very warm. And it was by passing the fabric on my lips that I understood everything: this fabric contained wool !!! I swear ! I made a WOOL summer dress !!!! : D In my defense, Deer and Doe tests being done out of season, I had opted for the fabrics presented by one of my dealers, and on the label, the composition was quite mysterious. Result, very little worn this summer, and for good reason!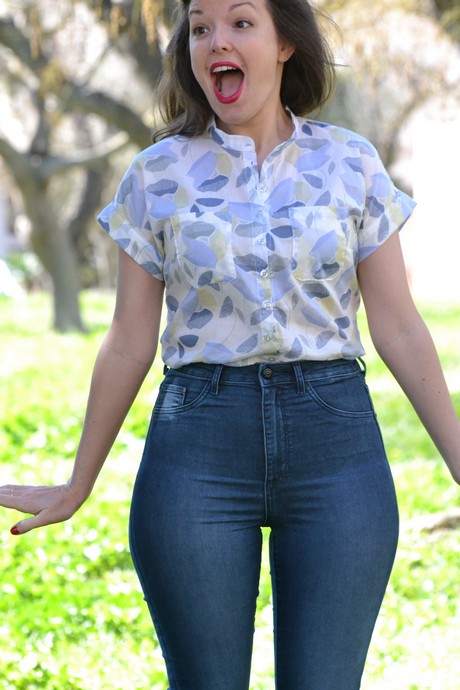 Mélilot : Fail. Definitely, I don't wear separate (apart from Nettie). And I don't assume this combo on a daily basis.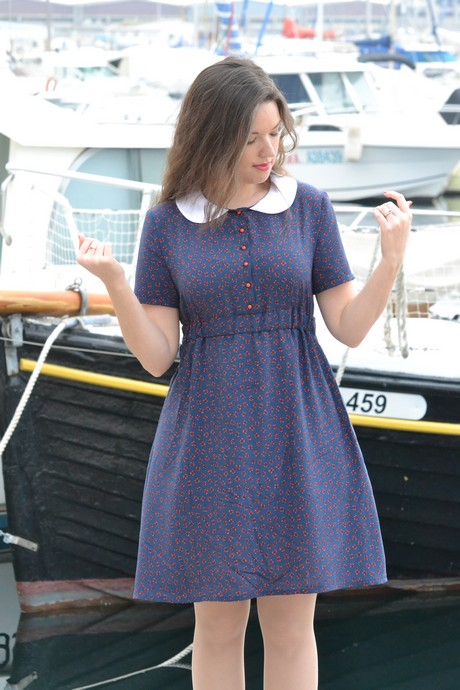 Coco : FAIL ! And probably my biggest regret of 2016, because I really love this dress. But definitely, too tight at the armholes. :/ It is this failure with Burda that signed the end of my subscription to the magazine, after 6 years of loyalty. :/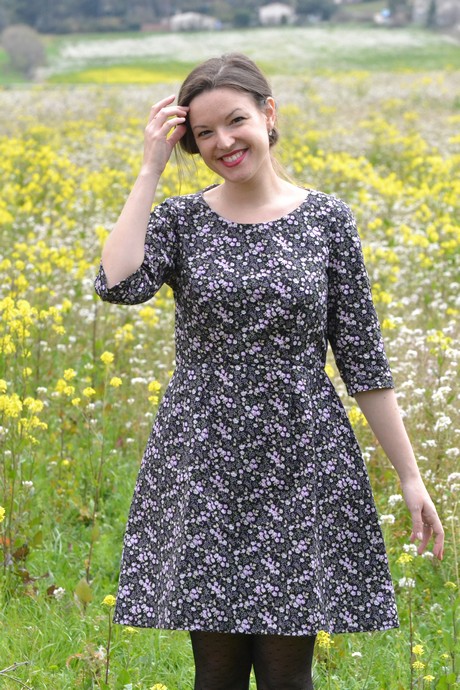 Histoire de toiles : Half-fail. I really thought I would not wear it, and in fact, yes! But occasionally, because it is not my favorite dress in terms of fit and style. Its comfort is still great for my full time-mum life. 😉
Easter Belladone : Half-fail. And for the same reason as the first one besides: over dressed for my daily life! In addition, the cotton pique associated with the piping on the waist makes it less comfortable than my other dresses. As a result, I did not wear it, trying to think of it as you advised me on beautiful occasions, such as a school show or a restaurant. But its outings remained casual.
~~~APRIL~~~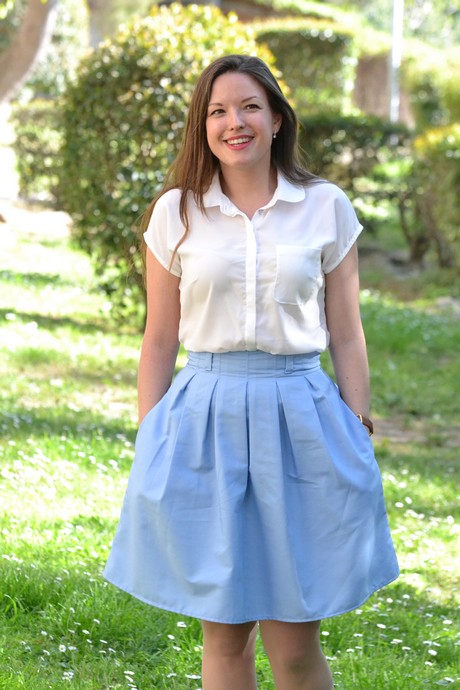 Chardon & Mélilot : let's take the 2 pieces separately.
* Chardon : FAIL ! Definitively, too tigh at the waist.
* Mélilot : Half-fail. I wore it a few times with my Belladone skirt: the combo is really pretty. But for now, in my full time mom life, I have little opportunity to wear a white shirt. (But I keep it preciously because I know it's a timeless piece that I will probably wear in the future).
~~~MAY ~~~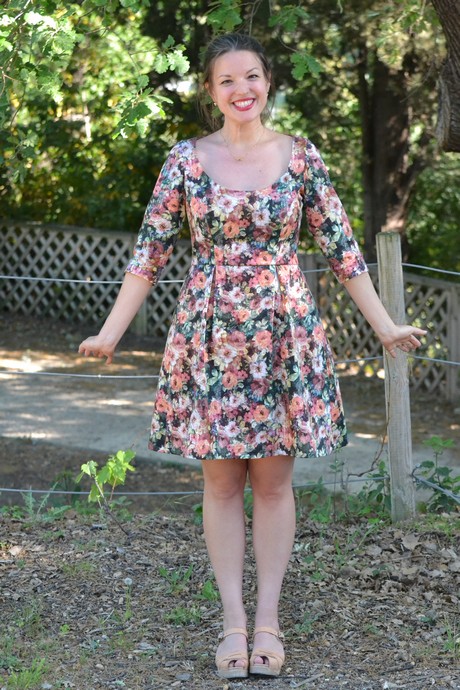 The Cha Dress : Half-fail, and believe me, it splits my heart to confess, because I really like this dress. But definitely, the décolleté is too depth at the shoulders. :/ I wear it all the same because I like it very much, but it's not the most practical dress of my wardrobe. (Nb: I wrote this article on several days, and in the meantime, I had the idea to add lace to reduce the depth of the décolleté. I really must try, because I don't want it to stay in the closet.)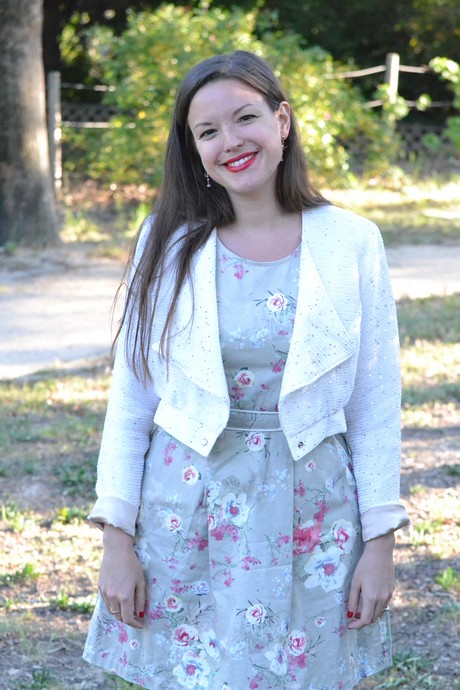 Lupin : Half-fail. Same problematic as the White Mélilot: I have very little worn as it is totally over-dressed for my daily life. But note that my life is not fixed, and that I probably will wear it more in the years to come. Be that as it may, I cherish it carefully, for I love it very much.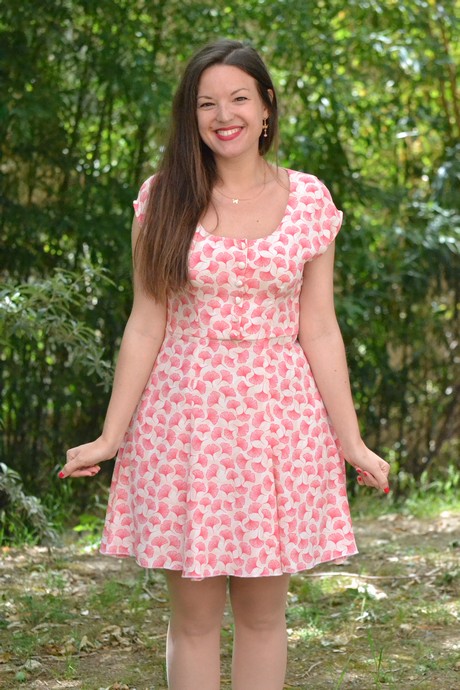 Doris Dress : FAIL ! And this for two reasons: the first is that having chosen wrongly my size, the dress is very adjusted to me, and that this doesn't forgive my little belly. And the second is that I don't assume it at all: it is quite decolleté, very short and that … well … I'm not necessarily hyper comfy when I wear it. 😀
~~~JUNE~~~
The Bid Day Dress : Half-Fail. The bodice is too large at the princess cuts on the front. Note that it would be necessary that I undo everything and repair it, because I loved to wear it. But considering my passion for mending, there's a long way to go.
~~~JULY~~~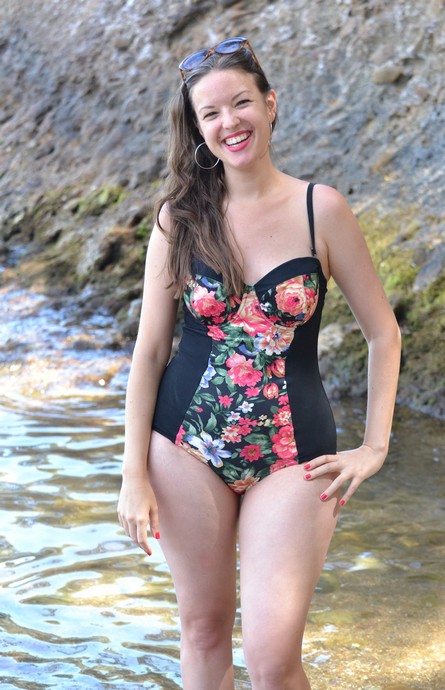 Sophie Swimsuit : 100% WIN !!! And very far, my greatest achievement this year. It didn't leave me all summer, I loved to wear it, I felt so NICE in it! I swear ! I think I'm in love with this pattern, really. It's magical.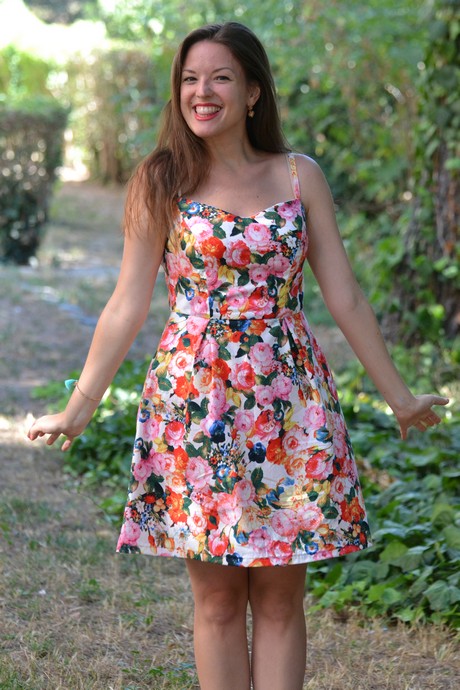 Whitney Dress : 100% WIN ! And my second favorite achievement this year I think. I wore it a lot this summer. This dress is just me, as a garment. 😉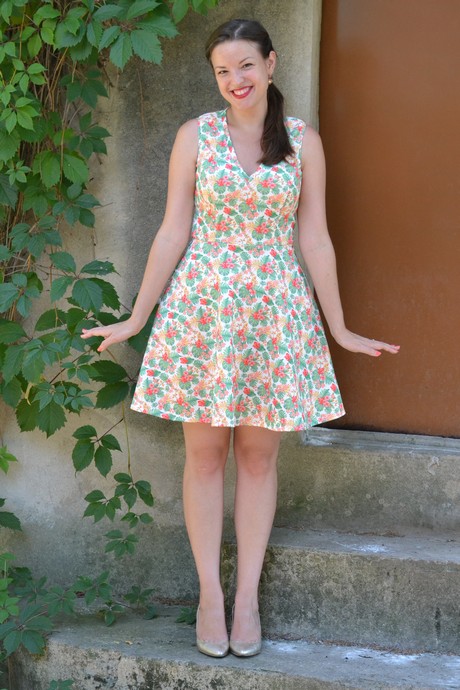 Tropical Zéphyr : 100% WIN ! This one too has been much worn this summer, with my little white sneakers. (And there I look at the gray sky, it is 3 degrees outside and I just want to cry. I HATE WINTER!)
~~~AUGUST~~~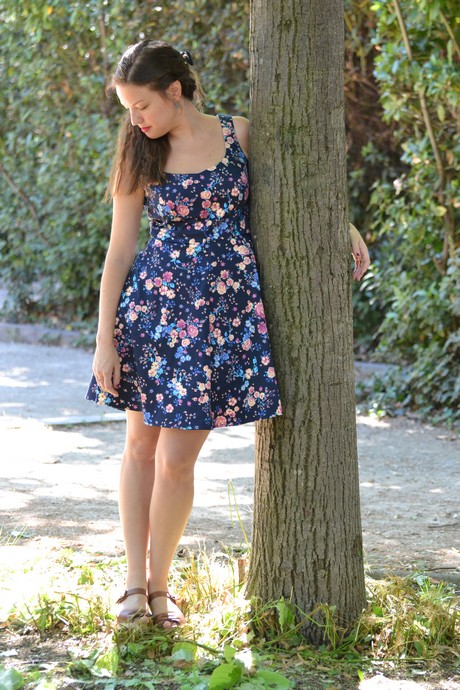 Maia Dress : 100% WIN ! It's a dress that I also wore a lot this summer. I bought a beautiful cotton satin 5 days ago to make a new one this summer. 😉 (Nobody has a way to move the time forward ??? PLEAAAAAASE !!!!)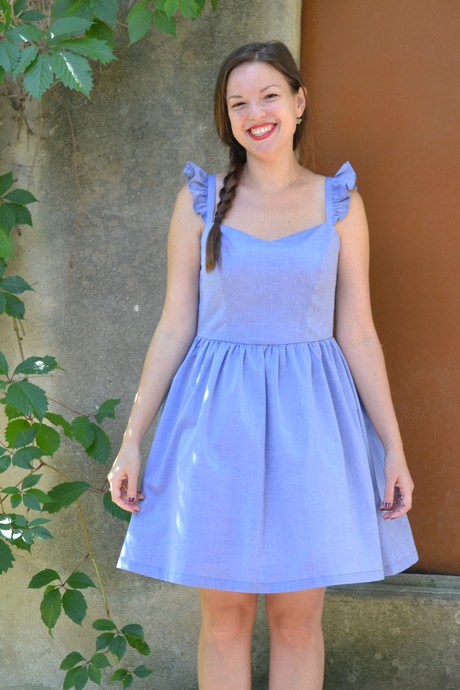 The Charlie Dress : 100% WIN ! It was a real pleasure to wear it this summer. Besides, I have a little anecdote about it to tell you: we were on vacation, and while I was wearing it that day, a little girl came to meet me and said to me, her eyes shining : "You wear a real Princess dress Madame !" Believe me, that day I received one of the most beautiful compliments I have ever received. (And yes my eyes were all wet. ❤)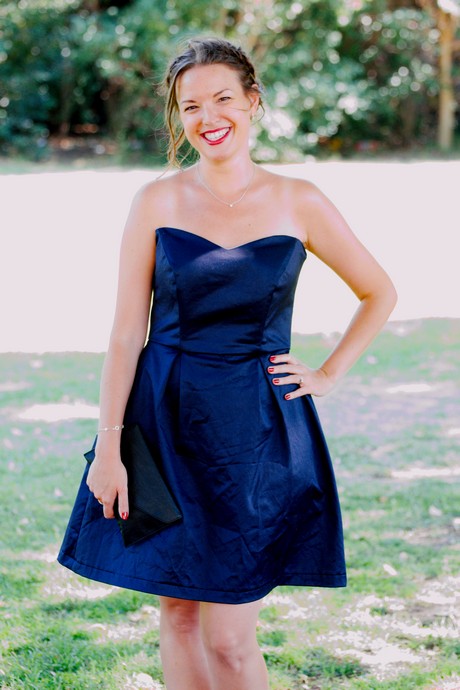 Mariah Dress : 100% WIN, if one assumes that it is a rather exceptional dress that I will not wear every 3 mornings. But on my father's wedding day, I was perfectly at ease in it: I therefore assume that it's a success. (Who invites me to a wedding so I could wear it again ??) (As if that would not be a wonderful excuse to sew a new dress !!!)
~~~SEPTEMBER~~~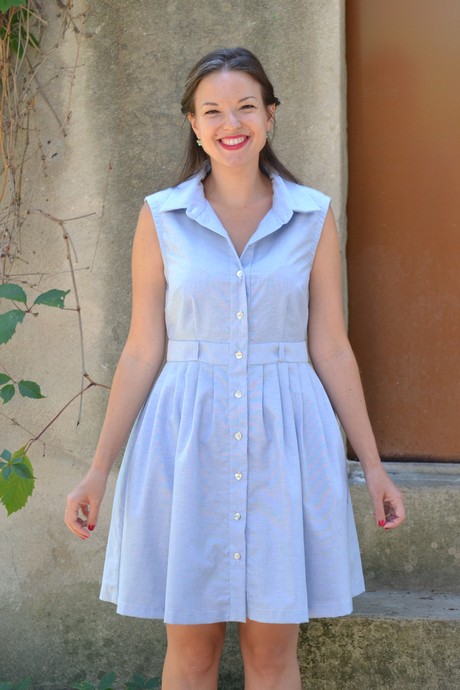 Chambray McCalls M6696 : 100% WIN, even if, in hindsight, I find that I too shortened the front bodice. But this stylistic detail has not prevented me from wearing it with much pleasure. It's so comfortable.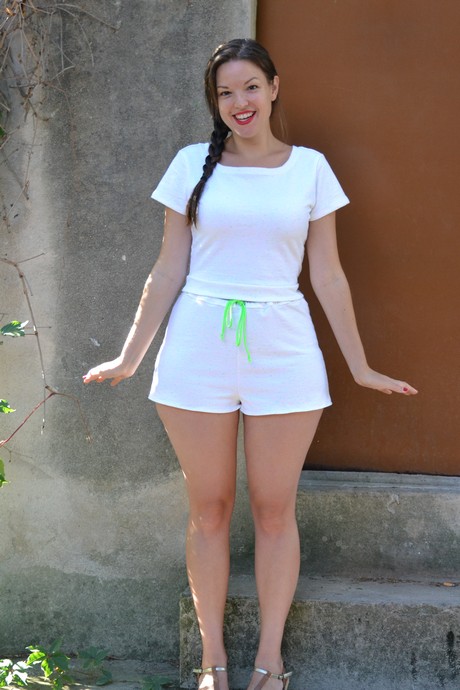 Saving Private Jersey : 100% WIN ! (Besides, guess who is waiting for the winter sales to order pajamas, when it would be better to sew them ??? So boring…)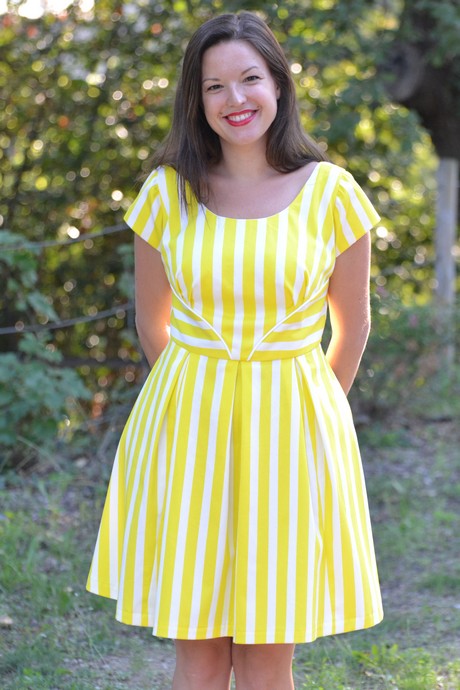 Rue : 100% WIN, of course! Although it is a little too large at the armholes, I still wore it with pleasure. The only "worry" with this piece is that it attracts a lot of looks: necessarily, this yellow, it slams, I don't go unnoticed. So it is better to keep it for the days when I am well in my sneakers, and all pumped. Unable to shave the walls with the Vitamin dress!
~~~OCTOBER~~~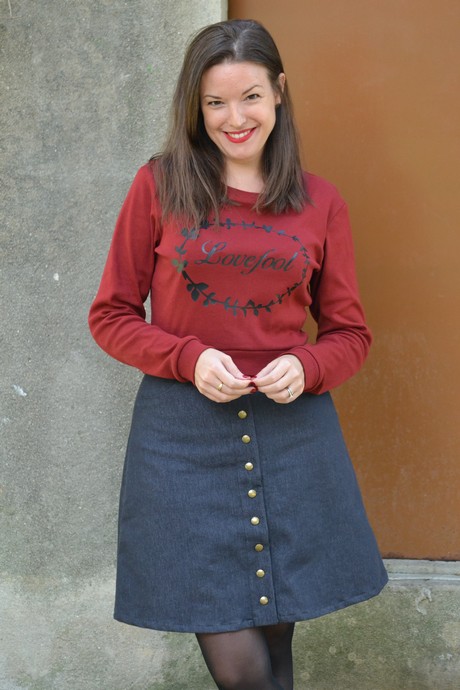 Nineties Vibes : let's take the 2 parts separately.
* Ondée : FAIL ! Very bad choice of fabric : after wearing it, it was even more distorted than what you can see here. Result: an excellent top to hang out at home!
* Rosari : 100% WIN ! And now that I sewn a new Nettie, I will be able to wear it even more easily.
~~~NOVEMBER~~~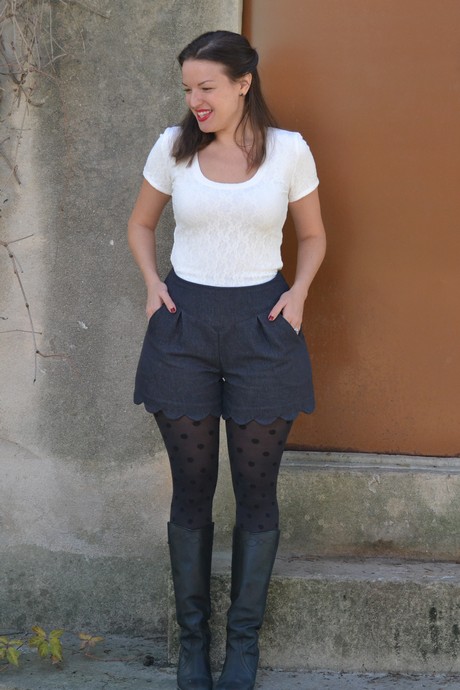 Châtaigne Short : Half-fail. I don't know why, I don't have the short reflex. It's stupid, huh? I never think of wearing it!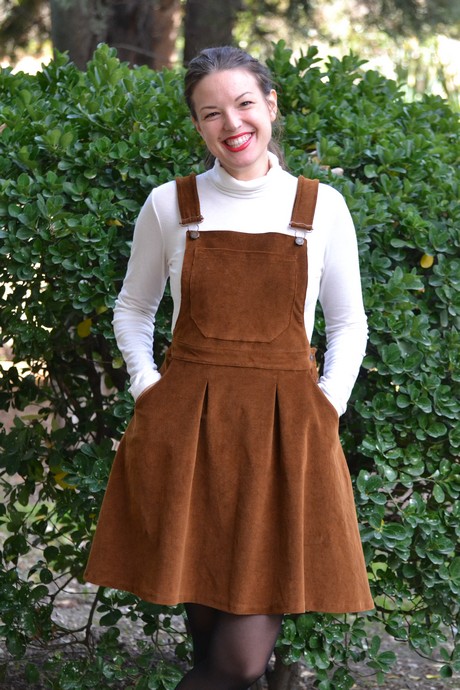 Rydell Dress : Half-fail. This is the perfect example of fantasy in sewing: you dream of a piece a little special, you make it, and then it sits in the closet. I think its very pronounced style makes me think little to wear it. Which is a shame because I feel really comfortable in it.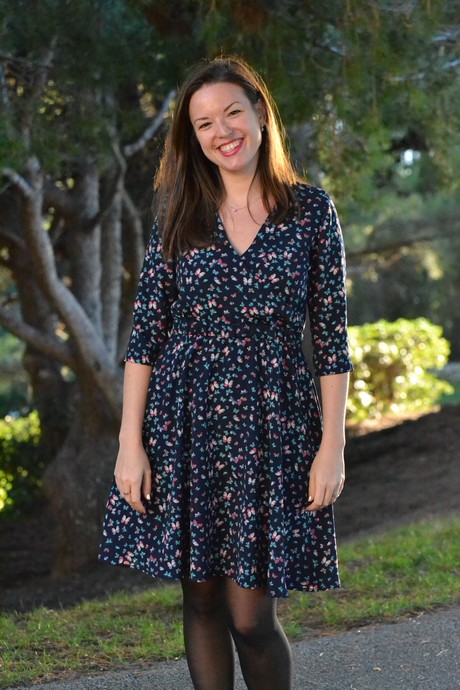 The Butterfly Dress : 100% WIN ! I like to wear it, although sometimes the waist goes up too much under the chest and hinders a little my movements. I drew a variation of this pattern for Easter, and I received the perfect fabric for a few days ago. Without laughing, I think I've never been so happy to sew a dress. (69 days, 69 days before spring.) (Yes, I count them: D)
~~~~
PFIOU! Are you still here ? Let's summarized? 14 WIN / 11 Half-Fail / 7 FAIL. Who said sewing was easy ??? And no, associating a pattern, a fabric and a morphology is very far from easy.
So why continue sewing? Already, because I do not consider my "FAIL" as failures, on the contrary, but as wonderful lessons. At each work, I progress, I learn from my mistakes. Sewing for me is a real outlet, which allows me to express my creativity, even if in the end, success is not always at the rendezvous. But it doesn't matter: I'm having fun, and I believe this is the essential. ;
So when you fail, when you are afraid to start, when you say that others sew better than you, never forget: each work, successful or not, makes us progress. Do not compare yourself to others, compare only to the one you were yesterday. And you will see, with confidence and envy, absolutely no project will be impossible to you. ;
I embrace you very strongly, and take care of yourself. 😉