As promised, here's my test version of Goji !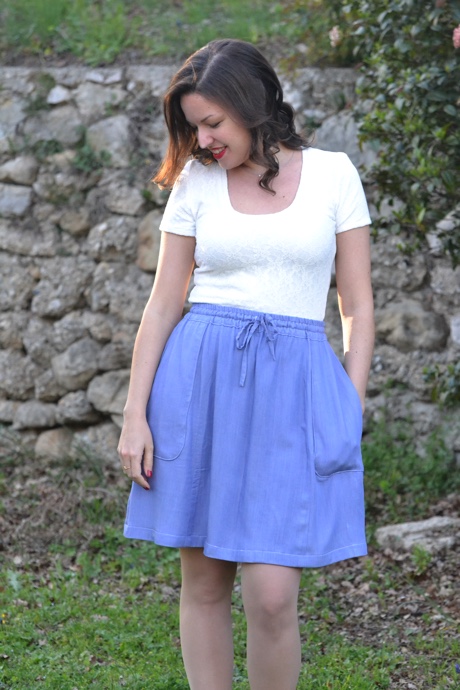 I will be honest with you: when I discovered the technical design of the Goji short, I remained spectical. On the other hand, I was intrigued by the skirt version. Having sewn a long time ago a gathered skirt from Burda, obtaining the best gaining diet ever (you wear it, you gain 15 kgs 😀 ) (well, I had at the time used a poplin, I also recognize my wrongs 😀 ), I was fleeing from this type of models. So I volunteered to test this pattern, more out of curiosity than anything else. The skirt is high waist and elastic, although the result wasn't perfect, I still win a comfortable skirt for the summer.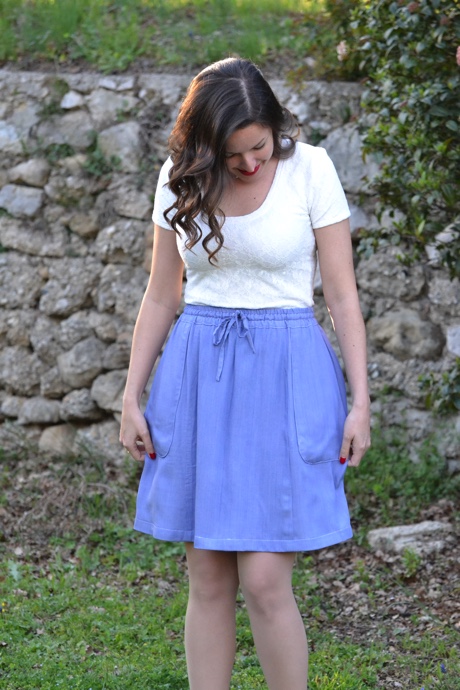 Camille warns me at the beginning of the test that the skirt is not much flared, and that if I wanted a wider skirt at the hips, I had to size up. So I cut a 38 size at the waist, increased to a 42 size on the hips.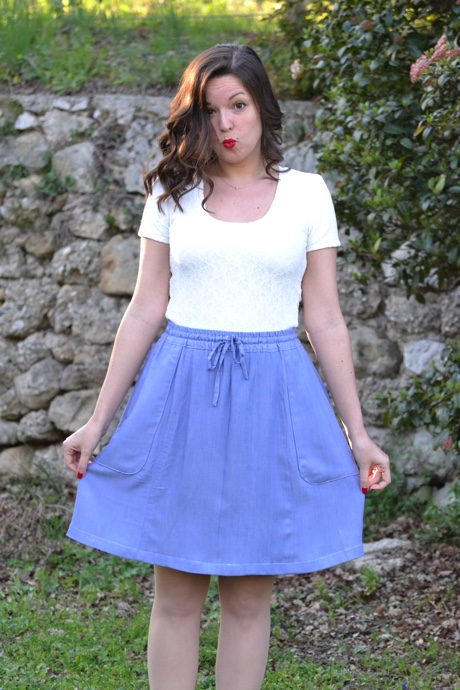 (Yes I'm 35 years old and I like to have dancing skirts when I walk and I do not plan to change soon 😀 )
Personally, when I have to sew a piece with gathers or an elasticated waist, I prefer fluid fabrics, with drape. Seeing my skirt in a chambray color, it was the best time to test the Coupons Saint Pierre tencel.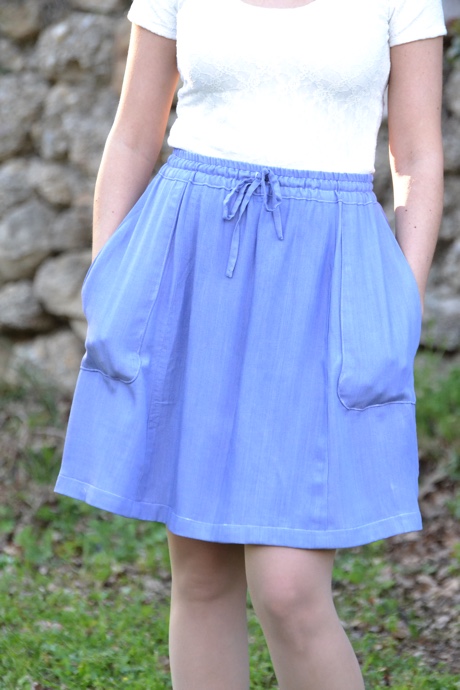 Be careful, don't trust the color of my tencel: having pre-washed it with the damned dress, it was found with pink traces everywhere. I had to re-wash it by using a special product: the color slightly cleared. (And chance doing things well, I adore it!)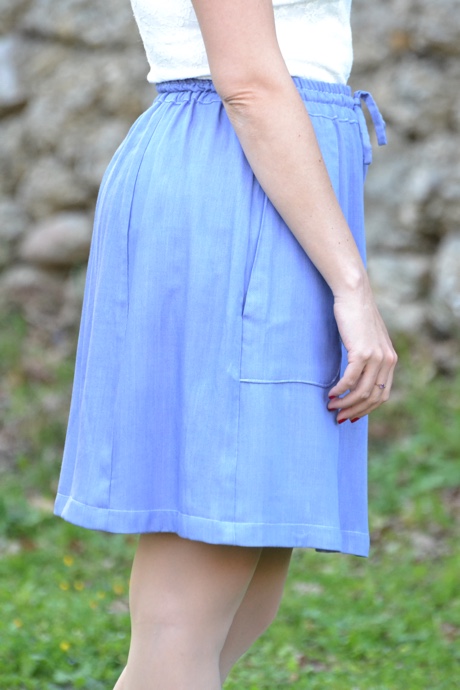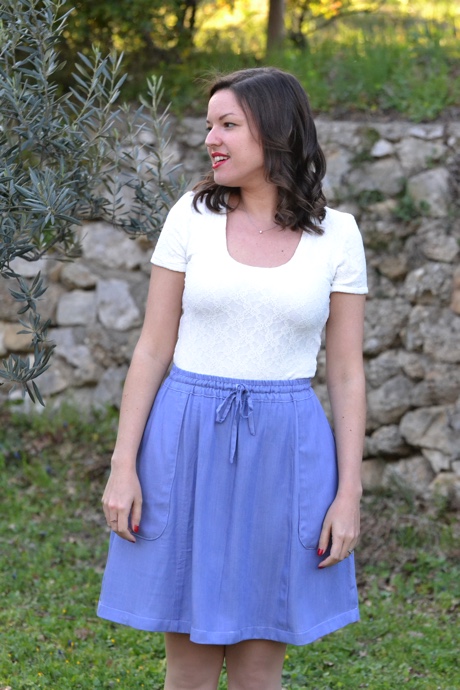 I loved sewing this fabric, which is a real pleasure to wear. Fluid and gentle on the skin: I carefully keep the remaining footage for a summer dress!
Goji therefore has an elasticated waistband quite ingenious: 3 slides are created, only 2 are elasticated, and the middle one is intended for a ribbon.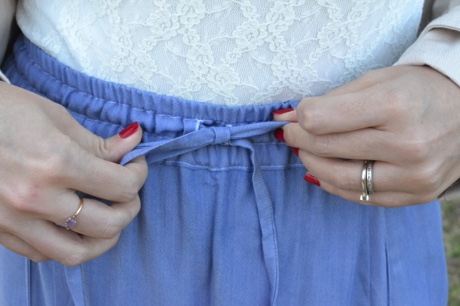 The skirt features two large patch pockets.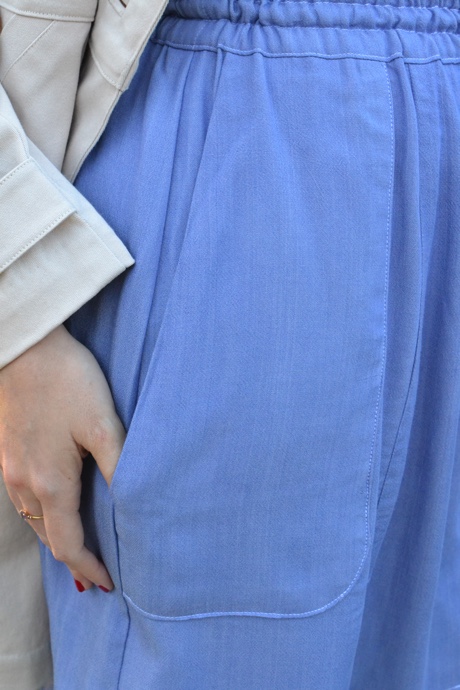 My test version measuring 4cms more than the final version, I shortened it in agreement and slightly modified the finish of the hem. Normally it's necessary to overlock the top of the facing and to stitch it on the right side. My tencel being fine, I preferred to fold and sew the top of the facing, then stitch it on the right side.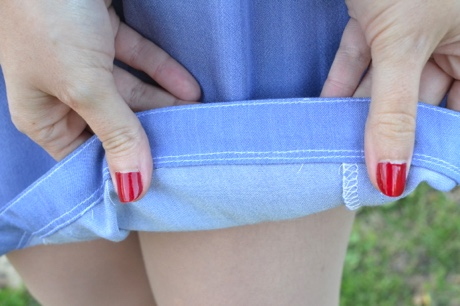 I think the first word that comes to my mind when I think of Goji is COMFORT. This skirt is really nice to wear. The elasticated waistband adapts to our waist, and the skirt is not very flared, it remains completely flattering.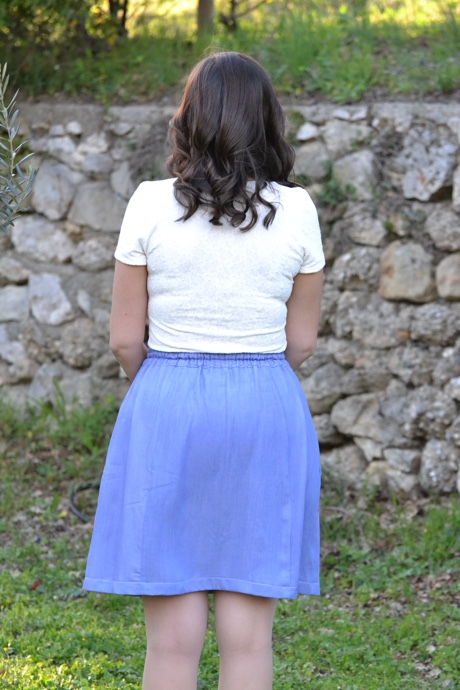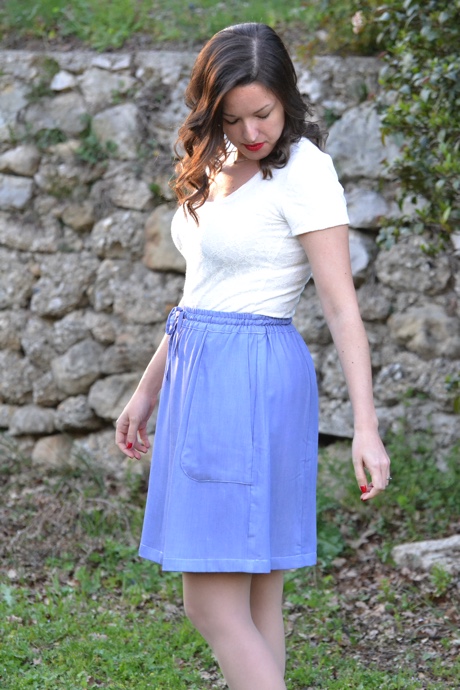 Conclusion : I'm really happy with this skirt. Worn with small white sneakers for a more casual style, or my Lotta in a more feminine style, I already know that it is a piece that I will often wear this summer. And I must dare to say that I am motivated to sew a new white Nettie !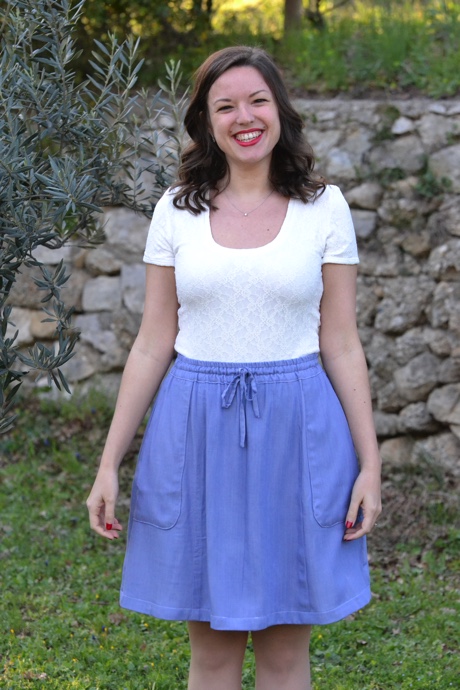 Not having tested Hoya, my posts on the new collection stops here. 😉 I wish you all a beautiful weekend, take care of yourself! ❤