May God bless knitting during a rest period: this cardi comforted me, kept me busy … and kept myself warm, too. 😉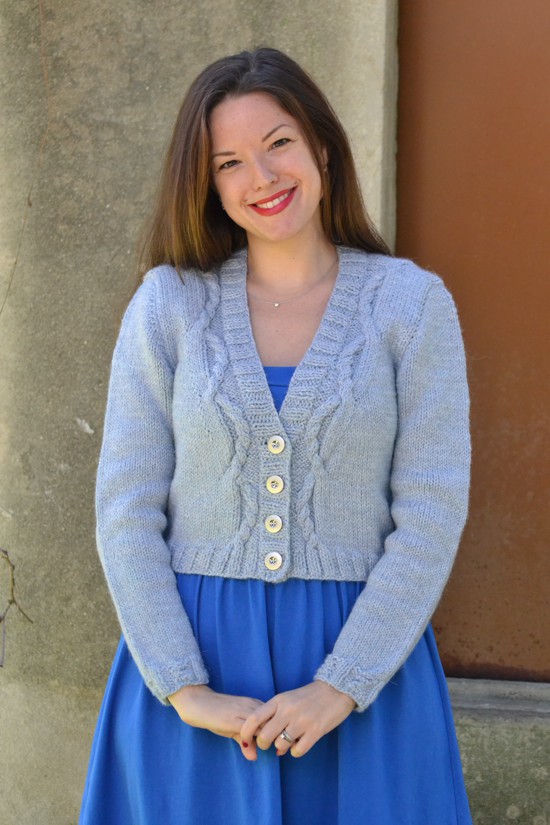 Do not think I sadly gave up knitting after my failure with Myrna. After drying my tears on a snood / hat combo for Tom and Juliette (I must write the post by the way) (it's not like it's spring day today) (ahem) WELL, I had begun a beautiful kid mohair shawl, a vast expanse of garter stitch of unsurpassed softness, from which I had started the third and last ball when … BOUMBADABOUM, I rolled on a scotch reel and found the most ridiculous reason for a fall. (My surgeon is still laughing at that moment. 😀 )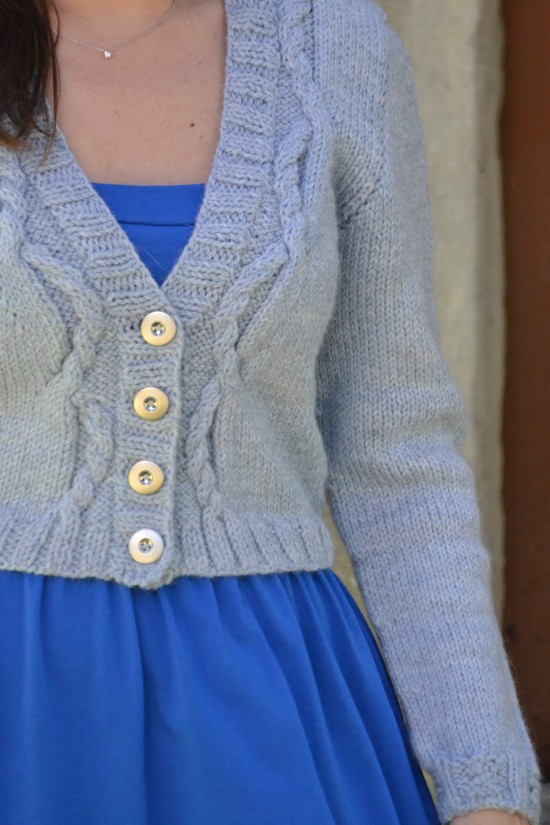 Starting right away this project comforted me for those days of forced rest that awaited me, and allowed me to occupy myself without becoming completely crazy. What's more, I had this project and the wool for it since last summer: it was time to stick to it.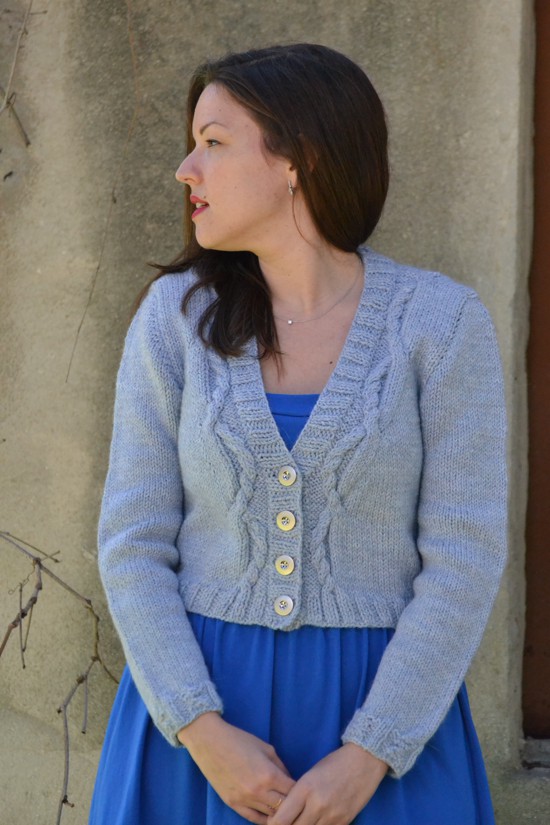 Then I confess to you right away: I did not knit a sample. After knitting a few rows on the back, I measured quickly 10cm from my jersey stitch. I was ok on the number of stitches, but I had fewer ranks than I needed. As usual, I went without thinking … love of risk no doubt.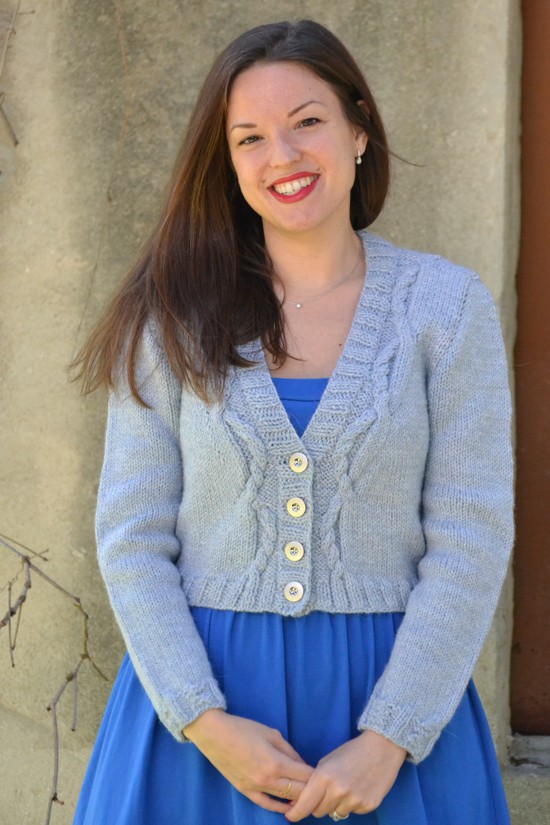 I moved forward on my cardi and at the waist, I understood that the cardi is going to be much too long if I kept knitting. Thanks to Tassadit and her article on her own Marion, I decided to shorten mine, and tweaked to decrease the number of stitches needed to take in the waist.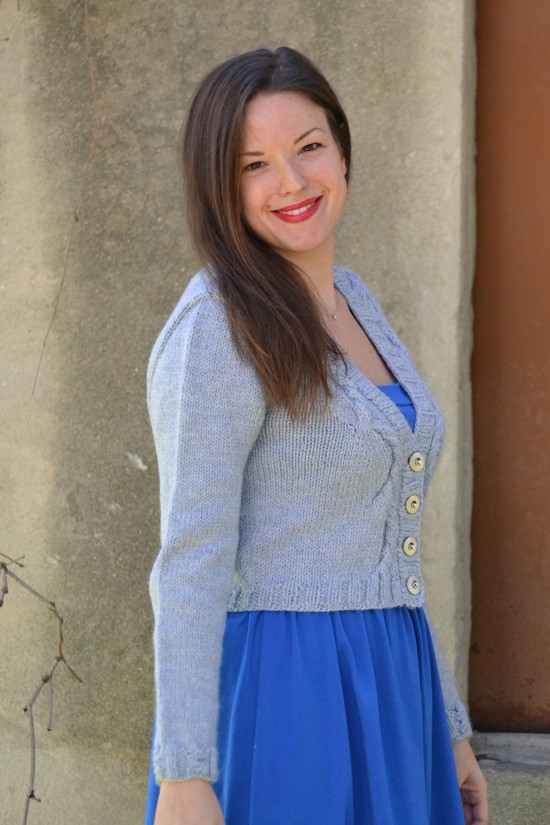 We can hardly guess in this picture but 2 ribs are just a little less thick than the others. 😉
Chance doing things right, I followed the instructions for the sleeves, and instead of the initial 3/4 sleeves, I got long-sleeves to the right length for me! I could have told you that all this was due to a long series of calculations … but not at all, chance here has done well! : D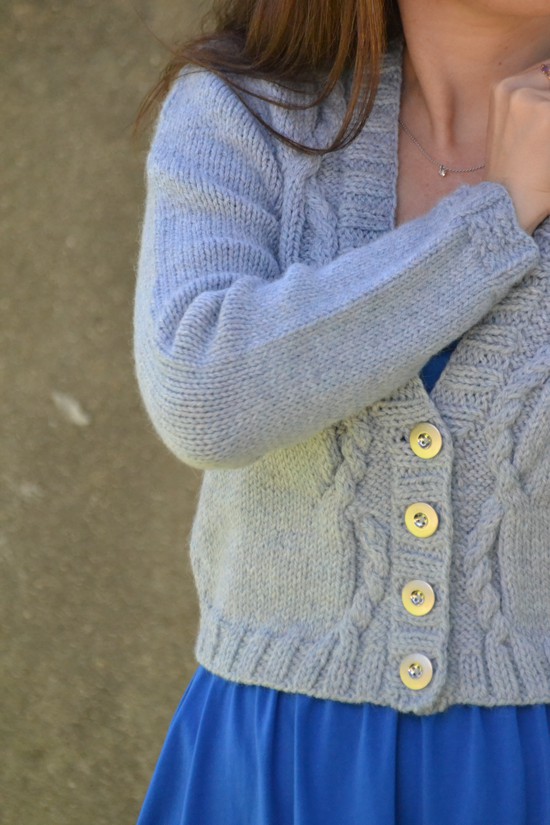 I just understood something essential with this cardi: size M is really too big for me. It's by wearing my very first Miette recently that the connection in my brain has made (yes, I put the time: D): in my size, S is perfect at the shoulders and bust, I just have to zap a few decreasing rows so that the waist is not too tight. You see in the next picture that the shoulders fall a little bit.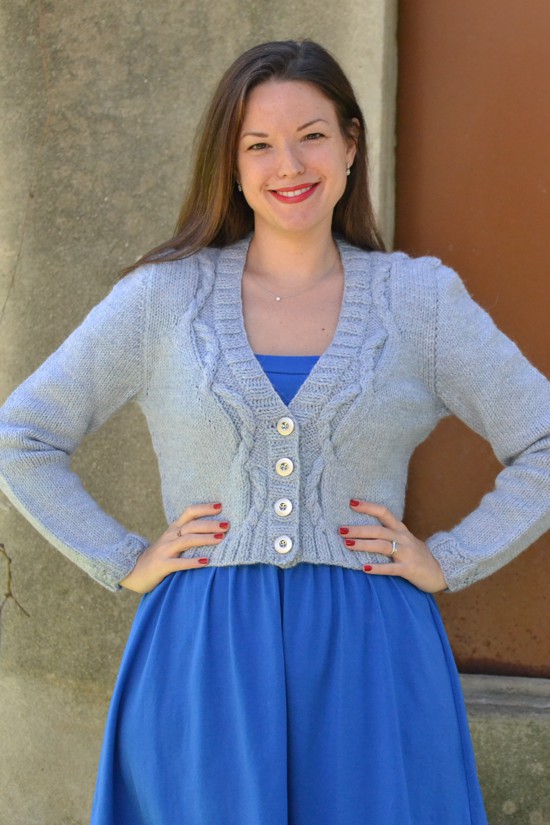 But we are far from the industrial accident that Myrna was: even if this Marion is a little wide, I will wear it with pleasure. I knit it in Nepal yarn from Drops, in fog color. A bluish gray of beauty, with micro-violet touches.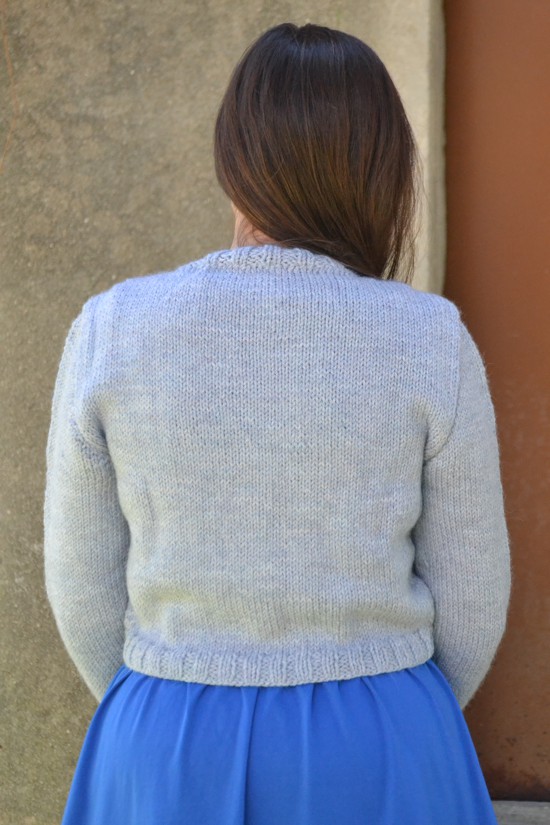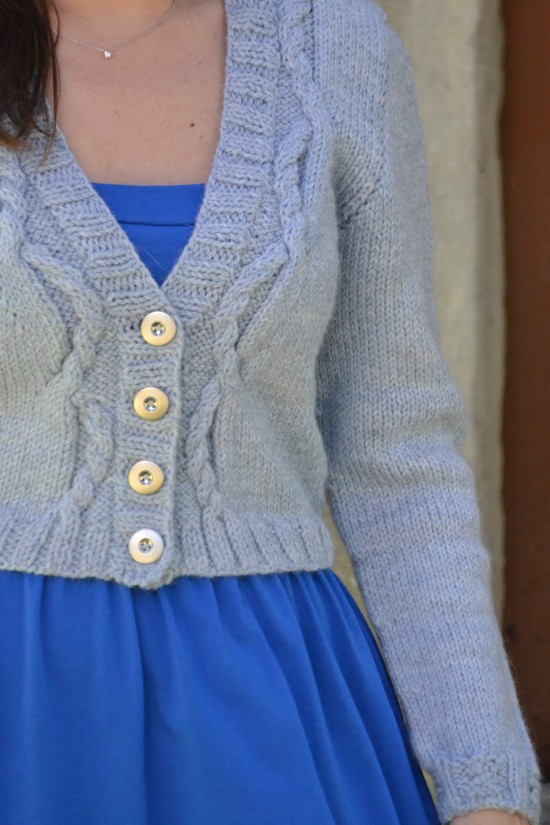 The buttons come from la Droguerie. Thanks to "Une Parisienne en Helvétie", I discovered the short needles: connected with a short cable, they are perfect for knitting sleeves without breaking the nose on the magic loop! Fast, easy, without any demarcation in the end: it's so great.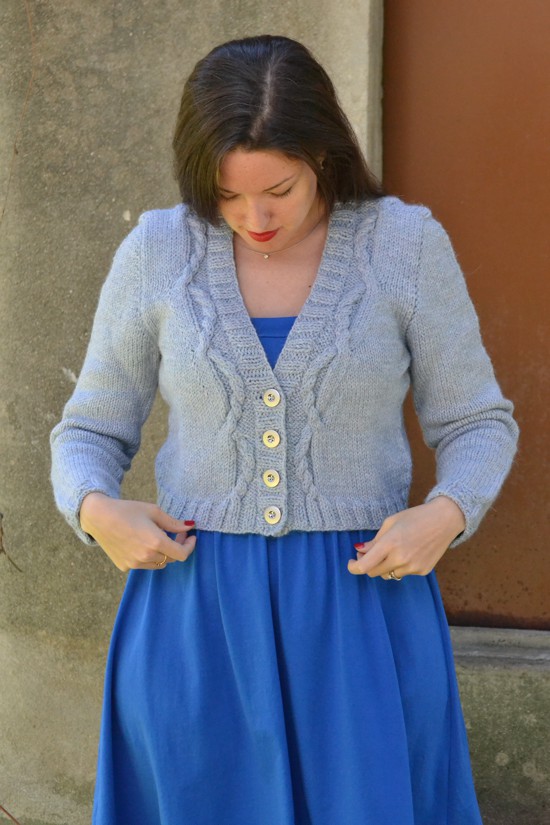 The cables are beautiful right ? I loved to knit them, just like the whole cardi. I'm never tired of Andi's patterns.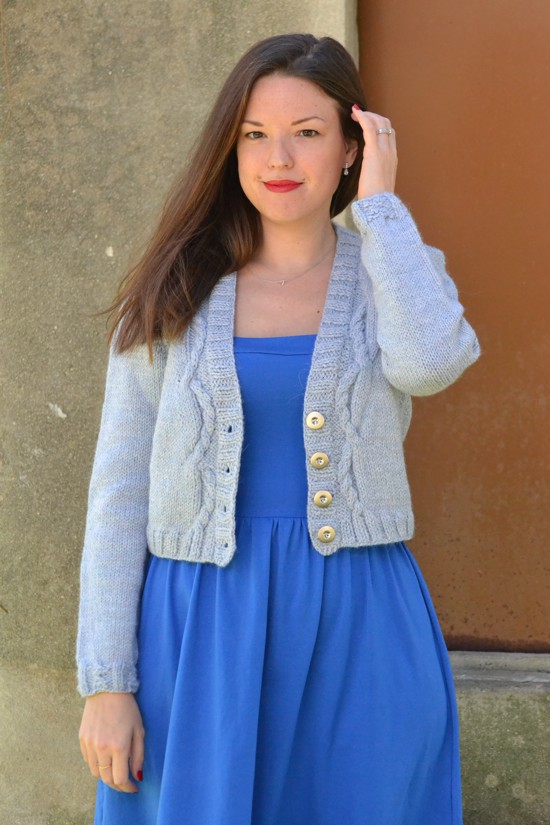 Conclusion : certainly a little bit wide, but I'm happy with this cardi, which besides being flattering on my dresses, is very comfortable. I'm always delighted with Nepal yarn, which remains unbeatable in value for money. My shawl being finished, and not knowing how to stay on a failure, tonight I start a new Myrna in a more appropriate wool: wish me good luck! (Aurélie, I knitted a sample, promised 😀 )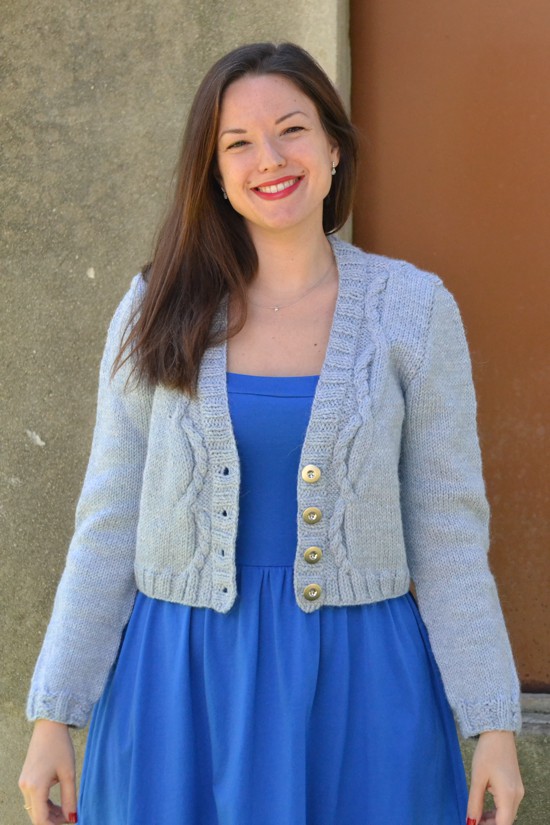 Wish you a good week, I come back in a few days with a small session of scraptastic sewing, and in the meantime, take good care of you. 😉