I think each of my dresses could be a movie scenario. It always starts with a love at first sight, followed by doubts, obstacles, with a final twist that dried the tears and brings back the smile. This one doesn't derogate from the rule. And even more: it was inspired by a great actress.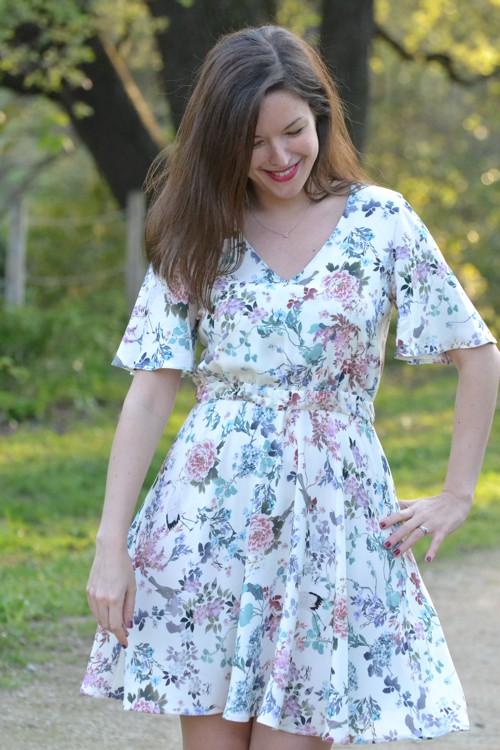 December 26th: Carrie Fisher had a heart attack a few days earlier and all Star Wars fans are worried about their princess. I fall by chance on this picture of her, wearing a black dress with beautiful ruffles on the neckline.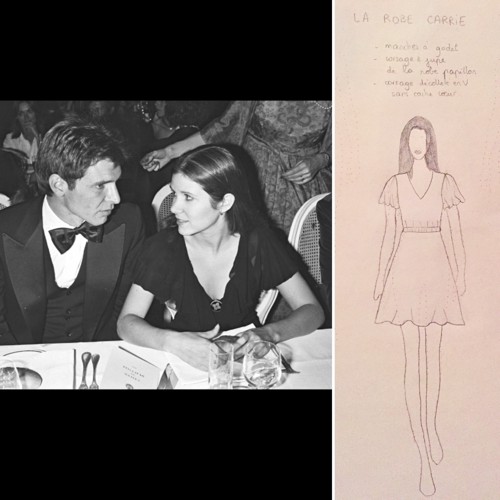 I immediately love this dress, and quickly draws a sketch. The neckline ruffle is replaced by butterfly sleeves. I told myself that night it would be nice to sew this dress for Spring: of course Carrie Fisher will be ok. It was unthinkable that she could leave us so young.
And then 2016 didn't fail in its reputation as a memories reaper, and took with her Carrie, joining David, Leonard, Alan, Prince, George … and all the others.
I don't know you, but I wasn't unhappy that 2017 was finally coming.
The weeks passed, and this dress remained in my heart: I waited for the perfect fabric for it. And then one day, in a Bennytex newsletter, the crush for this viscose: flowers, birds, beautiful colors …so springlike ! And at reception I wasn't disappointed: beautiful drape, very soft, not transparent. The Carrie dress was in front of me.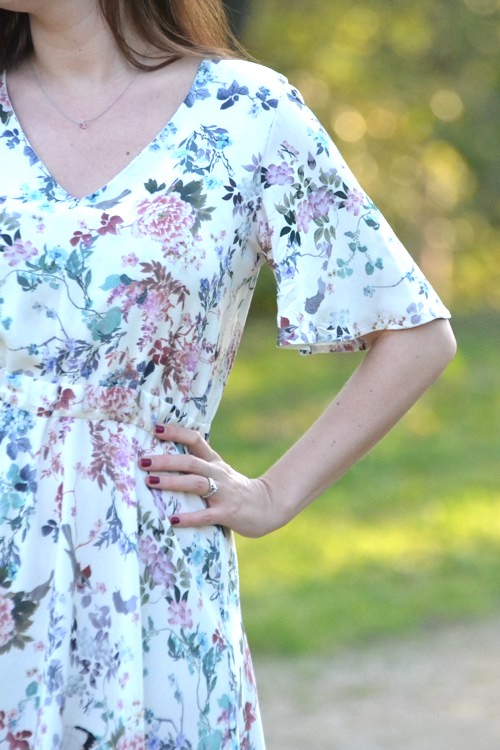 I took the Butterfly dress: I removed the wrapover, cut my front on the fold and draw a V neckline.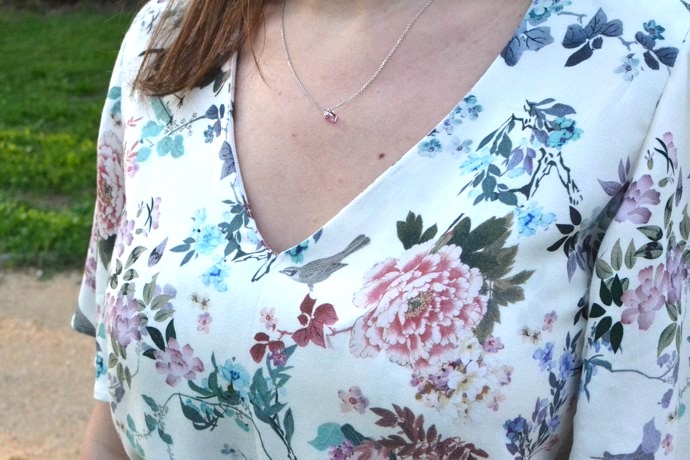 As expected, I lowered the middle line of my front bodice by 2cms, avoiding that my bust doesn't pull the elasticated waist too up. I modified my front belt and didn't touch the skirt, which I adore so.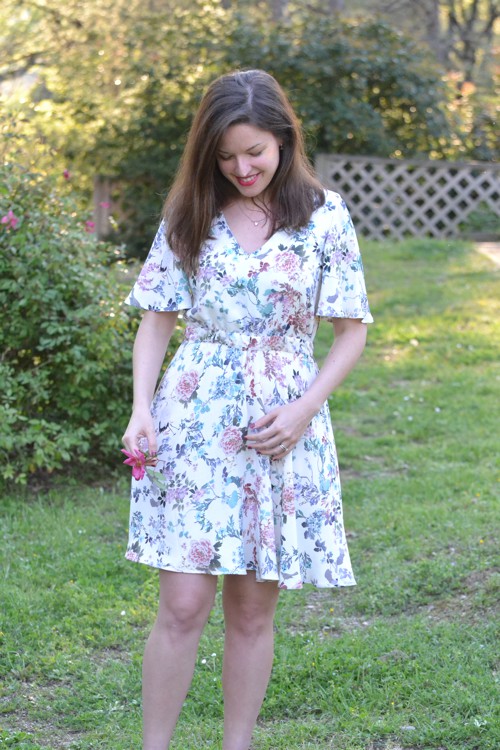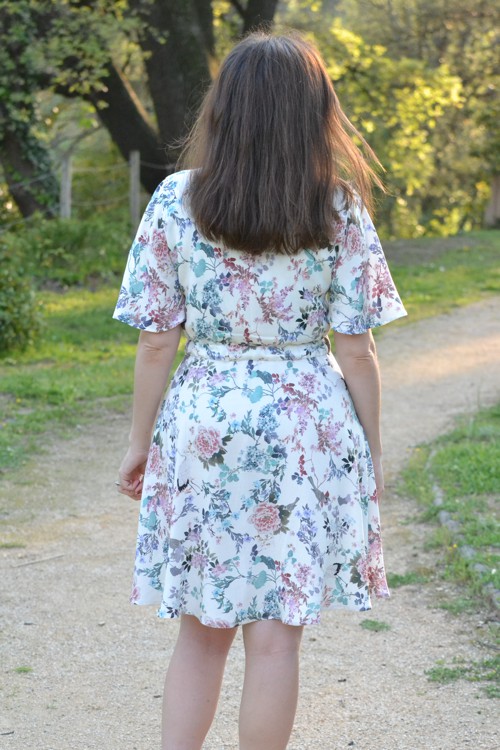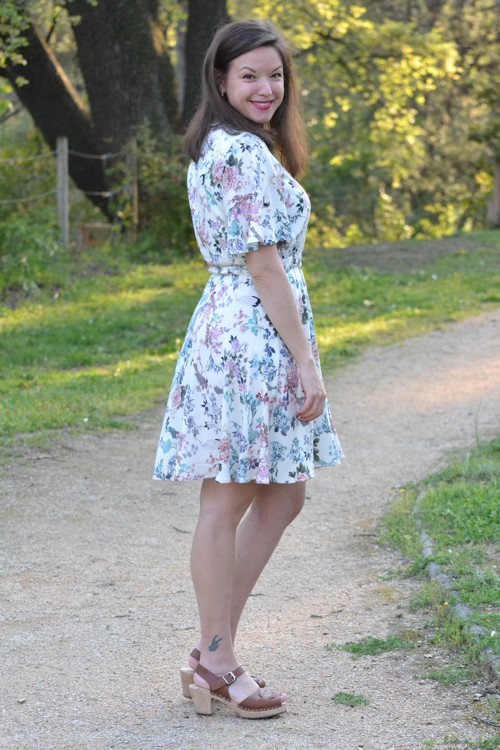 One would think that the sewing was made without incident: it was without counting on these butterfly sleeves. But then again, I learned something fundamental with this dress.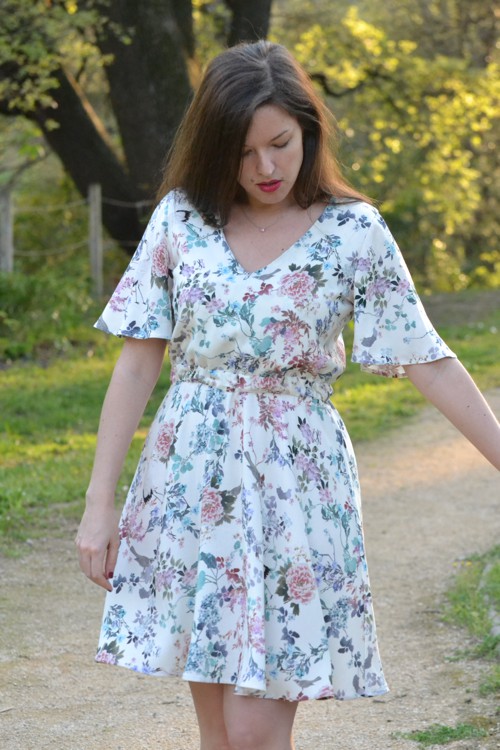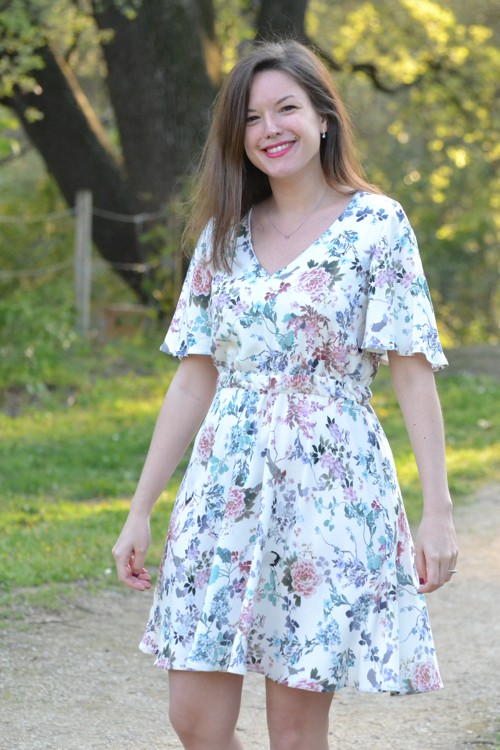 Often, when in drafting class I hesitate about the length of a sleeve, the flare of a skirt, or on a neckline, my teacher always told me the same thing: "show me your initial sketch » . Because in the end, absolutely everything starts from there: a sketch. The hardest thing to do is to agree on what you feel and what you sew. And here, typically, I reacted backwards. On my sketch above, I drew rather short sleeves. I then drafted flared sleeves, but quite short ones. And at the first try, I was disappointed: simply because deep inside me, I wanted long sleeves. But I put more than 5 toiles before understood it!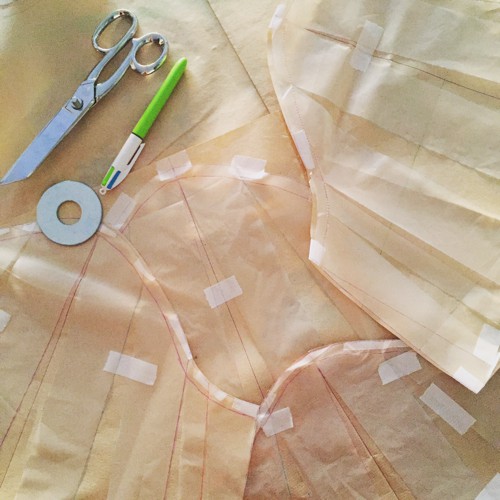 From now on I will know that before drafting anything, I must imperatively agree with my sketch. Note that now I can flare a sleeve way Esmod eyes closed. 😀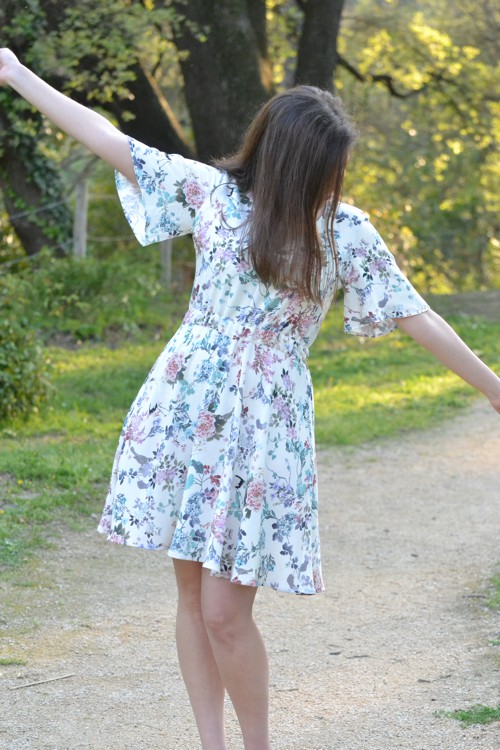 ♫ "I'm a Rocket Man, Rocket Maaaaaaaaan, Burnin' out this fuse Up here alone" ♫
And it was when I thought that, finally, the dress was finished, that I realized that the hem had stretched.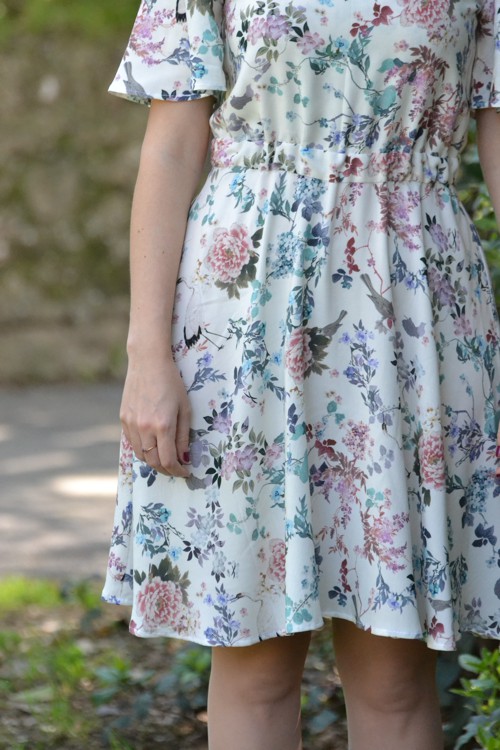 You remember my misadventure with Réglisse ? You better think that this time I took the time to do things correctly: I took out my chalk hem marker, and draw a new hem on my dress. The white chalk being invisible on my fabric, I mixed it with some eyeshadow: and it works quite well !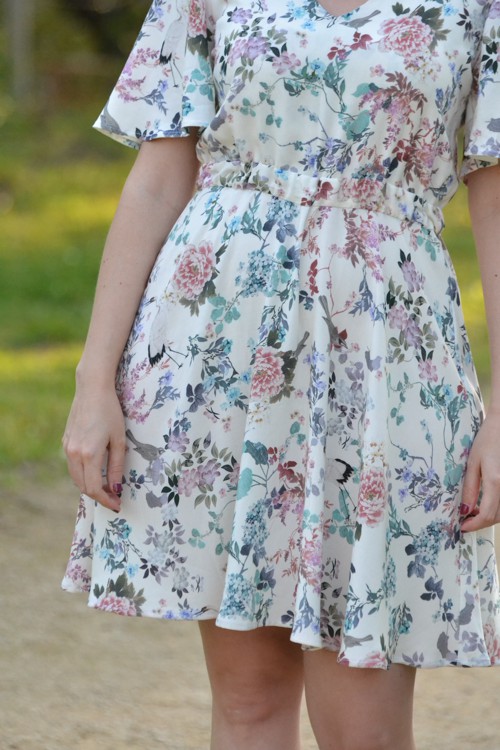 Better this way right ?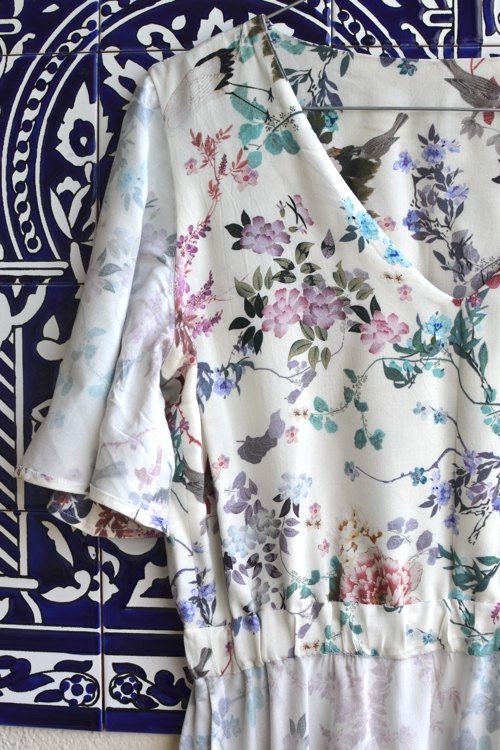 The inside of the dress is always finished in the same way: the bodice and the waistband are lined, the seam of the sleeves hidden under the lining, and the lining of the belt sewn by hand on the skirt. As only 4 seams were visible, I stitched them in the French way.

Conclusion : it had to be my Easter dress, but I was so in a hurry to sew it that I preferred to celebrate spring with it. The softness and fluidity of the fabric make it a very pleasant dress to wear. And these flowers are all I want to wear at this time: definitely, I am much more inspired by the beautiful days!
I wish you all a great weekend, take care of yourself. ❤