If I put more and more pressure on my own sewings (and in reality this becomes problematic), the scraptastic sewing thing is a real recreation: I can have fun, try things, take risks because precisely, there is no risk: I manipulate scraps that are not worth much. What's more, if the result is not perfect, it is not very serious: children growing up quickly, clothes are not worn for long. And on this session, I had a lot of fun. 😀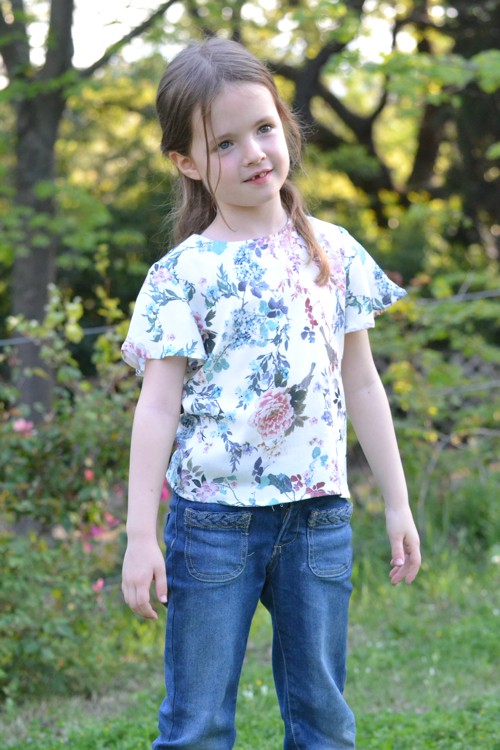 You recognize here the Carrie dress scraps : I had not much left, but just enough to cut a small top for my baby girl.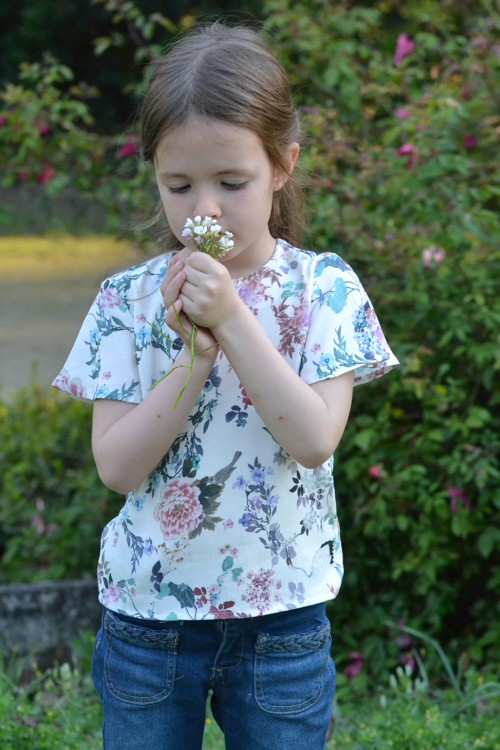 To do so, I came out with my ultimate Burda pattern, my favorite Swiss knife, the one I had to sew 4 or 5 times already: the dress 144 of May 2014 Burda.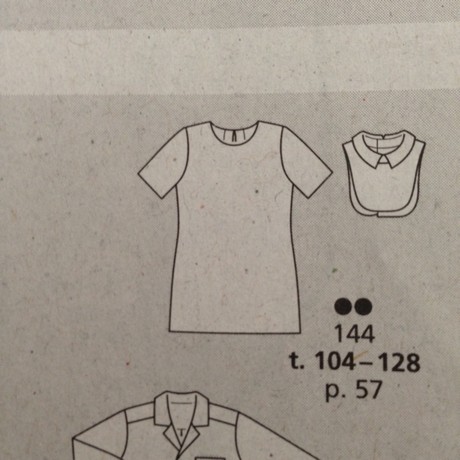 The great advantage of this pattern is that it is ultra-easy, and has few pieces: the ideal ally to get rid of the scraps. Here it is shortened to be transformed into a top, and as I was in full delirium on sleeve drafting, I amused to enlarge them, a little bit like on the Carrie dress.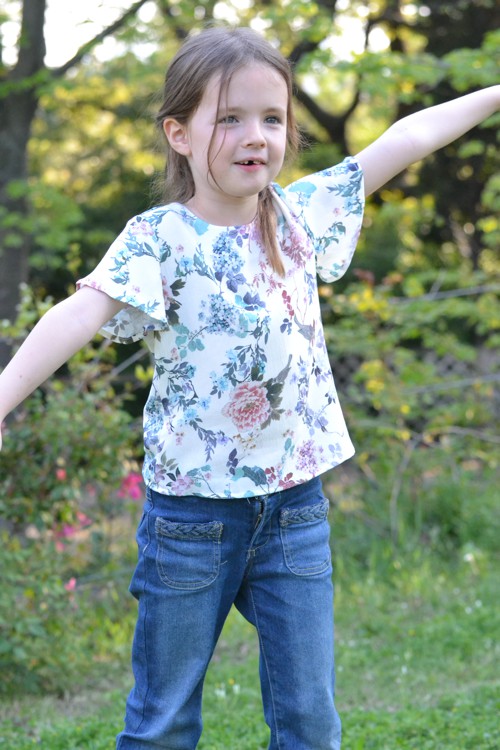 Beacuse we're dealing with scraps, they are shorter than mine, but I find the result just as pretty. The back is always finished by a facing, closed by an embroidered bar and a covered button.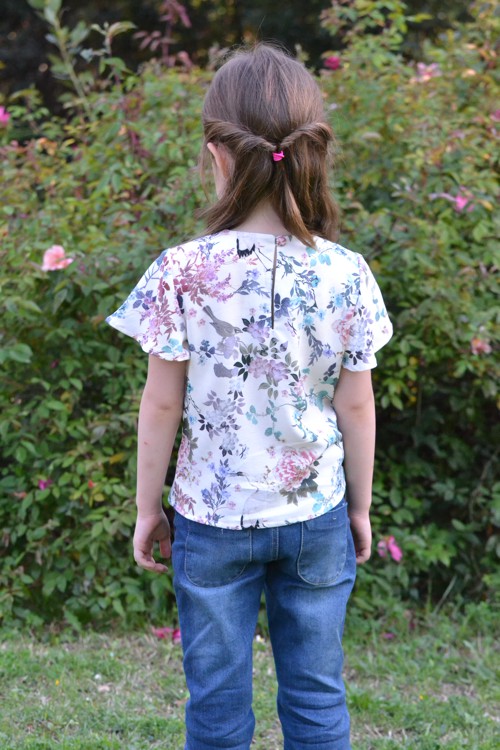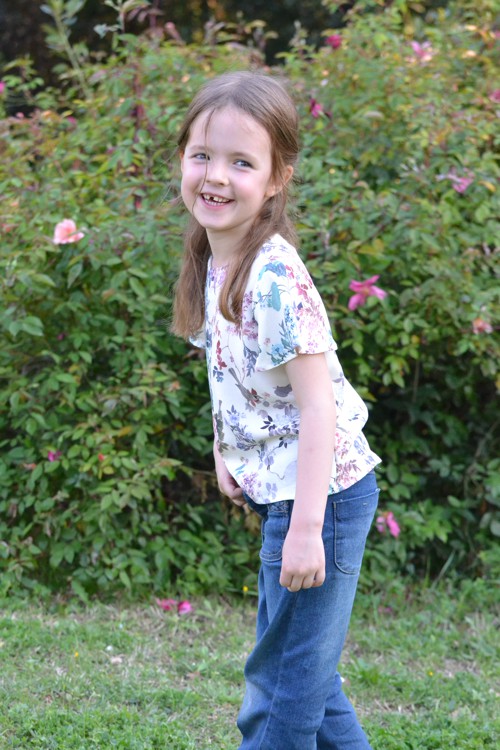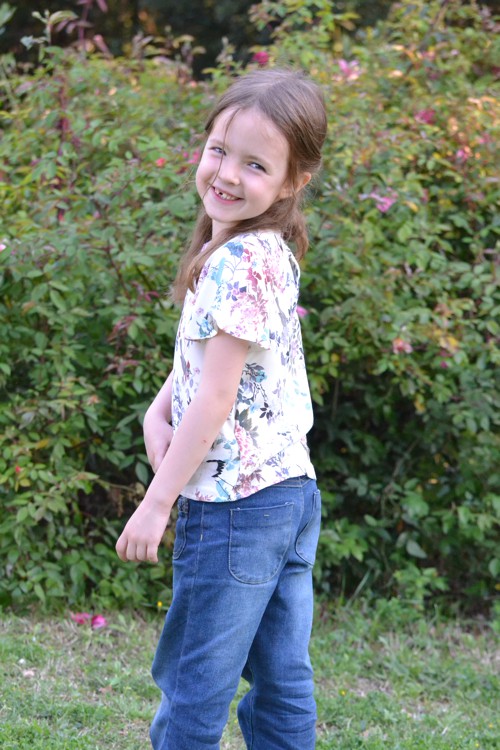 (Sorry for the number of pictures, I am unable to choose my favorites as I find my daughter wonderful, so I put them all: D)
Size 116 here, and as usual, the fit is ok.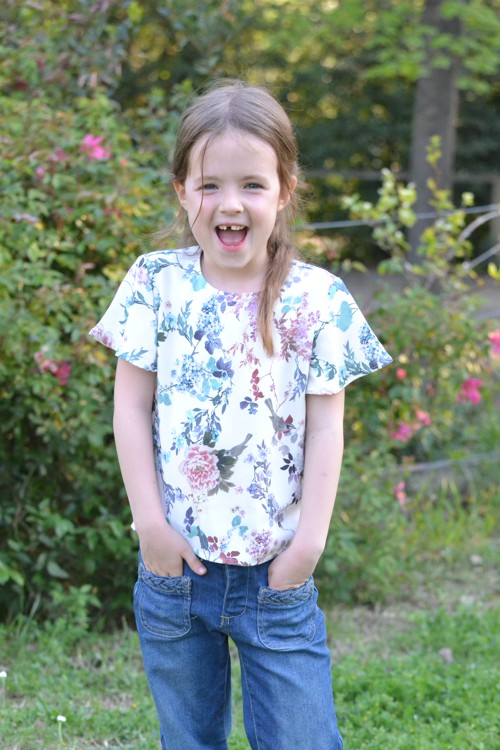 Verdict: Since I told Juliette that this type of sleeves were called "butterfly sleeves", she beats arms frantically and has already shown her find to all her friends. I think she likes this top. 😀 Let's skip to the Lio dress scraps ?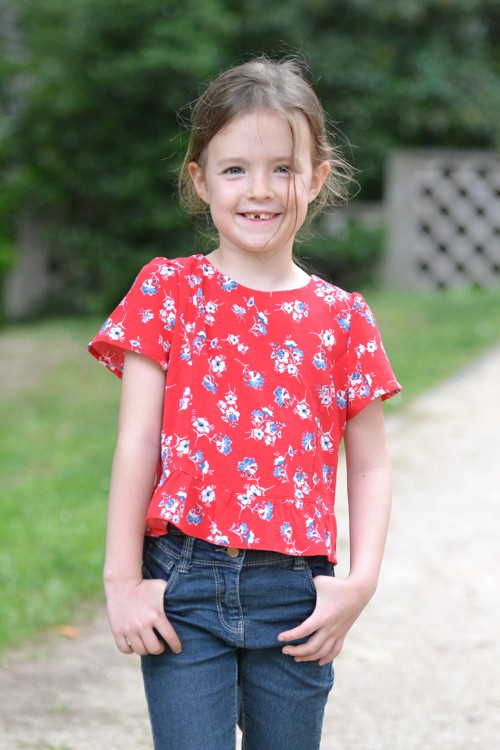 This fabric.❤ I swear to you I loved it so much that it seemed inconceivable not to sew something for the baby girl. EXCEPT I had scarcely anything left. I was ready to let go when I remembered the great advantage of the princess seams: it does not eat anything on a lay plan. What if I use the bodice of the Baptism dress ?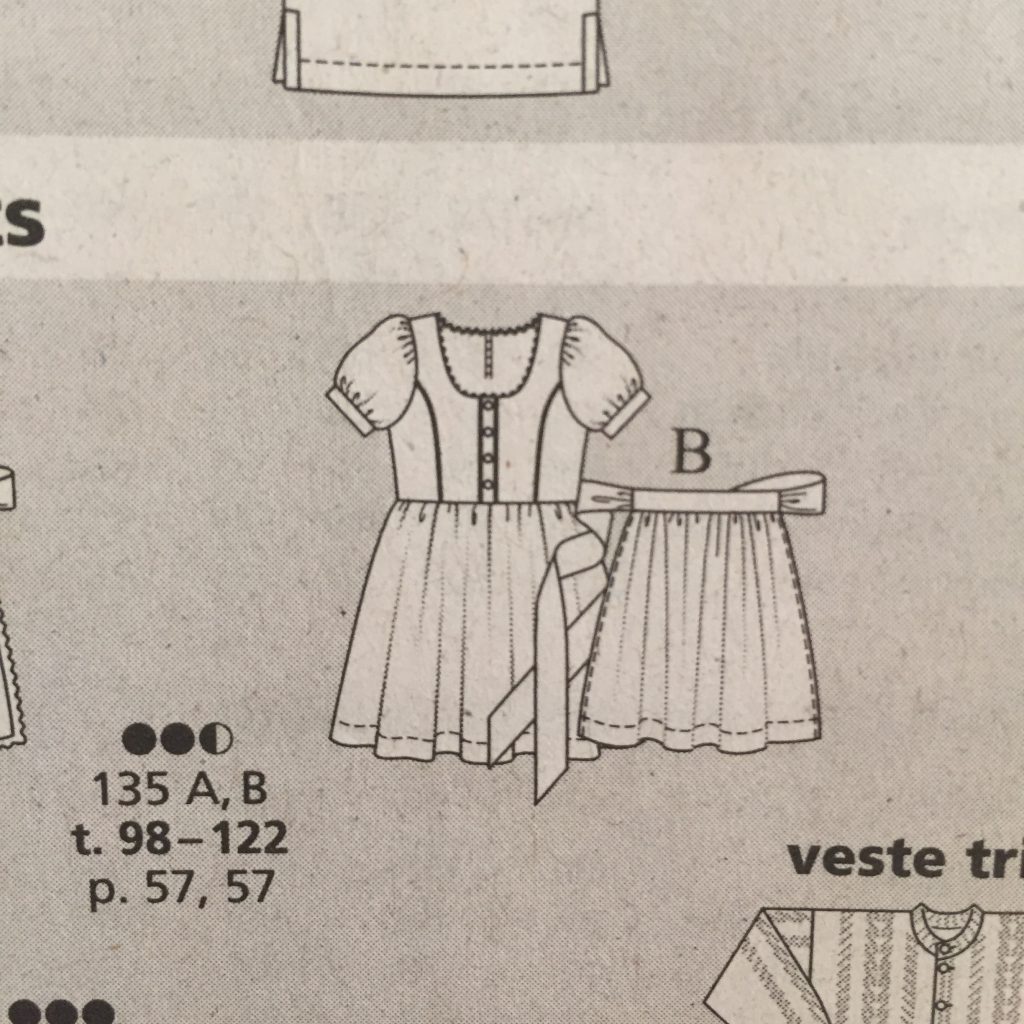 Because yes, this dress was offered without AND with sleeves! So I just picked up the bodice pattern, pulled up the neckline, and added the sleeves.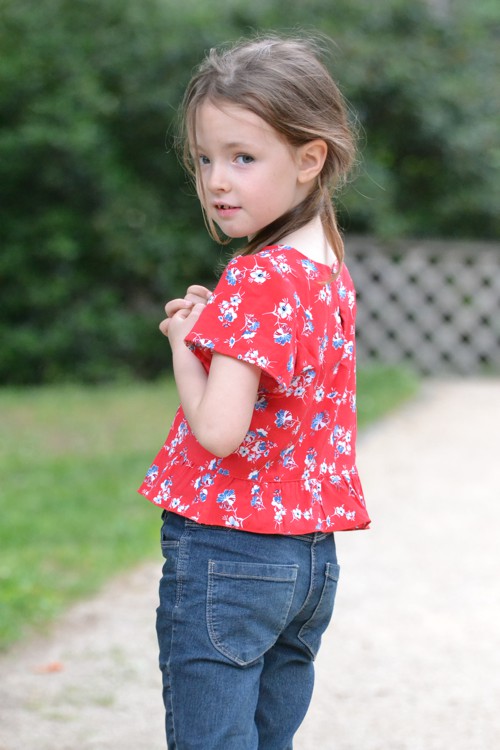 Basically, these were drafted like ball sleeves. I kept the gathers on the sleeves, but removed those at the hem, so that the top was more comfortable. Basically also, the bodice of the dress is finished by a zipper: I replaced the thing by a facing.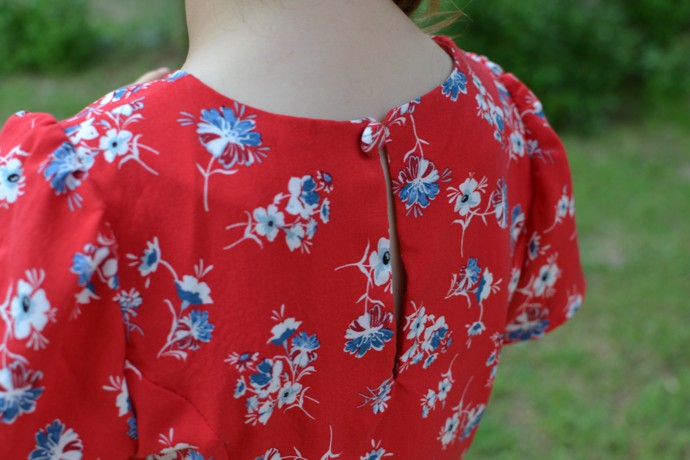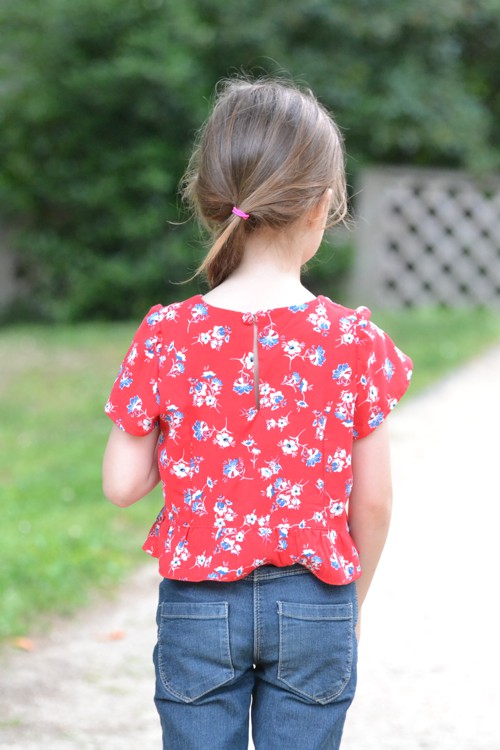 And to visually lengthen the top, I used a gathered band.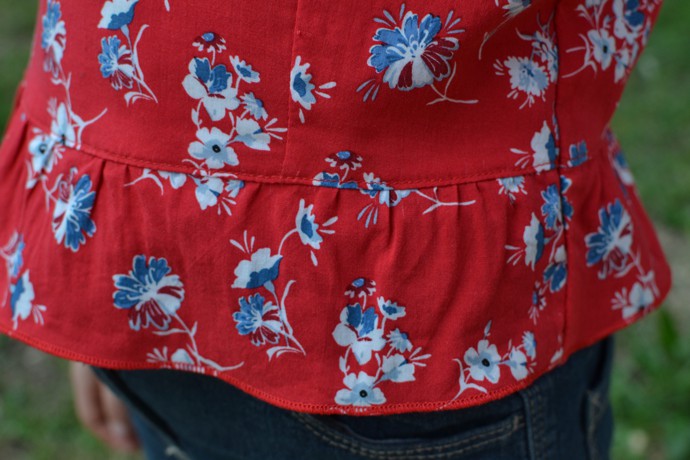 Rolling hem with the overlocker mandatory as the top is quite short: it will not exceed the summer, but worn with a tiny short it will be perfect.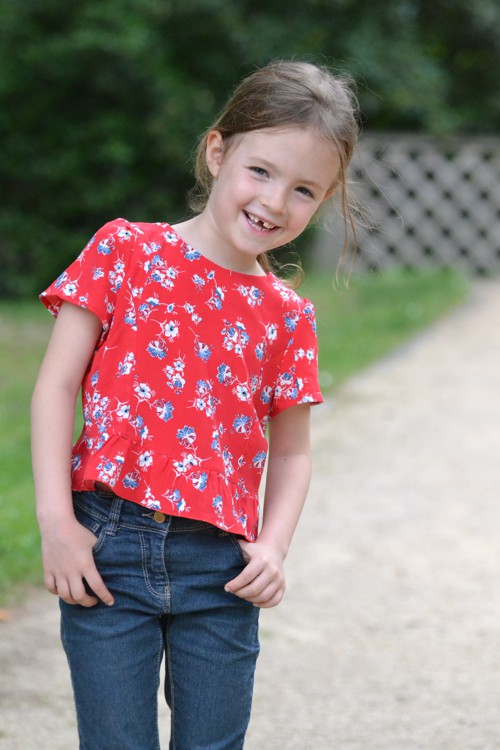 Verdict: very happy with this scraptastic sewing ! And red color suits her divinely. ❤ (I totally assume the dithyrambic side of the crazy mother of her offspring. I take advantage of it so much that they do not steal me in feathers. :D)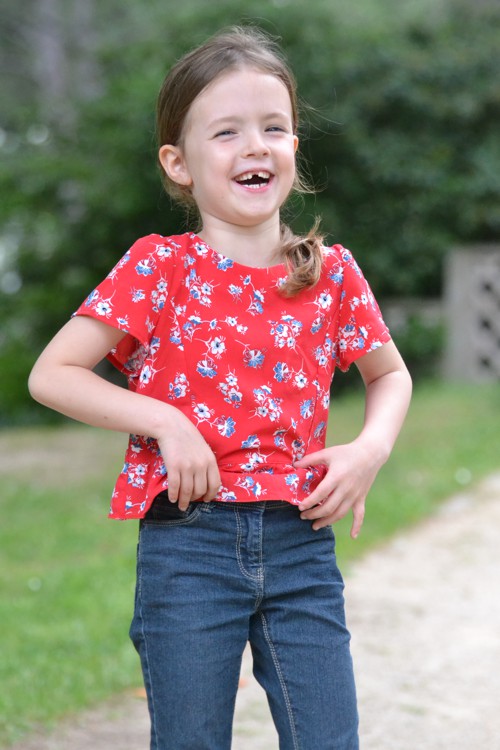 I wish you a sweet weekend, take care of yourself.❤