We love to celebrate Halloween: we decorate the house, prepare a large buffet, we dress up ourselves and at night, we go to the hunt for sweets. It's a ritual I never depart from, and the children are eagerly awaiting this holiday. And this year … Juliet and I had a very special costume. 😉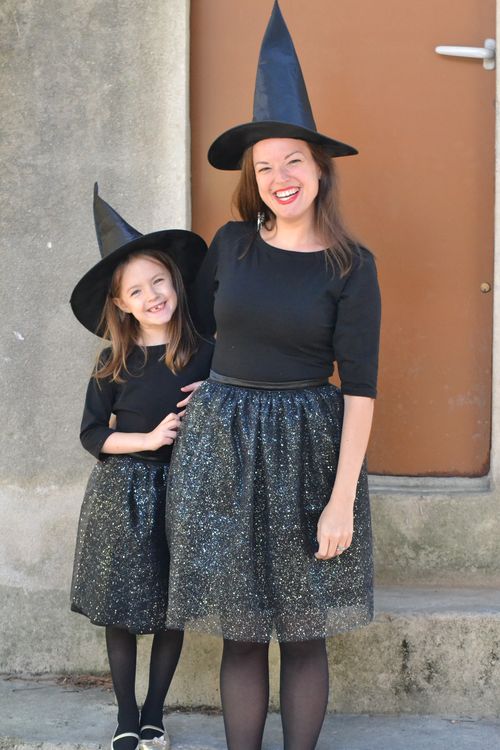 I don't know how the idea sprang up, but one day, the sudden desire: and if we dress up Juliet and I, in witches? I submit the idea to the baby girl, which is obviously ok. It was time for me to put the idea down on paper.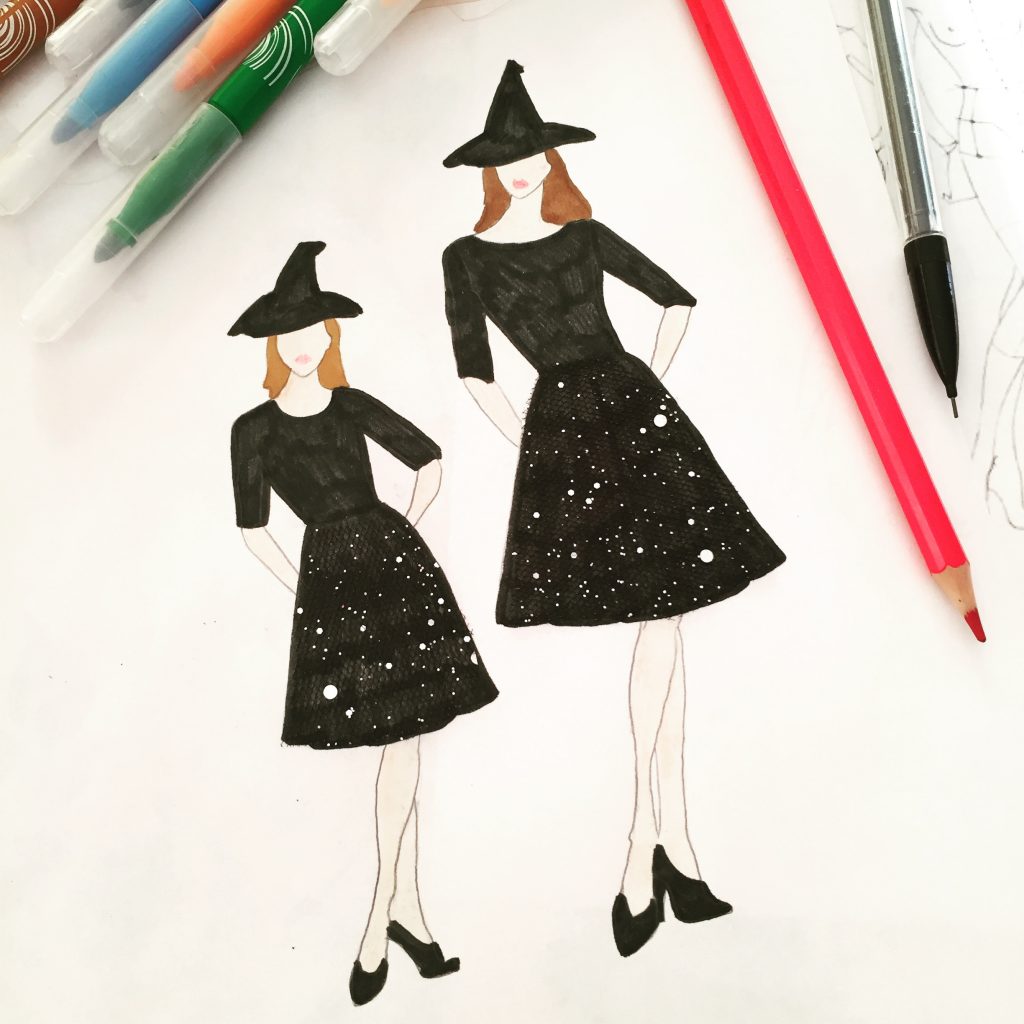 I wanted a costume a little glamorous, feminine: more in the mind of a Morticia Adams, than the 3 sisters of Hocus Pocus. Above all, I wanted us to reuse our dresses. And which pattern is best suited for a dress that is easily customizable, comfortable and quick to sew?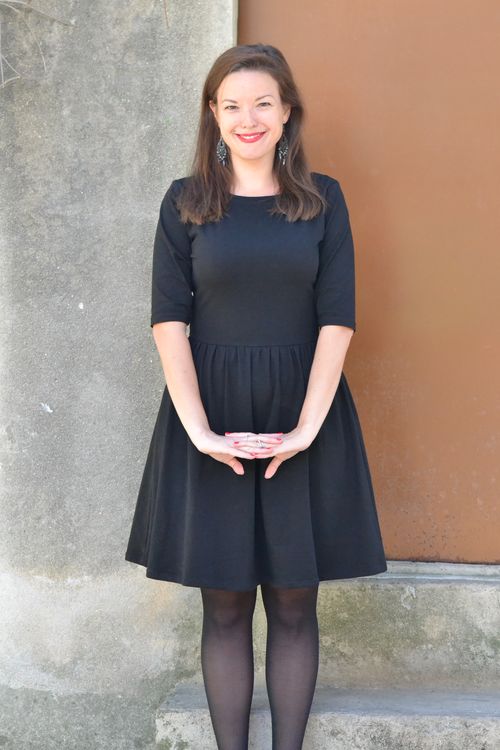 MONETAAAAAAAAAAAAAA !!!
You know me, I worship this pattern, and since the discovery of the perfect knit fabric, fabric proposed in a multitude of colors, the desire is great to sew only this pattern, in all possible colors. 😀 So I ordered 2m in black, and I took advantage of this sewing to resume my original pattern.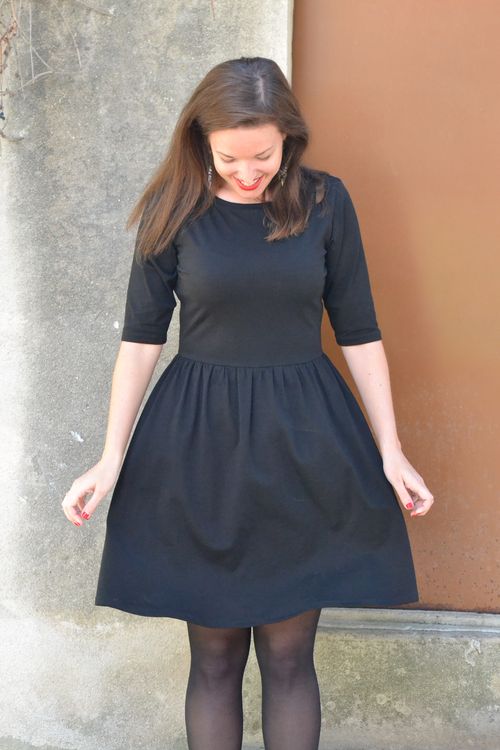 And yes, I must say that I use these pattern pieces for 3 years now, and that by force, these ruined parts, from a PDF taped in a not very precise way, didn't look great. Having found a super nice printer, I took the opportunity to print my pattern in A0 format, which gives a huge sheet, where all sizes are traced (Moneta goes up to 3XL). And taking the time to trace my pieces made me realize … that I have not been sewing Moneta properly for years.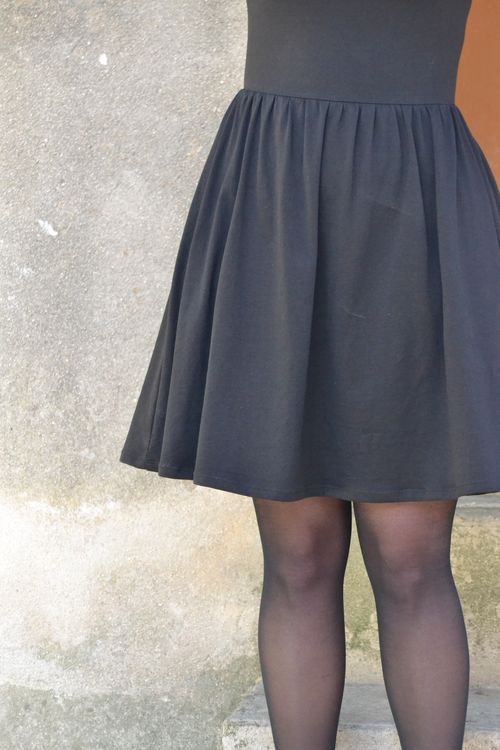 In fact, 3 years ago, when I wanted to reduce the length of my skirt, I had just cut my hem of 5cms. BIG MISTAKE ! In fact, on the pattern, a line is drawn to precisely reduce or lengthen the skirt, keeping the flare thought by the creator. By simply shortening on the hem, my skirt was less dancing than expected.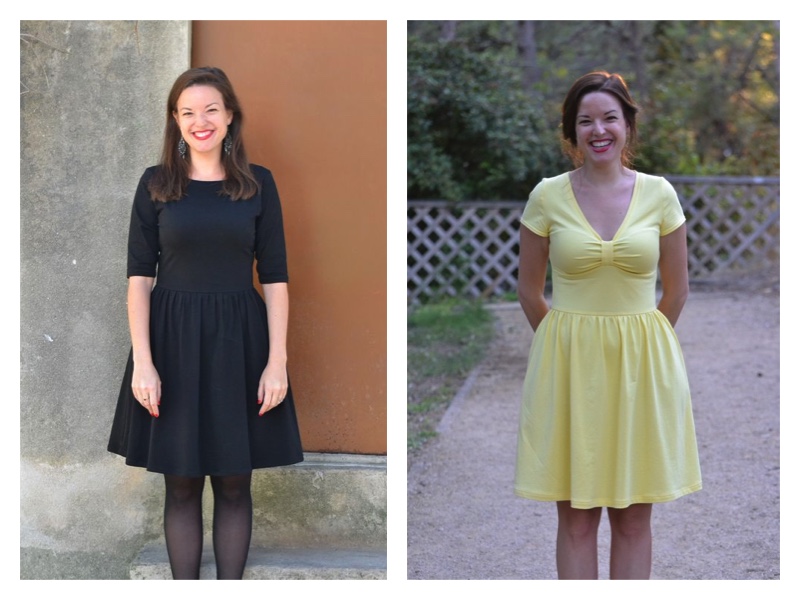 Do you see the difference ? It's a thousand times prettier (to me) on the left: the skirt is more flared, more flattering. In fact, it's when you think you can't love a pattern more than Moneta sends you a new arrow of love. 😀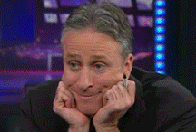 As usual I cut it in Small, I shortened (correctly ! 😀 ) the bodice of 1cm, and I chose the 3/4 sleeves, which in the end, are rather elbow sleeves but it suits me quite like that.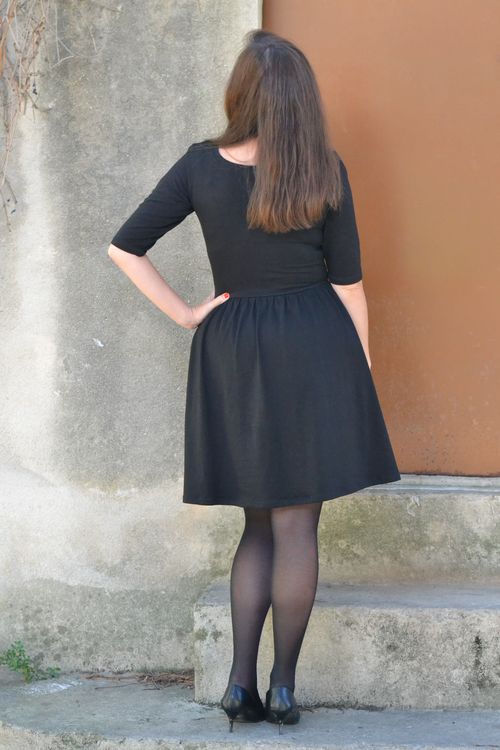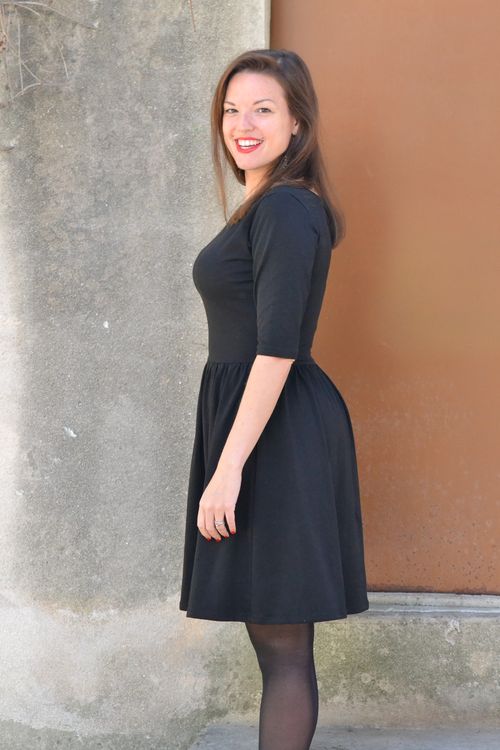 Only downside: if I compare with the sleeves of Wanted, I find them a little too large. Well, this is only a detail.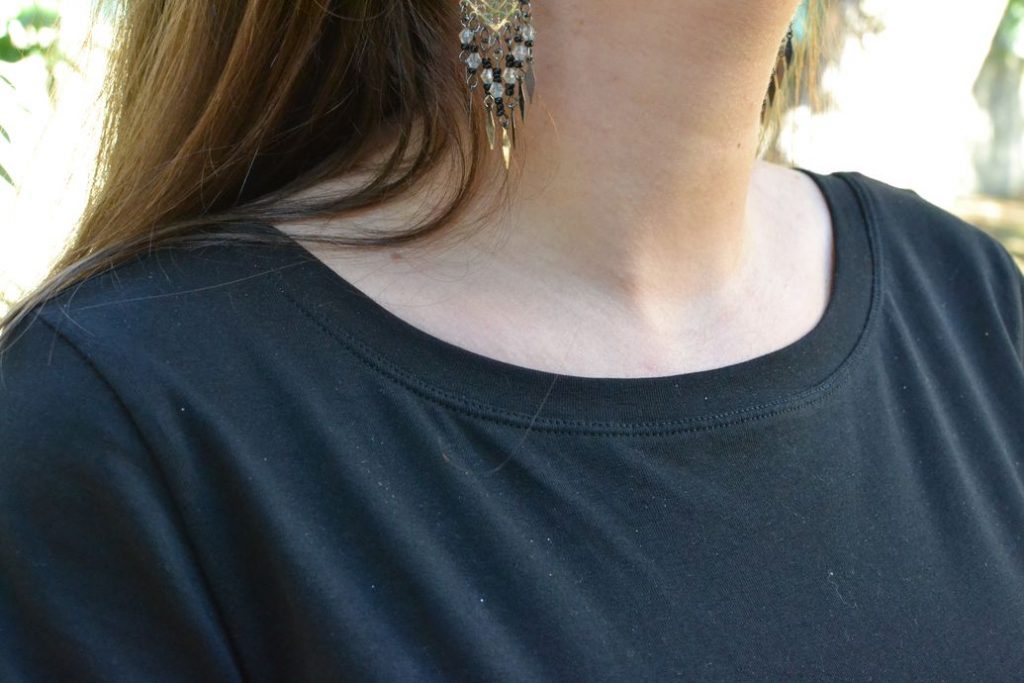 As usual too, I finished the neckline with a knit band, topstitched with a double needle. Next time I think I will try the single hem recommended by Colette : it will maybe give a less sportswear style to the dress.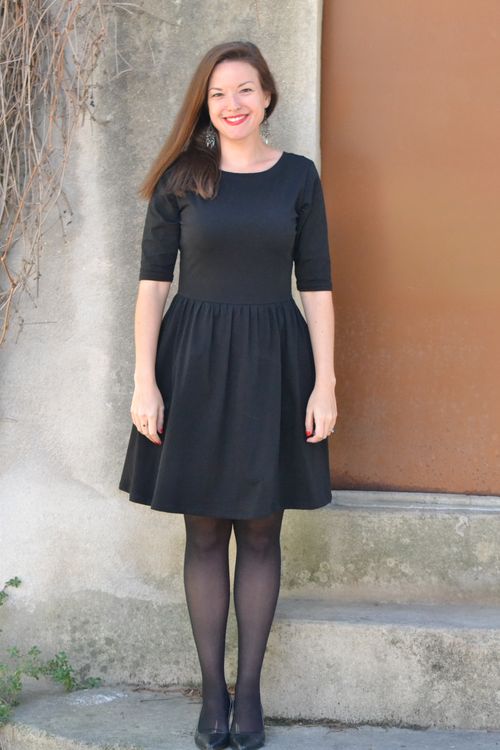 Let's skip to the baby girl dress ?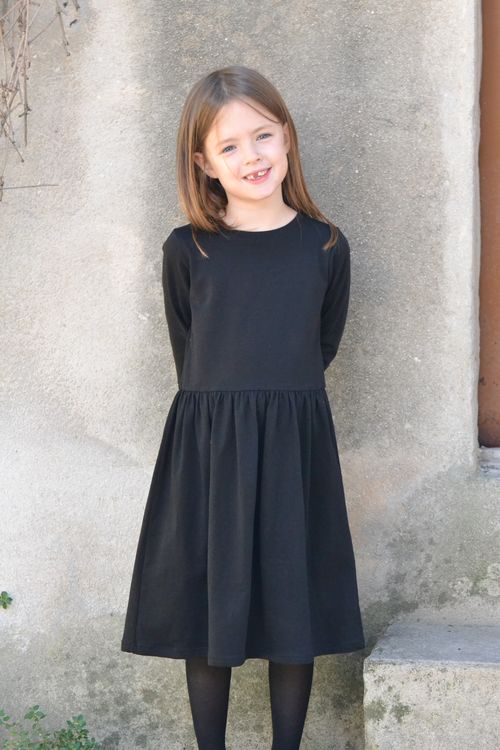 Have you noticed how difficult it is to find adjusted patterns for children? Very often, they are rather large, and for me who looked for a dress similar to Moneta, but in a kiddo version, it was quite tricky. In the end, I found something close to Peek a Boo patterns: the Gloria Party Dress.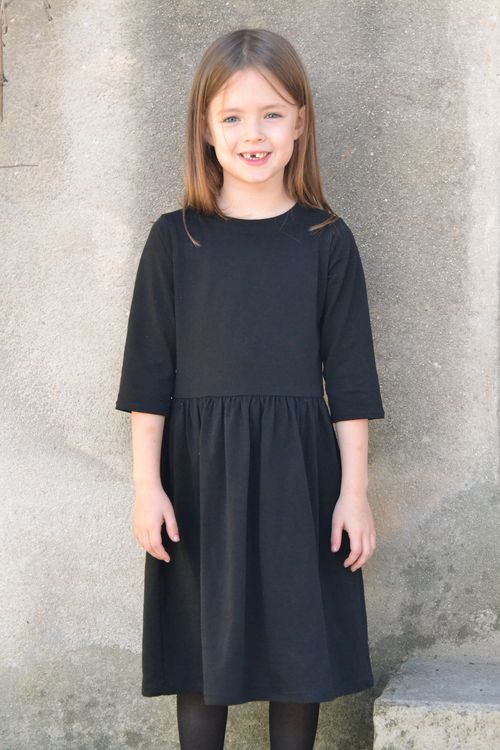 I left on the most simple version possible, in 7 yo size. The pattern tells us to gather the skirt in a traditional way: with 2 large stitches. But personally, I like to gather my knit skirts with elastic: I find it more practical and more regular. Alas, the skirt was so wide that the elastic did not stretch enough: so I had to reduce the sides of the skirts.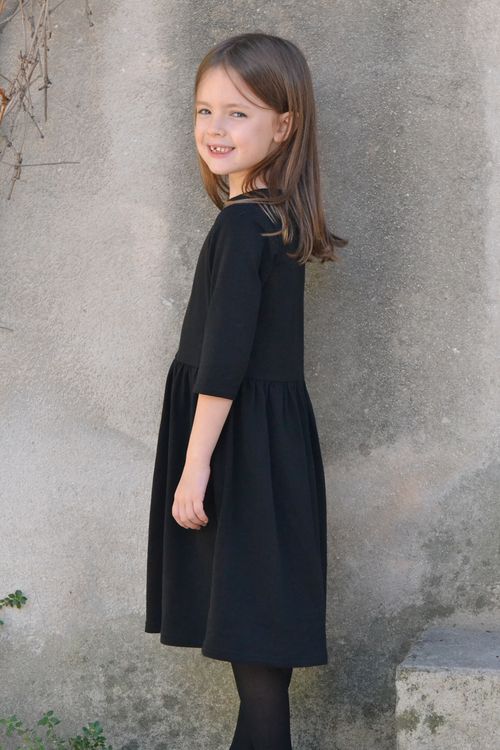 You see it on this picture: the waist is far too large for my baby girl. To have a more harmonious result like on my Moneta, it would have probably been better to:
size down on the waist
and especially to trace a skirt: this one is a simple rectangle. A skirt shape with flared sides would give something much more successful.

The sleeves are 3/4, and the neckline is finished with a knit band, topstitched with a double needle.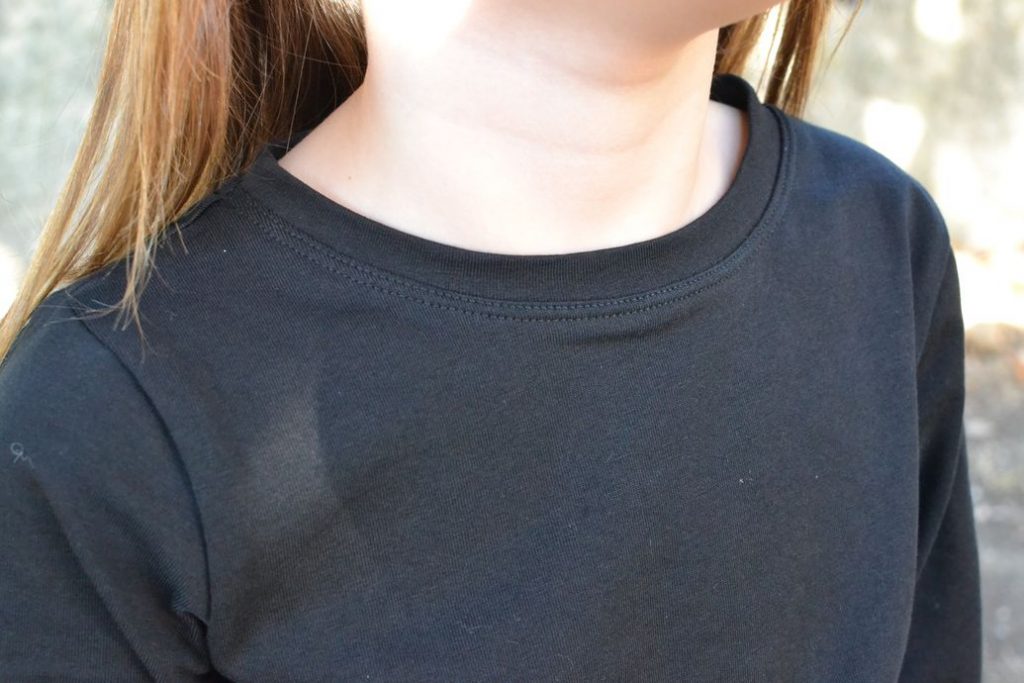 Note that the baby girl doesn't give a damn about everything I wrote just above : for her, it's a dress, she feels good in it and that's all that matters!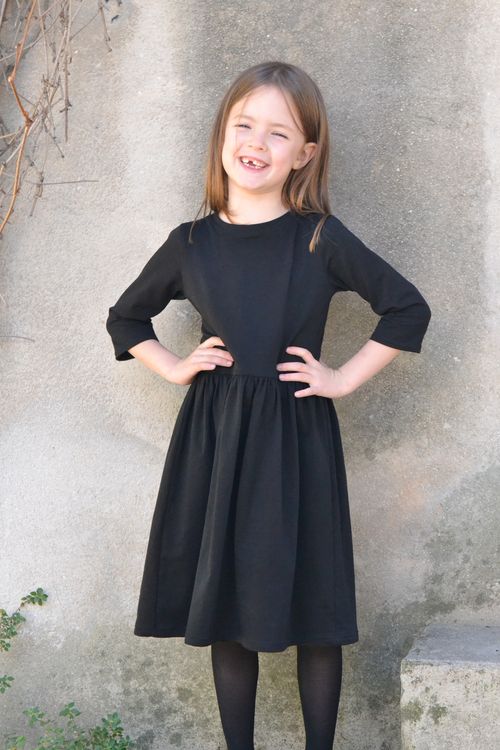 We finish with our tulle petticoats?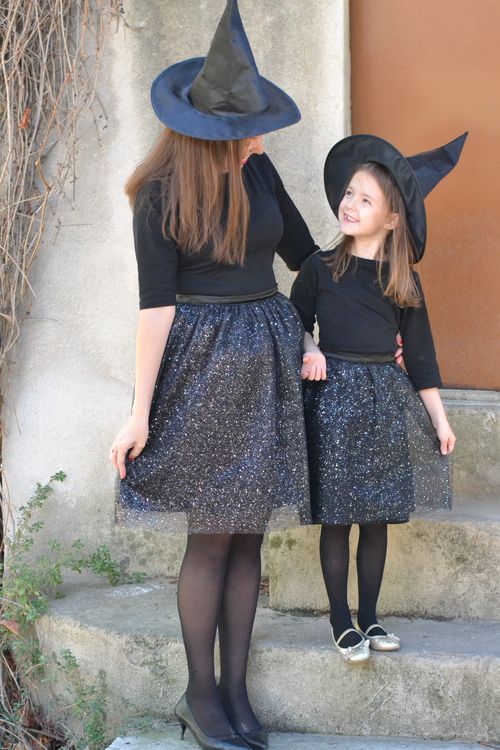 Note that there we are on a total hack: we found this glittering tulle, left with 2m50 under the arm … and covered ABSOLUTELY ALL THE HOUSE WITH SEQUINS FOR 15 DAYS. 😀 (My husband drove crazy. 😀 )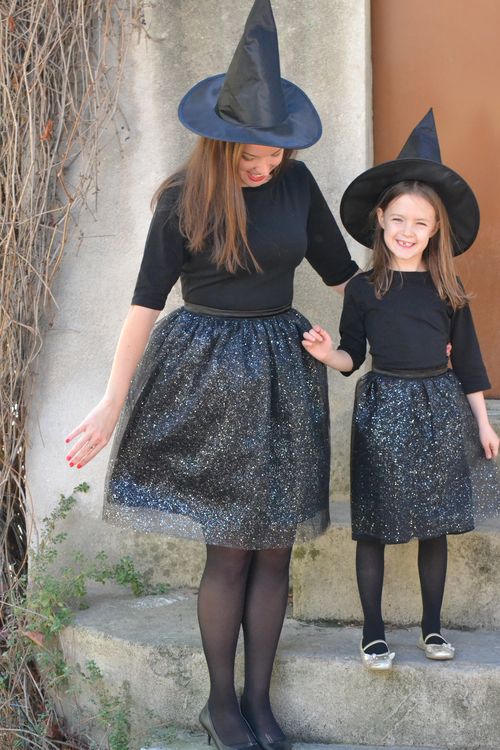 I simply cut 3 pieces of tulle about twice the size of our waist, on a average skirt height. (50cms for me, 35 for Juliette). I closed the 3 pieces by a simple seam, leaving open a dozen cms on the top of the skirt, to be able to put it on. I simply folded and topstitched the opening to make it cleaner.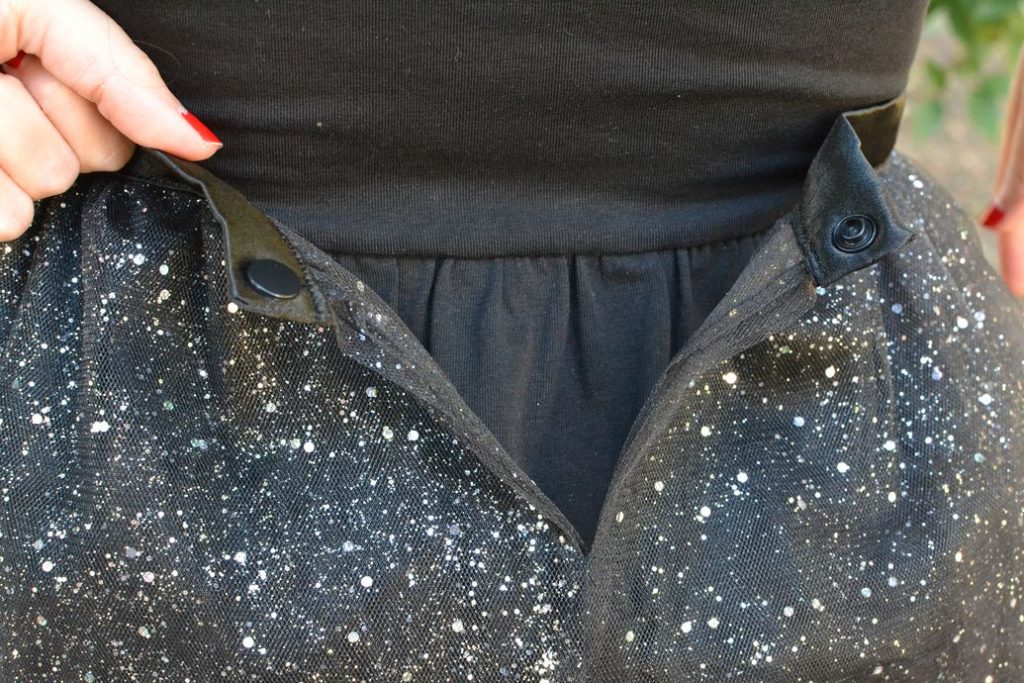 Then I gathered the 3 rectangles together, and finished the top of the skirt with a satin belt. The skirts are closed thanks to a KAM pressure.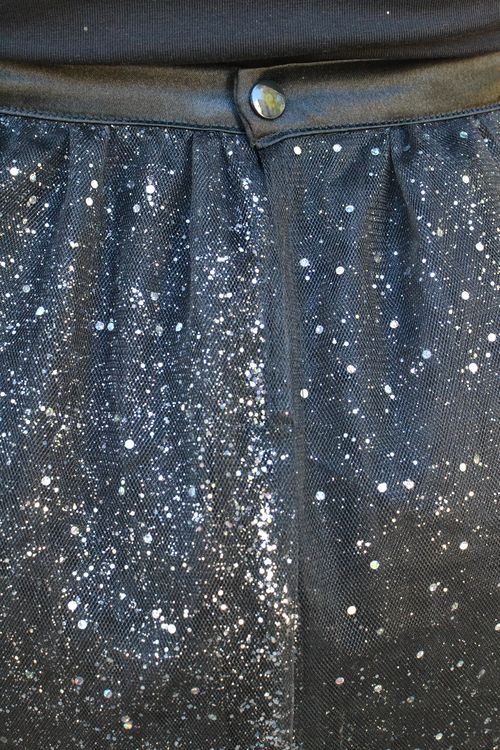 Being totally honest with you, these petticoats are probably the least flattering stuff I could sew. 😀 The tulle is much too stiff: the gathers are not at all flattering, and weigh down the silhouette. Well, as you can see, we don't care! 😀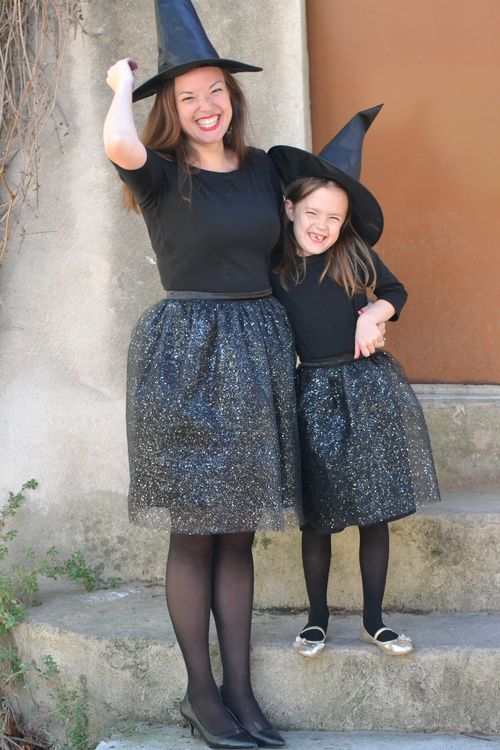 Verdict: for a one night costume, the petticoats have totally done the job, and we were really happy to be matched on this day so special for us. Juliette appreciates her dress, and thinks of a flex design to brighten it a little. And personally, while I thought hating black color, well I don't leave mine in recent days! Some red lipstick, beautiful jewelry, beautiful lace tights, and you have a really elegant and feminine outfit. Yes, at 36, you can still discover all the possibilities of a little black dress. (Better late than never huh ! 😀 )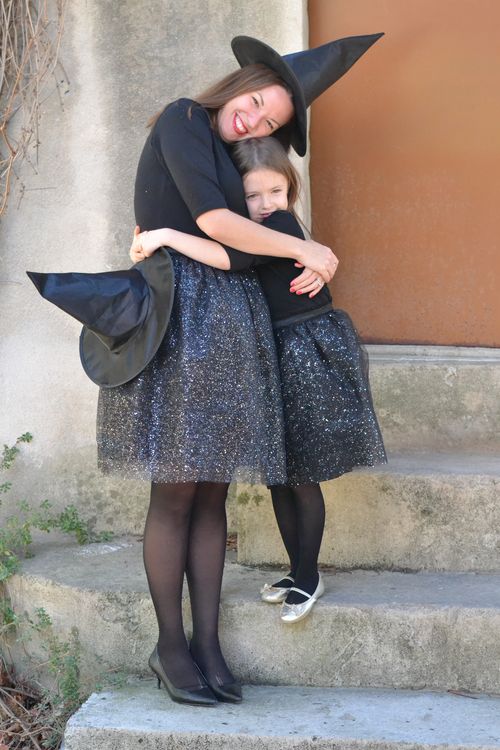 I wish you a beautiful weekend, and take care of yourself!