Change of season, new bag! And I must say that I'm particularly proud of this one.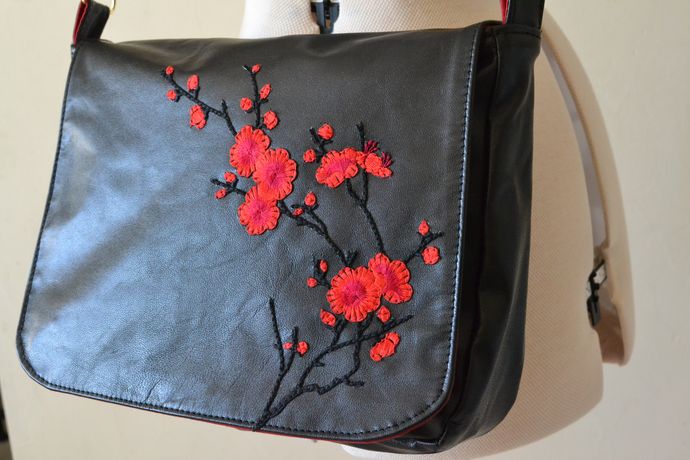 Did you notice how we see flower embroidered bags everywhere? As a good floral addict, I wanted to have one too, and everything started with this bag.

(Crédit Photo : Amétys Cuir).
It's an embroidered leather bag, sold by Amétys Cuir. Huge crush for this bag, but alas, I didn't have the money to buy it. But the idea of making something inspired by this bag interested me, so I took the challenge.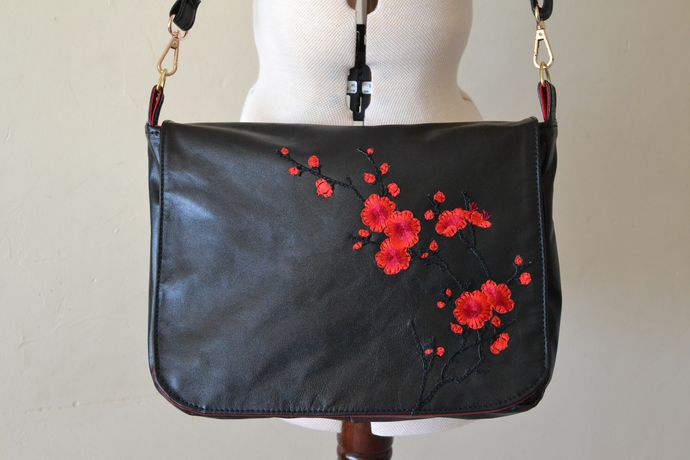 But how to embroider leather without an embroidery machine? I tried to contact a local embroiderer, but he didn't have any pattern that suited me, and creating a pattern especially for me would blow up my budget. There was no question of embroidering leather by hand (Ouch fingers!). And it was by falling on a bag with a floral patch that the idea came up: what if you did the same thing?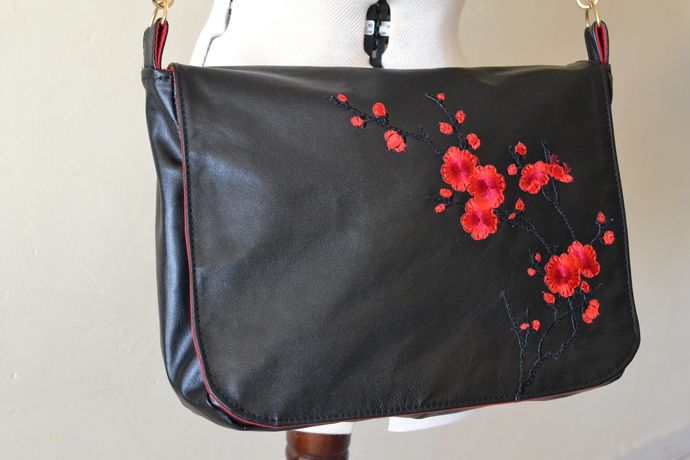 While digging a little on Etsy, I came across the shop Malicieuse, and this patch of cherry blossoms. I found the perfect patch! I had to spend HOURS thinking about the positioning of the patch on the flap: in whole, reduced by half? On the whole flap? To make it go from below, from above? Left, right? I made the whole family vote, took tons of photos … to finally decide on this positioning: reduced patch, and sewn from the right corner.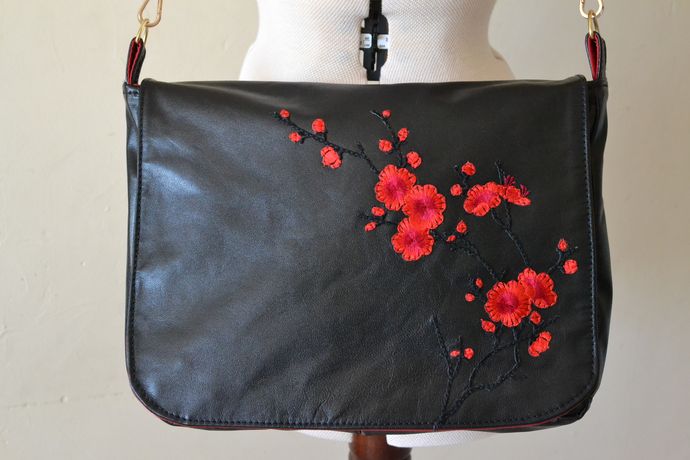 By buying my black leather at Varjan (28 bd des Dames, 13002 Marseille), I asked the saleswoman for advice to keep the patch on the flap. According to her, sticking it would not be enough, and would not hold in the long run. It was best to sew it. So I took my courage, and began to topstitch the entire patch.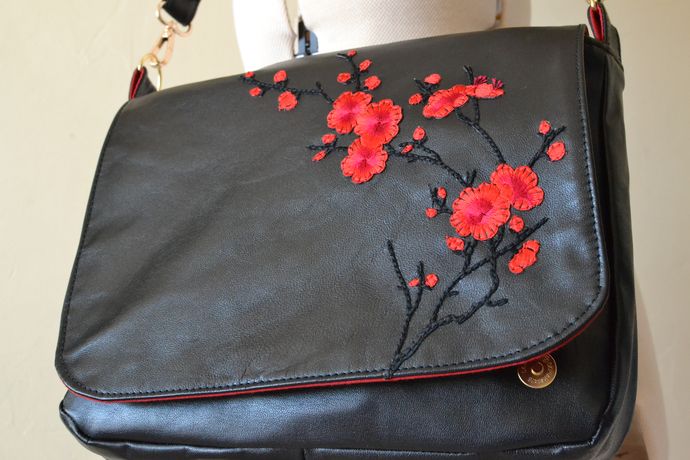 Believe me, it was long and exhausting. Cutting my last thread, I thought to photograph the reverse side of the flap: the picture is very telling.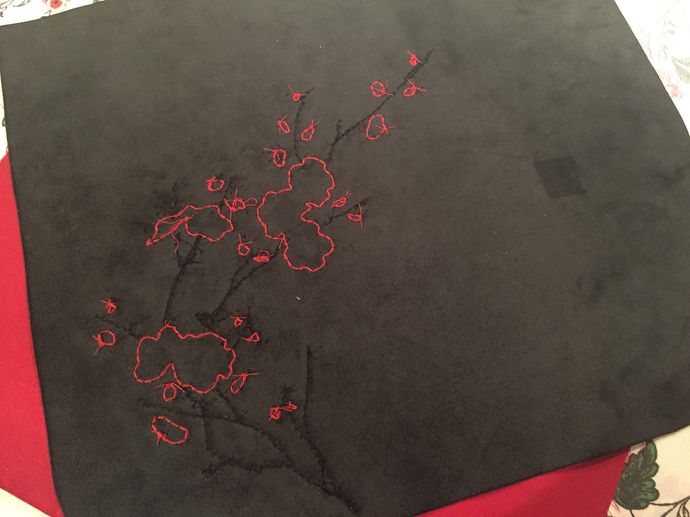 In general, I always choose flowery linings for my bags. For this one, I chose the sobriety of a red poplin: scraps that I had left from Juliette's marquise costume. And I also innovated for interior finishes.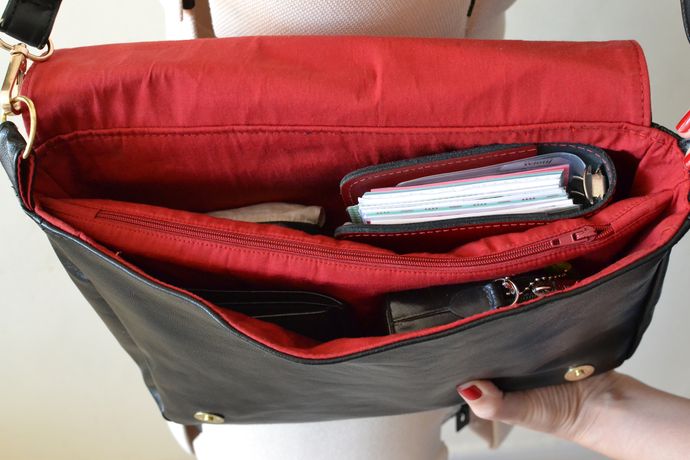 At the beginning of the year, a student asked me how to make a zipped compartment in a bag. I found myself very annoyed, not knowing how to answer her. This bag was therefore the perfect exercise to train.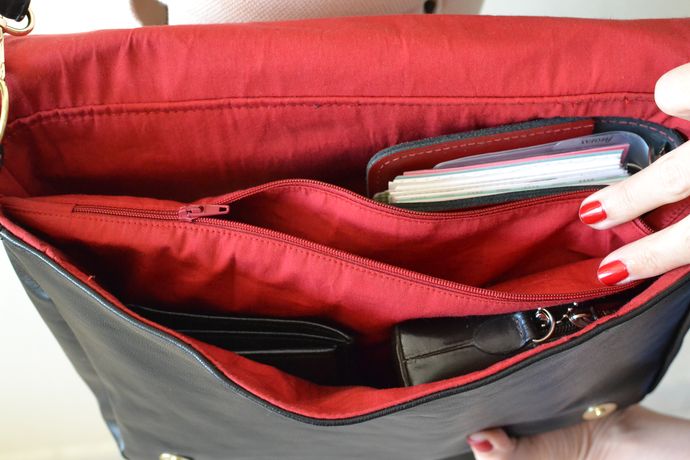 And in fact, it's very easy! Simply create a zipped case, split the bottom piece in two parts (not forgetting to add seam allowances to sew them later), and slide the "zipped case" between the two bottom pieces . This tutorial will explain all this to you much better than me. 😉
For the closing system, I chose golden magnets …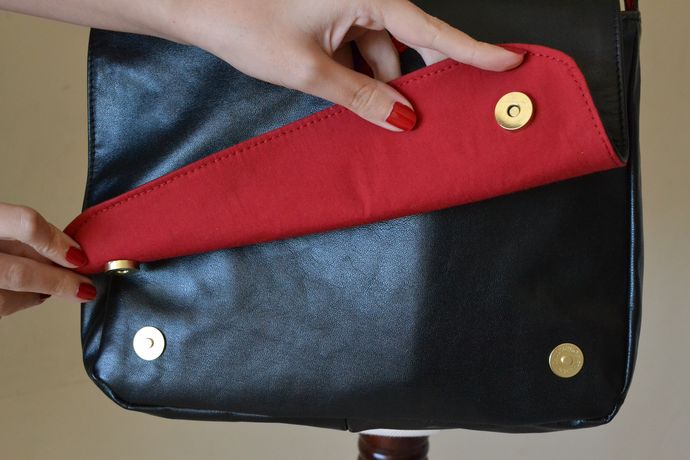 … and used a black handle that I had been given years ago.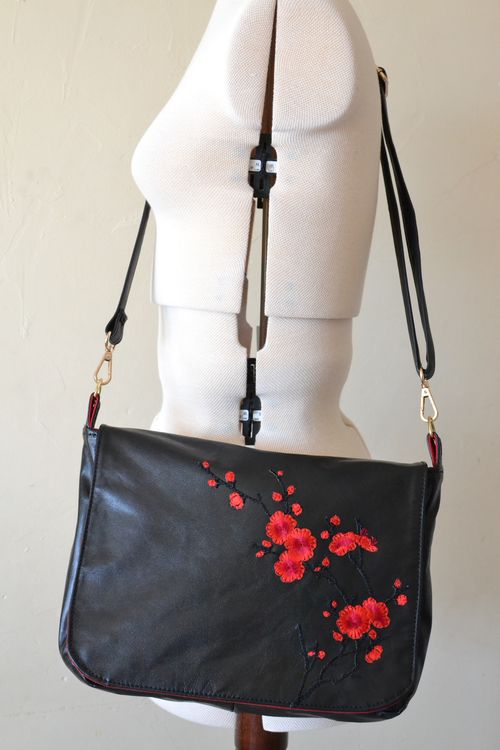 But Heidi, my Bernina 350, as brave as she can be on the thicknesses, gave up on the very last seam: the topstitching of the top of the bag. If she was able to sew the front and back, she was blocking desperately on the sides: it must be said that the handle straps created a very large thickness, and that my lining was faced with Decovil Light. Can't sew them by hand. And it was by asking my drafting teacher that she suggested me a great track: ask a cobbler to stitch it for me !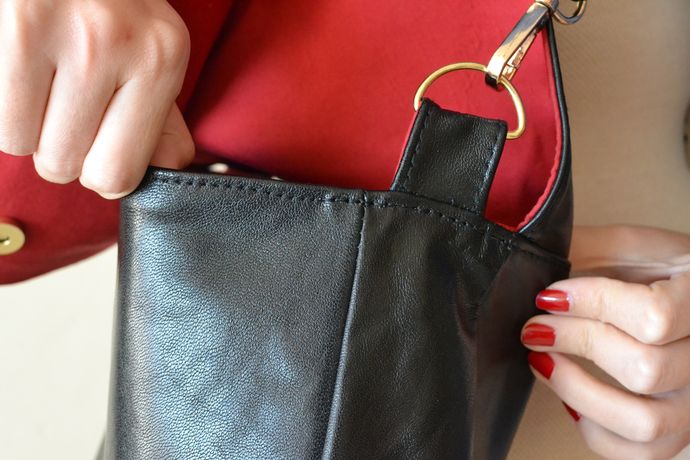 And it worked ! I asked the cobbler of my neighborhood (the Artisan Confiance, 30 Rue des Électriciens, 13012 Marseille): he sewed the missing points, and the recovery is undetectable! All for 5 € and with a smile: honestly I'm really happy, and from now on I won't fight anymore with Heidi. 😉 (Thank you again Chantal if you read me! ❤)
Verdict: I love all my bags, but I admit that this one holds a special place in my heart. I find it really beautiful, and I'm super happy with the rendering of the patch on the flap. The flowers are bright, the leather is beautiful, and the zipped compartment super convenient. I am rarely fully satisfied with my sewings, but this is the case for this one. I feel like shouting to everyone in the street "HAVE YOU SEEN MY BAG ?! I MADE IT BY MYSELF !"  😀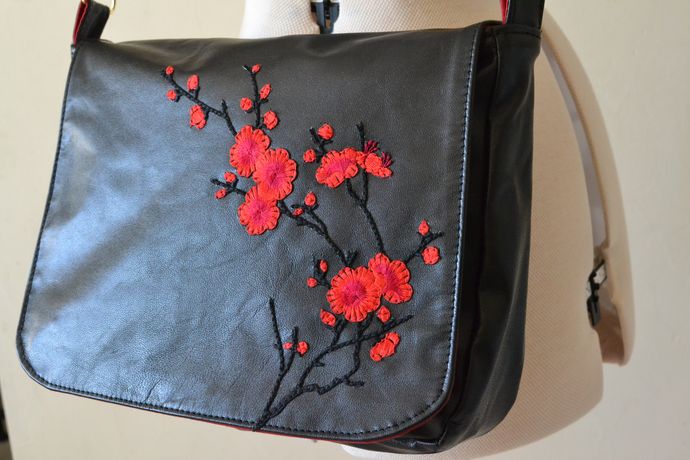 A good weekend to all, take care of yourself! ❤