A busy day is planned in the program today: are you ready? Let's go, let's go!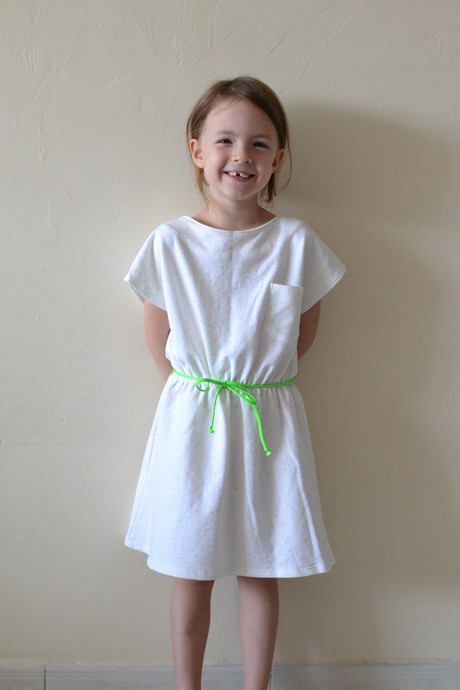 Then resume chronologically: I have not sewn Mariah dress scraps, for I still had a meter of my fabric, so I put aside this beautiful cotton sateen, which will maybe serve me on another project in the future. No scrap from my McCall's dress, where the pattern cased perfectly on my lay plan.
Which brings us to the Agnès B knit fabric : given our mutual love at first sight, it was obvious that I had to fit something for Juliette on my lay plan. And I told myself it was now or never to test the Corfu dress from Ikatee.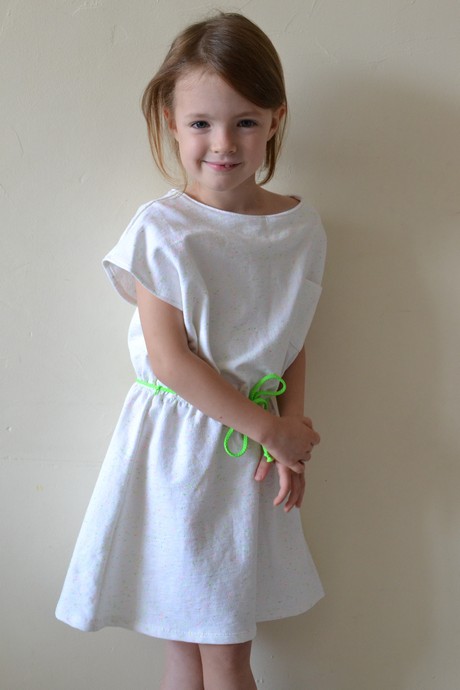 The creator of the brand contacted me a few months ago, asking me if I was ok to choose a pattern in her catalog. I accepted the proposal with pleasure, and thus opted for the Corfu dress: a comfy knit dress with a boat neck and Dolman sleeves.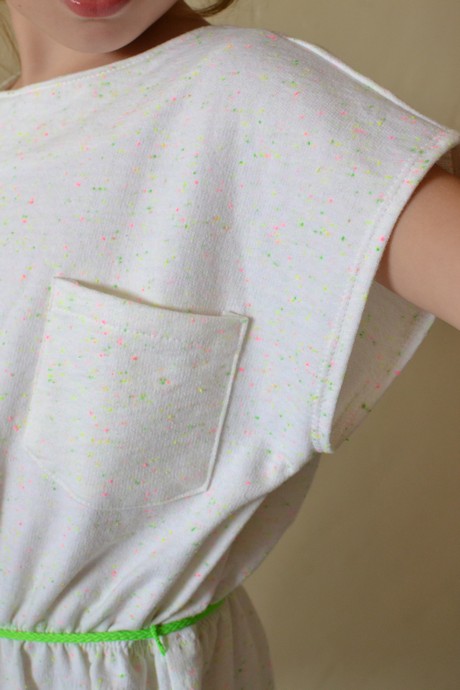 The pattern is intended for beginners: the explanations are very clear, illustrated with photos, and tips for sewing knit. I personally modified 2-3 things:
on sew the sides together and hem of the sleeves, the booklet offers to hem sleeves and then sew the front and back together: I did the opposite.
I used double needle hems, rather than a straight stitch.
I raised the elastic waist of 2,5cms.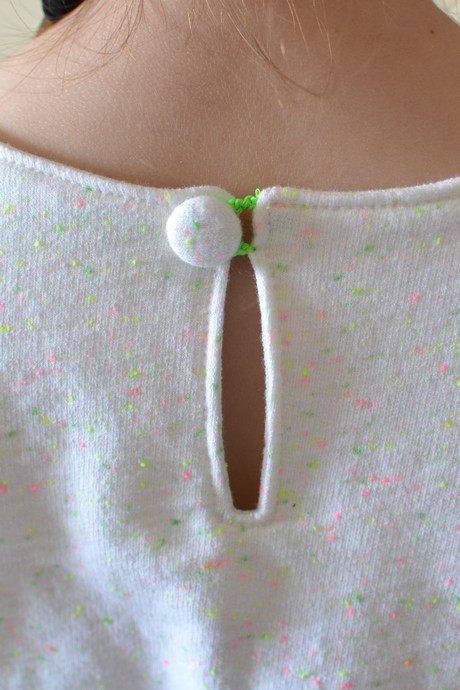 The neckline is finished with a back vent with facing. The facing must be interfaced: I used stretch fusible, which helps keep the elasticity of the fabric. And I covered a button to close it.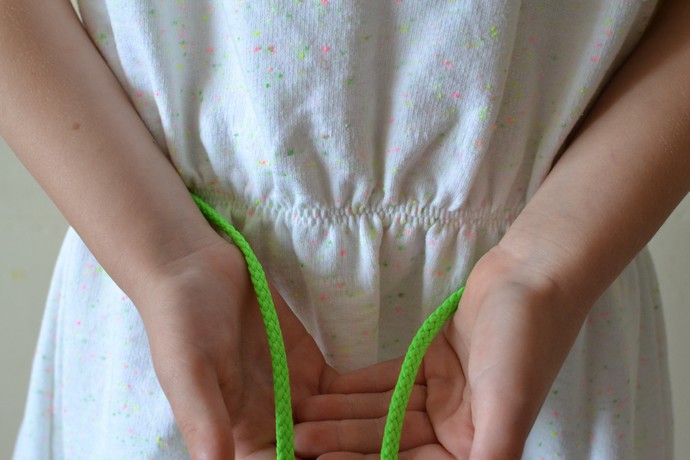 The size is directly elasticated on the underside. The belt is not mandatory, but I find that it ends beautifully the dress.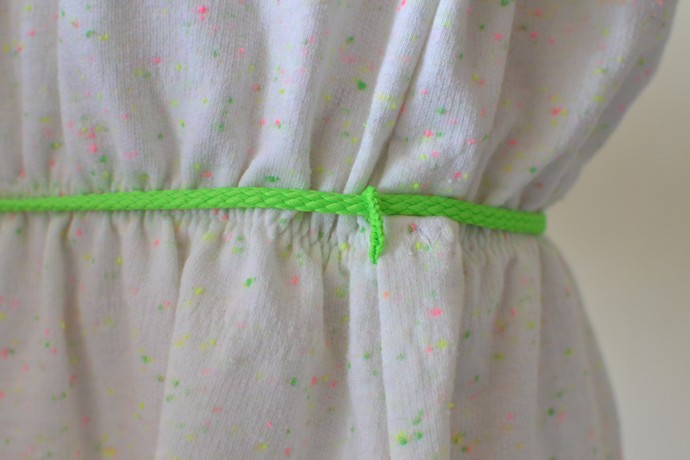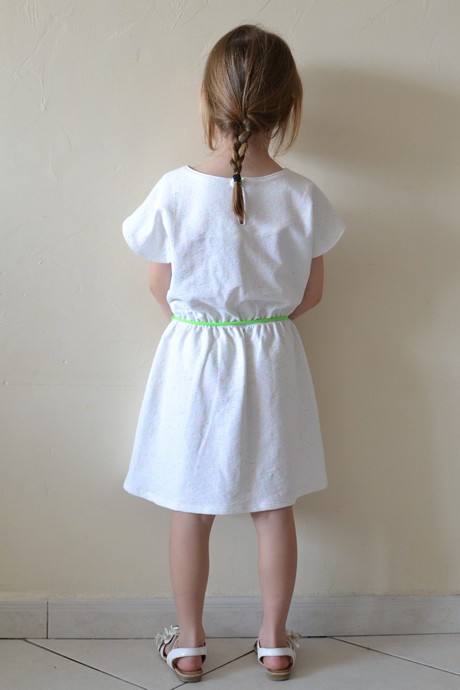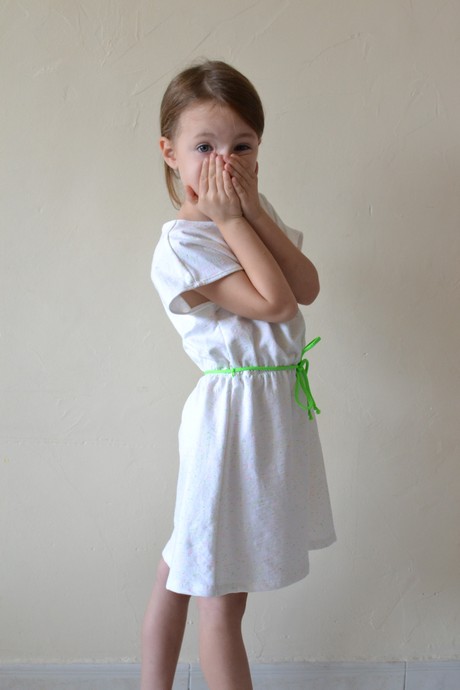 Concerning the size, I opted for 6, and it's a little bit large. That suits me very well since it is supposed to be worn next summer.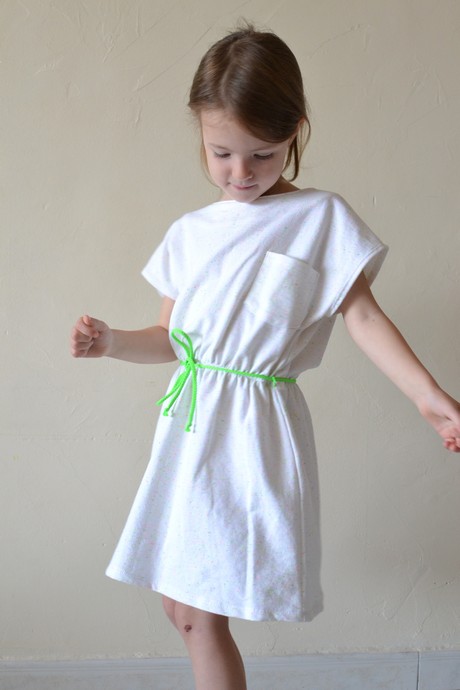 Conclusion : I think this knit fabric misses some drape to give a very satisfied result. I also have trouble with the very loose style of the dress, but this is mainly due to my personal taste. Anyway Juliet loves it, she finds it comfy. If you like the style and are a knit beginner, go for it, you'll learn a few things !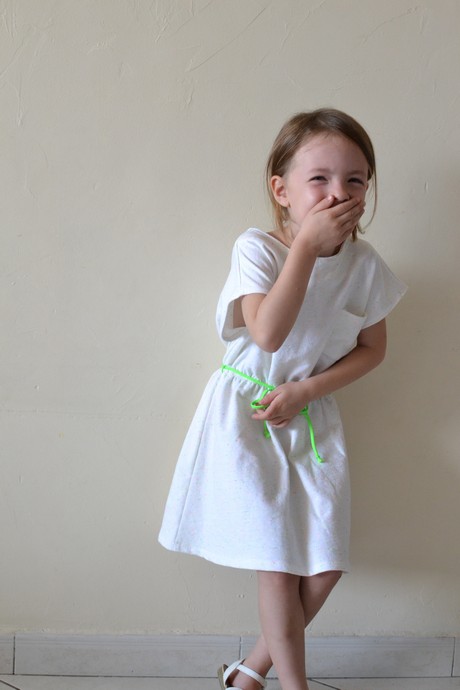 And as I still had a little piece of knit fabric, I thought it was time to test the ultimate Stash Buster, panties!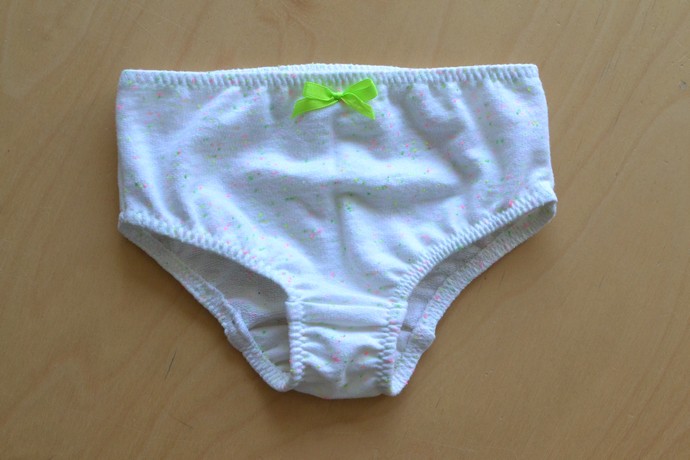 Well here it is clearly a fail: it is too small for the sweetie. I self drafted it quickly from one of her panties, and it is too tight to her thighs. But it does not matter, it has the merit of being quite well sewn and had me demystified this garment… until the next one!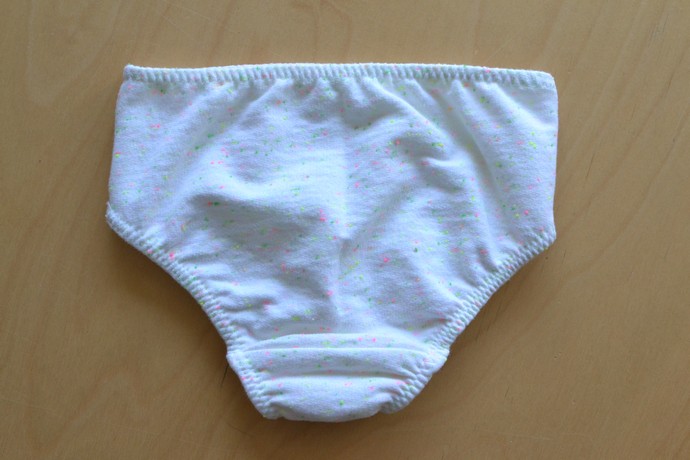 Let's skip to the Vitamine Dress ?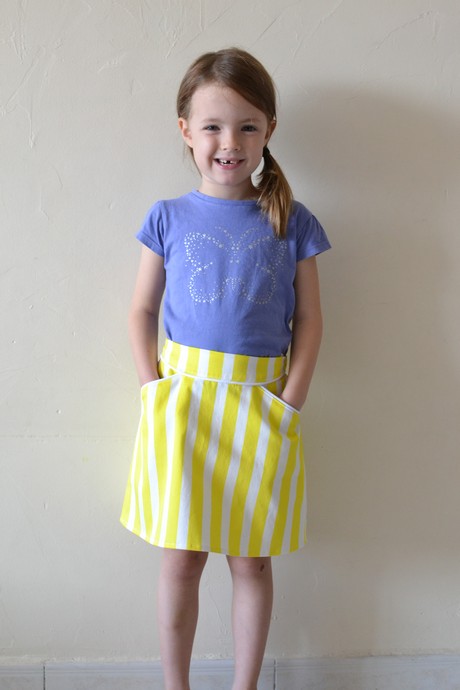 I had such a crush on this fabric I wanted to make it profitable. I did not think more than 10 seconds to the pattern : it will obviously be a new Mini Perle Skirt !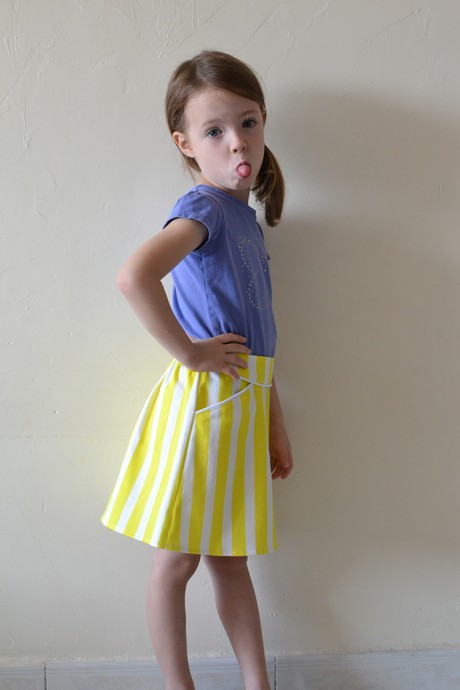 ("How dare you young lady !?" 😀 😀 😀 )
Ah Mini Perle… it's only my sixth version. : D What do you want, I never get tired of this pattern, it's always a pleasure to sew. I am also convinced that Juliette thinks it's HER skirt. : D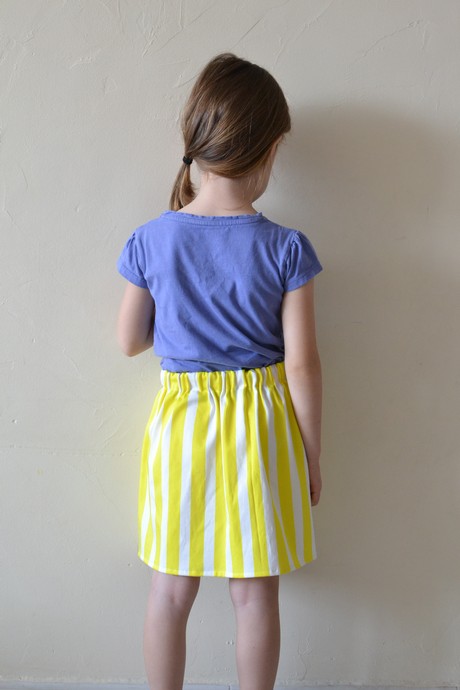 As I wanted that she could wear it next summer, I cut in 6 years, and added 5cms to the hem, hemming only on 1cm. Normally it should be good.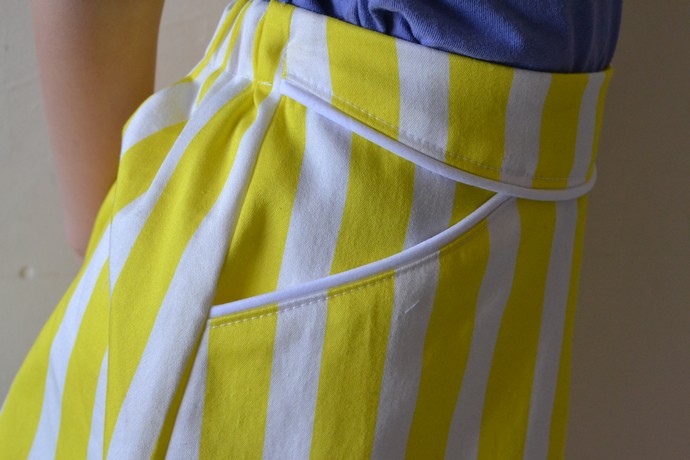 I piped waistband and pockets, and used my stretch satin for lining.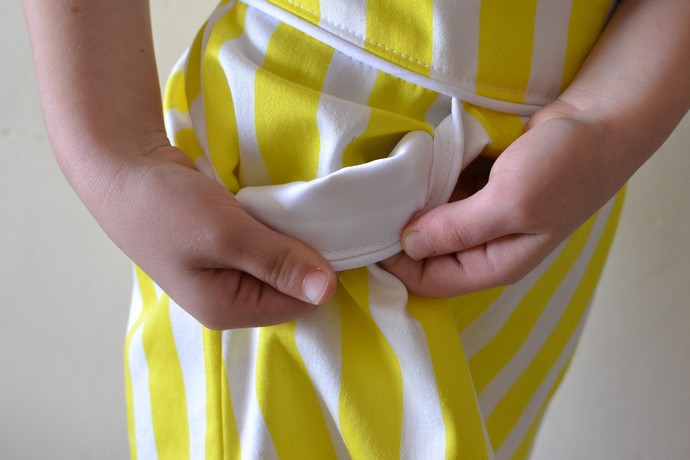 This one could be renamed the skirt "Yes but No", in relation to the matching stripes that are not successful at the belt. Honestly, I could undo everything and start over, but … no. Laziness. We will say that I advance on the way of letting go. : D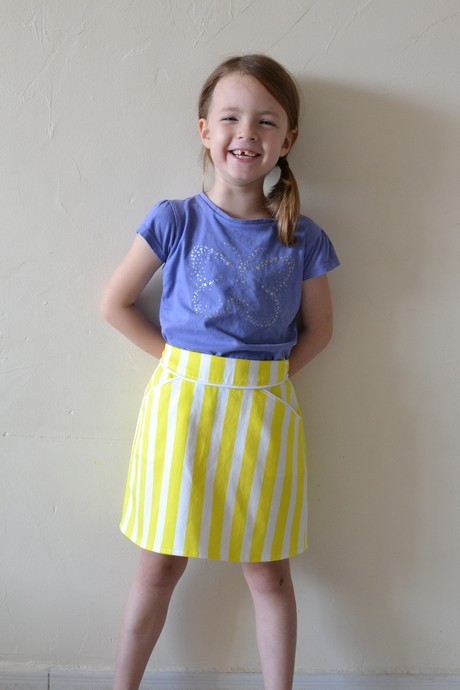 Conclusion : and then, who will check for matching stripes, with that smile, eh, I ASK YOU! I will not repeat my love for this skirt, I just thank Ivanne to have graded it up to 12 years, if I calculate well, with 2 or 3 Mini Pearls every year, I will soon open a shop. : D
And guess who get a vitamine part ?



("Oh ? Waht's wrong with your tongues today ???")
This is my little Paul of course! It was time for fall to come I'll tell you, because I think I got a problem with shorts. 😀 I see shorts in all my lay plans, I dream of eyelets and cord … it's serious doctor?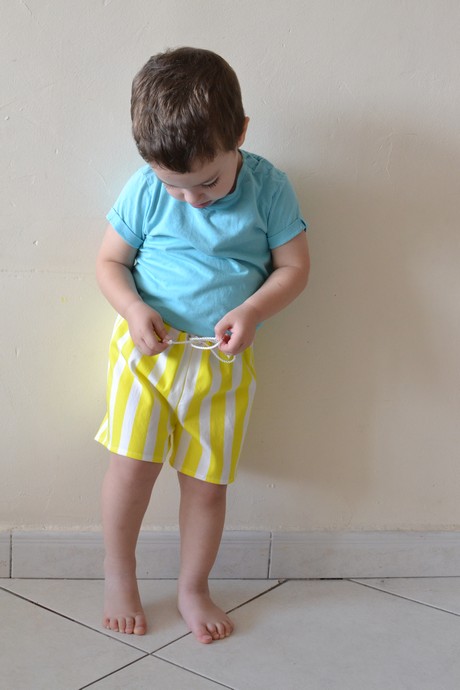 Always the pattern 140 from Burda June 2014, here simplified to the maximum: no back pockets or on the sides. A slider, eyelets, cord, and off we go: in the wardrobe for next year!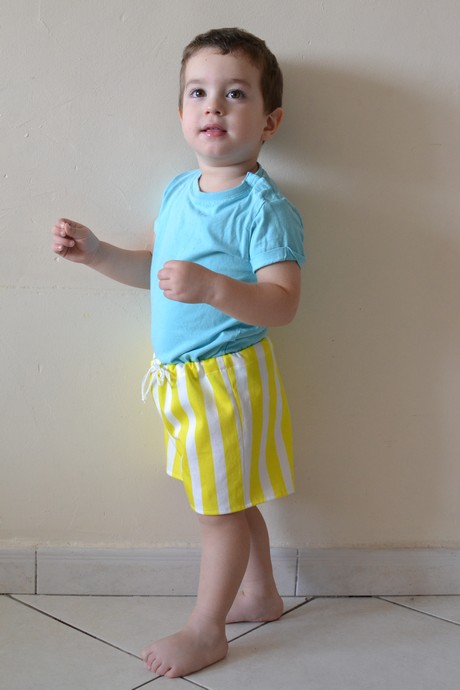 I was only able to cut the size 86 : I have trimmed margins and hemmed on only 1cm: as now it's big enough, I am hopeful for next year.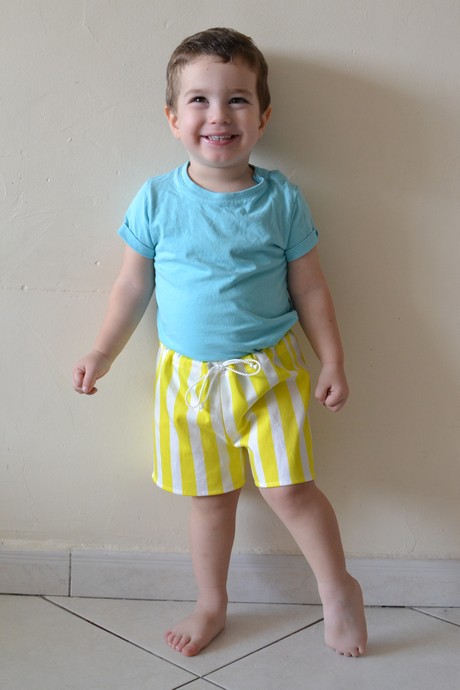 If you are still there and you have survived this river post, I wish you a nice weekend! Take care of yourself. ❤