As promised, I come back with some scraptastic sewing. Do we unroll the thread chronologically?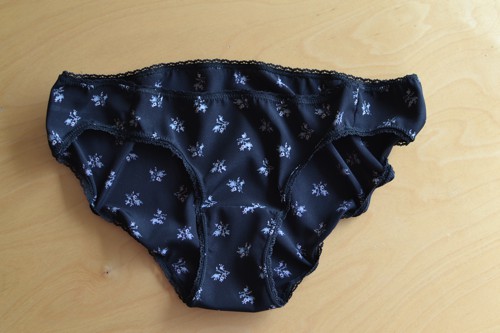 Here you recognize the Aubépine scraps : there really was not much left, but I wanted to test the panties in woven fabric, having sewn only in knit before. I knew the popularity of the Bel-Air pants, but having found a free pattern on Thread and Needles, I thought it would cost nothing to try it.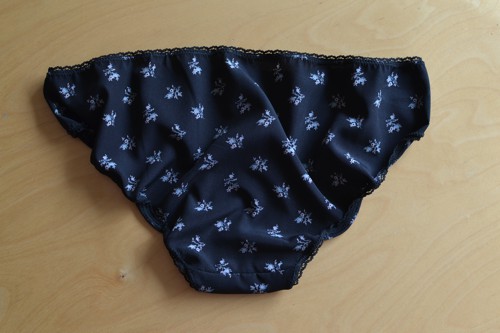 Well, I tell you this right away: I'm not a fan of this pattern. Already, regarding the size charts it's better not to be thick. From memory I had to trace my pattern in 40/42 and I can hardly put it on. Plus, I'm really not fan of the side seams that are staggered at the front. This pants is not a frank success, but it doesn't matter: I will know what pattern to try if I get some woven scraps to do so. Even if I prefer to wear knit panties. (The elastic comes from Mercerie Extra).
Going to the Darling Ranges scraps ?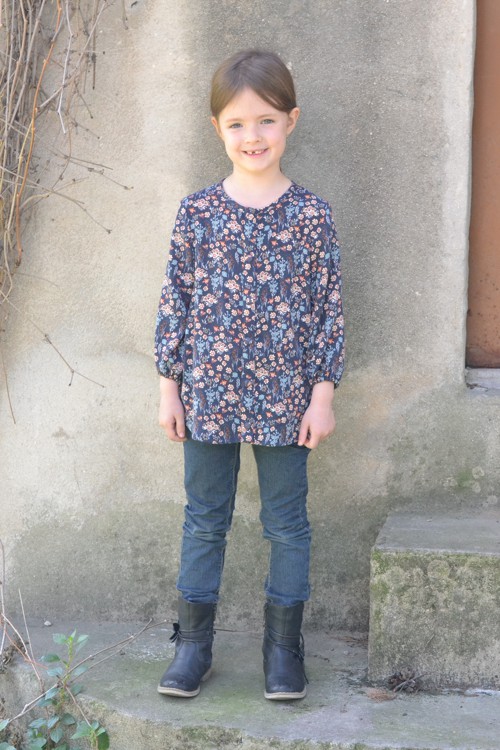 I wanted to sew a shirt for my baby girl. I chose the pattern 137 of November 2013 Burda.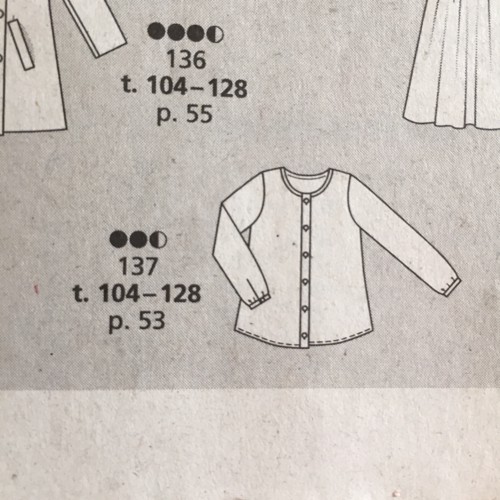 I opted for size 116, and as you can see in the pictures, it is wide enough for Juliette. But as I often say: this little things are growing so fast !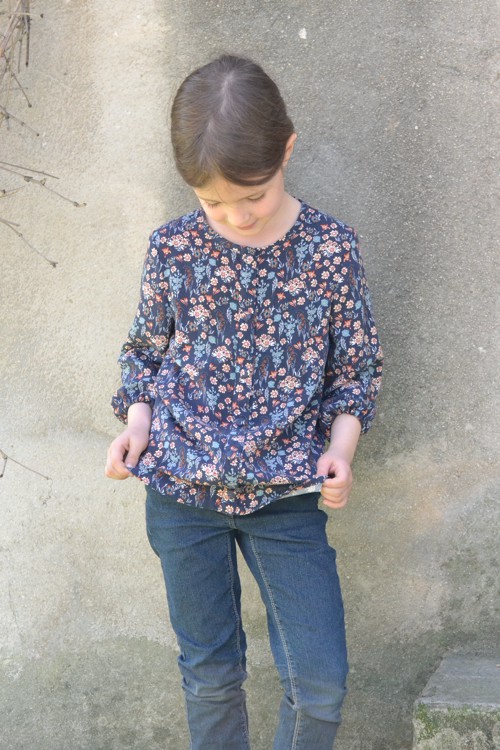 Not having enough fabric to make the long sleeves, I tried the 3/4 sleeves. Except that they were really wide at the hems, since the bottom of the sleeve hems is gathered and closed with a sleeve bracelet. I then opted for an elasticated slide.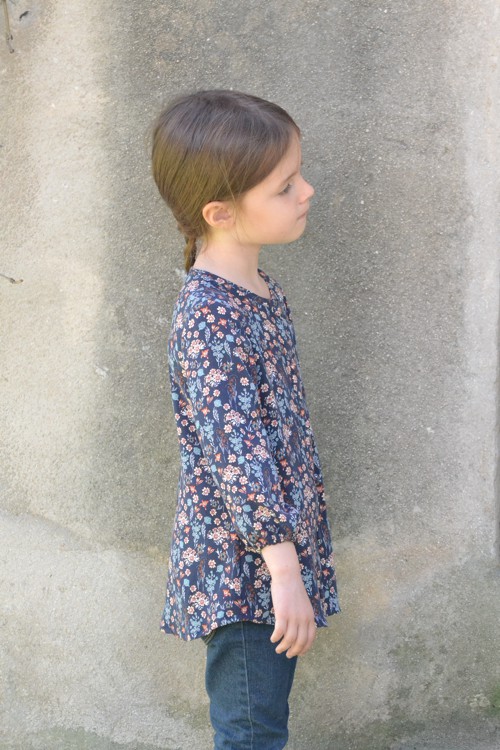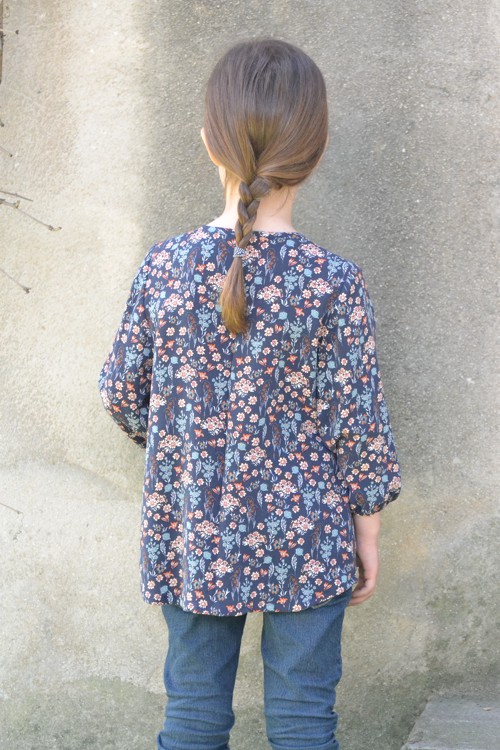 The neckline is finished with bias and the button placket is attached.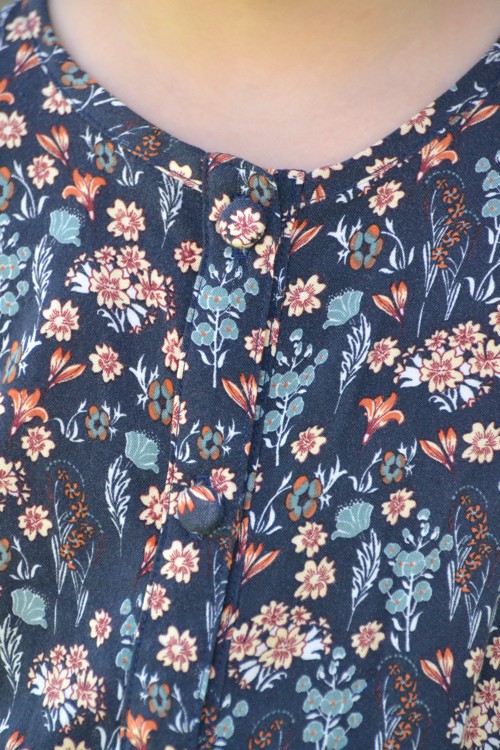 Hello the covered buttons ! (I love doing that, don't you?)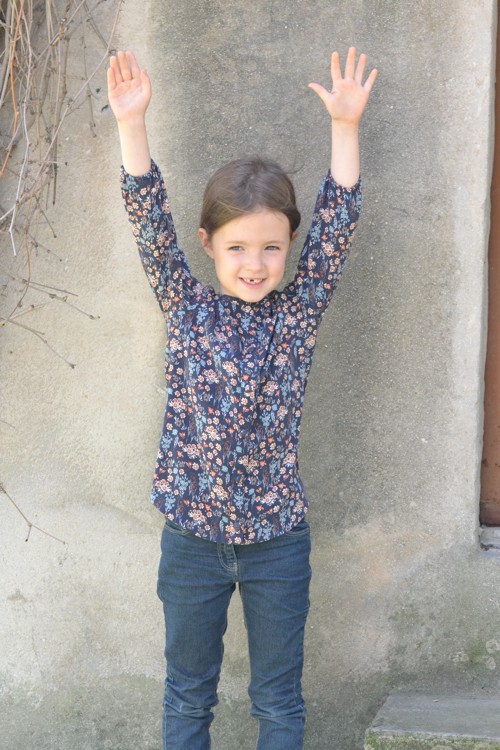 Conclusion : Bubu as I like it, simple, efficient and nicely finished. Juliette loves the fabric, which she finds very pleasant to wear. Profitable scraps / Filled dressing = happy mummy ! Let's skip to the Wanted scraps ?

You know, I always cut my main work and my scraptastic sewing at the same time. This time, I was really happy because I had managed to fit my dress, a t-shirt for my man and even a little panties for Juliette. But that was before I screwed on Wanted's neckline.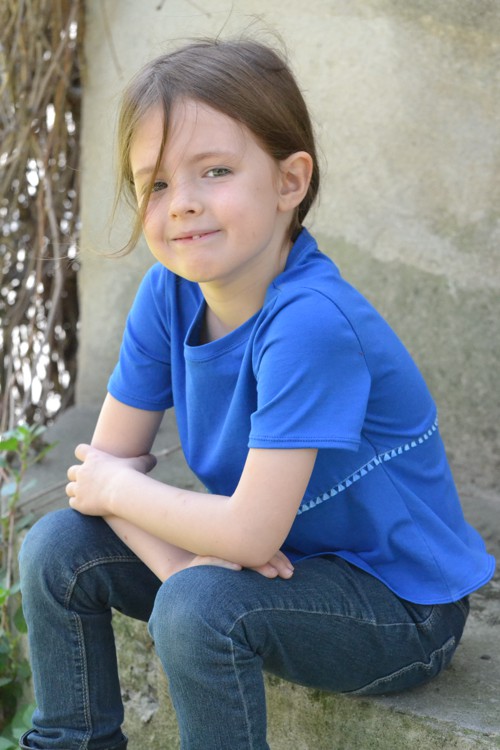 Needing to cut a front and a back for my bodice, I sacrificed the t-shirt of my man. So I had 2 man sized short sleeves, and pieces here and there, which I managed to combine for Juliette, using this Burda pattern :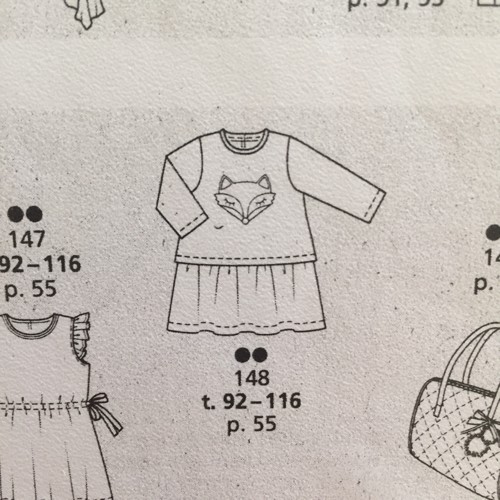 So we are facing the Burda dress 148 of August 2014. The bodice of the dress is intended for knit fabric, the skirt for woven. I only used the top, cut the back on the fold, dug the neckline and shortened the sleeves.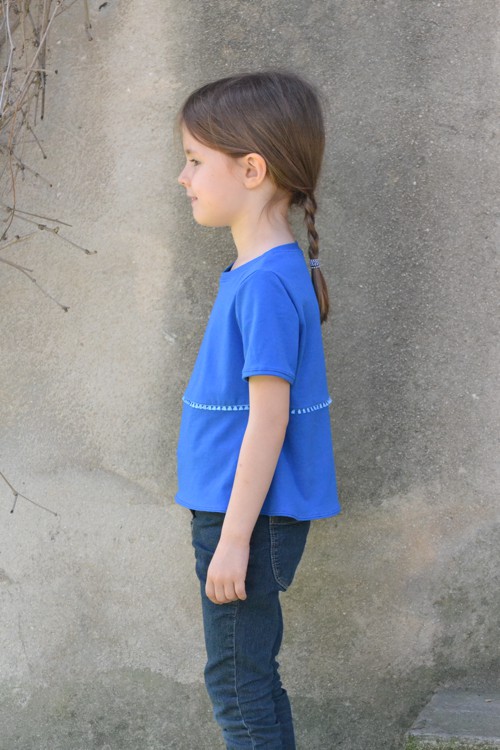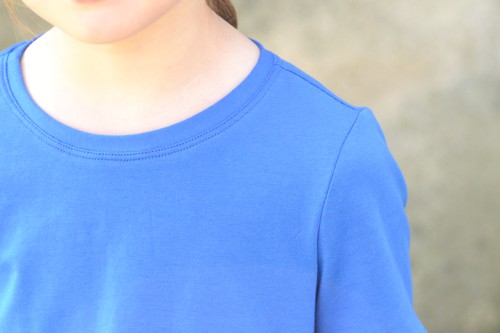 For lack of fabric, I had to split my front and back in 2 parts. I wanted to optimize this cut, and add a little braid: I went to "la Droguerie". Being unable to choose between a sky blue strip, and another pink fuchsia, I bought 1m of 2 and left Juliette to choose. As you can see, it's the blue who won !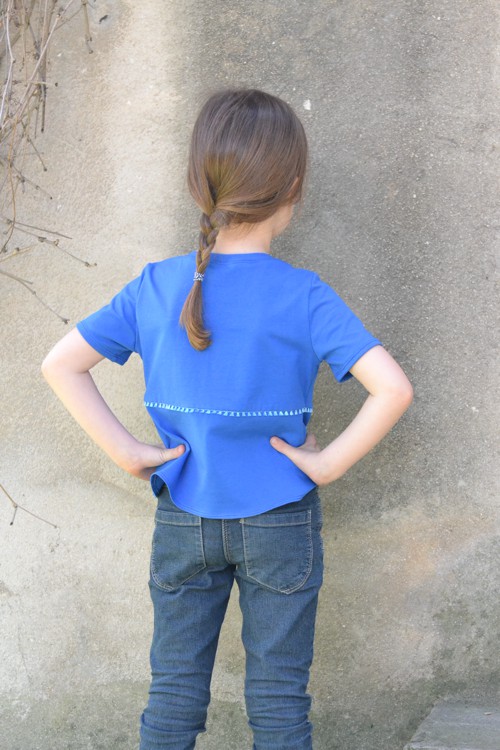 This sewing will have taught me a technical point rather interesting: the top being rather short, I wanted to finish it with a hem rolled, and I thought that the opportunity was nice to test the hem called "lettuce ", You know, the rolled hem that makes like little waves? Except that my knit fabric was not very elastic, it did not work at all here: the waves were frankly minimal. I will know that a lettuce rolled hem requires a very elastic knit fabric. 😉 Here, a simple overloecked edge + a double knit hem did the trick.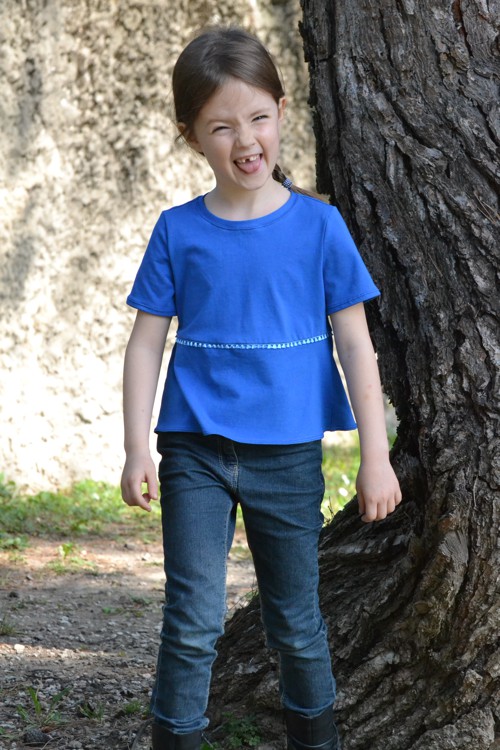 (End of shooting, Juliette is getting nuts.: D)
Conclusion : the top is not very long, I know in advance that this one will not survive to summer, but I'm still pleased to have managed to produce something with this super knit fabric. Worn with a pair of denim shorts, it will be perfect at high heat. And the pants then?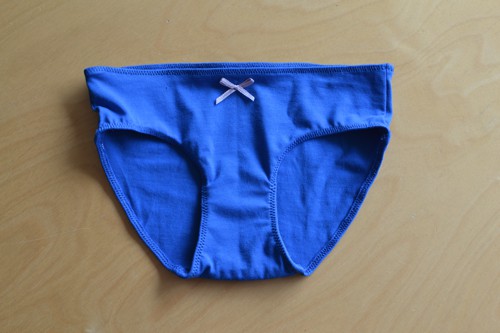 Always my Jalie 3242 pattern, here in size H for my very slim baby girl, and it fits her like a glove! I'm really super happy with this pattern: if you scrupulously respect the size charts, the result is always perfect.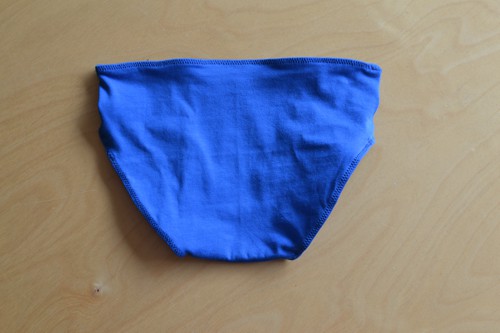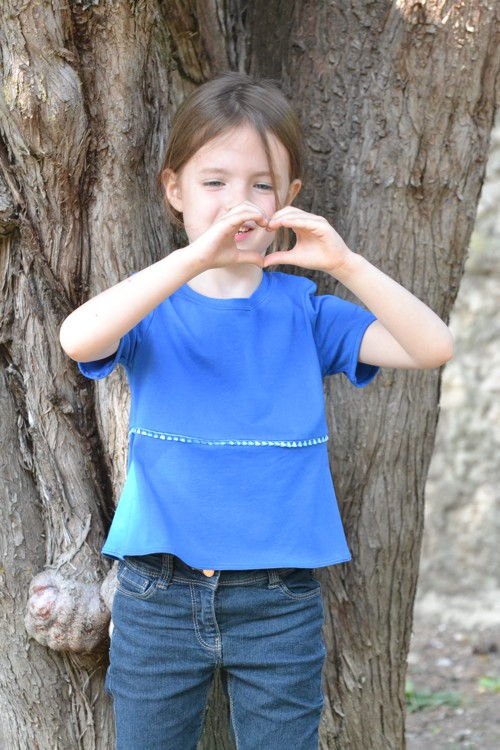 I wish you all a great weekend, and take care of yourself. ❤