Let's start chronologically with the scraps of the Amal dress ?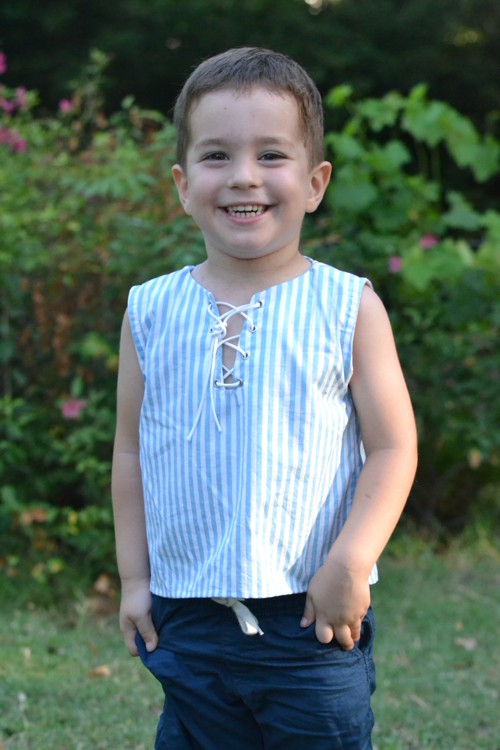 So, believe me, there really was not much left. But as the fabric was relatively mixed, I wanted at all costs to cut something for Paul. I brainstormed, searched through my magazines, made incantations to Fabric God (what, with a little luck he multiplies the scraps in my sleep ! :D) … and finally, got an idea by falling on this book.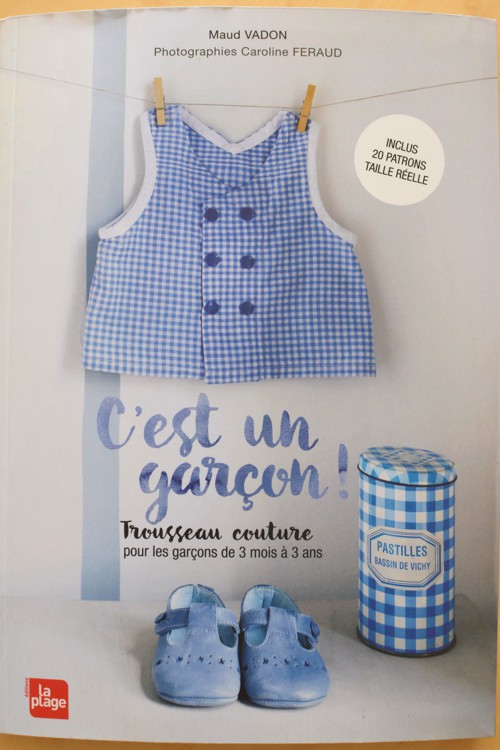 Here you can see the book of Bisoudoudou, released this fall: full of patterns to dress your little boy, from 3 months to 3 years. For those who own the opus, you can read my blog quoted in the acknowledgments: I had indeed helped Maud during the test phases. And it is while admiring the little tank top on the cover page that it rang a bell !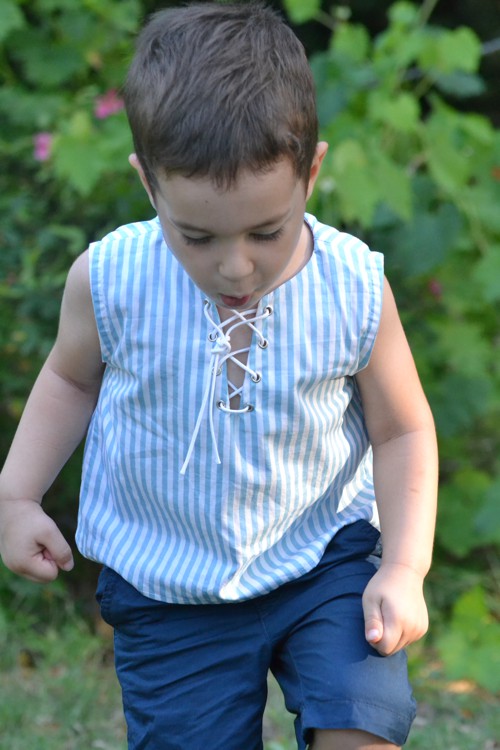 But many changes were needed to get something going on in my scraps. So I copied the front, but pulling out the wrap design. I copied the back, but rising the neckline up. I also reduced the length of these two pieces so that they fit into my scraps, keeping the width in 3 years size. In order for Paul's head to pass, it was necessary to think of a slit deep enough: when this point was drawn, I could draw the facing, back and front.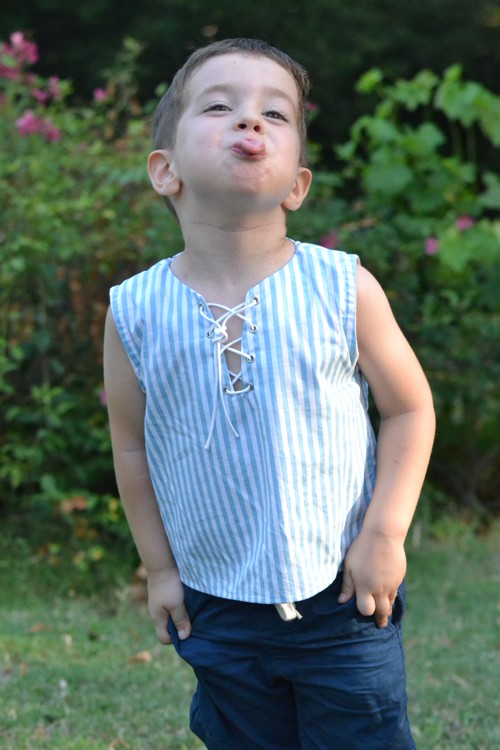 (How dare you, young man! 😀 )
And then when finalizing the neckline, creative delirium: I wanted to put eyelets and add a link. In addition to visually reducing the depth of the slit, this gives a rather original style to this little top.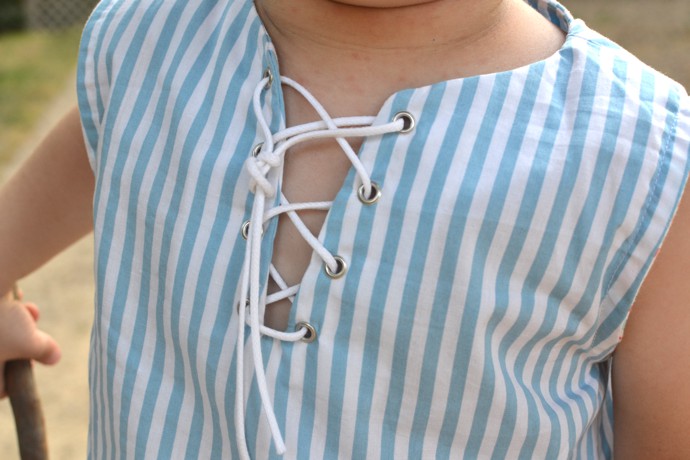 The armholes are finished with bias: I could have drawn an armhole facing there too, but to be honest with you, I wanted to associate this little bit of bias, which was trailing in my stash.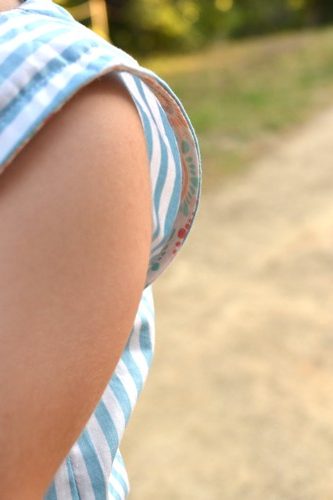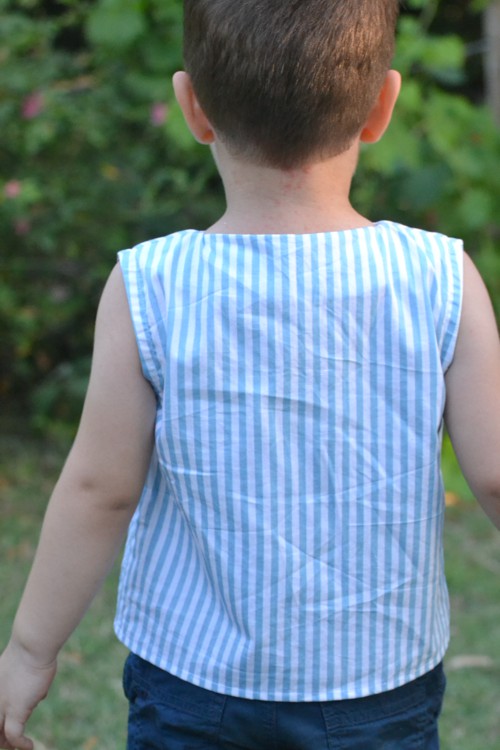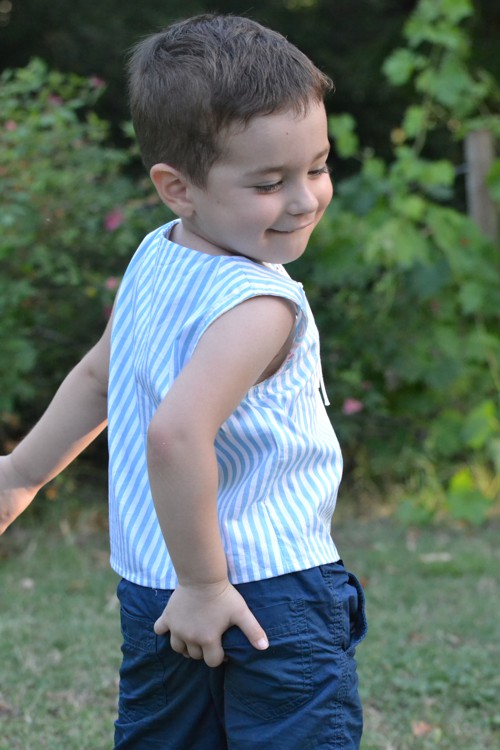 Verdict: listen, it costs nothing, it delights the baby boy and it makes a top more in the chest of drawers … it's a great deal my Captain!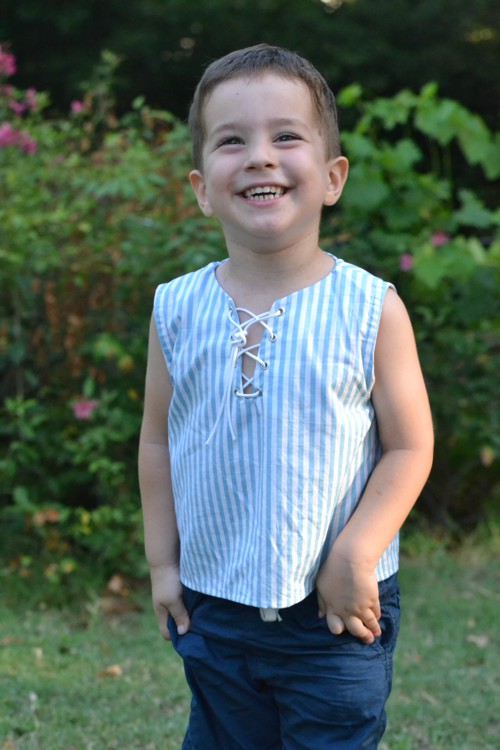 (No, but look how my son is BEAUTIFUL!) ❤ We go to the scraps of the Katy dress ?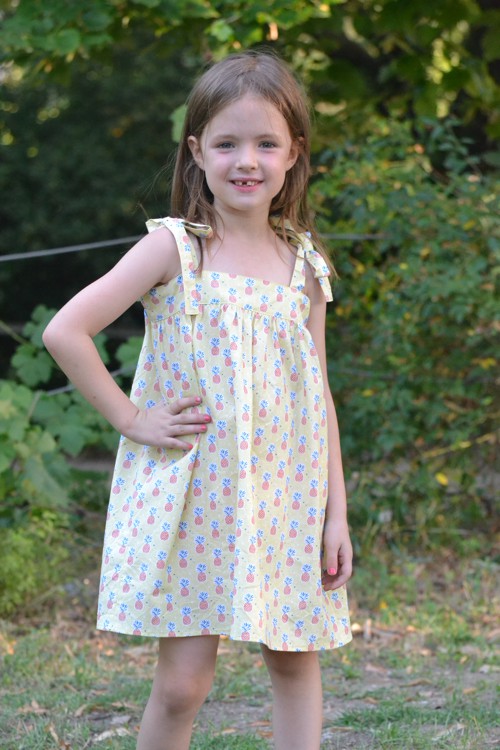 Juliette found me this fabric: it goes without saying that to cut a little something for her was compulsory. It is probably inspired by the strong heat of June that I turned to this pattern.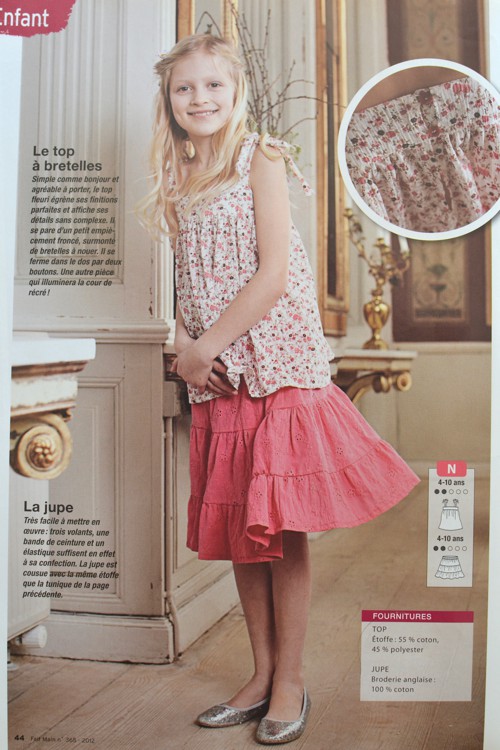 So, we are facing the top N of the "Fait Main" magazine of June 2012. I still had enough fabric to lengthen the top in dress: what's funny is that when I recopied the pattern, I realized that the lines had also been lengthened on the board with patterns, without officially proposing the variant in the magazine. Probably an editorial change of last minute, but what matters: know, if you own this magazine, that the variant for a dress is traced on the board with patterns.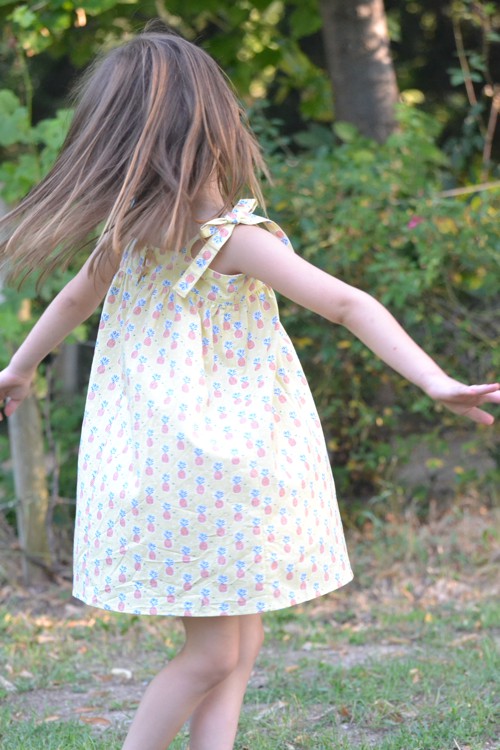 It is a simple dress to sew, and thanks to the lined yoke, the interior finishes are very neat.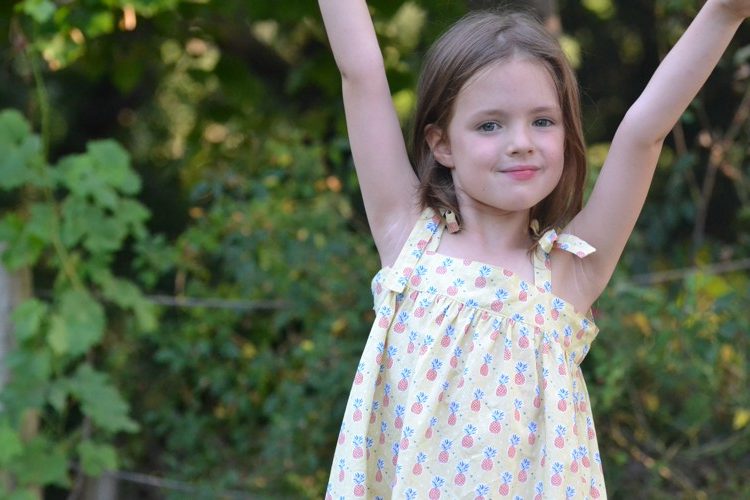 So, of course, the poplin is quite stiff, the gathers lack fluidity, but hey, my baby girl is so skinny, there is little risk that the dress is not flattering. (And I believe especially that at this age we don't give a damn about it.) (Blessed baby girl. :D)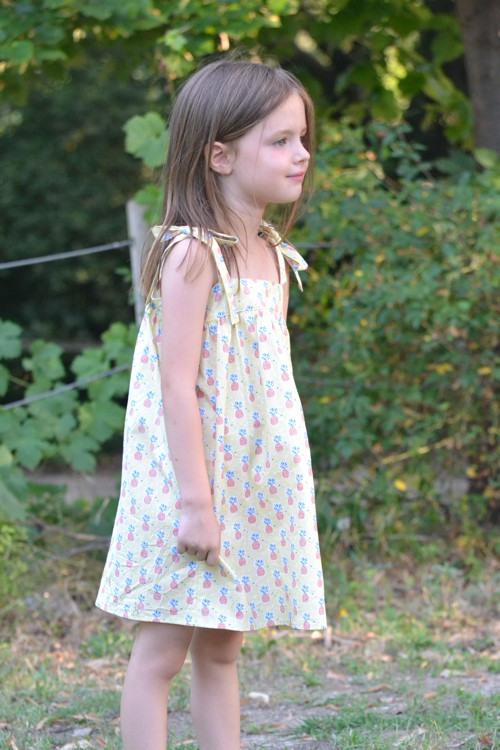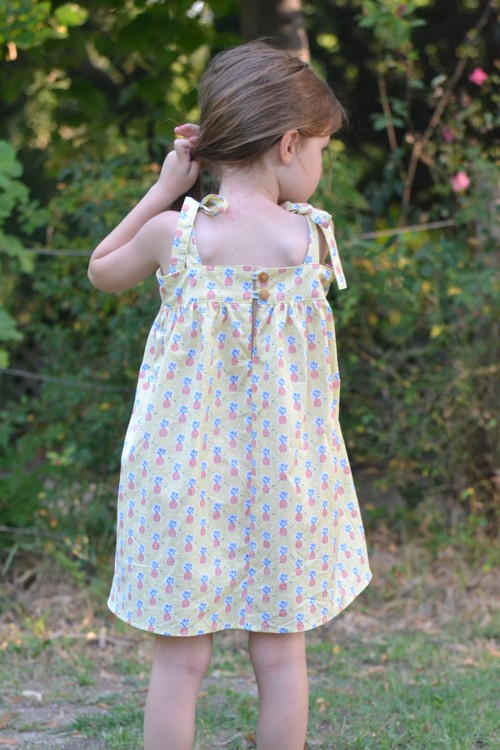 In terms of size, knowing that "Fait Main" patterns are quite large, I opted for 4 years in width, and for 6 years in length, and the fit is pretty good.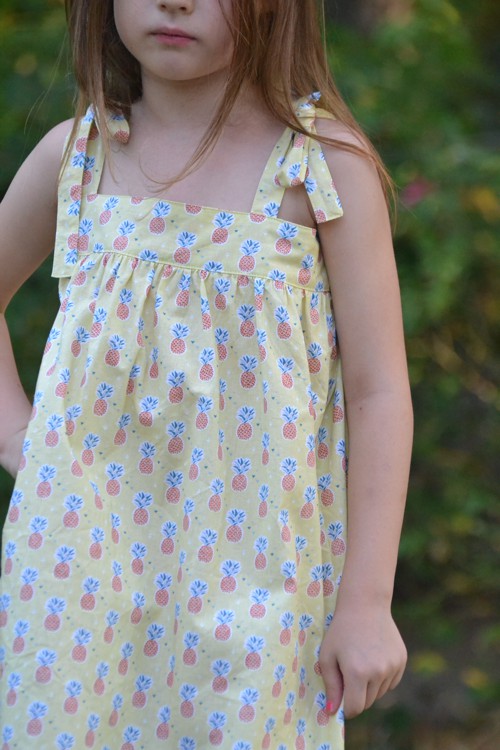 The dress is topped with ties to the shoulders …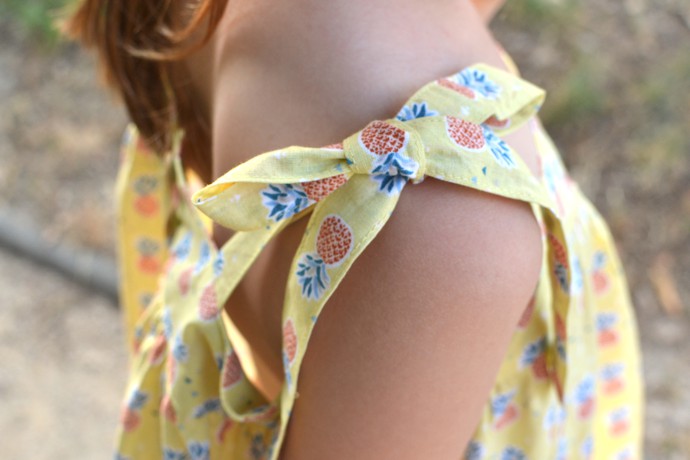 … and the back is closed by two wooden buttons. Only small infidelity to the booklet : I replaced the embroidered bars by fine loops, sewn in the scraps. (of the scraps. 😀 ) I also topstitched the ties, for better rendering.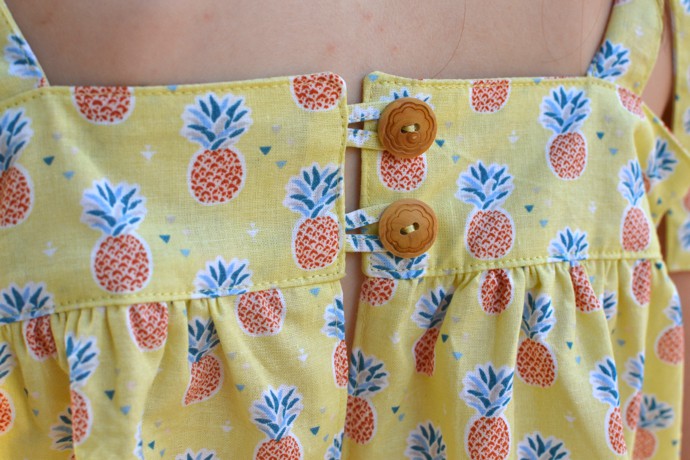 It's beautiful, huh? Not to say, poplin is really one of the simplest sewing fabrics, and ideal for any beginner.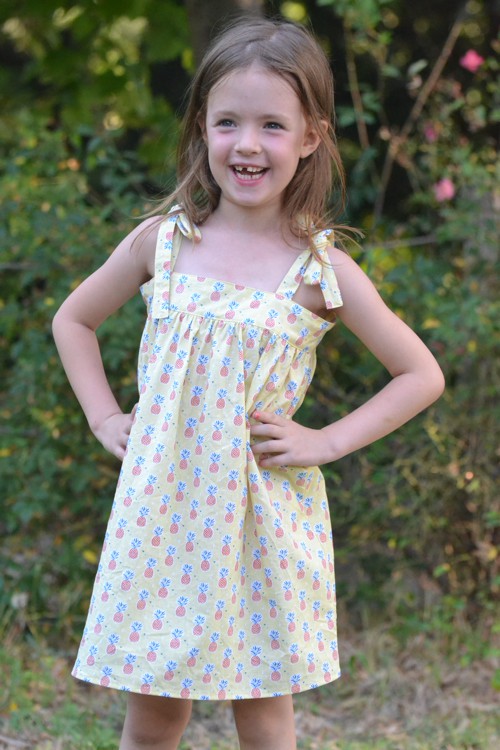 Verdict: the baby girl adores it and finds it, quoting "very pleasant to wear when it is hot". Well, it's quite great, you live in the South! 😀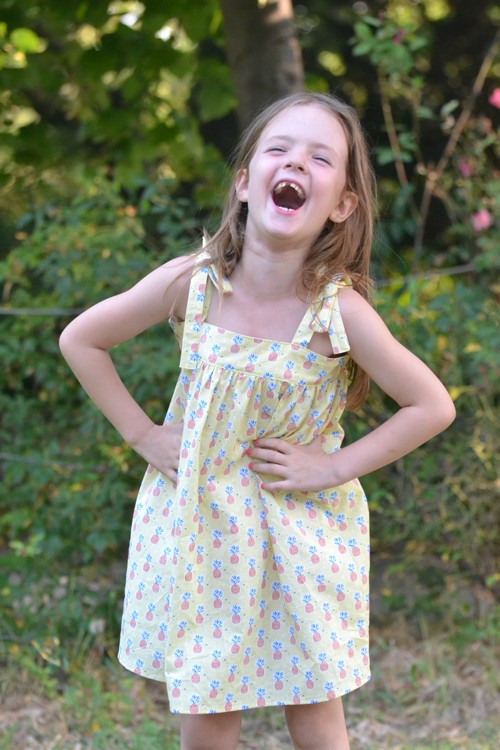 Yes I know, I'm a very funny mom. 😀 Come on, let's skip to the scraps of the Zéphyr dress ?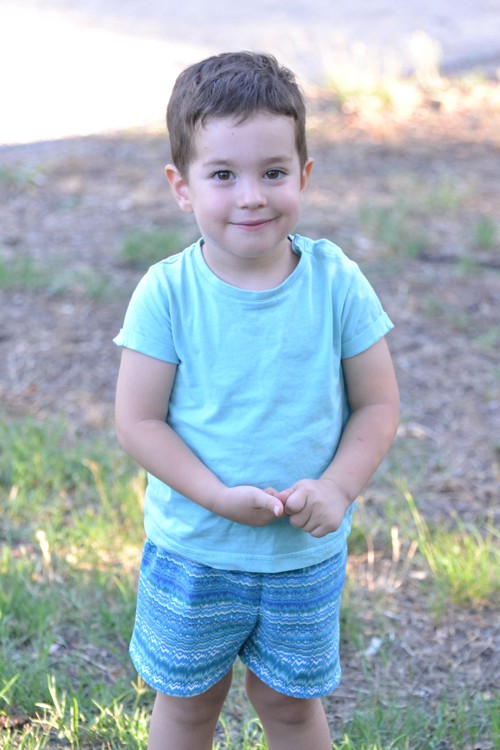 SHORT MANIA STRIKED AGAIN ! 😀 You know my passion for cutting shorts in the scraps, and with this fabric I had just enough what I needed to spoil Paul.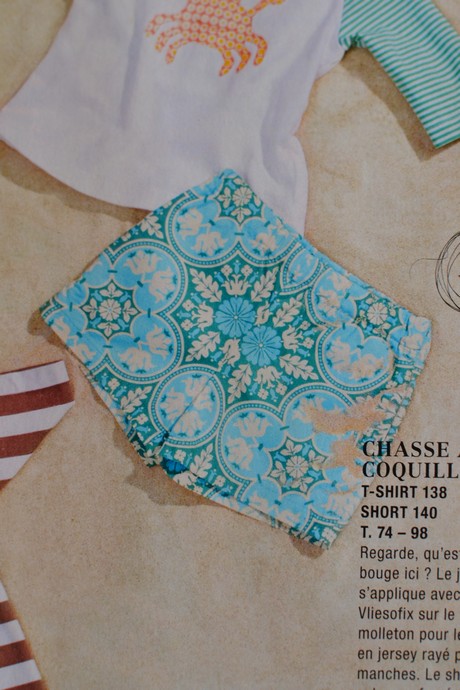 One day I should count the number of versions I made of this short pattern. (Too many probably D) (pattern 140 of Burda of June 2014) Here I simplified it to the extreme: no side pockets, nor those back. Two fronts, two backs, a folded and elasticated waistband, two double needle hems, and hop! The case is settled, in size 92 this time.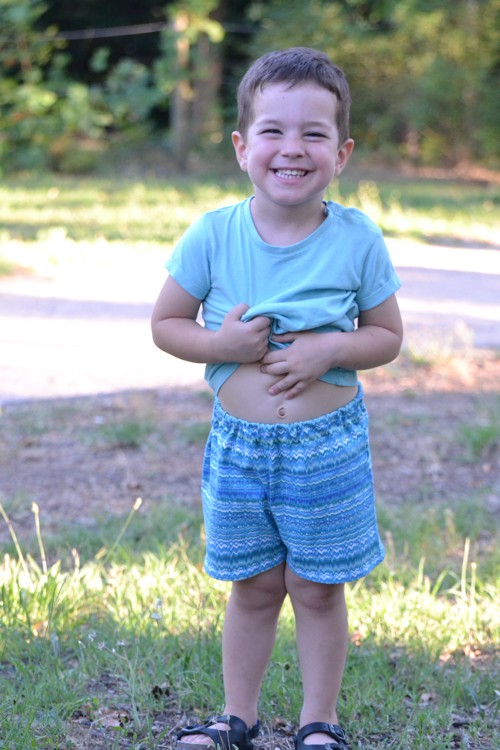 Note that with the little fabric I had left, there was no pattern matching on the sides. 😀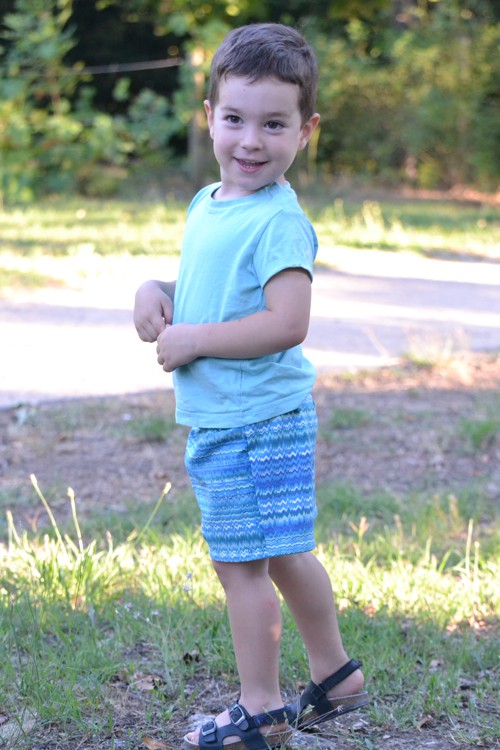 And I don't care at all ! 😀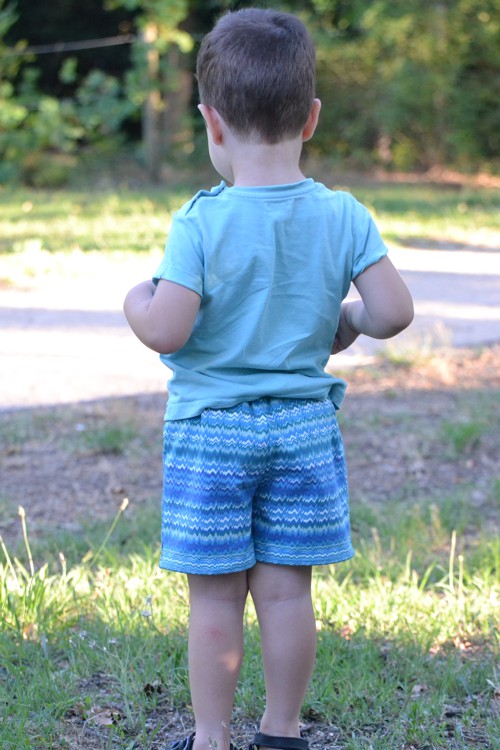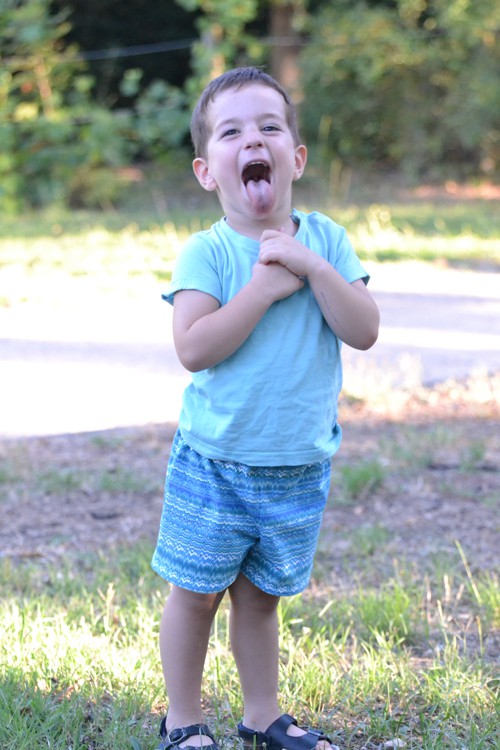 Paul … do you have a problem with your tongue ??? 😀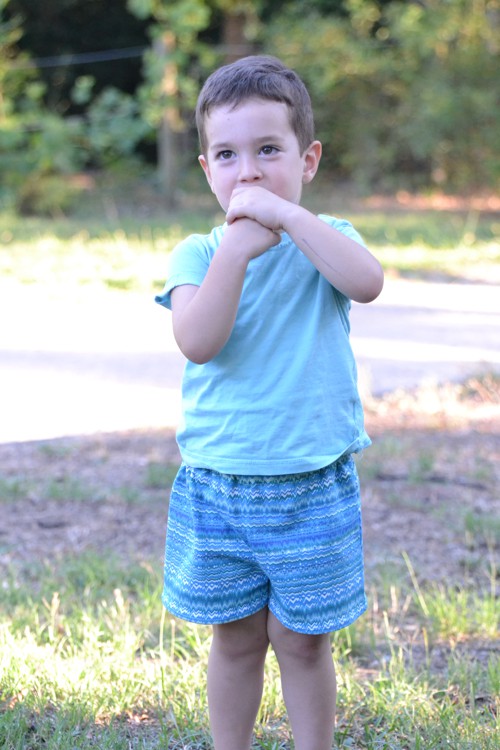 Oh, okay, I'm not gonna cut it either! : D
Verdict: I will not give you the thousandth praise of this short pattern … woven, knit, pocket, not pocket, elasticated belt, or finished with buttonholes or eyelots … it is a vast blank page where my scraps love to lodge!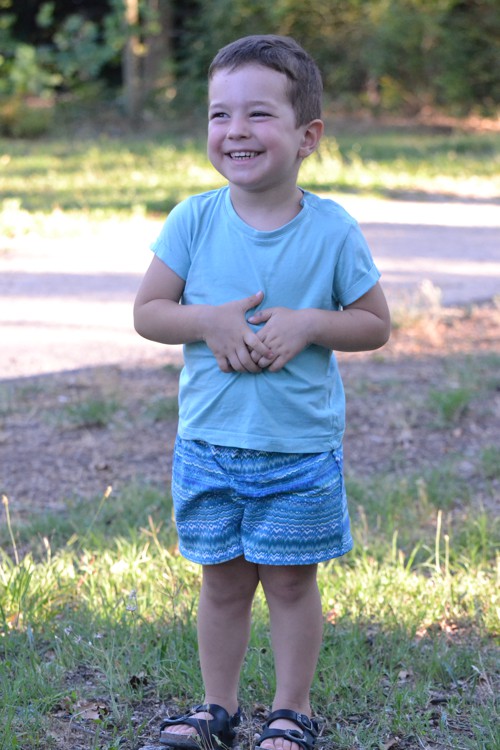 I wish you all a good weekend, a beautiful Bastille day to all tomorrow and take good care of you! ❤