For lack of time, I participate less in Deer and Doe releases. But when this summer, Camille introduced me to the technical sketch of Magnolia, believe me, I had stars in my eyes!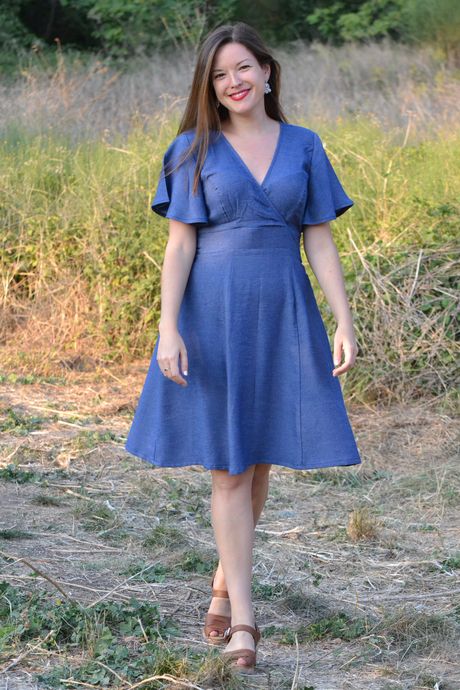 A fitted dress, a flared skirt, a wrap-around neckline and butterfly sleeves: all this resonates like a sweet serenade in my ears! This summer it was impossible to jump in the test session, but I agreed to do a review for its release.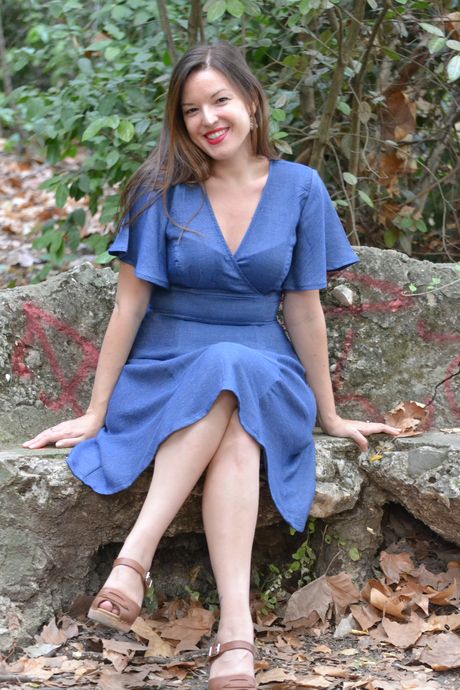 Camille suggested me the short skirt version and butterfly sleeves, which suited me perfectly: the other version being too low cut for me. The hardest part was choosing my fabric. Few coupons in my stock measured 2m50.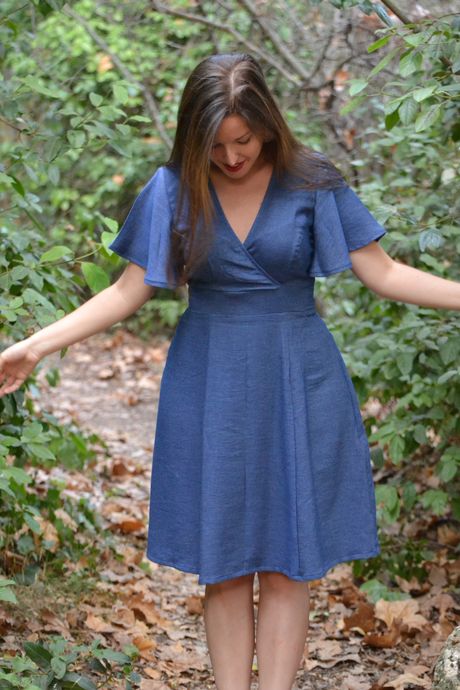 I hesitated for a long time between a cotton voile, thin but rather stiff, and this denim woven very loose, fluid and heavy, bought at "La Plaine" market an eternity ago. The fluid fabric was perfect for butterfly sleeves, loose enough, but the cotton voile would have had enough structure to sublimate the cutouts of the dress. The release approaching, I decided and opted for denim … which drove me crazy.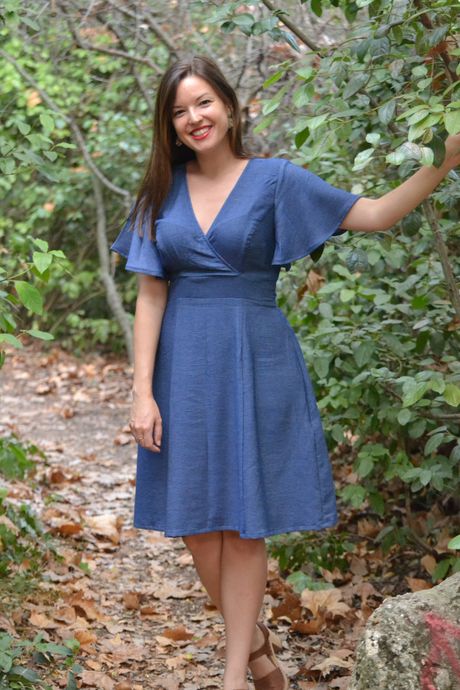 His weaving being very loose, he frayed easily. What's more, he could not stand the slightest mistake: unraveling anything was dangerous. I honestly don't know if the life expectancy of this dress will be long. Although I took all my precautions by sewing French seams.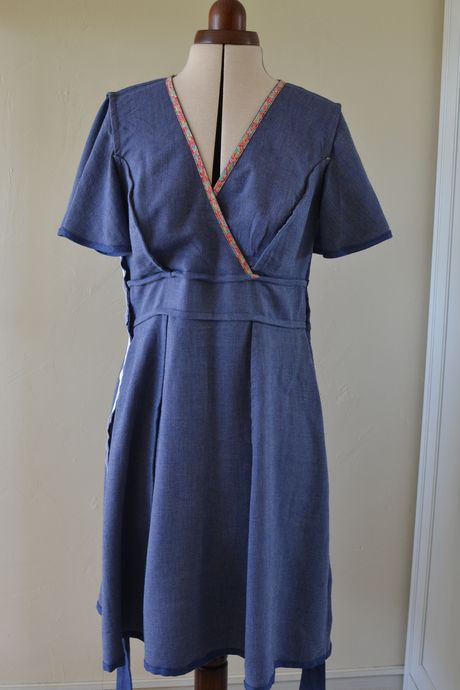 With the 1.5cm seam allowances of Deer and Doe, the thing is easy. There is only one small place where the result isn't happy: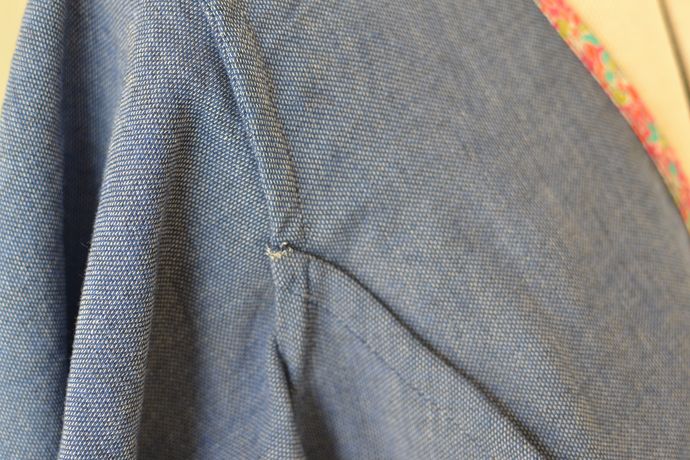 On the top of the princess cut, a little fabric is raw: I put some fray check on it, hoping it'll be ok. For the left side of the dress, where the zipper is sewn, I added 0,5cm of seam allowance (1,5 + 0,5), in order to finish the edges by a double-tuck of 0,5cm: I had 1cm seam allowance to sew my invisible zipper.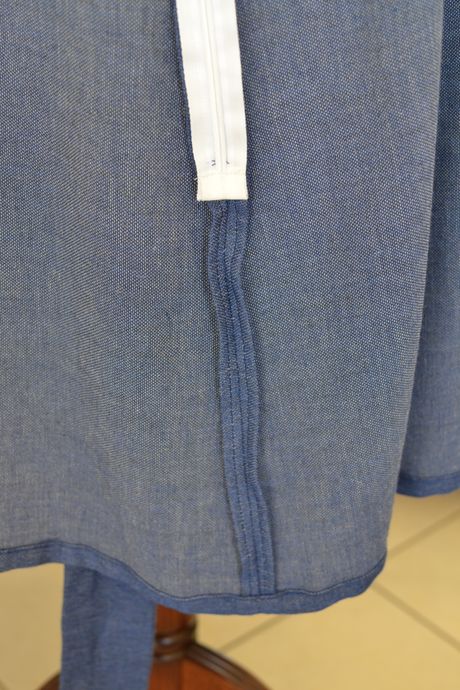 The dress is rather easy: the neckline is finished with bias. I chose a flowery bias, bought a long time ago at "la Droguerie". In the explanations, you need to sew a stay stitch on the neckline : I preferred to stabilize the cut with some seam tape interfacing, but I'm used to it.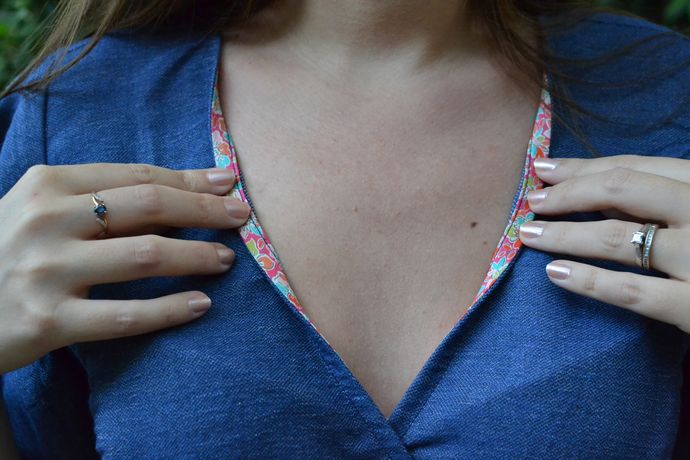 The bodice features princess cutouts on the front, pleats in the back and a belt; and the skirt has 6 panels: 3 for the front and 3 for the back.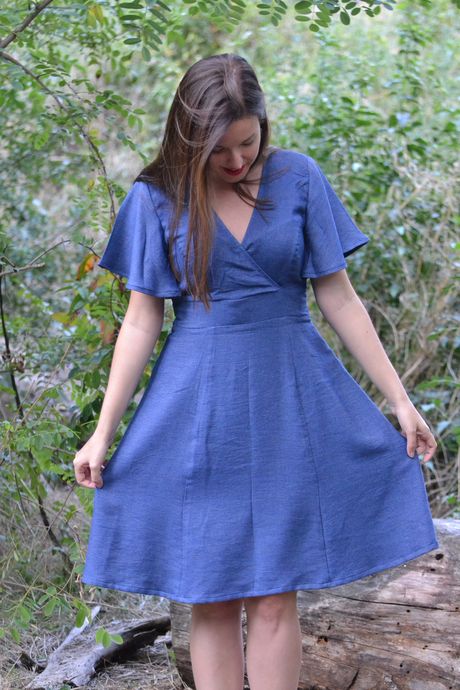 The dress is finished with an invisible zipper …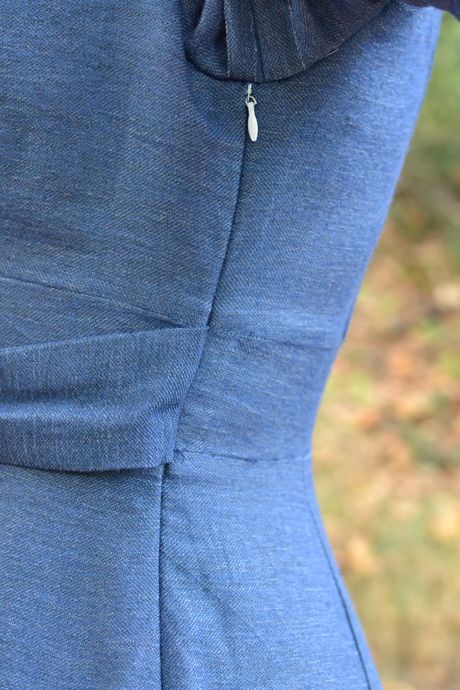 … and cinched in the back by a bow.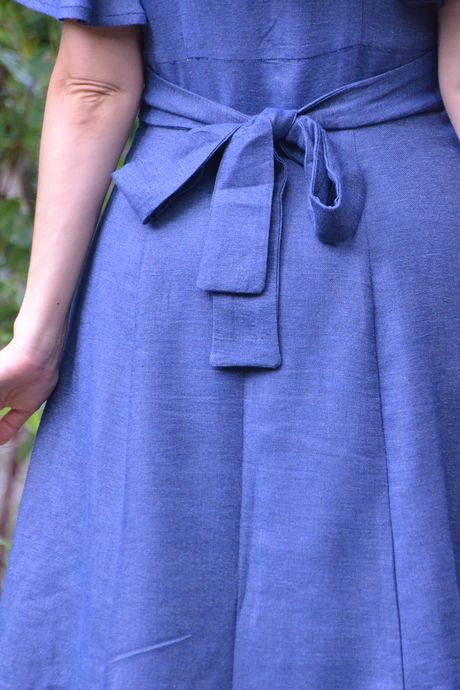 But the strong stylistic detail of this pattern is obviously its butterfly sleeves.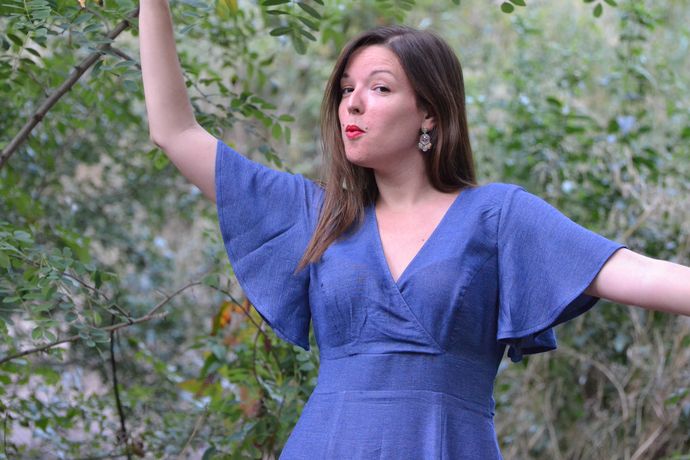 Yes I tried an artistic pose to show you the whole sleeves … and I'm completely ridiculous. 😀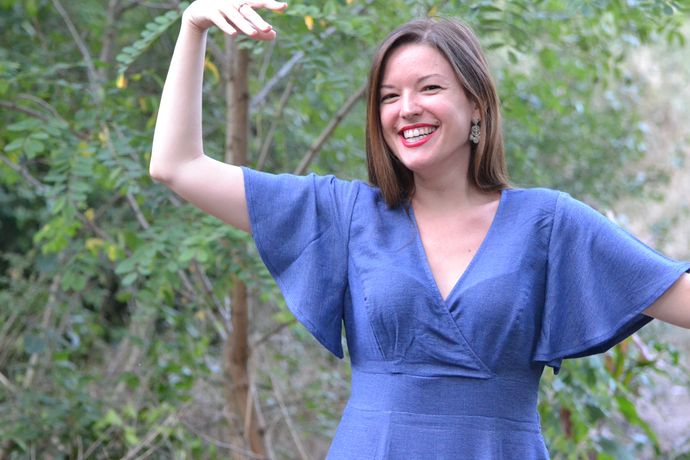 (There I'm laughing because Tom is making fun of me. 😀 )
WELL, I find that they give a style and a crazy elegance to the dress. My only downside would be on the hem: I found it difficult to do a double fold hem on 0.75cm. If I have to sew Magnolia again, I will reduce the hem of my pieces by 0.5cm, and I will sew a double fold hem of 0.5cm.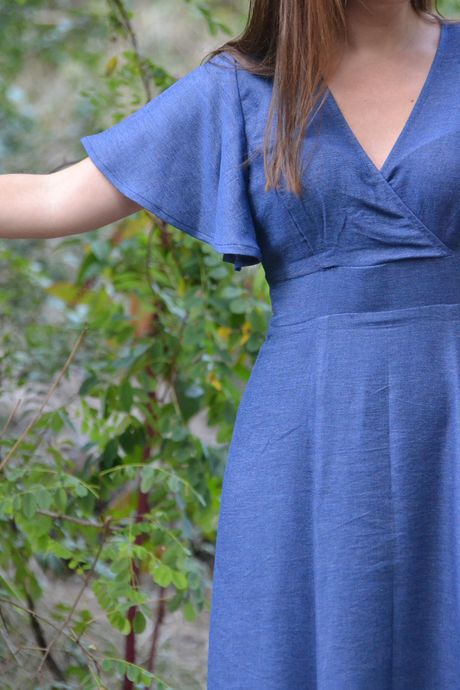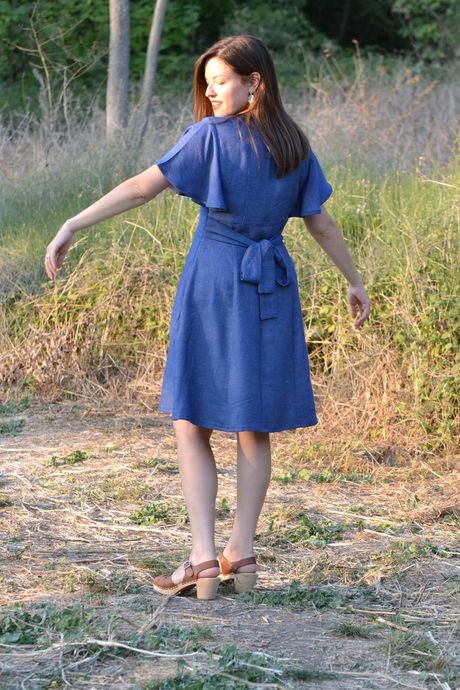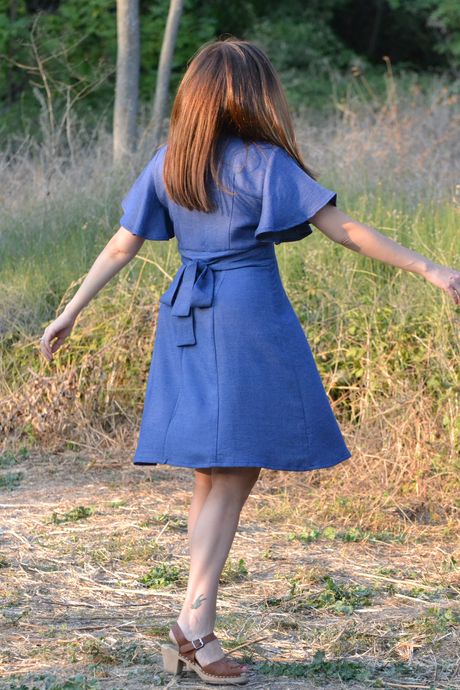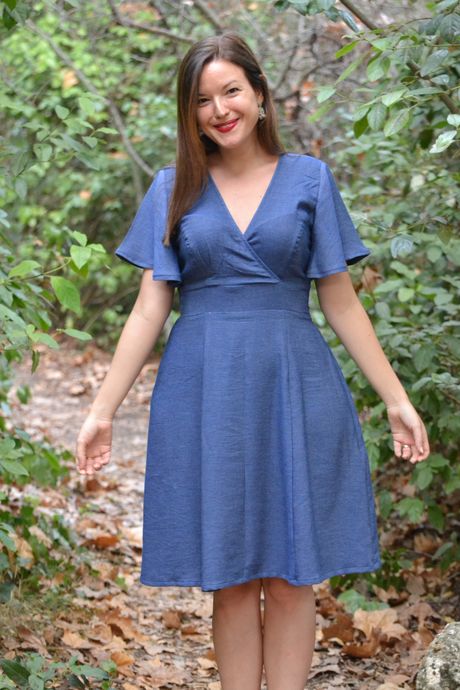 Regarding the size, I cut a 38.5 at the bust, which joins a 40 on the waist and hips. And it fits me perfectly. I wore it on Monday and I felt really good. (and I had lots of compliments 😉 )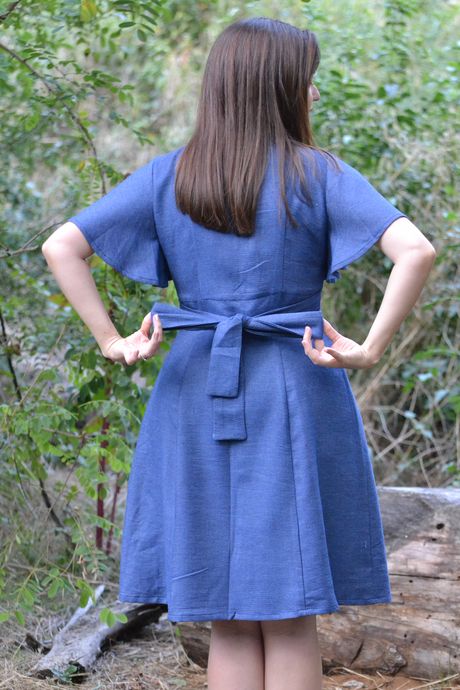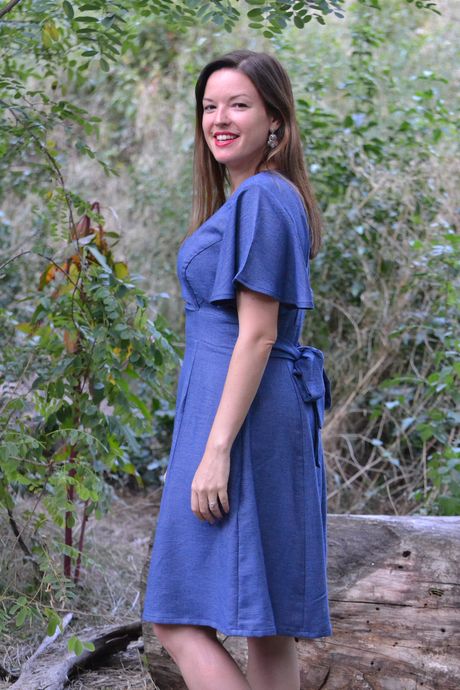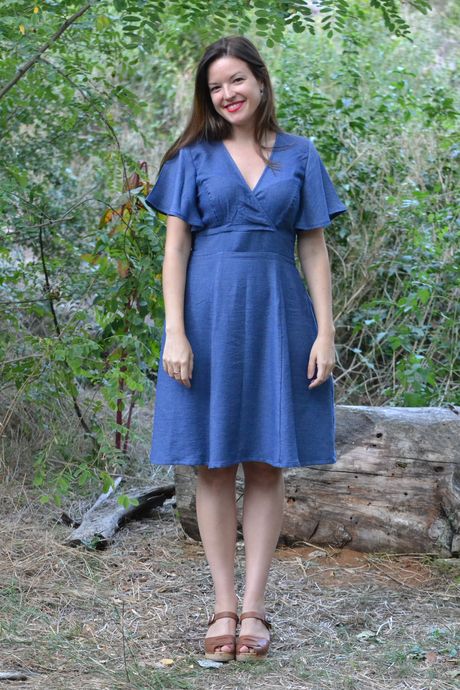 Even if I confess that the first fitting me left doubtful: it's so long, compared to what I usually sew! The husband at least won't complain about it. 😀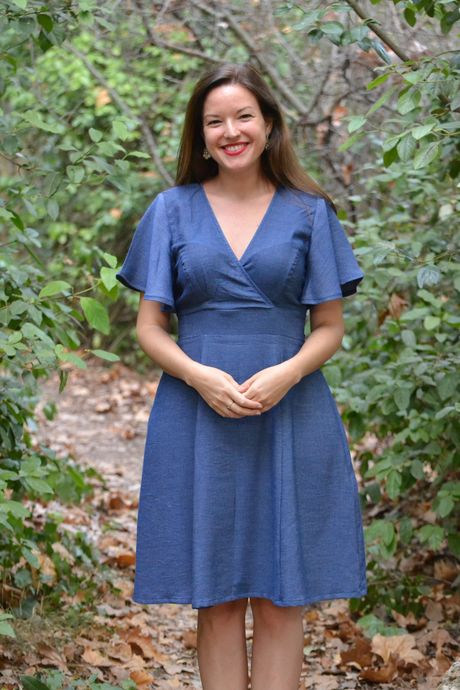 Verdict: I really like Magnolia, and regret not having sewn it in a beautiful floral fabric, because I'm sure it would be even more beautiful. It's a flattering and feminine dress, ideal for pear shapes. You will see here other versions : why not this winter by replacing the butterfly sleeves by the long sleeves of version A?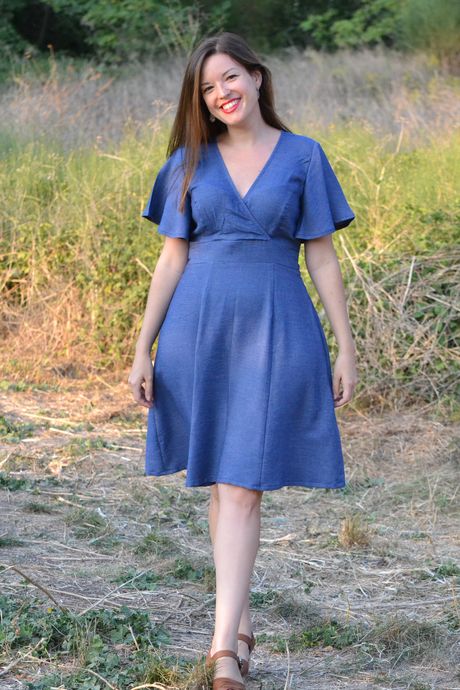 I wish you a wonderful week, and take care ! ❤