Ah, I had some drag project. But then this one … it's a WORLD CHAMPION ! (World Cup, football, got it ? 😀 )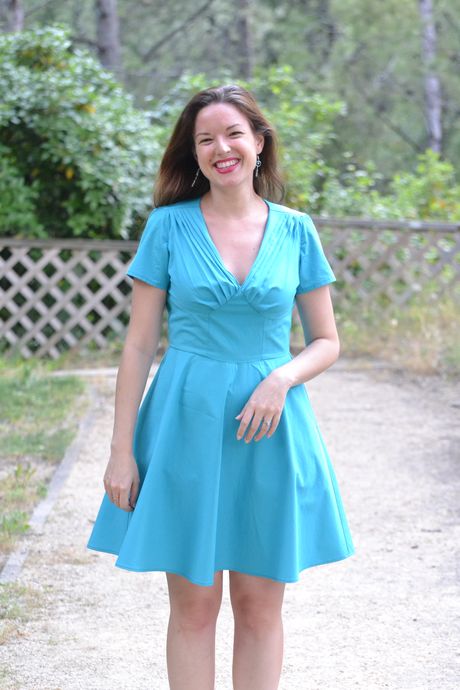 I have always dreamed of a beautiful tea-dress : boobs highlighted by a great neckline, cinched waist, and a dancing skirt. I had long spotted Sew Over It one, but I don't know, something was bothering me in this pattern. And then I knew that a good fit was going to require a lot of modifications: why not drafting it myself? And it's right at that moment Lilicroche (her little name Béatrice) sends me this picture on Instagram: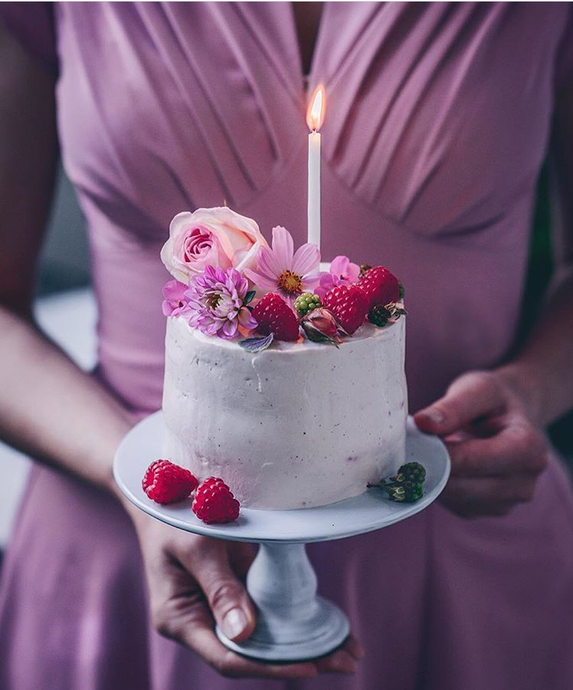 Photo taken from the Instagram account of Caroline Strothe, a German photographer. Here it was, the tea dress of my dreams! And I understood with this model what bothered me in the pattern of Sew Over It, or in Colette's one : the gathers of the neckline! Comfort for the chest is here thought from pleats, and the result is so refined, so feminine. So I chose this project, in September when drafting class started again … thinking, naively, I would wear it for Christmas. (ah ah ah. 😀 )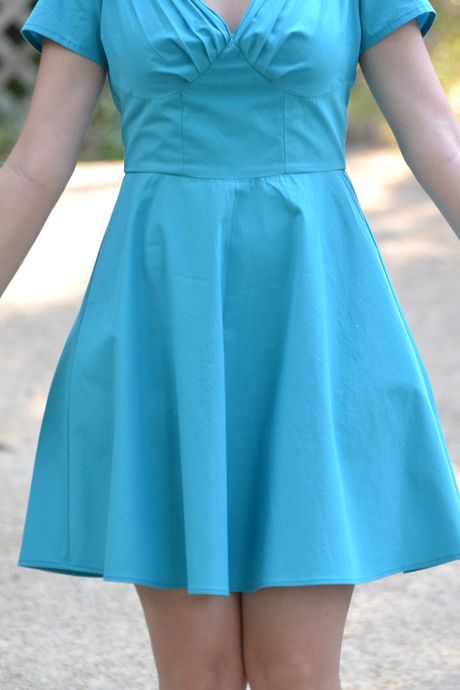 In the first place, it was necessary to think about the pleats: how much? How deep? The bottom of the bodice: in one piece with darts ? Yokes? And when all these points were decided … came the time of the toiles.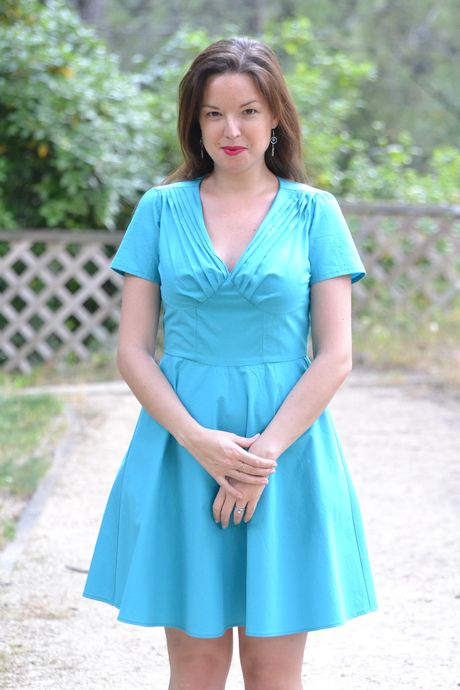 I don't know how many toiles we studied, my teacher and me. As she wisely told me, this project was more about lingerie technique. The advantage of all these toiles : they have reconciled me with these pleats. If the first were a pain to sew, they ended up being pleasant to work. I swear !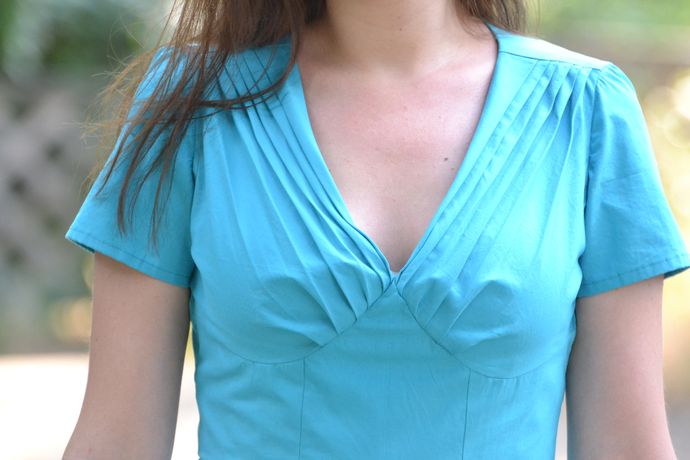 And it's late February that we changed the pattern one last time, not knowing that this shared lesson would be the last … having found my current job very quickly. With great regret I had to leave my drafting class, crossing my fingers so that this pattern would be the right one. Alone with my pencil, I had little hope for the future of this dress.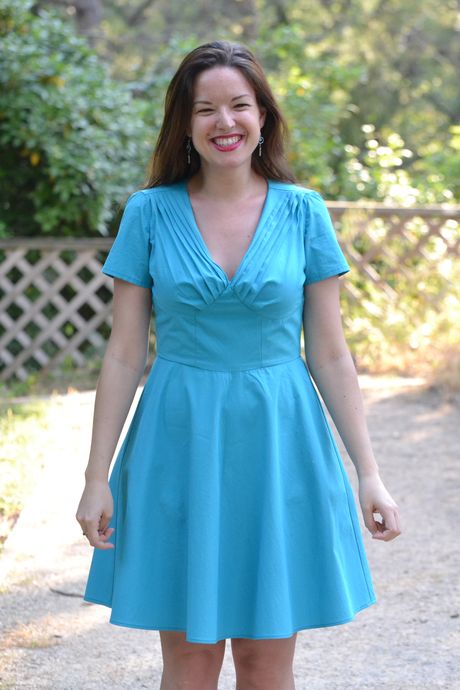 In the end, the last toile didn't need too much modifications. So I was able to start my final version, choosing to totally line my bodice, ignoring the recommendations of my teacher, who had rather advised me to simply sew a facing. (And still wondering where I got this obsession to line absolutely everything.) (Lazy to make neat seams ? 😀 )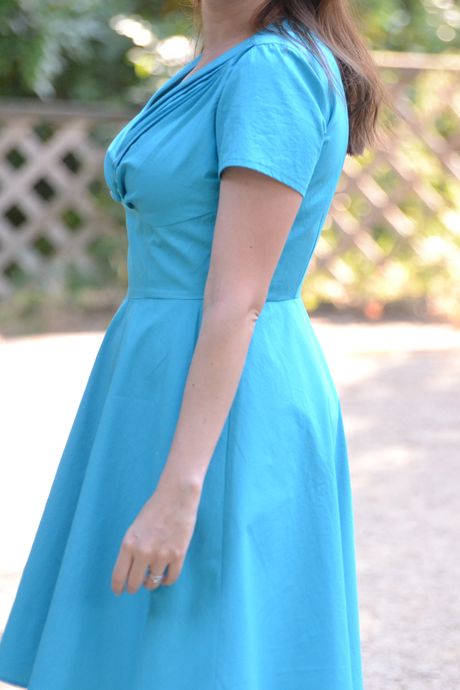 To avoid having too much thickness at the chest yoke, I made an impression of the piece, pleats closed. So I sewed everything, and the last thread cut, we took some pictures … and I could see the extent of the damage.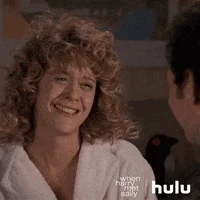 The lining being cut in a cotton-silk blend without elasticity, the room where were supposed to be housed my tits with no crease to fit them … my breasts were crushed, the bodice was creased, it was horrible. (I would have posted you a photo, but my husband deleted them all.)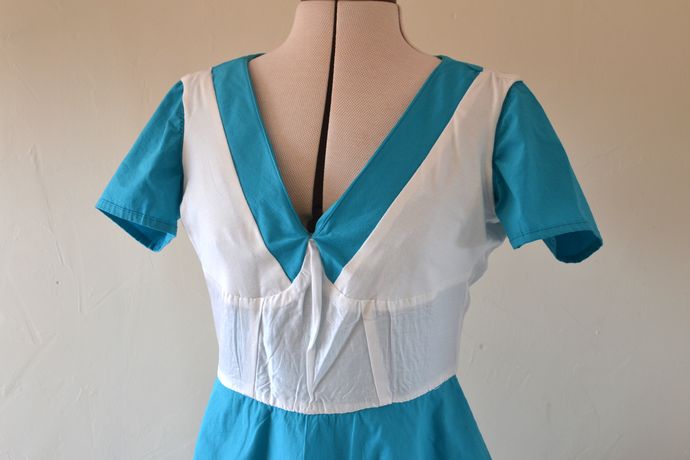 Anyone with a safe mind would have thrown away the lining, and would have been satisfied with the facing … but as I'm stubborn like a mule, I had the idea to keep my chest pieces without the folds … but in an extensible material. So my tits have more place! 😀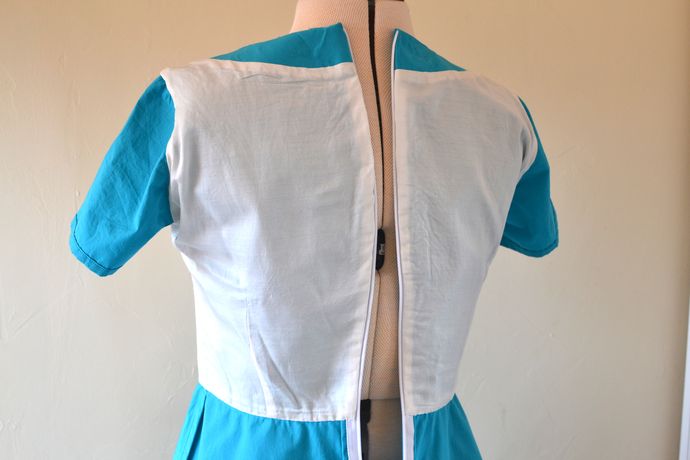 And yet, at the fitting, it still wasn't going well. My yokes under the chest was still creased. Then I undid everything, sewn with a few millimeters less, once, twice, ten times, until the result suits me. In the end, it's still creased, but I'm ok with that. I understood it's inevitable with wovens. If you really want a tight and uncreased bodice, knit fabrics and negative ease are here for that! 😀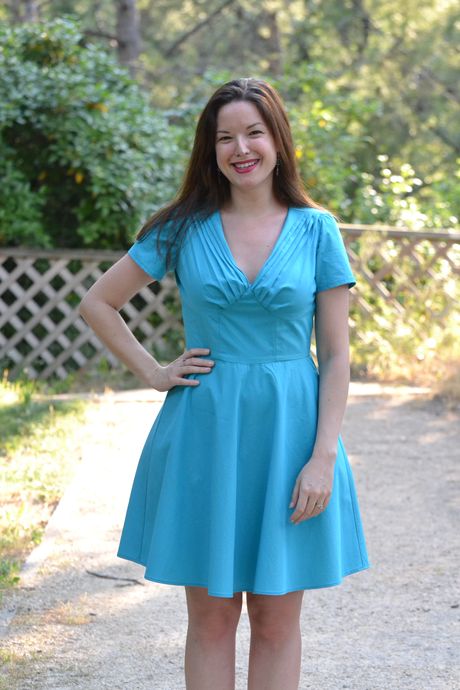 As the bodice is full of details, I chose to associate my half-circle skirt, a simple line. See the small gathers at the waist: it's because my bodice is too small of 2cms. I managed to stick it to my skirt, but the result is not very great, the dress is pretty tight to me. Let's say it's not the dress I'll wear for a wild dance. 😀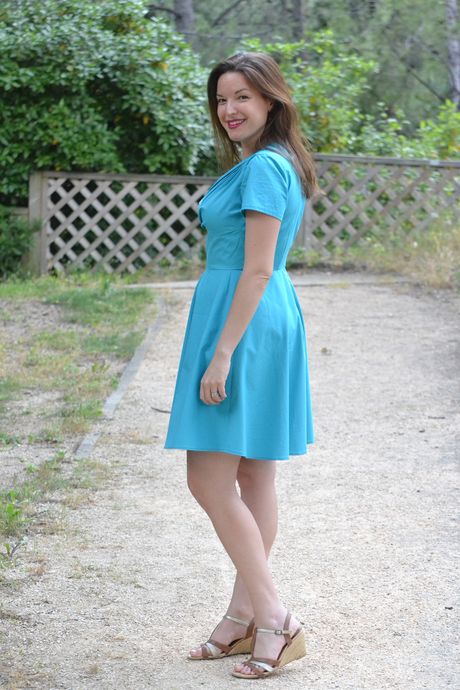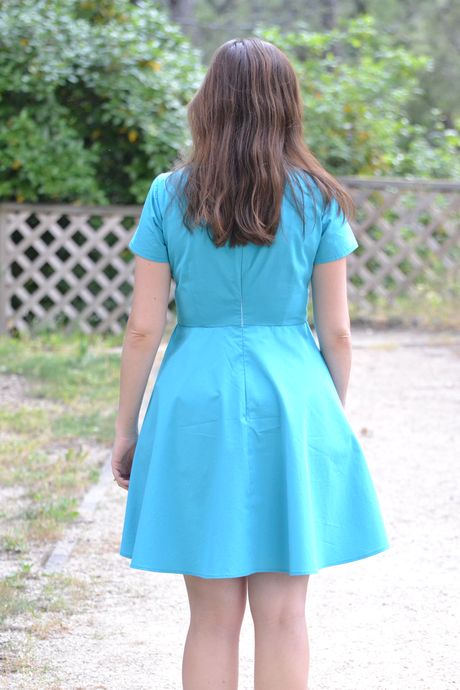 Regarding the finishes, the dress is finished with an invisible zipper, and all visible seams are french ones.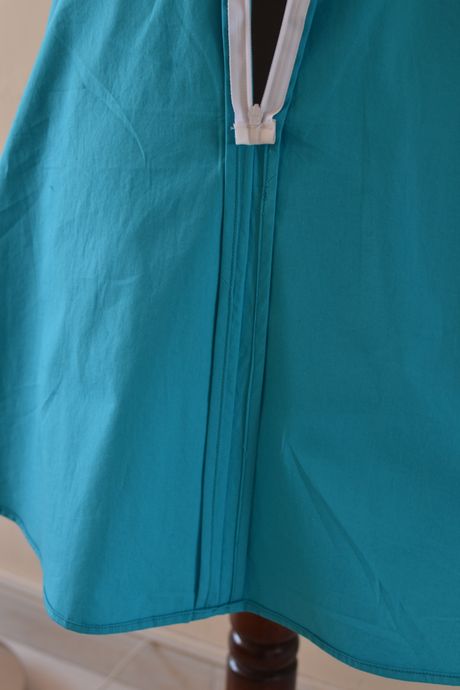 And for the back seam, I opted for taped seams. It's not bad, but it still creates a big thickness, not very practical on the end of the zipper. For the next I think I'll try to hem the edges. I will tell you. (Indiana Emilie, looking for the prettiest finish for an invisible zipper seam) (We have the adventures we deserve I tell ya. 😀 )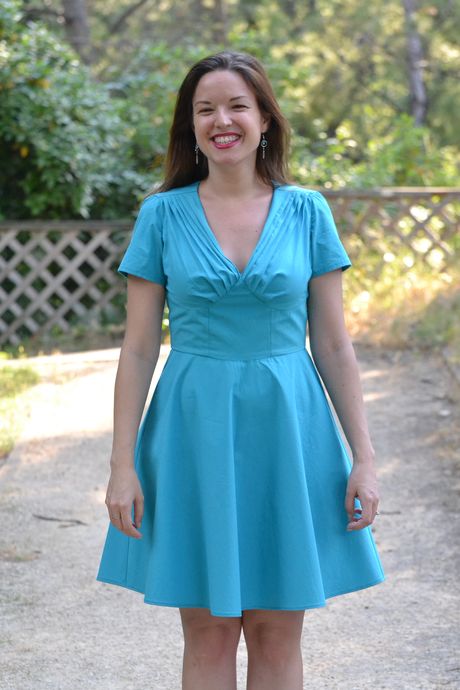 Regarding the fabric, I wanted a good quality, given the time spent on this project. So I offered myself a nice poplin from Stragier: this one, in "bleu paon". If at the reception, I was disappointed with its color, pulling more on dark turquoise, than peacock blue, it must be said that the quality of the poplin is beautiful. It is perfect on the pleats, but a little stiff for the tombe of my skirt, which is more flattering to me with cotton satin.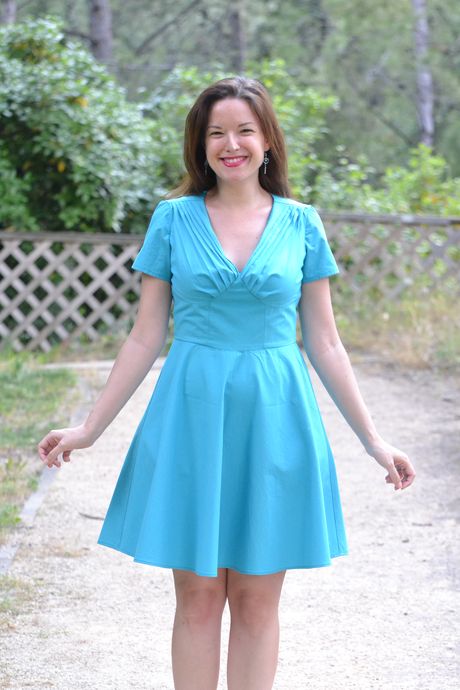 Verdict: listen, I suffered, but I'm glad I took the challenge. This dress is not as comfortable as I would have liked, it's not perfectly realized, it has defects, but … it was born. And given the difficulty of the project, the little time and energy that I had to devote to it, all this drowned in a rather weak skewed motivation … it's almost a feat. 😀 I'll try it again, probably this winter, perhaps rethinking my lining. But now, place to more summery projects!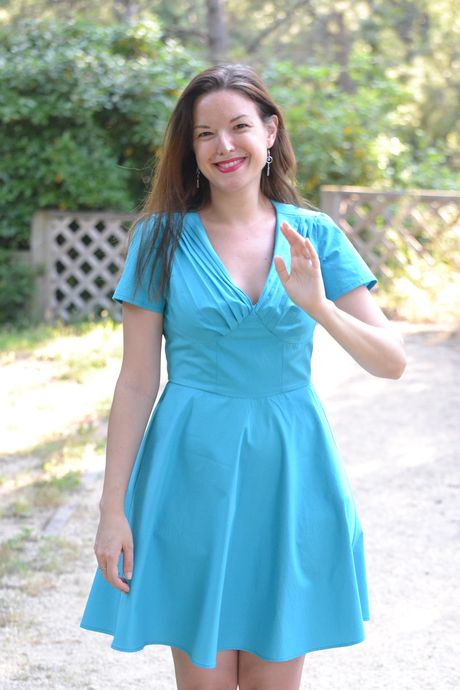 I wish you a good weekend, take care of yourself!