It's been a while right ? Hop hop, get in the bus, let's go for a Scraptastic Intervention !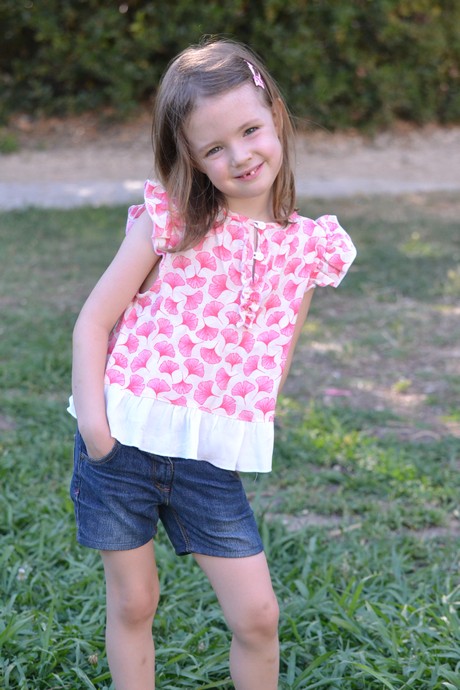 Do you remember my Doris dress? Honestly, I did not have much left from this viscose, maybe a 30x30cms double square. I was going to drop the case when I met Juliette's tearful eyes: you see, pink flowers on pink background … I then began a search in my Burda and found this treasure :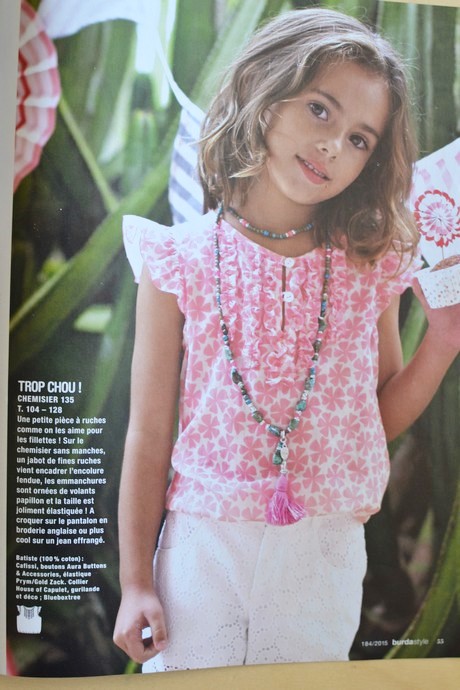 Probably inspired by the fabric very similar to mine : we are on the blouse 135 from Burda April 2015: a beautiful pattern with really charming details.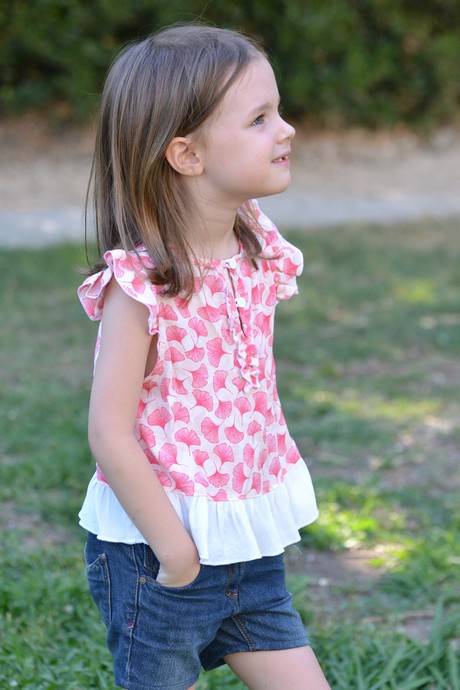 Basically, the shirt is quite long, and has elasticated hem. Lacking fabric I cut the blouse with what remained of the fabric, and have lengthened it with a gathered white viscose band.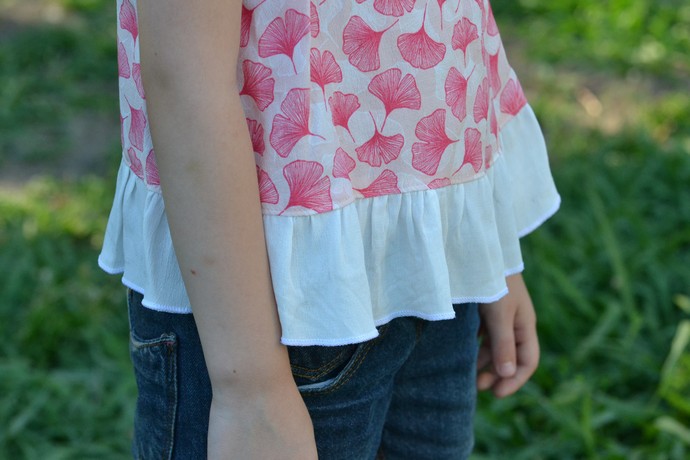 I sewn a rolled hem. Basically, the blouse has 5 ruching on the front: I only sewn  the front one.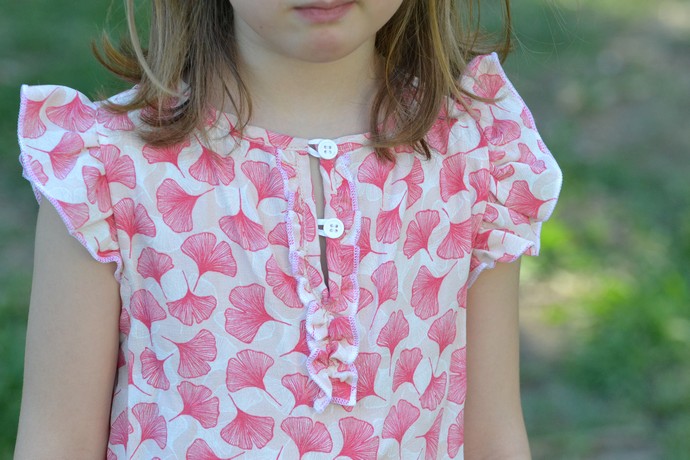 The gathered sleeves are so cute : all the edges are finished with bias cut in the fabric, like the buttoned slit. Not very esay peasy with the viscose, but we come to the end. And the result was worth the sweat!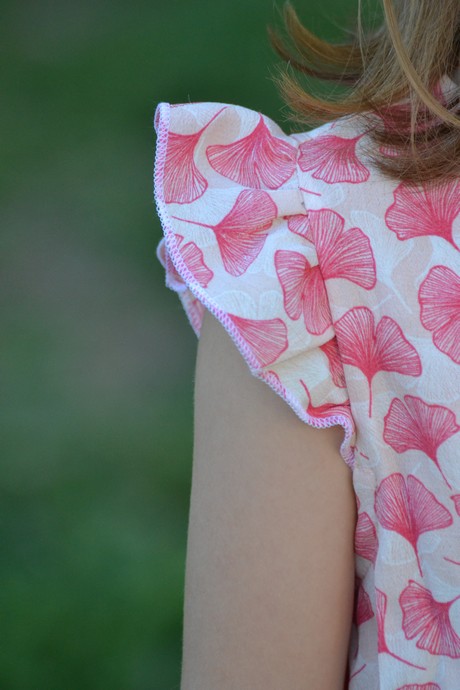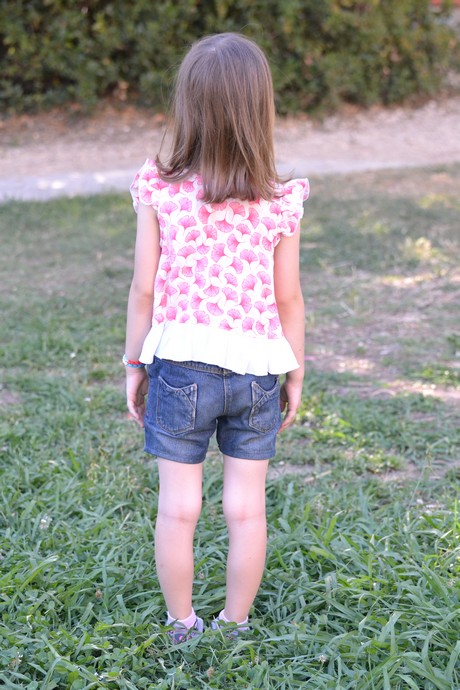 I cut a 110cms size, and the fit is good.
Conclusion : may be one of my favorite kiddos sewings! It was not necessarily easy to achieve but I am proud of the result. It fits like a glove and there is nothing left of my beautiful viscose: mission accomplished! We go on ?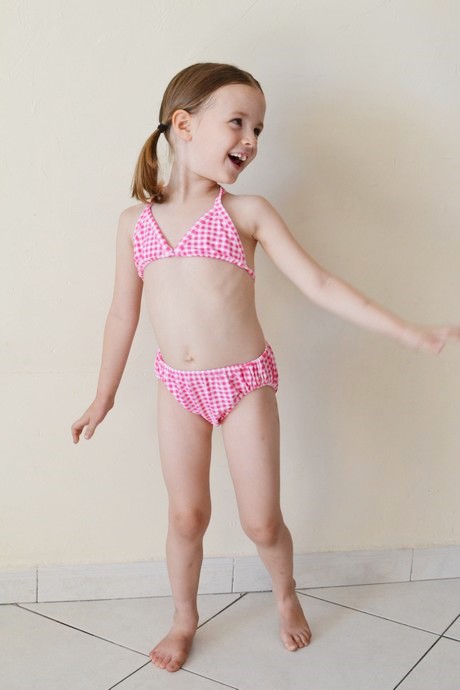 Do you remember, I told you here about a Bombshell cowardly abandoned along the way. This one had to be in pink gingham, and won't pop up immediately, but his Scraptastic intervention, yes!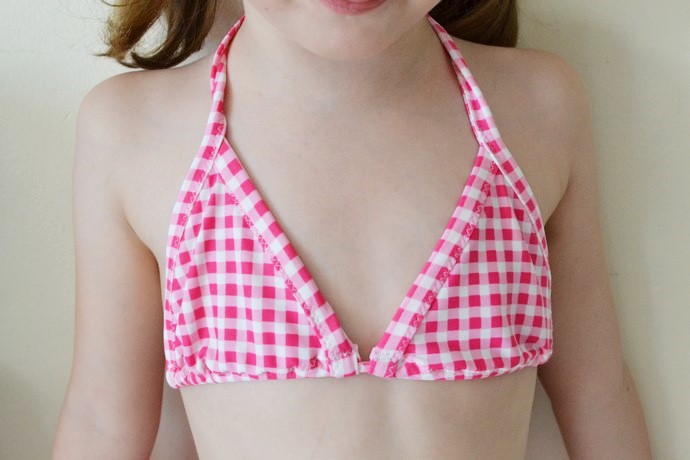 For the swimsuit top, I just picked the one from last year : 148 from Burda of June 2012.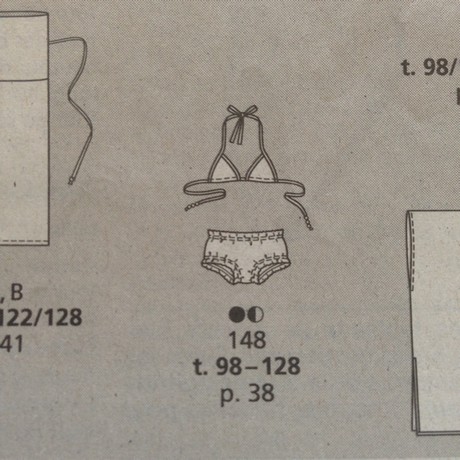 Basically, the pattern is designed for woven fabrics: the assembly technique is more perilous with lycra, but it works well. This year I cut a 110cms size, and the fit is good on Juliette.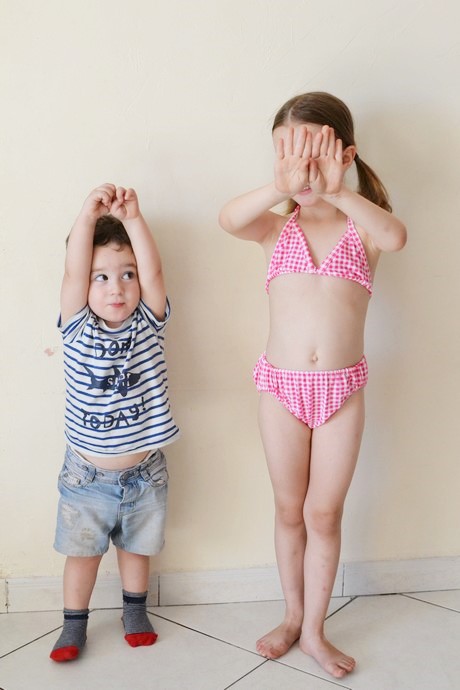 Oh oh…Little Bro Photobombing… 😀 😀 😀
We go on with the Panty ?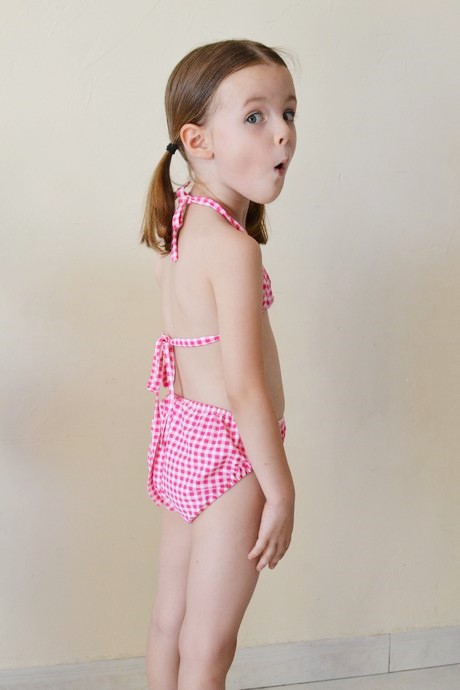 Lacking fabric I could not cut her shorty from last year so I chose the bikini panty 135 from Burda, July 2015.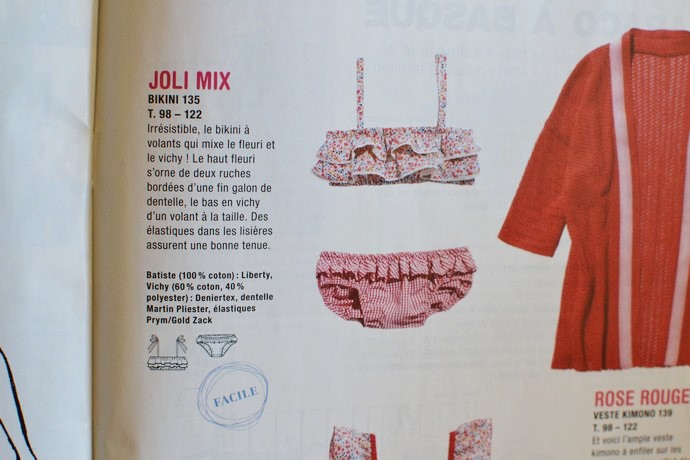 At the fitting, the result was not happy: there really was an excess of fabric on the crotch. I should have been alerted by the picture in the magazine, which shows that the panty is very wide at this point. So I ripped my wings, redrafted the pattern to make it narrower at this point, and all sewn up.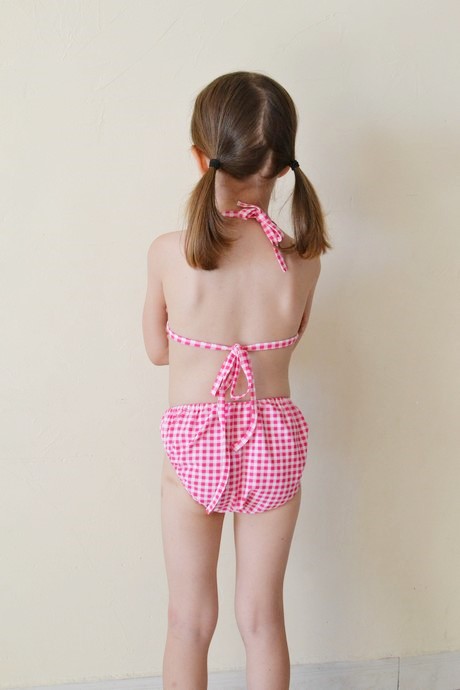 Well, in the end it goes, but it's not perfect. I think the problem may also comes from the recommended material: basically, this pattern is intended for woven fabrics, and my lycra is still thicker. But for this summer it'll be perfect. Cut into a 110cms size there too, and the fit is good!
Conclusion: what else can I tell you except that I find her absolutely irresistible in there. ❤ The pink gingham suits her so well, and for her, do you think, "Mom made me a BIKINI swimsuit!" ❤❤ My mission for next year: find a real swimsuit pattern for little girl with lycra and lining, for she too enjoys beautiful finishes. 😉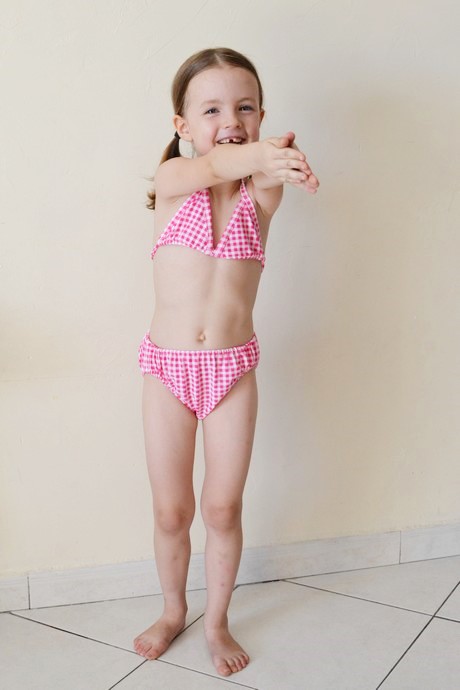 To conclude this post, guess who have been interviewed for a French magazine ?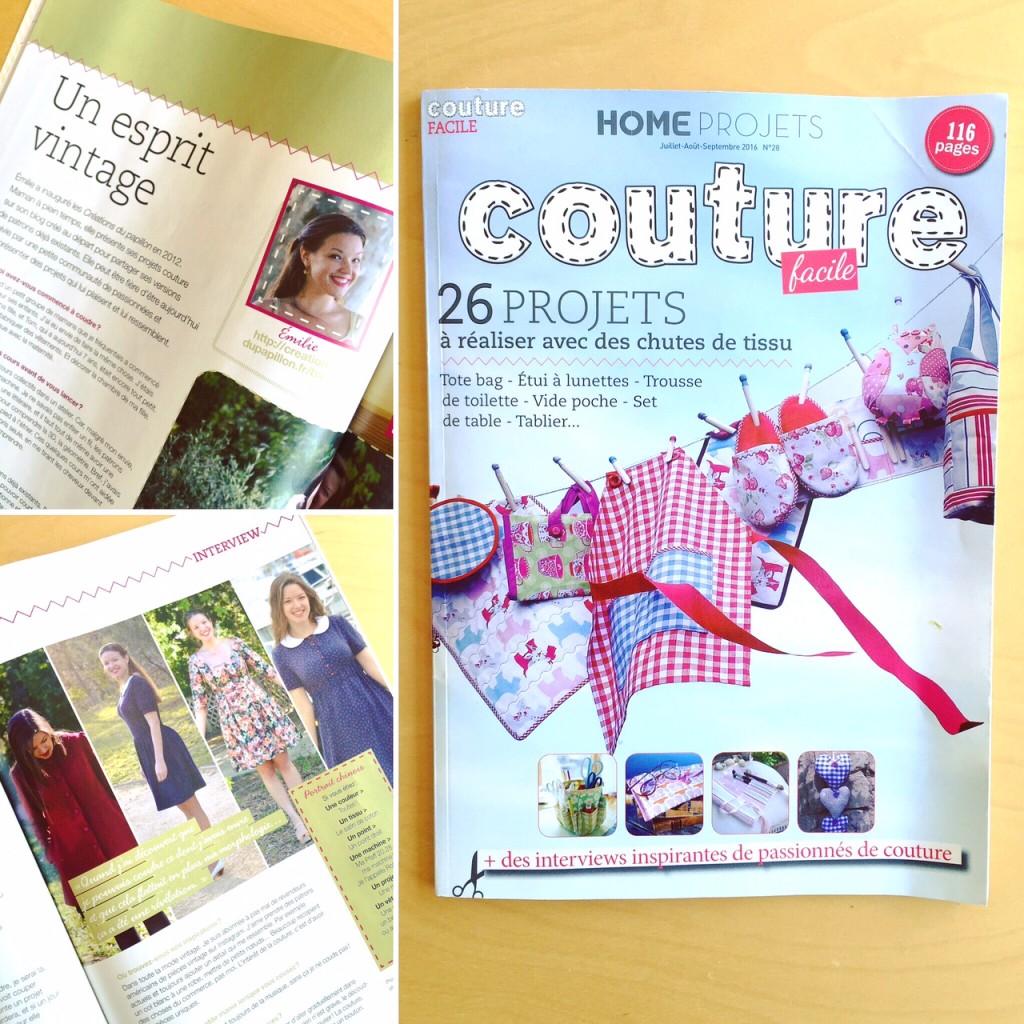 I should have filmed Tom and Juliette faces when they discovered pictures of them in the magazine, it was really too cute. ❤ A beautiful week to all !!!❤