As a teenager, I was very complexed by my curves. I remember, I once read an article of tips for curvy ladies, in a women's magazine. In essence, it said that a curvy lady should have her hair always clean, always perfectly manicured nails, and flawless makeup, just to "compensate" the extra pounds (WTF???). She should also dresses with dark and plain colors, print fabrics weighting silhouette. For a long time I followed those advices, to understand, as an adult, that all this was only a pile of crap: print fabric or not, 0 or 20, a woman is beautiful when she feels beautiful (outside and inside for that matter), and following those tips only generates an unnecessary frustration.
And it seems that I've got some time to catch up. 😀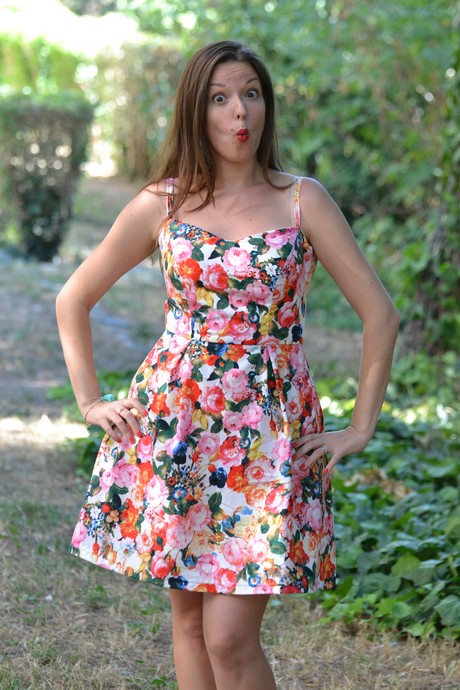 I bumped into this crazy fabric with Gigette in Bennytex last November. It was so gray, so dark, it was raining outside and BAM, these flowers. These dozens of flowers. These bright colors. When we unwraped it, it literally lit up the room, and I immediately saw a summer dress. A beautiful bustier, a dancing skirt, thin straps. The evidence.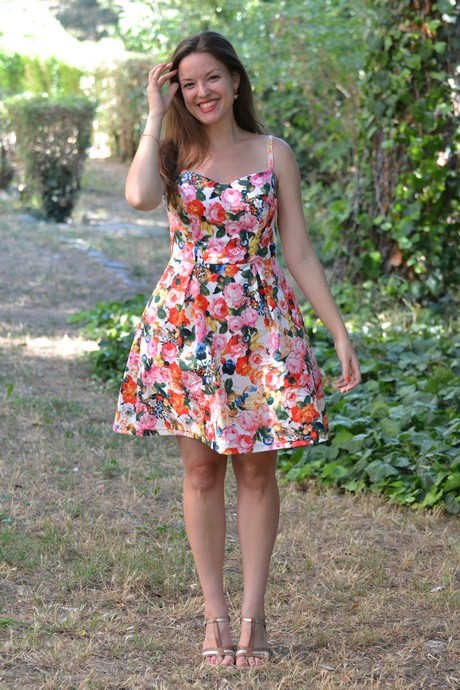 In early June, we still had 2 drafting lessons, and I did not want to finish the year without drawing the third version of my basic dress, a summer version this one,that I could wear during heat waves. We started with my second version, and pinned a rep ribbon on the neckline and back, to define its contours, contours which I then reproduced on a new bodice.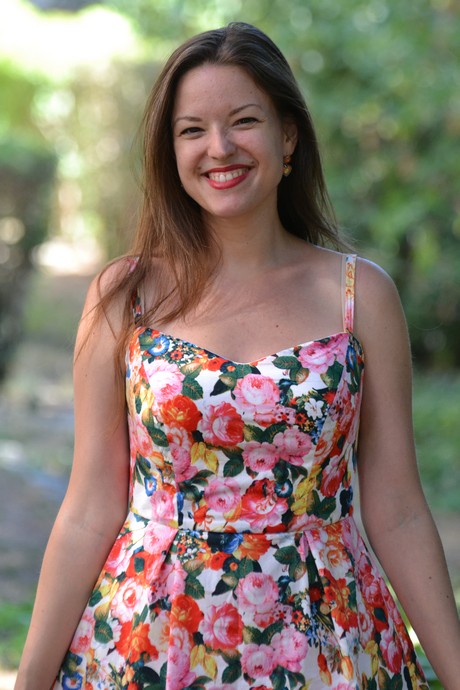 15 days separated the two lessons, and I decided to sew a quick muslin of the bodice, to check the fit with my teacher: there were many adjustments to make. Once the bodice was ok, we worked on the skirt.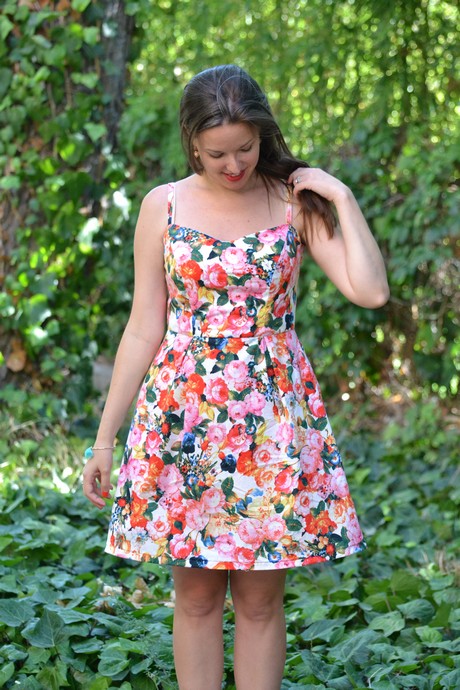 I wanted a gathered skirt, we drafted it but you will not see it here because the result with this 100% cotton was not flattering. In the end, I used my seam ripper, modified the skirts with my first version's ones, featuring box pleats, and the result is more successful.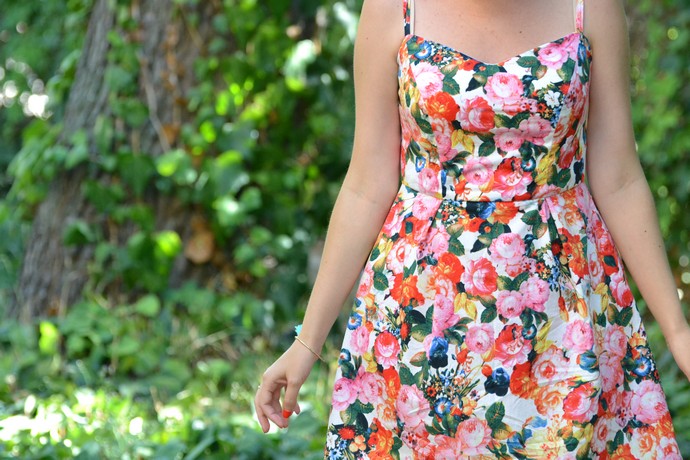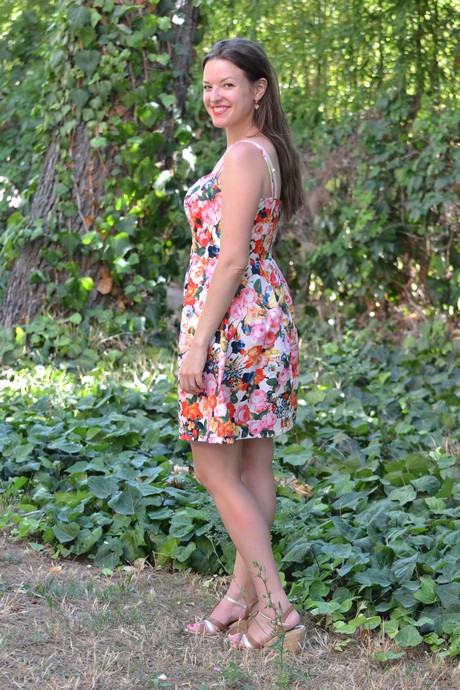 As usual, the bodice is lined with stretch satin and lining is sewn on seams to ensure it stays flat.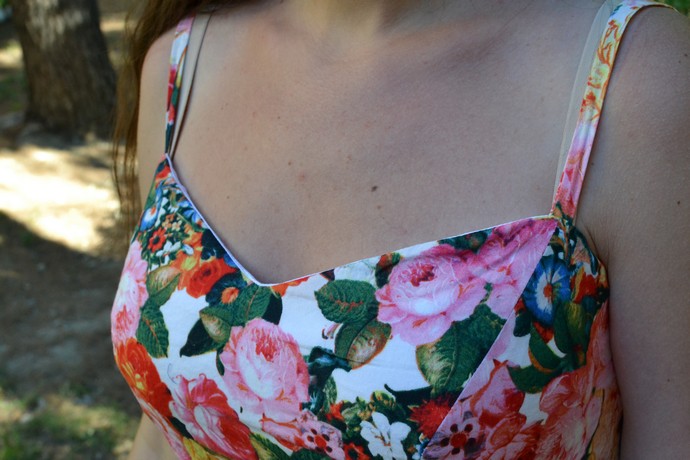 The back is finished with an invisible zipper and the hem is sewn with the invisible point of my machine.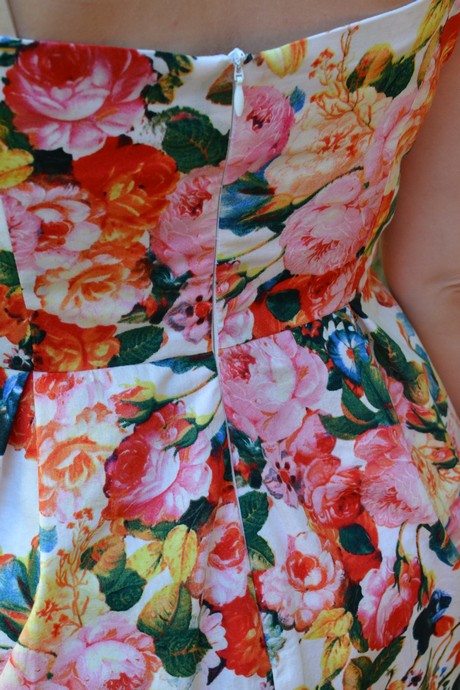 One small problem: I think I cut the straps too shorts. But it will not be the most complicated to change for the next one.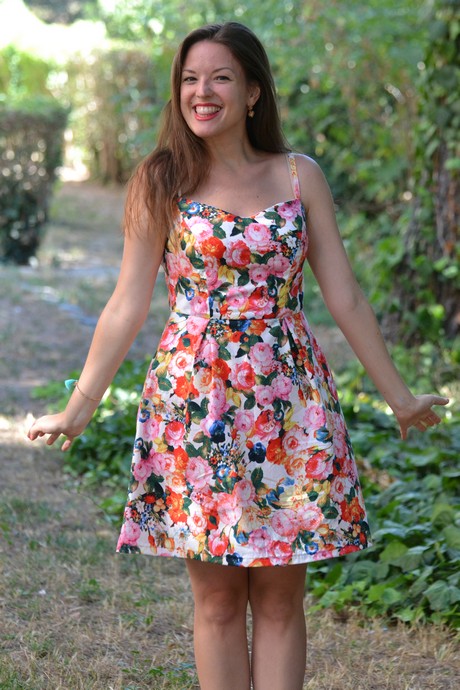 Conclusion : I think the above picture sums up what I feel for this dress. Pride already, because I dreamed for a long time of a similar dress, and knowing that I hit my goal, by sewing and drafting it, gives me a great satisfaction. ❤ And also a lot of joy, wearing these colors, these flowers, feeling pretty, feminine and totally agree with what I am inside. ❤ A crazy lady that never feels better than in floral dress with a touch of lipstick! : D

Ps: why Whitney? I had to find an idea to name my dresses, and if there is something I love even more than sewing, is music. I can not live without music, and above all, I can't sew without music. Each sewing is always associated with a song, an artist. And I sewed this one by re-listening to all the success of Whitney Houston, especially this one.
Just hard to sew AND dance in the same time. 😀 😀 Have a great day Ladies ! ❤❤