If you knew how long I dreamed of a wrap dress. When my drafting teacher, at the beginning of the school year, asked me if I wanted to plunge myself into a complicated project right away, or, to draft me a little desire, to get back on my feet … believe me, it did not take me more than 10 seconds to get this sketch out.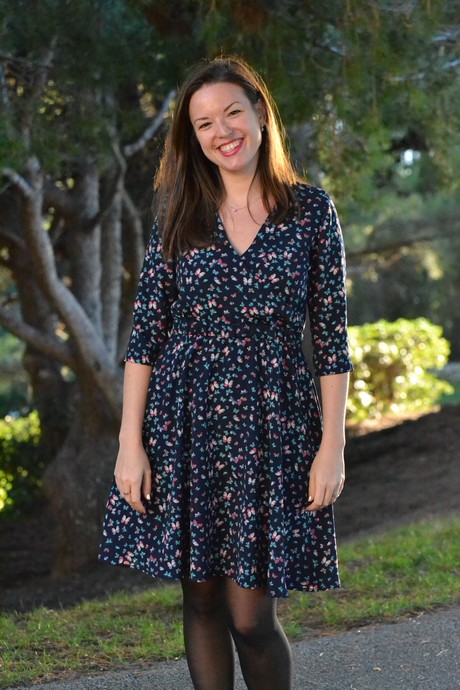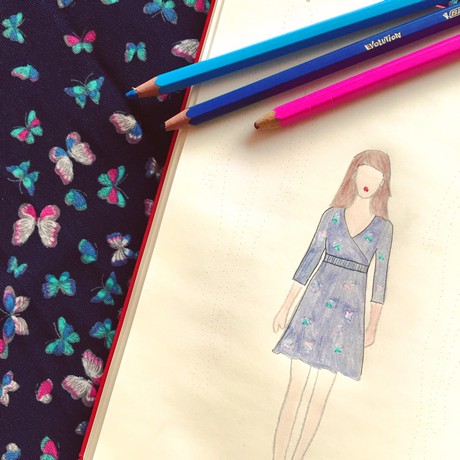 One can be inspired by a fabric, by the lines of a pattern: here it was a bit of the 2. I wanted a wrap dress, but without knowing the details. And it was by touching this microfiber from Bennytex that the evidence was: I imagined a fluid dress, a very flared skirt, an elasticated waist. A dress in which I can feel feminine, but at the same time feeling comfy. With sleeves, to be able to wear it in any season.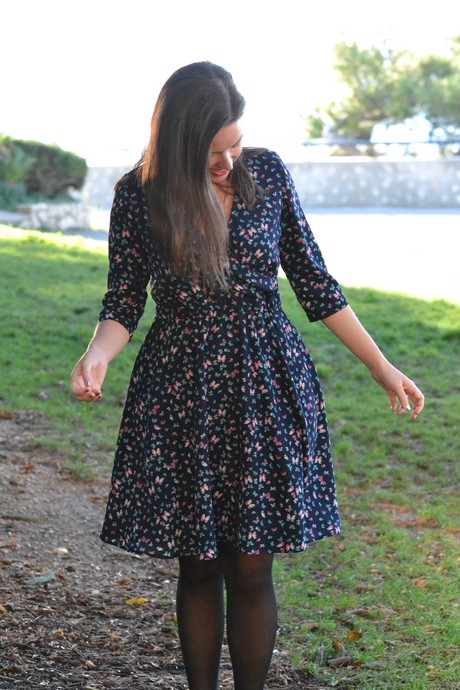 To do it, I took my basic bodice. I added ease to get the elasticated waist, shortened the bodice and drawn the wrap-around, as well as a belt. I took the sleeves of my basic dress. Concerning the skirt, I took again my half circle skirt made on my measurements, which I enlarged so that it sticks to this wider size.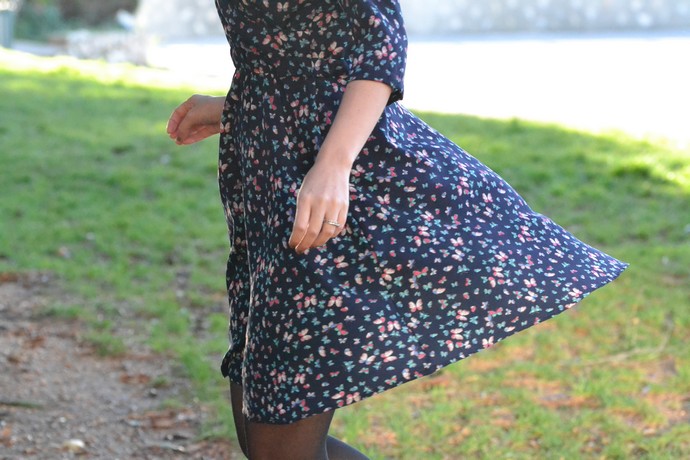 A quick toile of the bodice validates the drafting : I start to sew the dress. Wishing the back as clean as possible, I line my front and back on the bodice. According to the advice of my teacher, to prevent the crossed faces from relaxing to use, I sew a thin ribbon on my neckline.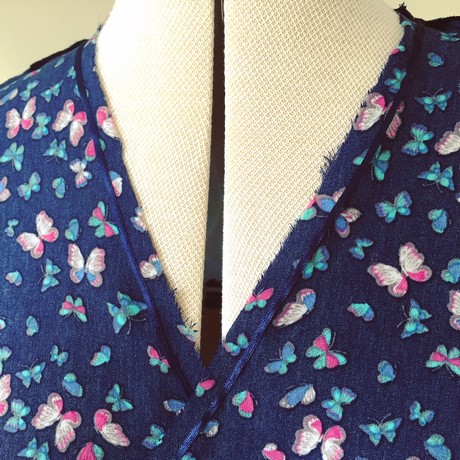 I take the time to sew my lining at the armholes, to have no visible seam. And when it was time to sew my bodice to the skirt and belts (also lined): big black hole. I did the stupidity of any beginner in drafting pattern class: I drafted without thinking about the assembling, and find me with a hangdog look in front of my work. I spent hours there, dreaming at night, sewing, seam ripping, sleeping with my pieces of toile (true story) and ended up asking my teacher for help.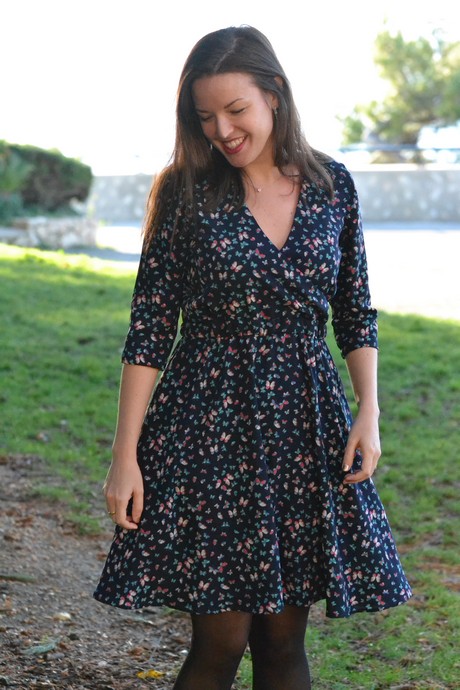 That day I'm slightly febrile, my teacher tired, and we are unable to cope with it. She proposes to give her the dress during the Halloween holidays : she will study it again with head rested and we will talk about it at the return … where I find her with this file under the arm.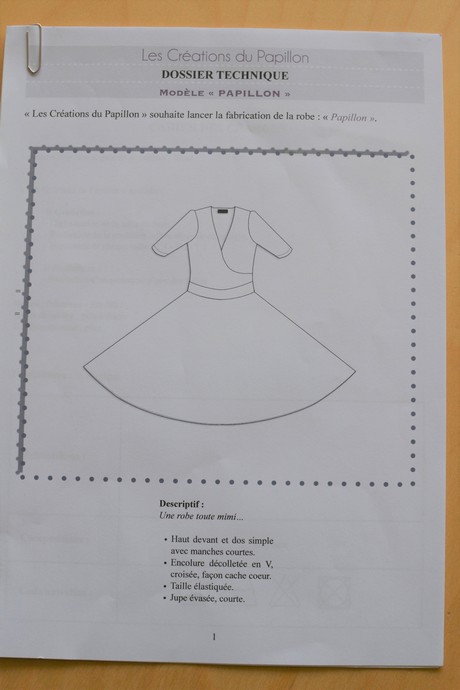 A real technical file, which she took the time to write, for me, on my dress: as in any workshop, with a real range of assembling, technical symbols, and everything …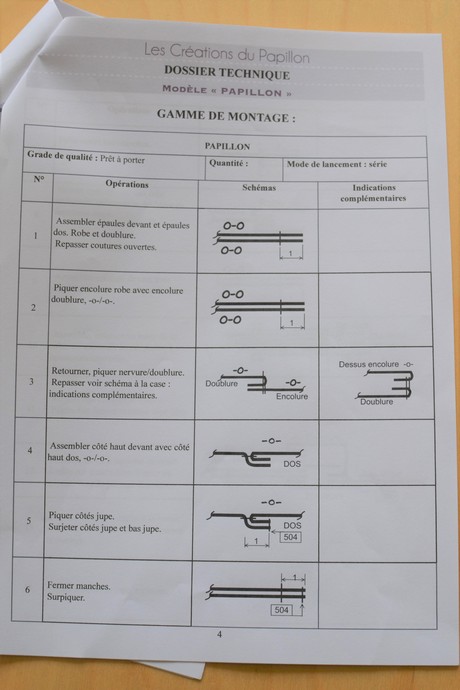 Wow. Believe me, I was flabbergasted. It is a document that I will keep safe, for the assembly of my dress evidently, but especially as a beautiful memory. Time is something precious, and she has been able to consecrate it to me, which touched me very much. Thank you again Chantal. ❤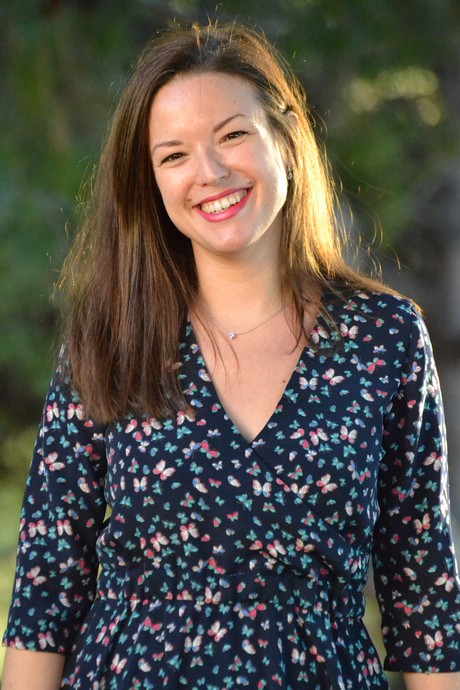 And in fact, the assembly was super easy ! We had been disconcerted by the layers: but in the end, we just had to sew them in sandwich, between the 2 belts. Here is the dress on the wrong side, for you to visualize.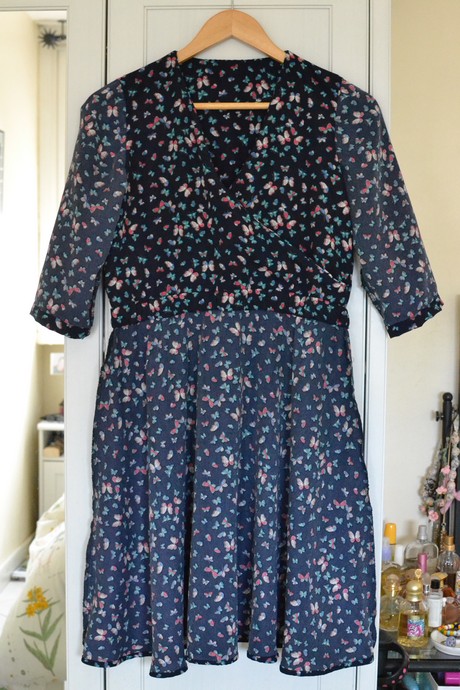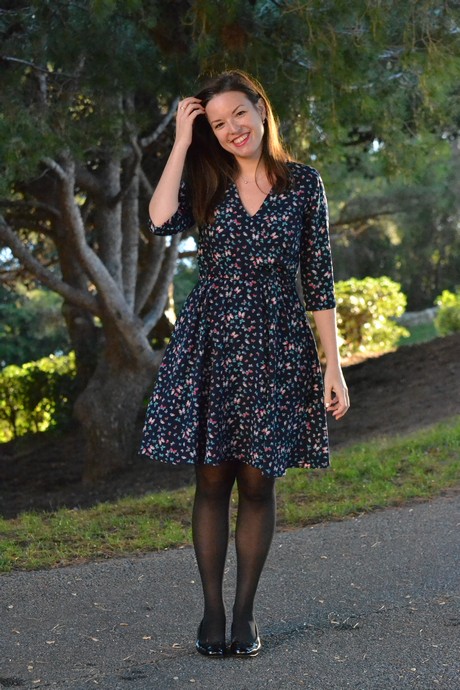 The magic of this dress is largely in the fabric used: you know, I rarely buy fabric on the internet. But this summer, when I discovered this print on Bennytex's Instagram, my heart missed. These butterflies, these colors, I could NOT miss this fabric. And at reception, I was not disappointed: very fluid, not transparent, it was perfect for this project.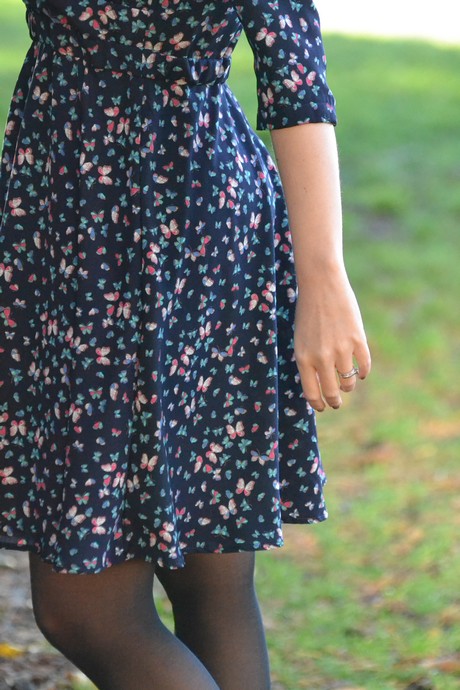 The dress is exactly as I imagined: the cleavage, the short and dancing skirt are feminine details, but the elasticated waist makes it easy to wear everyday.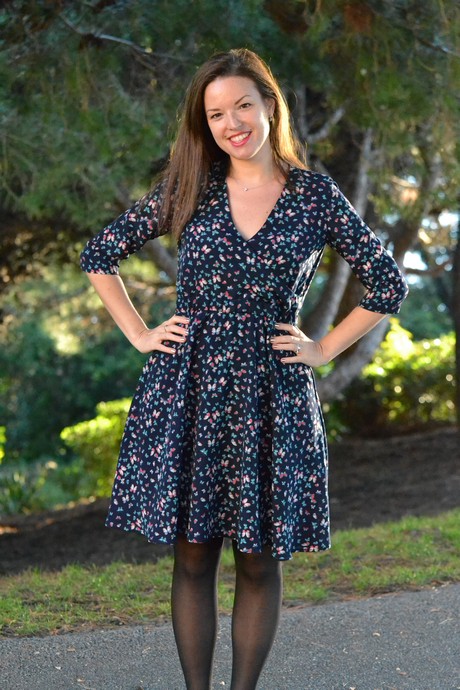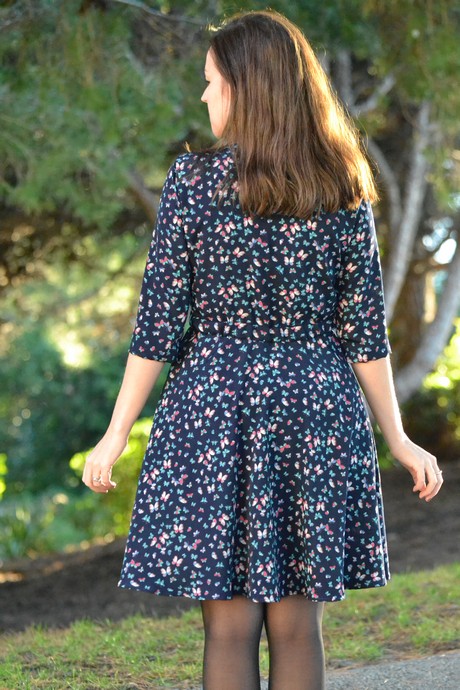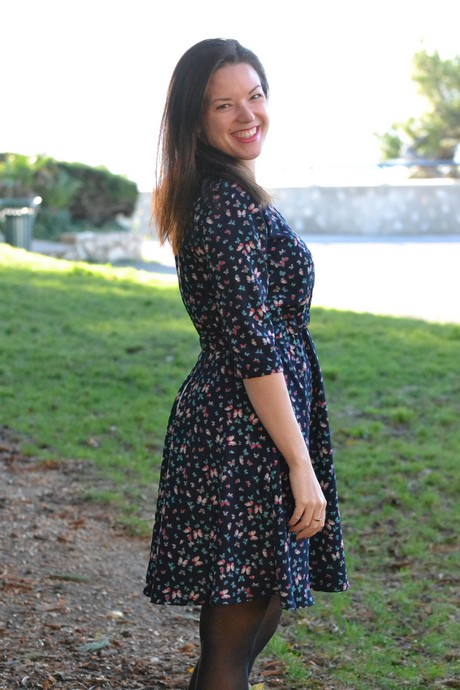 Unique small problem that you can see in the photo above, my chest goes back slightly the waist on the front. For the next one I will need to retrace the waist of my front bodice by lowering the middle of 2 cms.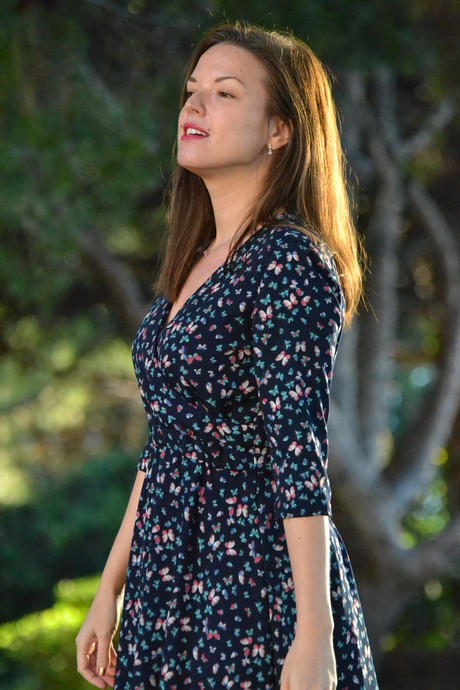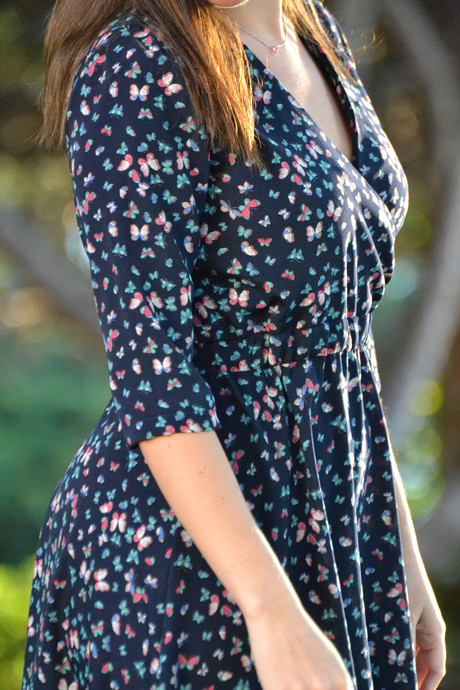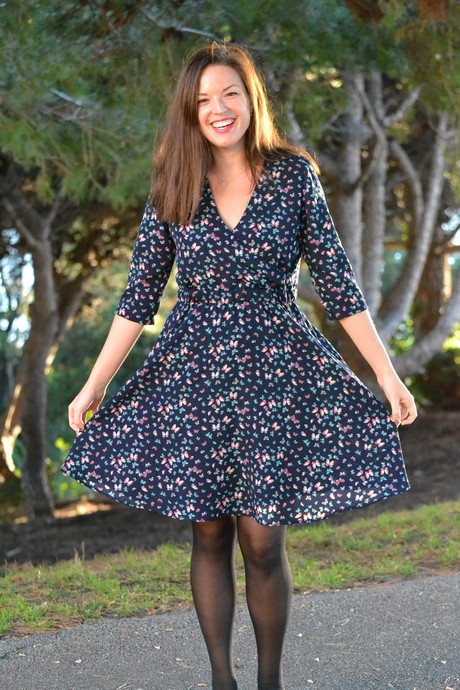 Conclusion: I believe that one can read in me like an open book, and just see these photos to guess what I think of this dress. ❤ I am happy with my drafting pattern job, delighted with the result, and I know there will be little sisters: why not in this beautiful ruby red polyester that sleeps in my stash ?❤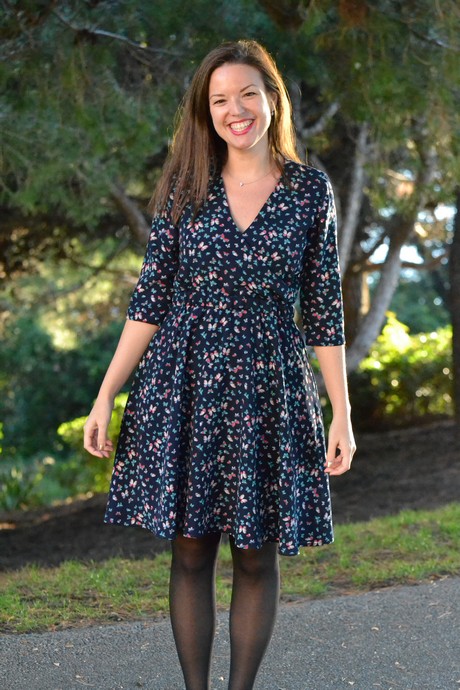 Wish you a good week, take care ! ❤