…or how I learned, in an exemplary way, that the best is the enemy of good.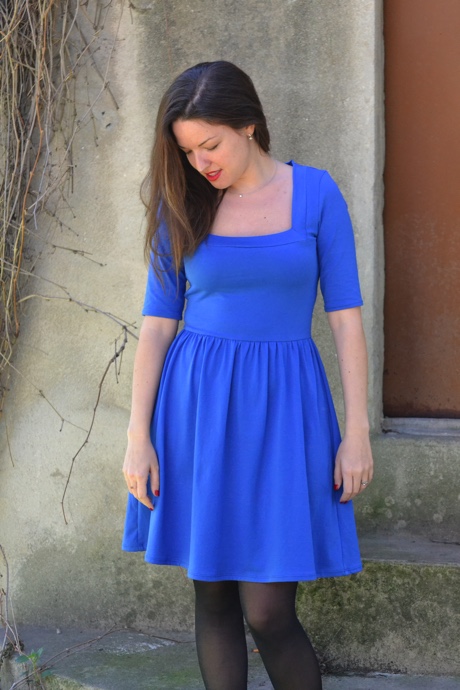 Haven't been here for a while right? The reason is quite simple: I got a good sprain a month ago. Having a very complicated passive on this ankle, the cure is long and I am still far from being reestablished. At the time of my fall, I just started sewing my coat, self drafted. I tried to get the project going despite my sprain, but the project was endless, and I needed a simple, fast project that would bring me complete satisfaction. And of course you can hear me yelling …
MONETA !!!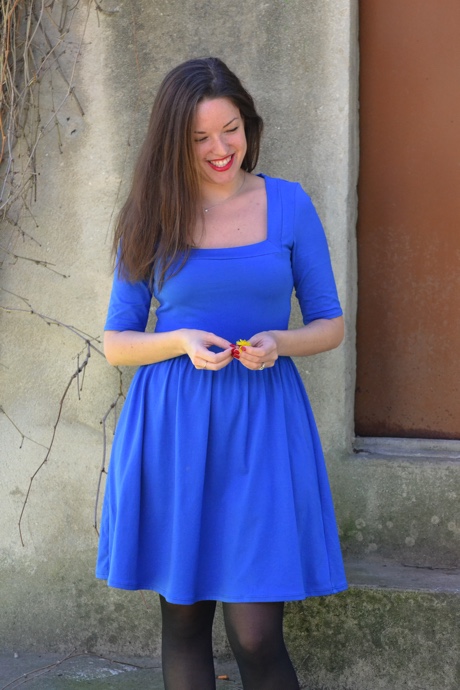 I have been frustrated with knit dresses for many months already: between the dress transformed in pajamas, chocolate Zephyr moderately successful, I was lacking a totally validated knit dress, such as this one (the most worn sewing dress, irrespective of seasons). And then, Vanessa Pouzet's Wanted top came out, I crushed on this square neckline and I immediately thought that the association with Moneta could work. Here it is, your quick, simple and rewarding project!
AH AH AH.
NO.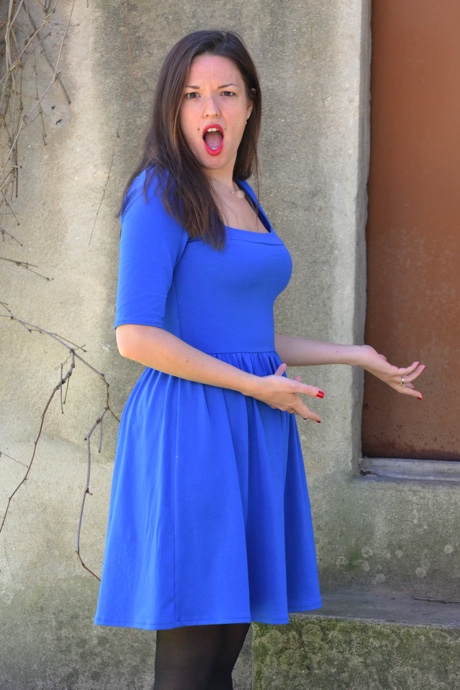 I'm laughing now, but believe me this dress went very (very) near the trash. : D Let's start from the beginning?
Having looked at the first versions of Wanted, and having the impression that a widening of the shoulder line is necessary, I add 2 cms, as on Nettie. I modify also my sleeve heads.
I start sewing the collar, and it's really not easy. What's more, I have the brilliant idea of trying to test the stretch point of my Bernina. The result is not perfect: instead of satisfying myself, I decide to undo everything. BIG MISTAKE: the stretch point being impossible to undo, I make holes everywhere. Sadly, I decide to cut a new bodice and a new collar in the tee shirt I was planning to make for my husband. I'm sad to not be able to offer him this blue t-shirt, but promise there will be others oppportunities.
I go up all, add my sleeves, skirt, make my hems. And it is by trying it that I see the problem.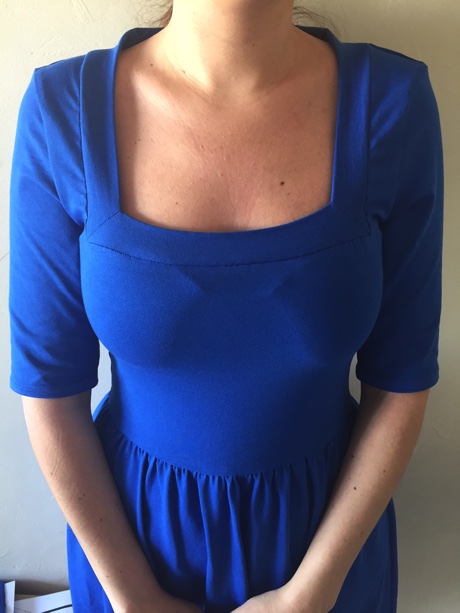 See the back neck that goes up strangely? I totally forgot to reduce the length of my neck band, lengthening the shoulders! Again, I decide to undo the neck back, and reduce it, creating a seam on its middle. But tired, irritated and above all obstinate, I do nothing but stupid, using again this stretch point, and find me with holes everywhere.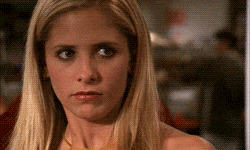 So there you have to imagine me in the midst of a crisis, vociferating "I WILL STOP SEWING, THIS PISSES ME OFF, WHY AM I NOT GOING TO H&M LIKE EVERYBODY, FOR GOD SAKE", and in a rage moment, unable to undo this damn neck, I simply decide … to cut it.
(I know…totally stupid)
So I find myself with a bodice without collar, dug on 1cm everywhere. And while any sane person would have kindly thrown the dress in the trash, I will breathe a great blow, search through my tiny scraps, cut a collar in 3 parts (not enough fabric to do it in 2 parts as initially), opt for a simple point zig zag, much easier to undo, and I will go up this DAMNIT NECKLINE.
BECAUSE IT IS NOT A KNIT FABRIC THAT WILL HAVE THE LAST WORD, HOLY SHIT !!!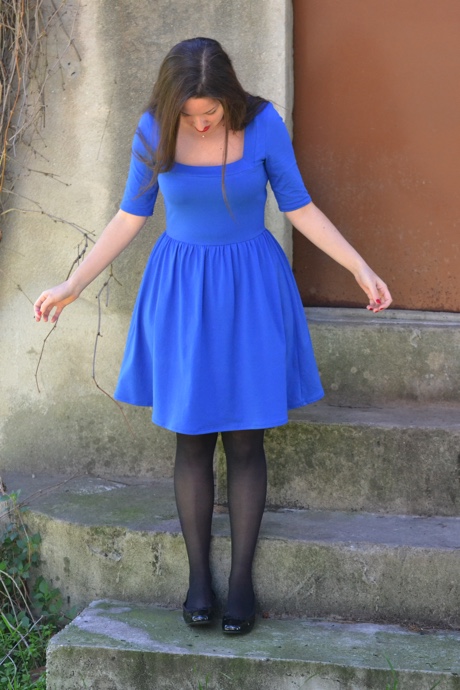 And the miracle was … I nailed it! And even better: I find the bodice much more successful with only 1cm more to the shoulders. I was afraid that the neckline would be too low, but not at all. It can be seen in the following picture: the décolleté is sexy, but not at all indecent.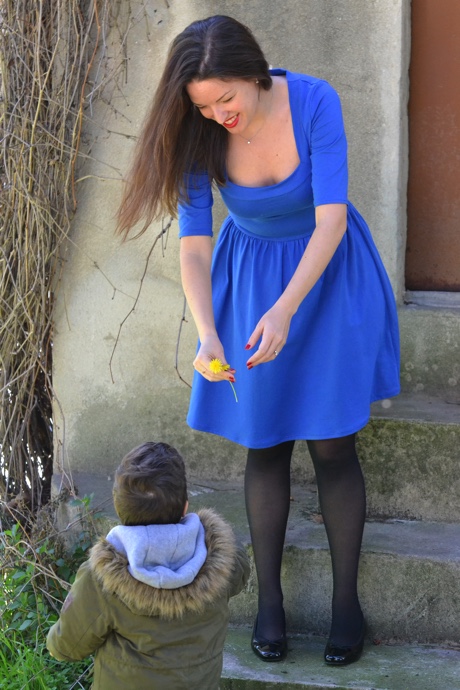 The back neck rebel still a little bit, but believe me, after the misadventures above, I will content myself perfectly. 😀
I can only agree with Vanessa when she advises you to test the neckline on a scrap fabric : the seam is not insurmountable, and as with Zephyr, you will see that in the 3rd opus, you will sew it without any problem.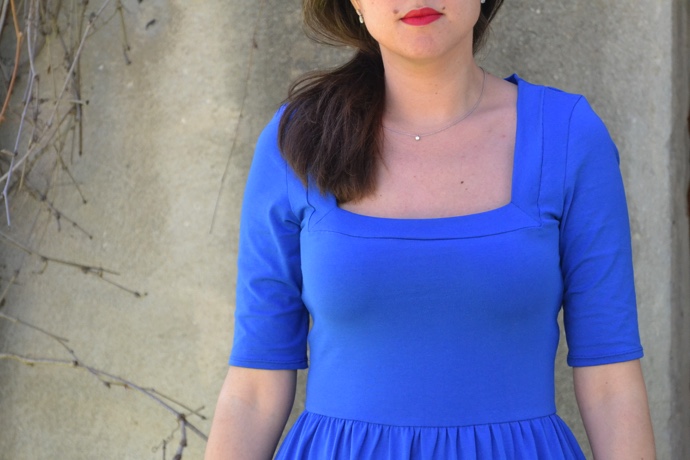 For the size, I chose a 40 at shoulder level, expanded to a 40/42 at the bust, to go down to a 36 on the waist. Same on the sleeves, started at a 40 to the head, until refining on a 36 to the hem. I opted for the retro length, and I like the result very much.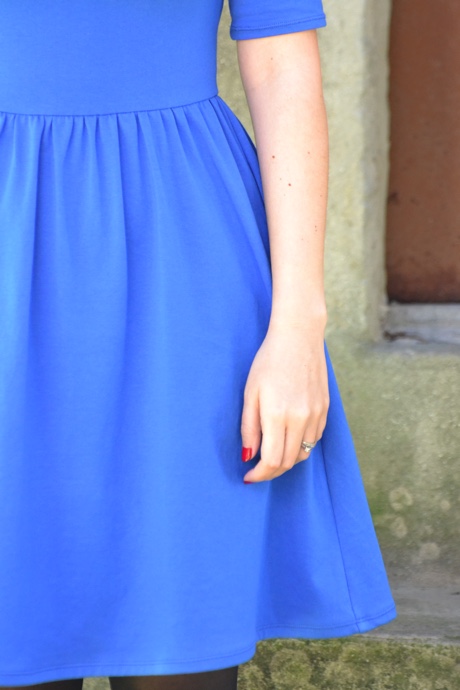 Skirt is Moneta one, size S, minus 5cms.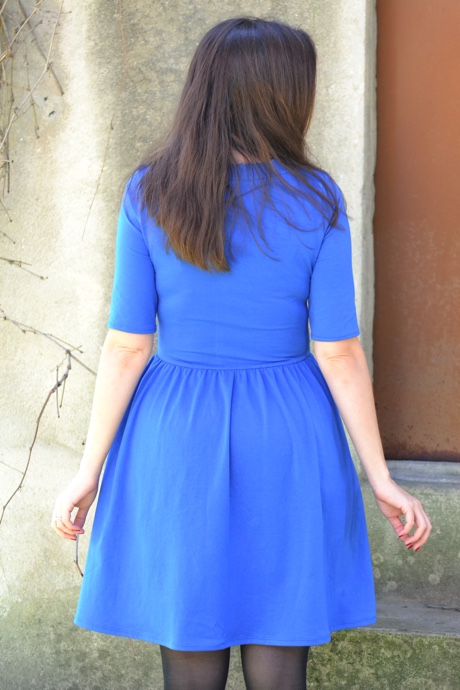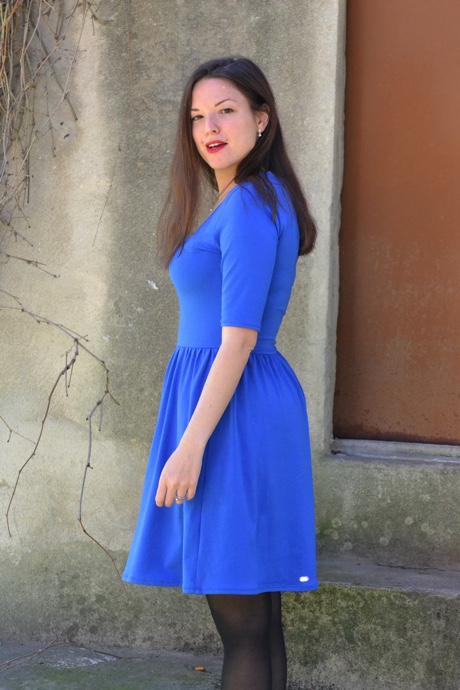 If I have not sewn Moneta for so long, it is because it is really difficult to find the perfect knit fabric for this project. It must be :
Thin enough for gathers to remain flattering
But not too soft so that it does not stick to the shapes
Sufficiently elastic in width for the bodice to be comfortable
But not too long otherwise the skirt relaxes the bodice
Not transparent
And especially, in cotton!

I searched, searched, and it was by ordering samples from tissus.net, that I finally found the untraceable: this perfect cotton knit fabric, which you see here in royal blue. (I remind you, nothing sponsored here, I paid my fabric and give my opinion in all sincerity).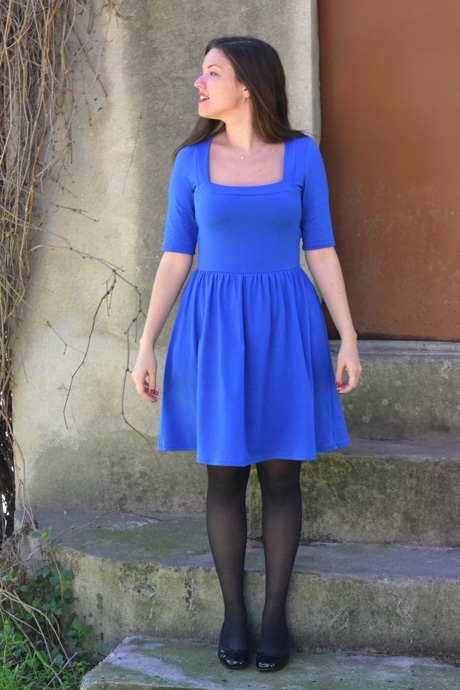 If you only knew how glad I finally found it! I have already ordered another color for this summer, and I refrain from ordering more. I'm really excited about this fabric, the result, and I hope it will age well.
Verdict: of course, this dress will not have been the fastest and easiest dress I've ever been given to sew, but I'm really happy with the result. It will have taught me that sometimes the best is the enemy of good, but that nothing is impossible for a willing heart. And I'm really crazy about this blue, bright and stylish.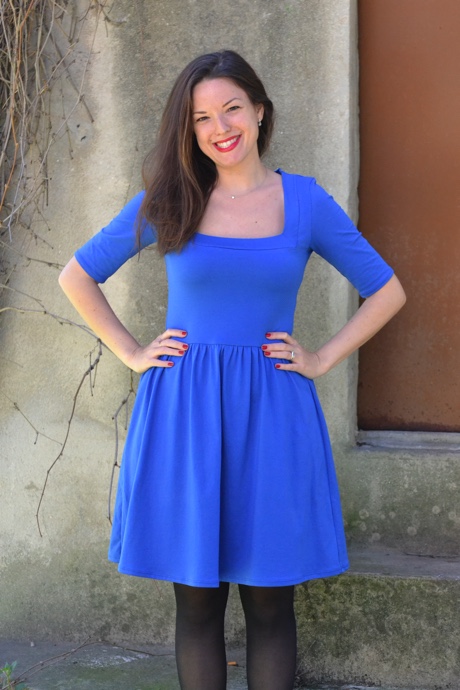 Wish you all a good weekend, take care. ❤