It was by coming out my summer wardrobe a few weeks ago that the evidence appeared to me: my favorite dresses are undoubtedly shirt dresses. Moreover, the few RTW dresses, long before discovering sewing, and which I continue to wear with pleasure, are shirt dresses. Drafting one to my measurements was obvious : but then, it was quite a huge work !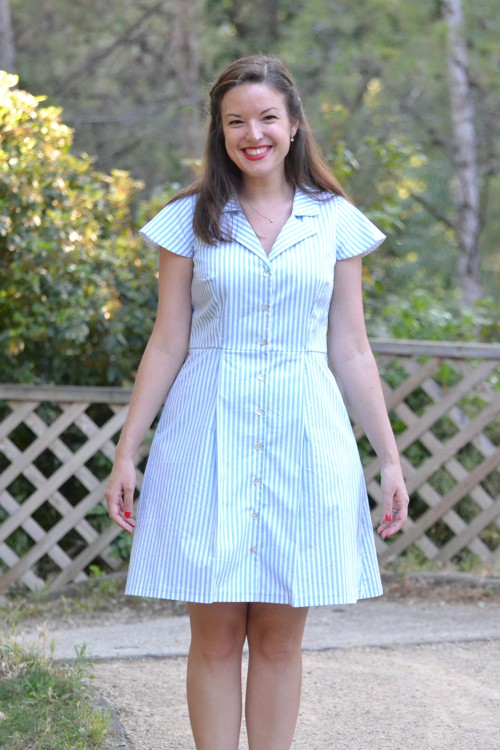 It was a dress worn by Amal Clooney that was the starting point of my inspiration. Small aside: I am a huge fan of Amal Clooney's style, a blend of femininity, elegance and absolute class. Add to that that she is sublime, intelligent and married to one of the most seductive men in the world … argh … WELL. Amal Clooney is divine.

I had been dreaming for a long time of a shirt dress with a beautiful tailor collar, this point was established. Wanting to make the dress in a poplin and not having the same morphology as Mrs. Clooney, an adaptation was necessary.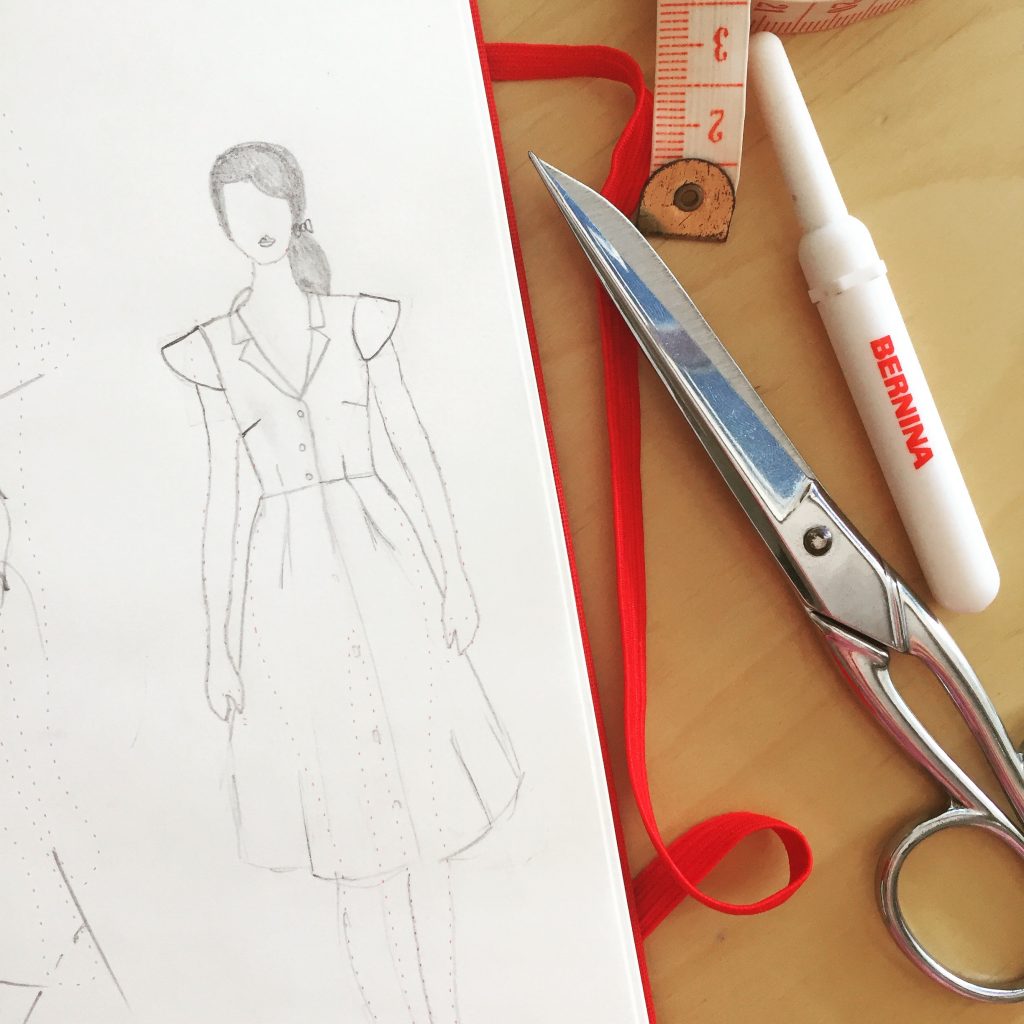 This dress was for me the occasion to draft a dress bodice with bust and chest darts : we made a first toile of the bodice, which was more than saving … I was totally lost in it.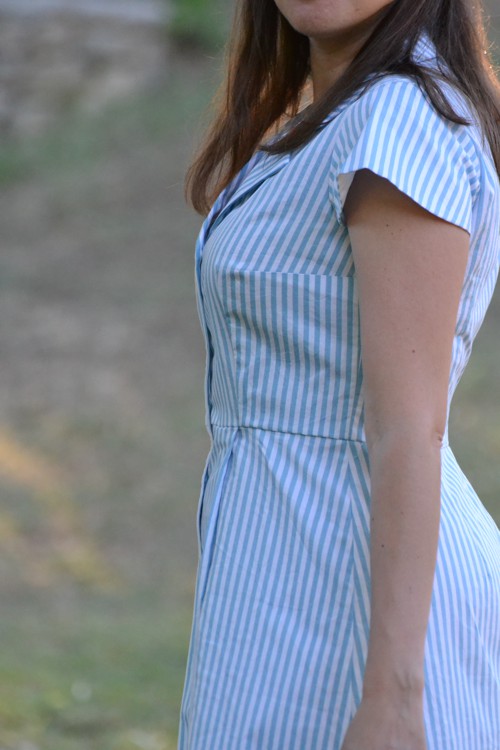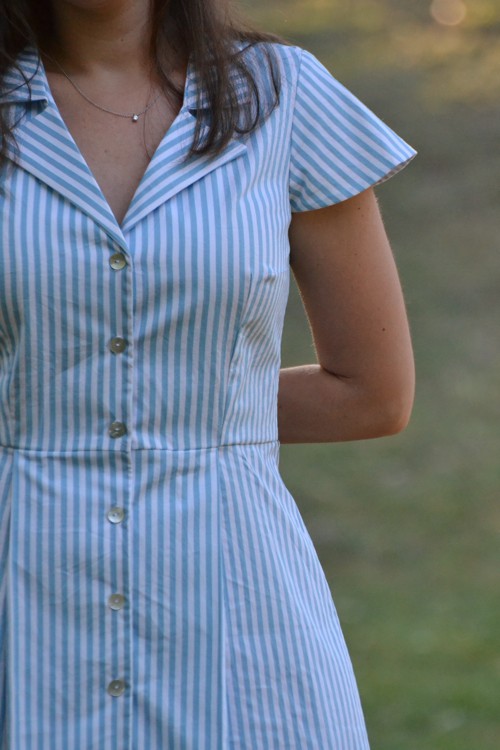 By adapting the toile to my bust, I realized that a very high-sized dart would be needed. At the time, I was ready to give up and go on with my princess cuts, thinking that a dart had to respect a maximum length, not to go too high or whatever. And that's when my teacher made me a revelation: "But you don't draft for others: you draft for you!" And if your morphology requires high darts, then let's go ! Forget the academic rules And sublimate yourself. "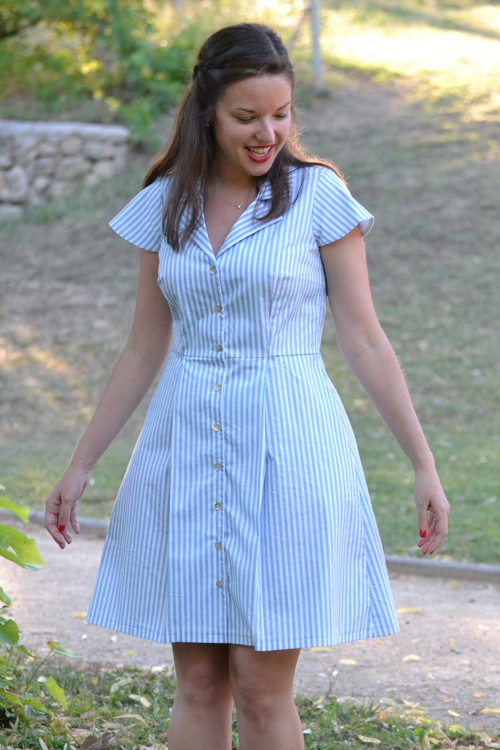 And indeed, the combination of the two darts creates without a doubt the most flattering bodice that I have been given to realize for my chest. Besides, the teacher on seeing my dress on Monday asked me if I had taken a cup size, can you believe this ! 😀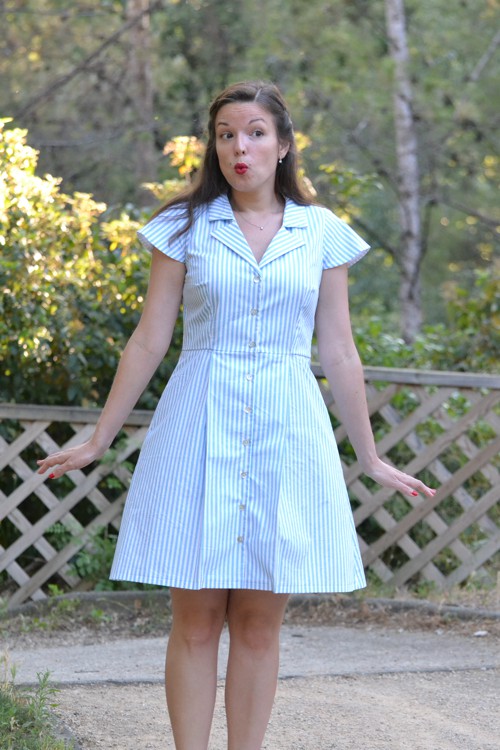 "Er … no, but maybe I should weigh myself ?" (I never weigh myself. 😀 )
WELL, the bodice finally validated, it was necessary to tackle the hardest: the construction of the collar. In drafting I'm an eternal indecisive person, and define its length and its width still asked me a lot of work.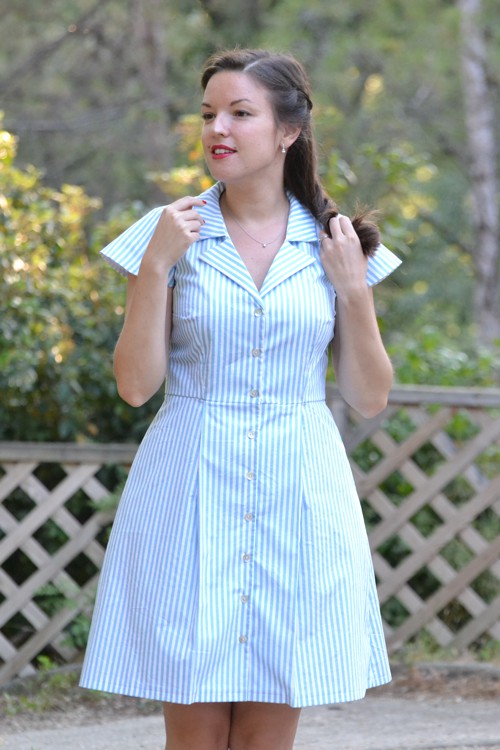 Concerning the front skirt, I took the pattern of the Cha dress, and opted for flat pleats, while retracing the middle front to create the buttoning. Having loved the rendering of the back darts on my Christmas skirt, I replaced the pleats by darts.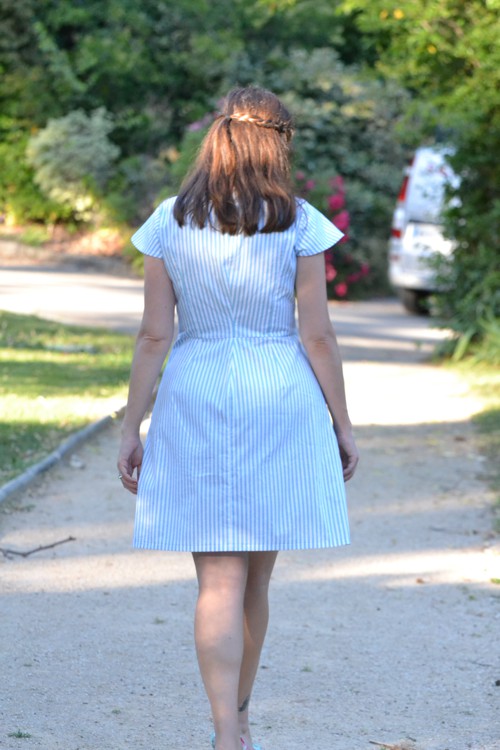 A facing later, and it was time to draft the sleeves: at the beginning we had drawn very wide sleeves, starting from a circle of which we had decreased the amplitude while wearing it. But it was at home, cutting into my poplin, that I understood that it was not going to work. My fabric was way too stiff for the rendering to look pretty. I wanted to have sleeves that stand, which give me a beautiful head-bearing, you know, like shoulder pads. I didn't know at all what it would make, whether it was going to be pretty or not, but it doesn't matter: that's what I wanted, so I took the head of sleeves that we had drawn at the very start , And I flared of 8 cms on its middle, keeping the cap aspect. And after a few toiles, I finally got satisfaction!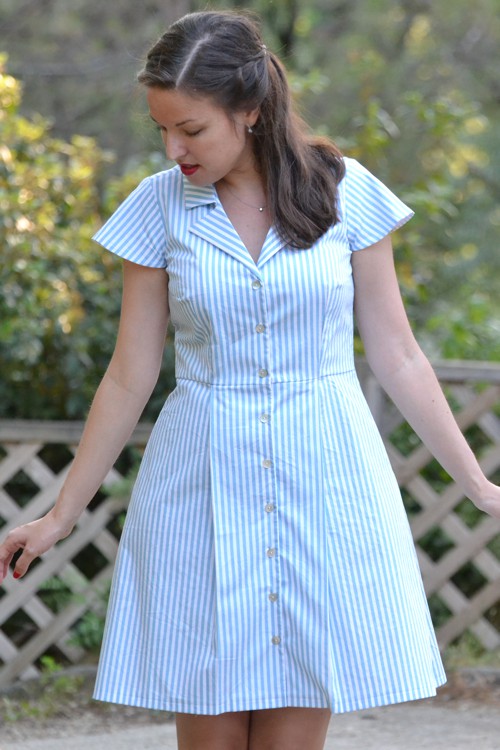 It was hard to get beautiful finishes: in the end, I lined the sleeves, and sewed a bias to finish the underside of the armholes.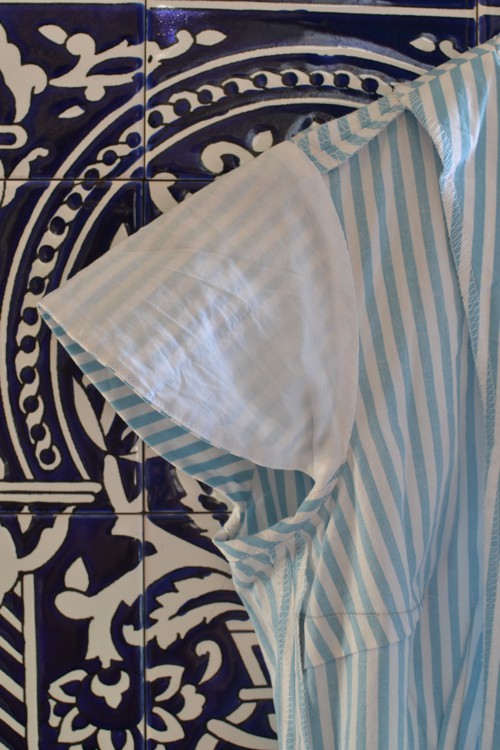 (I'm obsessed right now on armholes finishes. I hate to overlock at this place, but I don't know why. 😀 )
The facing and the collar are interfaced with a woven one, my teacher has made me discover this tool, which, it must be admitted, is a thousand times more appreciable to work than the non-woven interfacing. And it's no surprise that I chose mother-of-pearl buttons. (I have a passion for mother-of-pearl buttons, they are fine, delicate and fit with everything.❤)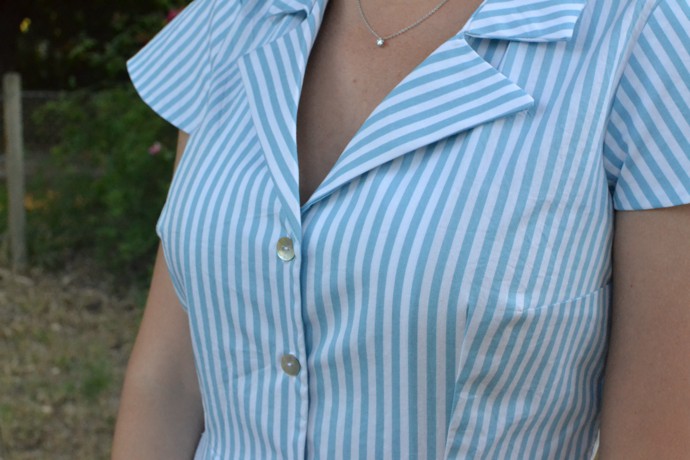 The hem is made with the invisible point of the sewing machine.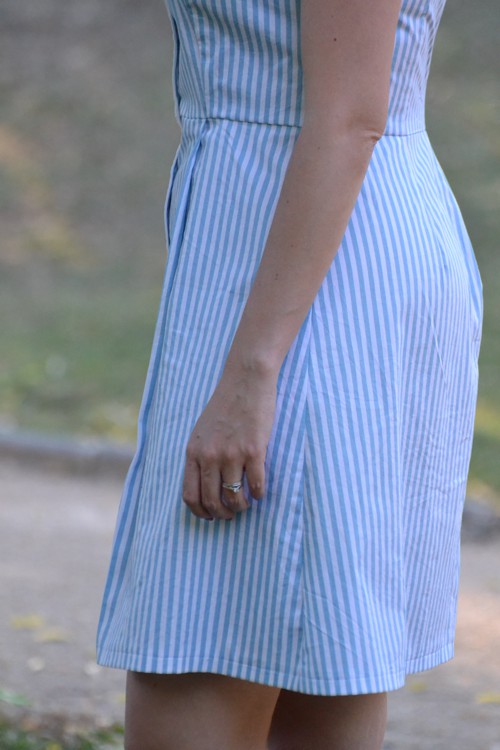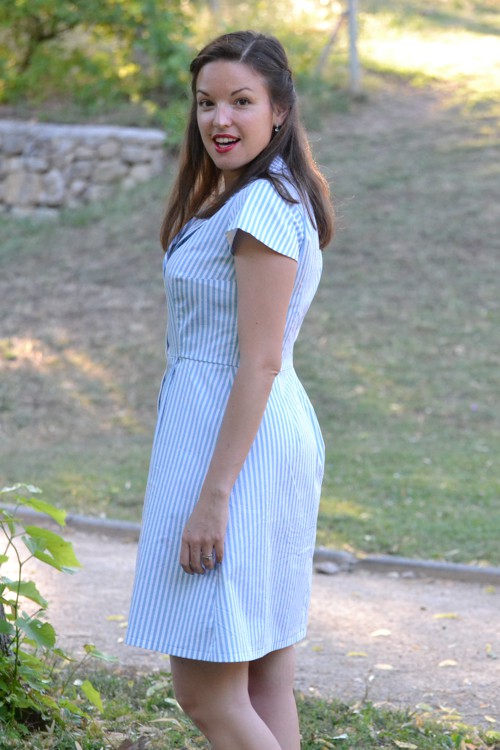 The fabric used is therefore a striped poplin that comes from Cousette: I've got the idea to embroider something on the bodice, and in the end, the dress pleases me perfectly. I will be too afraid to spoil it with an approximate embroidery, and I think that its classicism will allow it never to go out of style.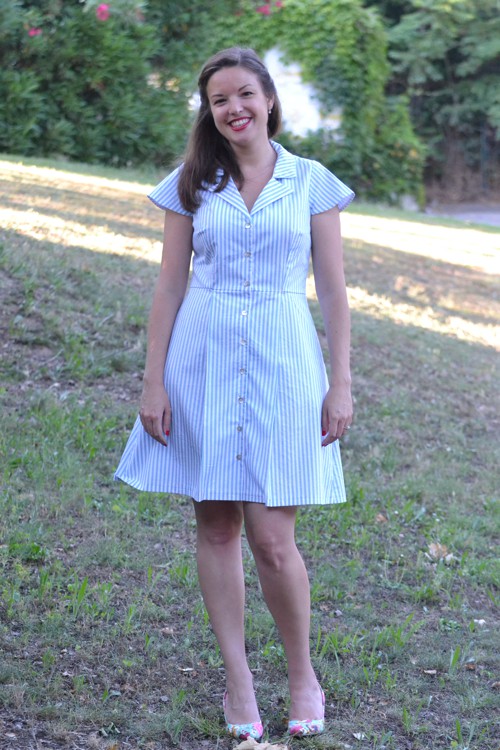 Verdict: I have a guaranteed thing to know if a dress is successful: it's the way I move the first time I wear it. If I immediately straighten up, if I have my head high, if I start to waddle … it is won! A dress for me is only successful if I feel feminine and sublimated in it, and this is the case for this one. Not having added a lot of ease, I was afraid to feel myself engulged, and not at all! I feel really good in it. Monday was the last drafting lesson of the year, and we had time to draw a sleeveless version, which I hope to present to you in the coming weeks. Chantal, if you read me, thank you again for all that you brought me this year. For sewing obviously, but for everything that reads between the lines, too. ❤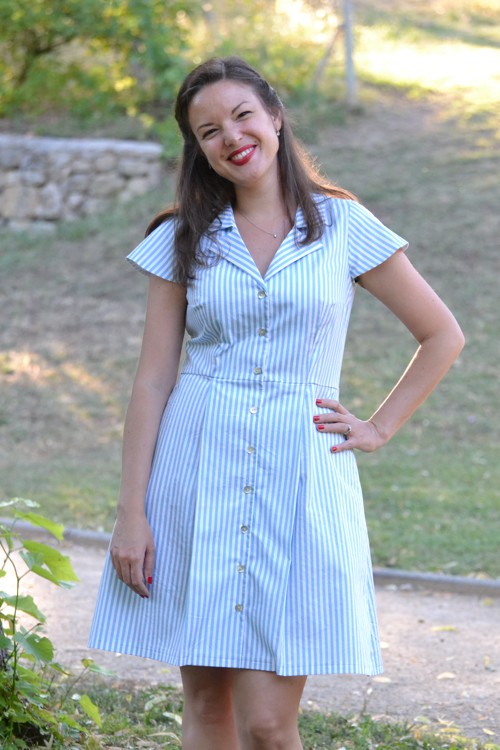 A very nice week to all, and take care of yourself! ❤