I'm sure it happens to you too: sometimes we just want to make 100% successful sewing. Not a new pattern, not a new type of fabric : just a project already validated, with immediate satisfaction, with a fabric We like to work. And this dress was exactly that!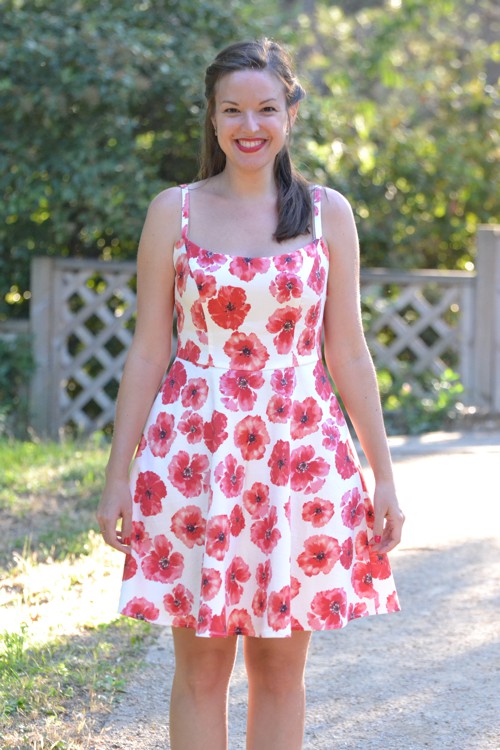 Now you must know my passion for cotton sateen: it's my perpetual quest. 😀 I like this fabric, as nice to wear as to sew, and the circle skirts sewn with it hang well. As much to say that when I saw this one during the sales on Bennytex, I quickly put it in my basket, and was not disappointed at the reception.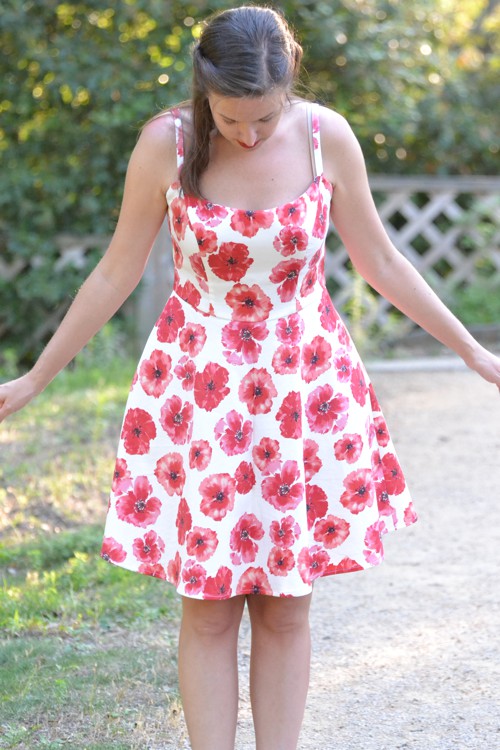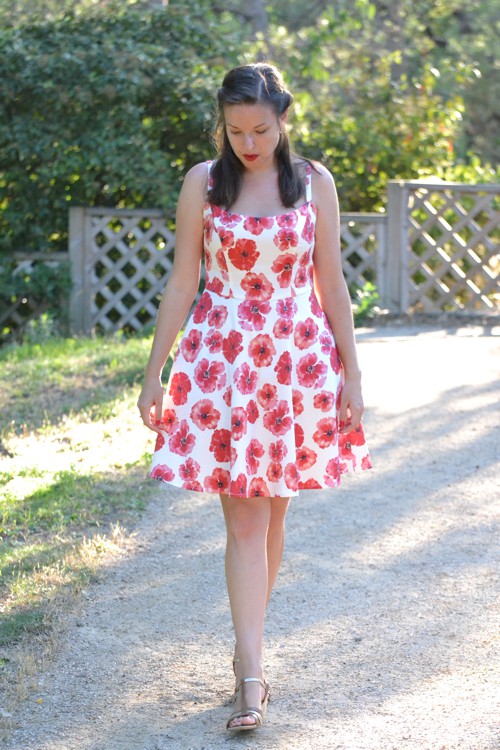 Except that the small problem at Bennytex is that the fabrics are ordered by the meter: you can not buy 1m25 or 1m50 for example, it's 1m or 2m (or 3 or 4 … well, you see what I mean . 😀 ). And with my legendary optimism, I figured that a dress would fit in a 1m voucher, EASILY.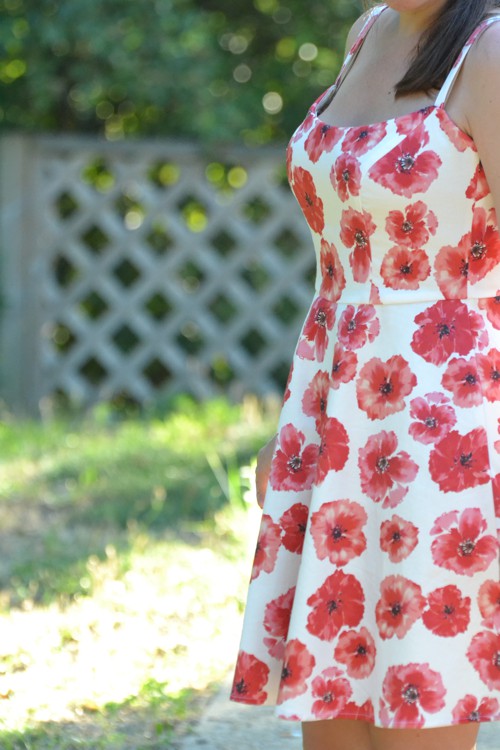 Originally I wanted to cut a Maia dress, but of course, with such a small voucher it didn't work. I then tried to place the skirt of the Maia dress, and the bodice of the Whitney dress, and by grabbing a small centimeter on the length of the skirt, it worked!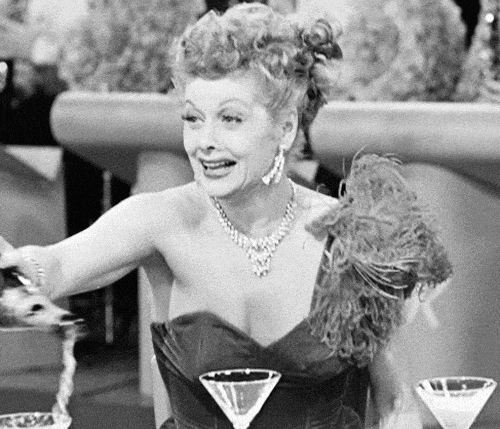 And with respecting the straight grain, of course !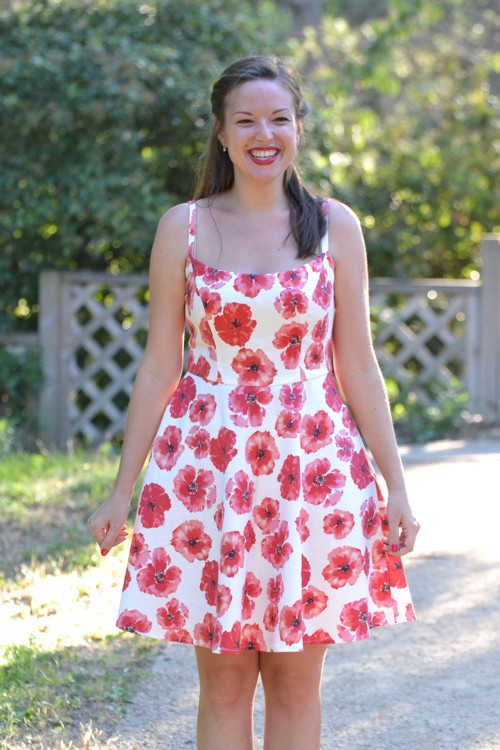 I didn't modify the skirt, which I love in cotton sateen. I totally assume the princess dress at 35yo, and I deeply screw the raging ones. (Sorry 😀 )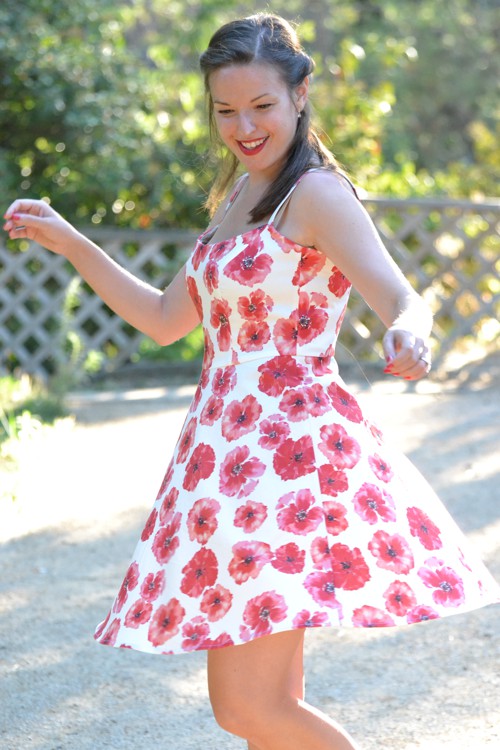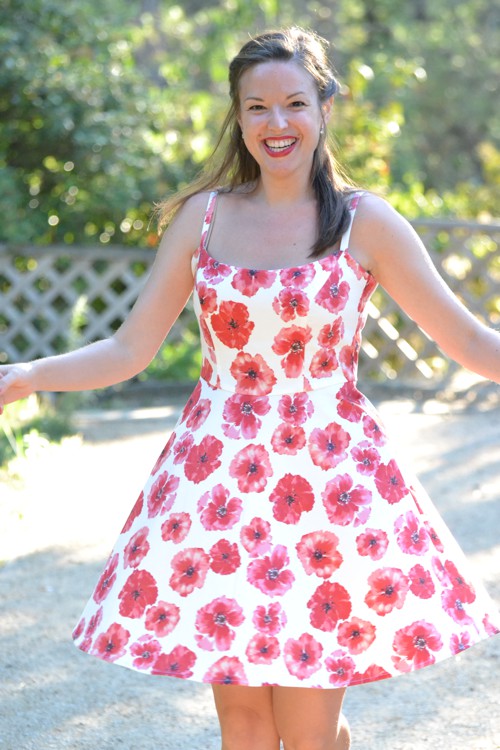 Nothing for me can surpass the joy of wearing an outfit in which I feel pretty, although sometimes one has to wonder if I'm not coming from the Fifties. As my husband always tells me: "we have the chance to live in an era where everyone can dress as he wants, so enjoy!"❤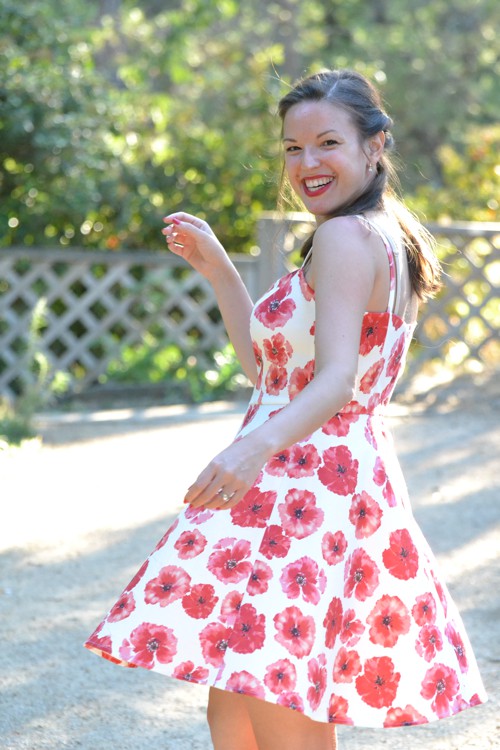 The only slight change I made to the bodice concerns the neckline: if on the Whitney dress the neckline is heart-shaped, there I wanted to just dig it.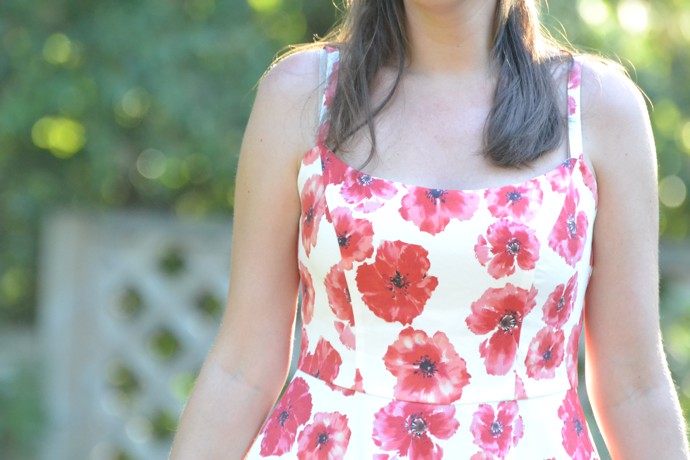 It's pretty, isn't it ? As usual, the bodice is lined, here with a sateen lining bought a long ago at Mr. Albert …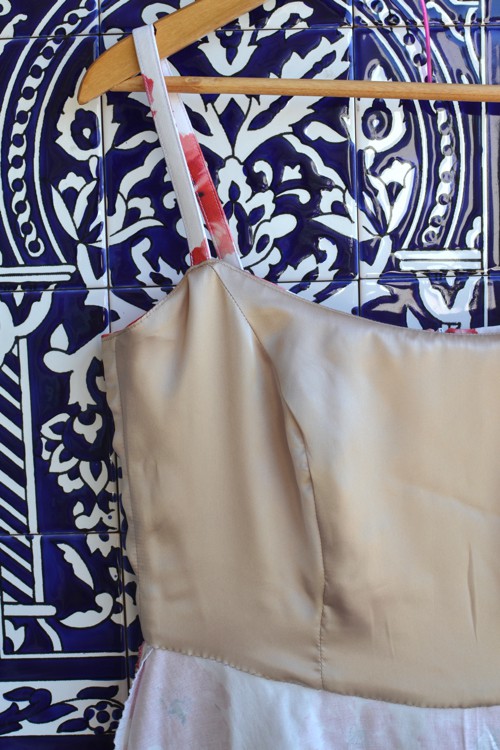 …and the back is closed with a concealed zipper.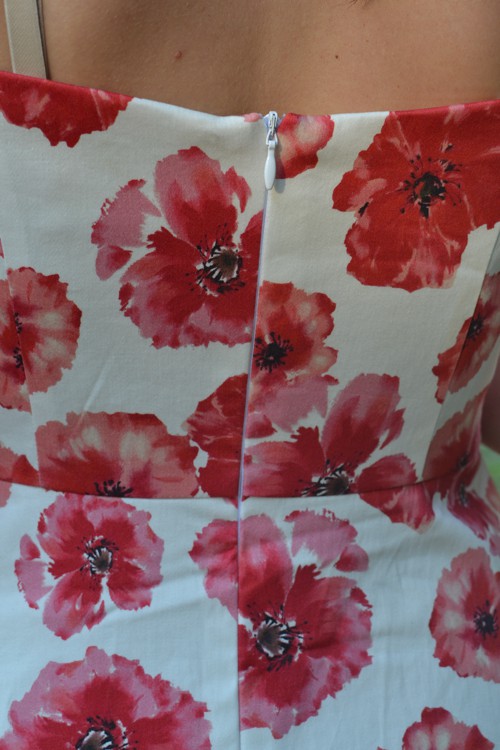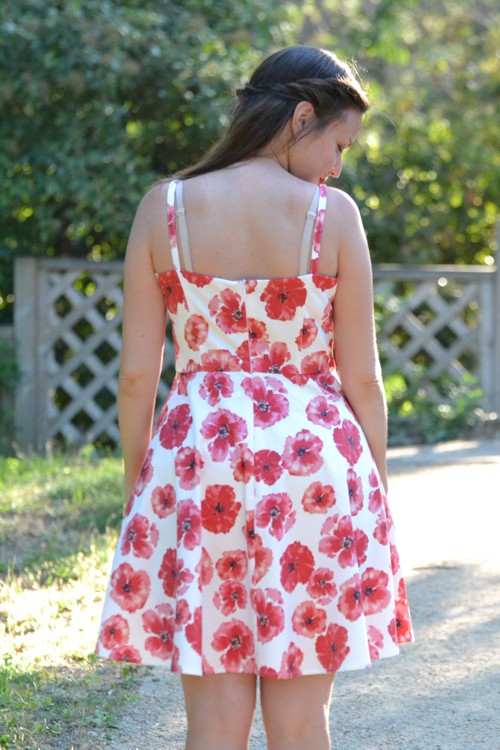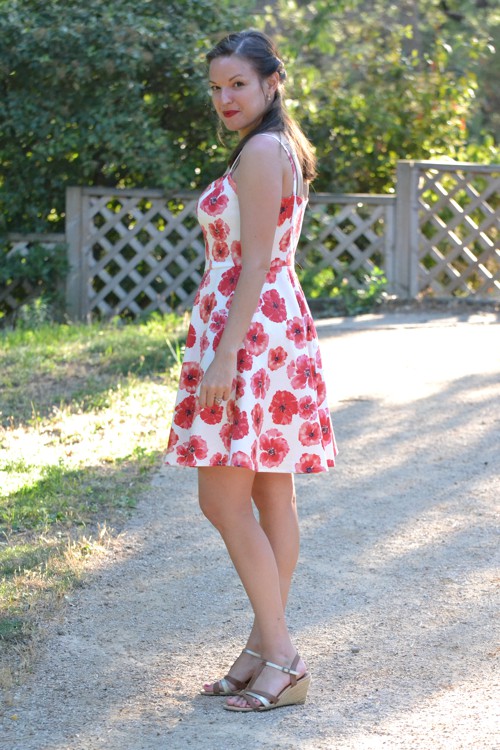 The cotton sateen was very pleasant to work, neither too thick nor too extensible. I thought of stabilizing my neckline, and not too much pull on my hem during the seam.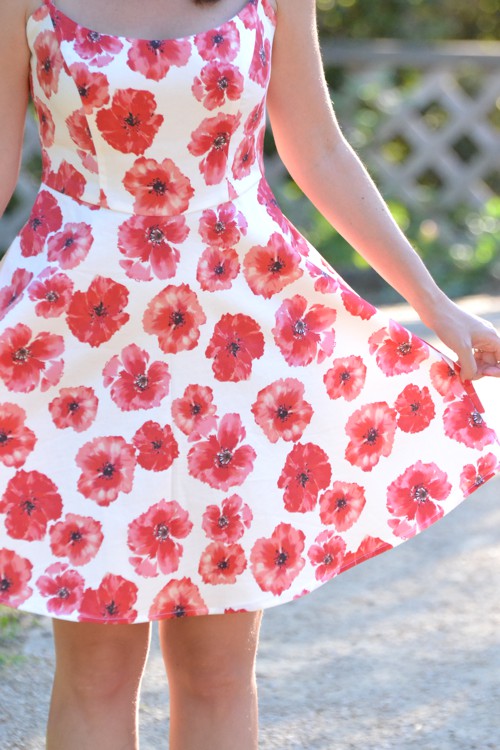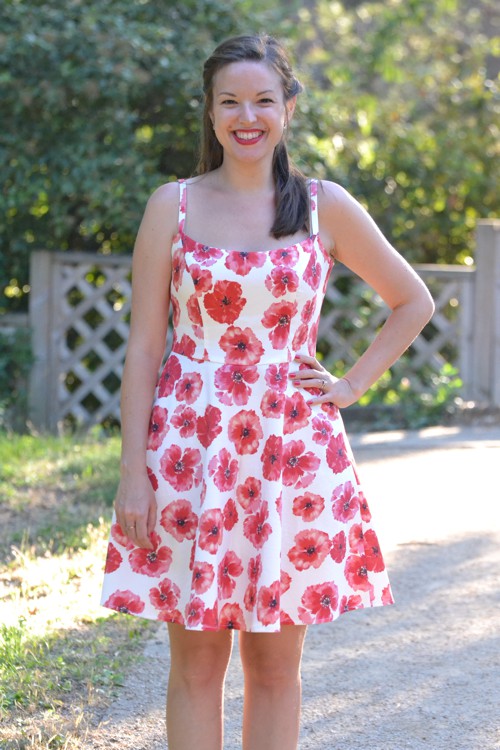 Verdict: Listen, I think we hold a new winner in the game of "it's my favorite dress ever I will never dress it off". 😀  I took no risk in associating this fabric with this pattern, and the love at first sight was immediate from the first fit! I feel good in it, it totally sticks to my style: PERFECT MATCH! I grant you, with this one I stayed in my comfort zone … but sometimes it's great to stick in the confort zone. 😉  I slowly begin to disconnect the brain in view of the approaching vacations. 😉 (And bouncing on that, I tell myself it will terribly stick to our Italian holidays right ??? Very Dolce & Gabbana in the style not true?)
Ah yes, and why Donna? Simply because by hearing Donna Summer's Bad Girls in the commercial of Jean Paul Gaultier's latest perfume, I wanted to re-listen to all her successes, especially Last Dance, which is one of my Favorite songs. ❤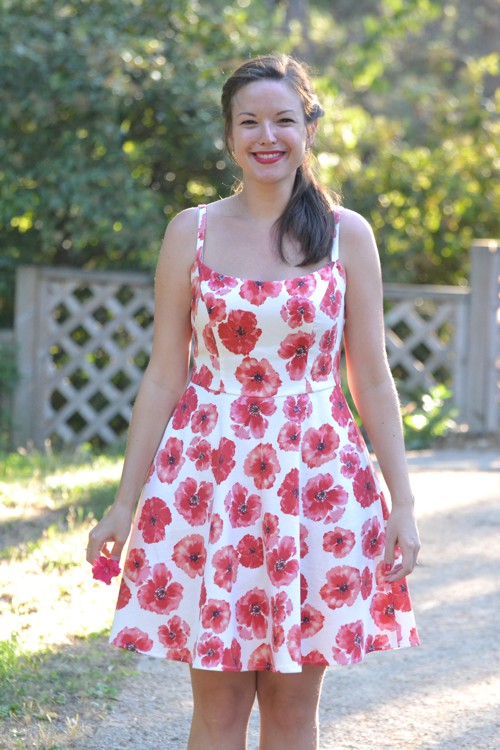 Wish you all a good weekend, and take care of yourself! ❤