Inspiration in sewing can come from everywhere: a movie, a silhouette crossed in the street, Pinterest, blogs of girlfriends … even a people news website. 😀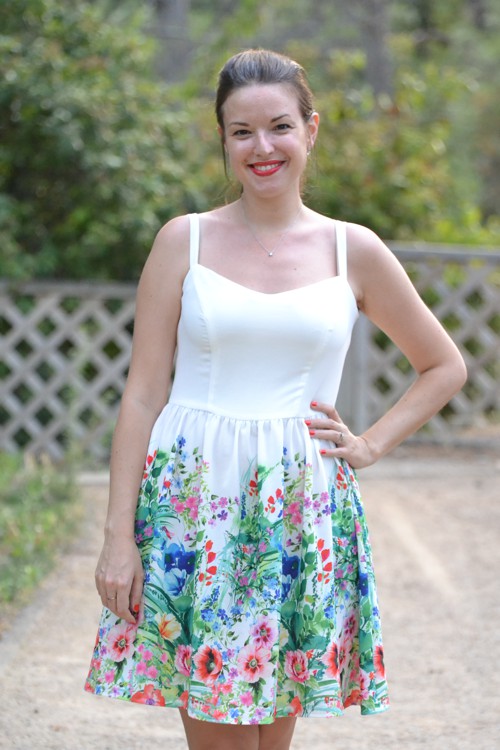 Yes, I confess: I'm addicted to this kind of stuff. Oh I'm not proud of it, believe me: I'm wasting a lot of time and this information are totally worthless … well, except maybe this time.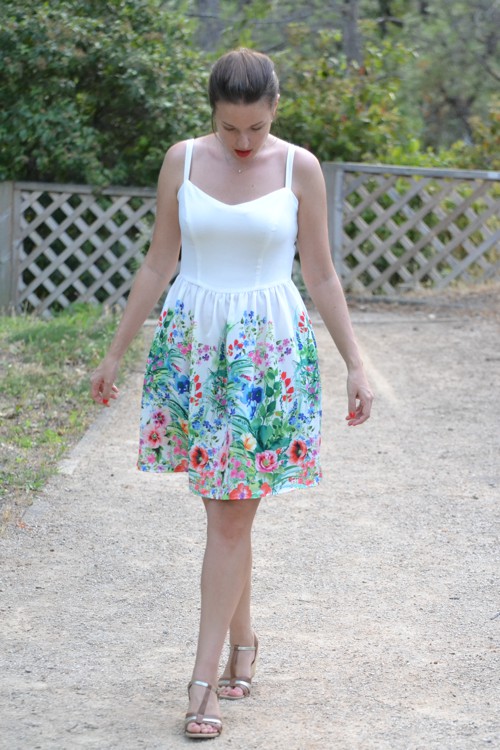 So I read a news story about how Kate Middleton looked at her dear husband William at the last Wimbledon (the least interesting news in the world) when I saw her dress of the day.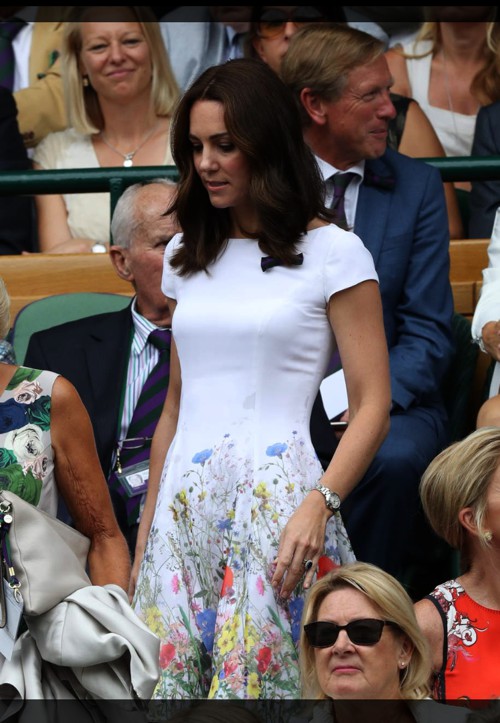 Immediate crush : everything is absolutely perfect in this little jewel. And that's when I remembered having the perfect fabric in stash to sew a similar one!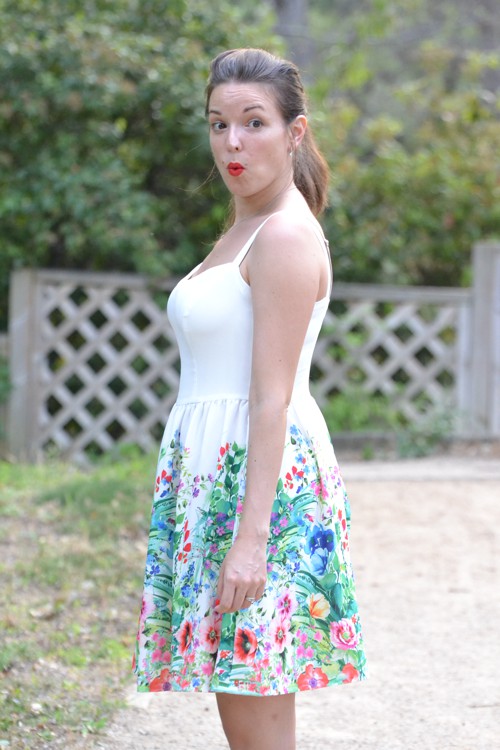 I found this fabric thanks to my girlfriend Clm on the market of "la Plaine": it is a smooth crepe, with a beautiful tombé, slightly transparent. I took 1m, with the idea of a small summer dress: bustier bodice, small straps, floral pattern on the skirt … sold sold, I left with the fabric, tidy up my stock. ..and copiously forgotten until this picture of Kate Middleton.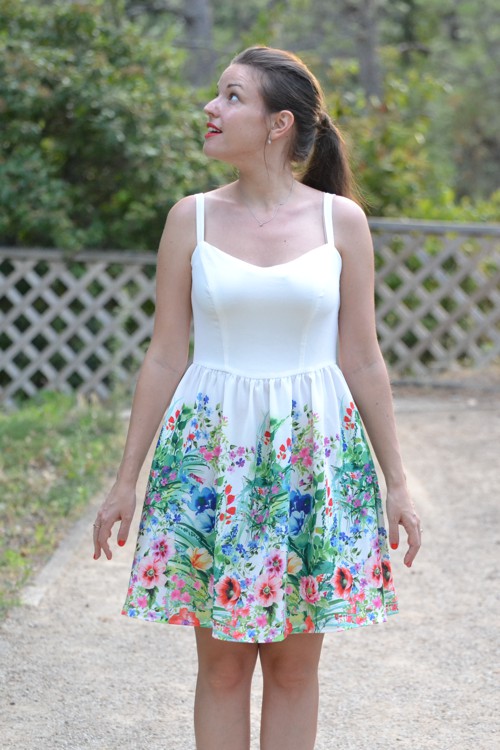 This project was also the occasion to check how my gathered skirt hangs with a fluid fabric: remember, last summer I had already sewn it, but in a stiff fabric. So I could check how it hangs with a fabric with more drape.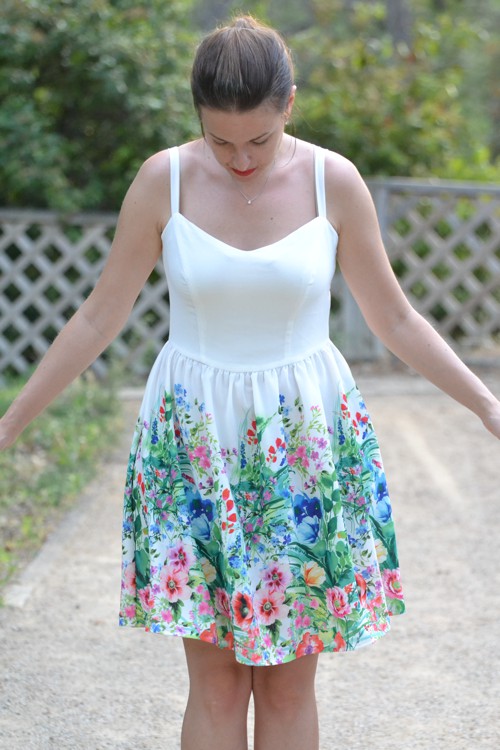 Here we are confronted with the limit of the fixed pictures: it is difficult to retranscribe the drape of this crepe. The following photo may be more interesting.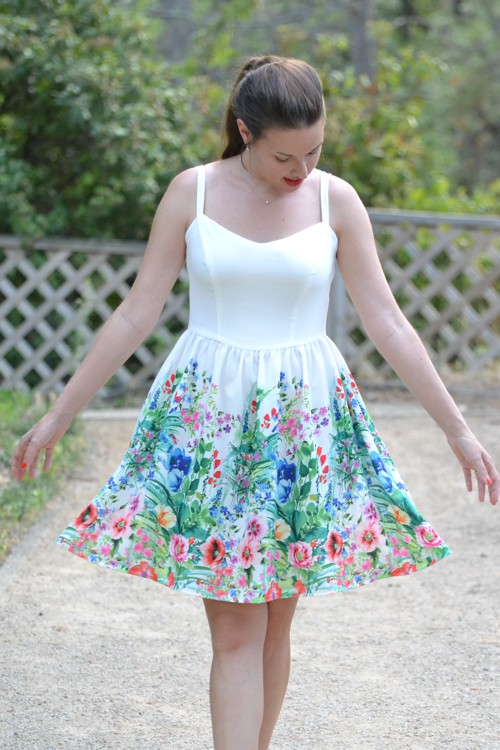 Undoubtedly inspired by the heatwave that we're living here, I deliberately chose not to line the skirt. The floral pattern opacifies the crepe, but remains transparent just under the waist: flesh panty required.
The bodice is lined, with a white crepe, also found at "La Plaine".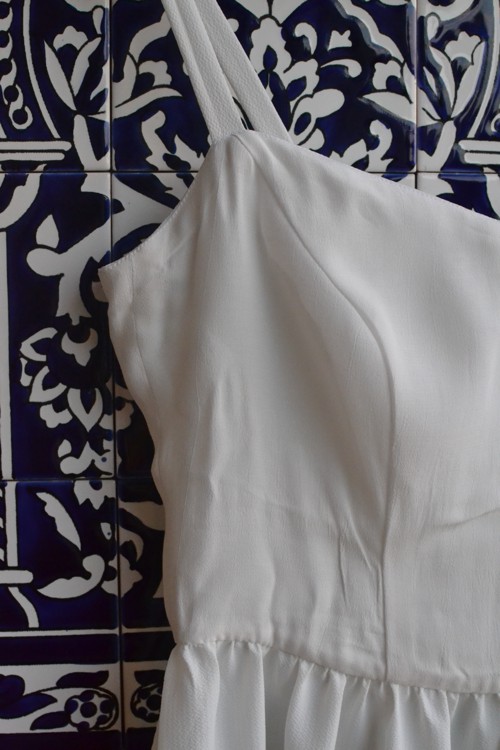 Crepe I realized the poor quality post-seam : I hope the lining will hold out over the washings.
The side seams are french ones. I had gone to make a tuck in and sew by hand the margins of the seam back of the skirt, and then finally lazy. They will remain overlocked.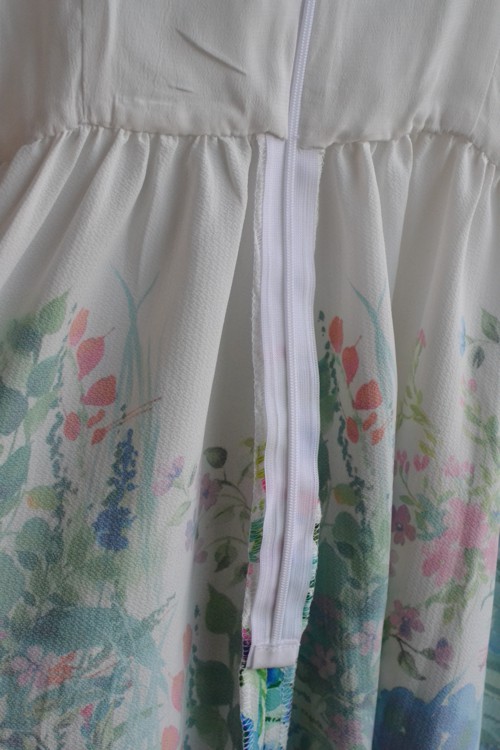 (Yes I always finish my zippers with a bit of bias. It's a finish that Burda always advices, and as I learned with their patterns, I kept this ritual. 😉 )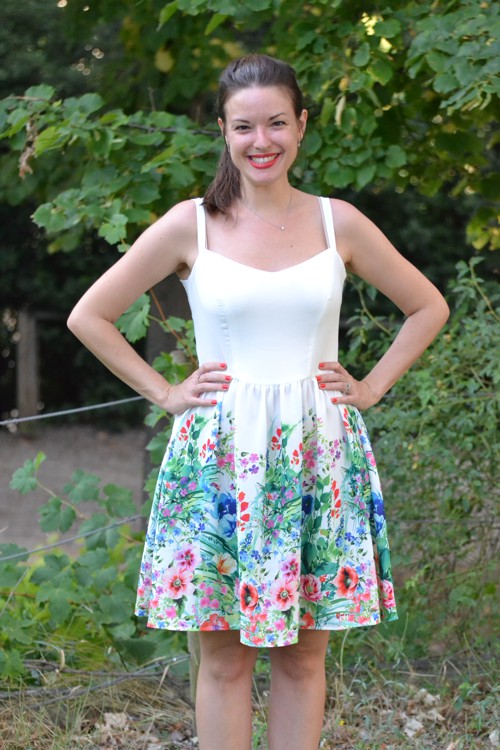 What more can I tell you about this dress? We are always facing the bodice of the Whitney dress, with its princess cuts …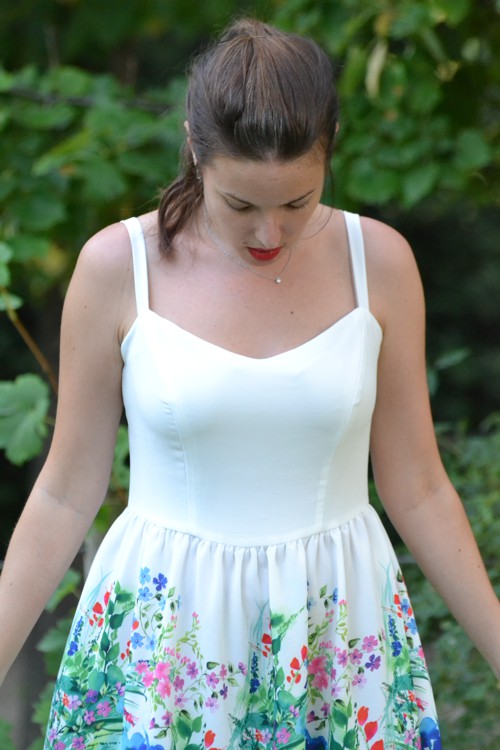 … and the back is finished by an concealed zipper.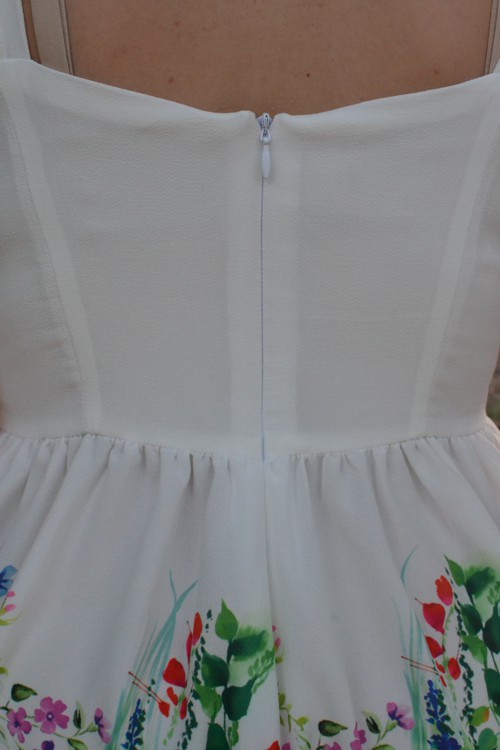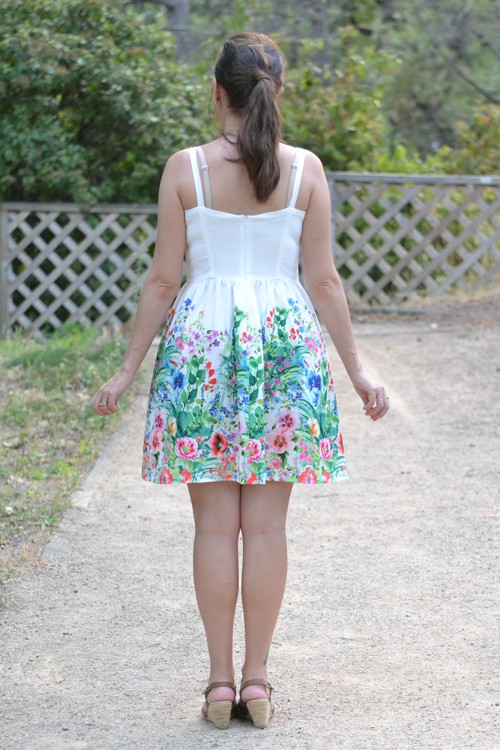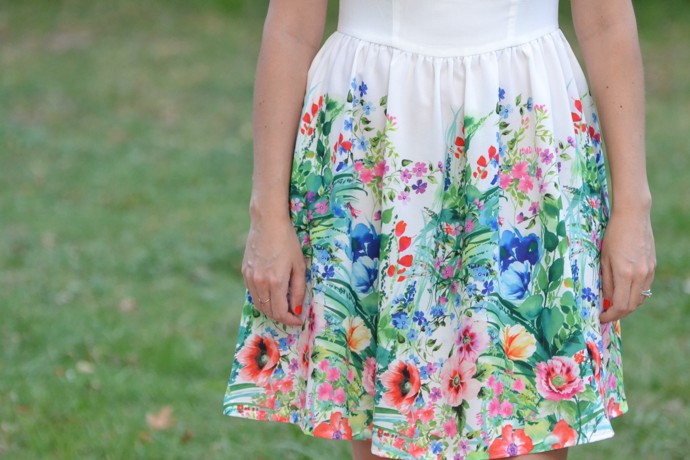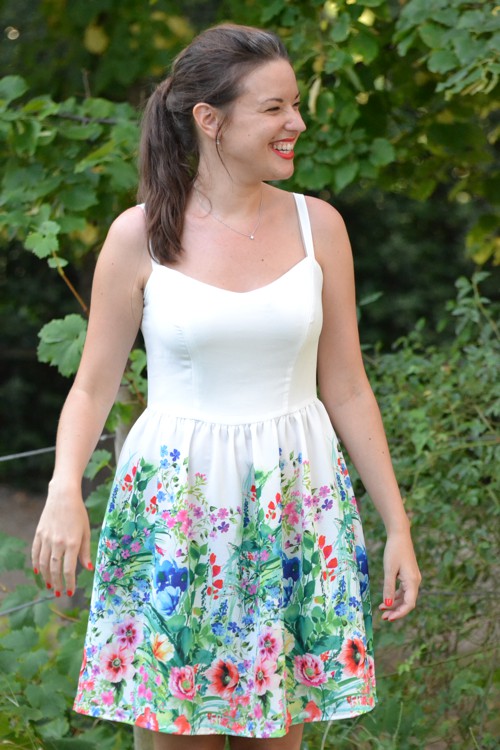 Verdict: tested yesterday in full heat of Marseilles and this dress is perfect in heatwave ! The skirt is so light that it is hardly felt, and the bodice, although adjusted, is quite breathable too, because it's realized in two very fine fabrics. Given the temperatures forecast for Tuscany in 8 days, this one will probably be the first in the suitcase!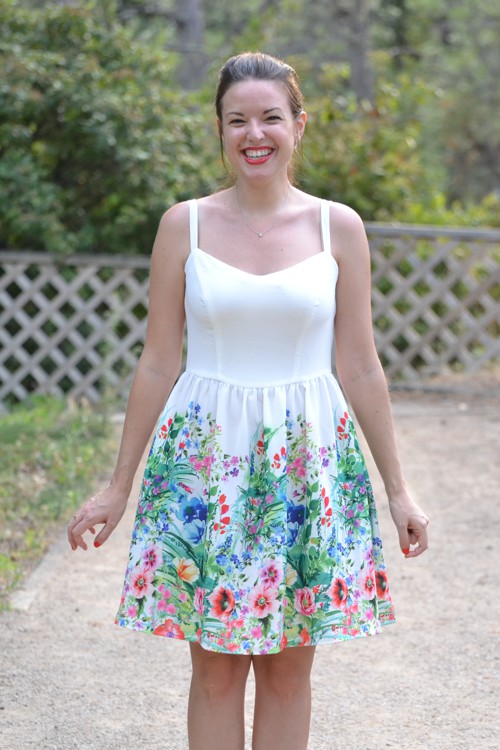 I wish you all a good weekend, and take good care of you.