For 5 years now, I have written many posts here. But today's one is particularly important: for the sewing obviously, but also its symbolic. A post that will mention both my greatest failure and my greatest success … yes yes, all this in the same post.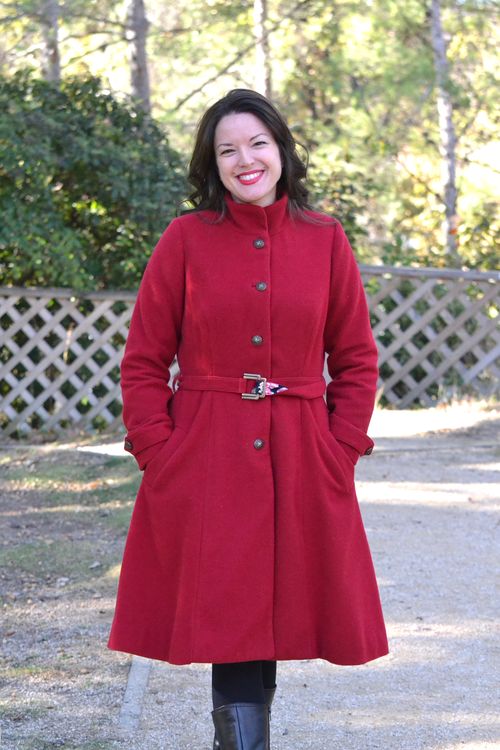 Everything started a year ago: a piece was badly needed in my wardrobe, and this piece was a coat. A beautiful coat. It's been 8 years since I wore a RTW coat, bought pregnant with Tom. Quite cool, but that began to grow old. I had stitched Pavot, but the combination of wool and cotton lining didn't offer the most efficient thermal regulation. No, I needed a warm coat, and drafted by me. So it was the big project of last winter's drafting classes.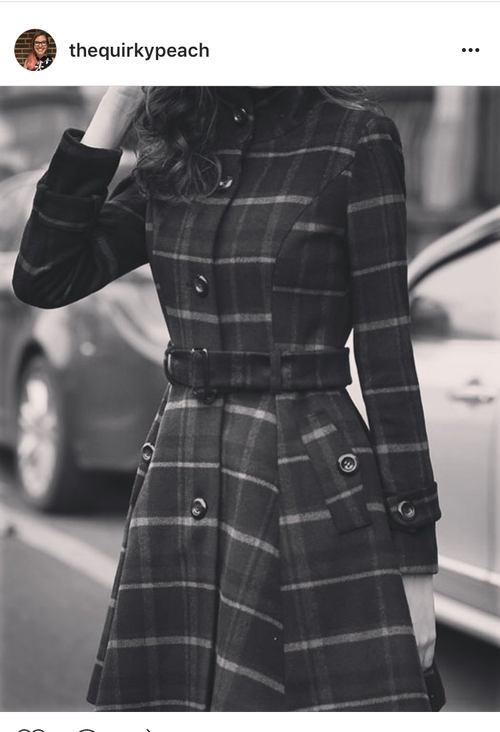 Everything started from this coat, spotted on The Quirky Peach Instagram. Big crush for its flattering cutouts, the studied details, the general look. So I was inspired to make this sketch.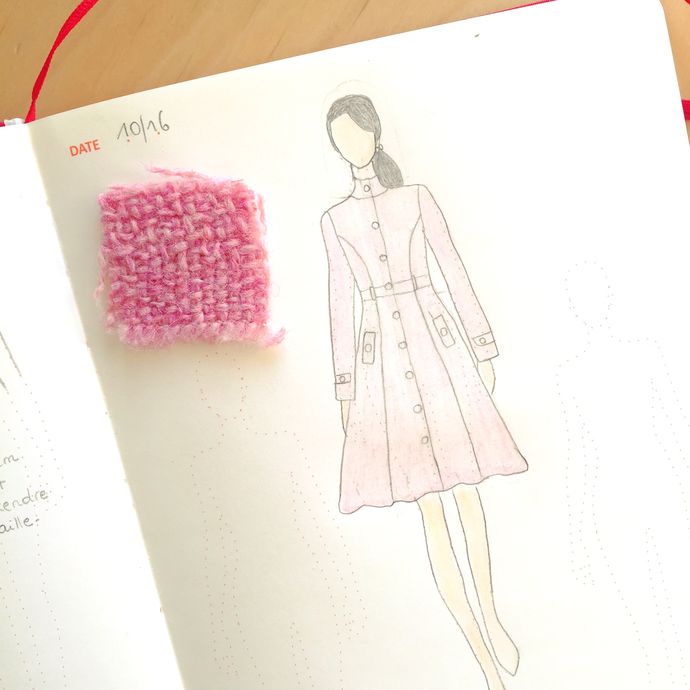 At the very beginning, I wanted it pink. I was convinced that my coupon of a pink wool bought at a Agnes B sale would be enough … but my pattern pieces, once finalized, didn't fit. A toile of the outer coat validated my drafting job, and I didn't want to modify it. I then began to look for a pink wool elsewhere … without success. The ones I found were often stuffed with polyester, which didn't suit me. And it was by chance at Mr. Albert that I came across a beautiful woolen camel.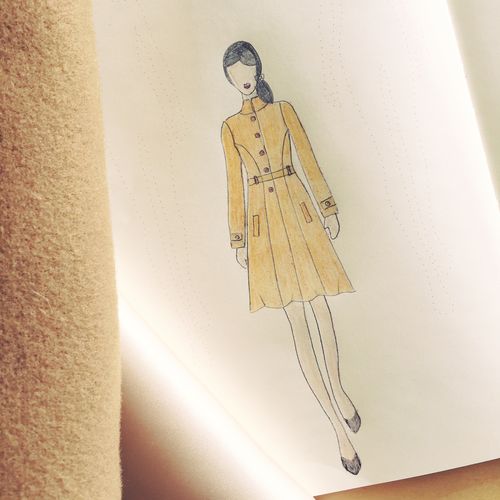 100% wool with a touch of cashmere: the price was expensive, it's true, but I wanted this coat to be the warmest and most qualitative possible. On the advice of my teacher, I invested in a beige silk, bought at Coupons Saint Pierre. And it was with my sprain that I started the sewing, gritting my teeth on the technical details, ignoring all the signs of Fate that meant to me that I was going straight into the wall.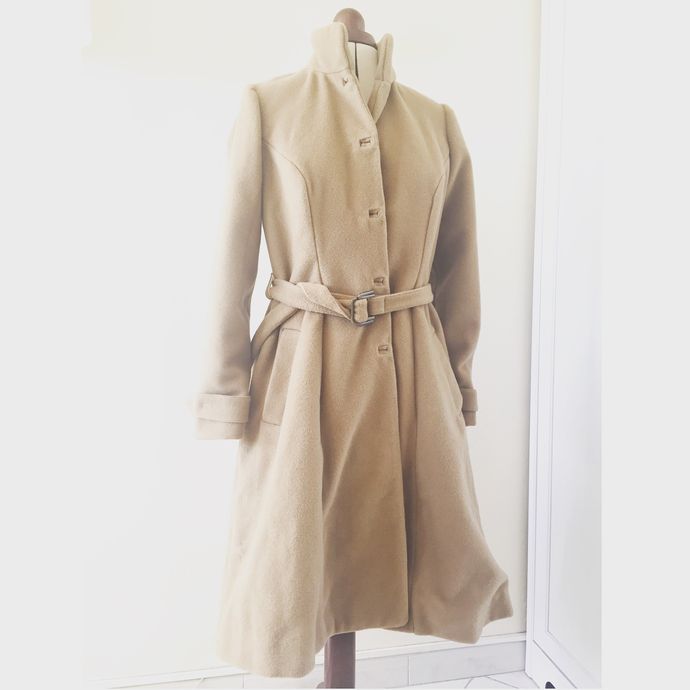 Many mistakes are hidden in this coat. The choice of fabric already: I wanted so much a warm coat, that I chose a woolen too thick for my pattern, which requires a fabric with more drape. In the hurry, I made a mistake in drafting my lining: result, the hem pulls and is not harmonious. And above all, especially … this camel, which I wanted to persuade me that he would offer me a chic and timeless Parisian style … and that on me makes me look sick. Failure lived up to all the energy, time and money spent on this project: huge.
It took me months to recover from this failure, which also reminded me a sad period of my life. I packed this coat in a bag, hid it for months and in september, I finally felt ready to do it again.

But this time, out of the question to repeat the same mistakes: I carefully selected several woollen fabrics, ordered samples, and brought all this wisely to my teacher, who was able to advise me on the best choice: and it's this 100% woollen fabric from Tissus Actifs that was elected. Its composition, as well as its weave, suited my pattern. I didn't think more than 10 seconds about the color: my last coat was red, Pavot is red, I love this color that suits me well…it will be flamboyant or will not be. And as often, when something must happen, miraculously the planets line up: I found this flowery silk at Bennytex, which combines wonderfully with my wool. It was no longer time to back down.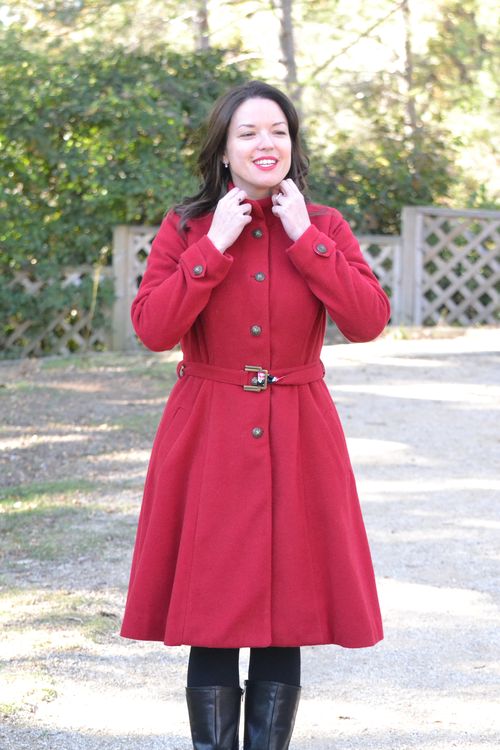 Believe me, I was terrified of getting myself wrong again. The pieces stayed for a while on my desk. And then, by posting my failure on Instagram,  la Jolie Girafe comments with these few words: "tell you it's time for revenge". They gave me the effect of an electroshock: but of course, don't be afraid, run! Face this challenge with bravery.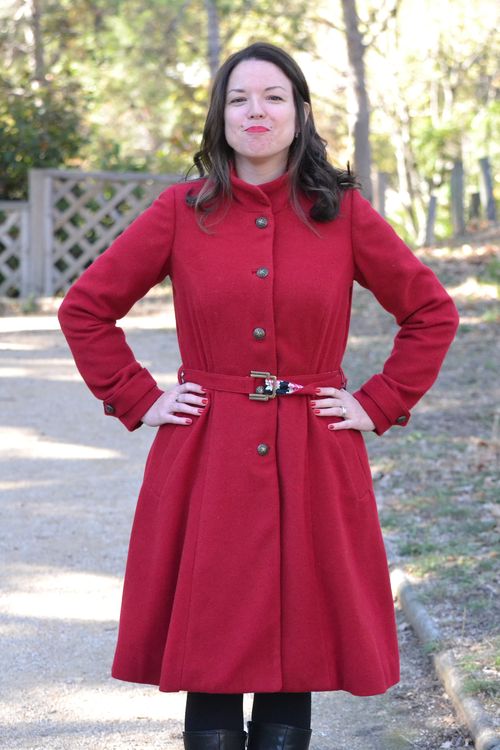 I remember, for the previous opus, I wished so much for a perfect work, that the sewing was long and laborious. I was never satisfied, stitching and tirelessly undo every step. I ended up bringing to this coat an incredible negative wave charge. For this one, I wanted to privilege the pleasure of the sewing to the perfection of a detail. Too bad if my piped buttonholes are not exactly the same: I didn't want to hate this coat without having ever worn it. And God, I did well!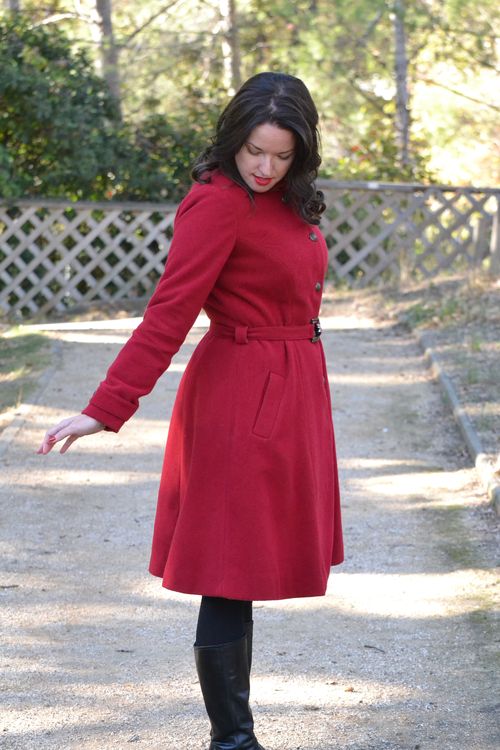 It is therefore mid-long, has princess cutouts, and has several panels, which flare slightly to the hips. The fit is cinched enough on the waist, but with sufficient ease to wear thicknesses underneath.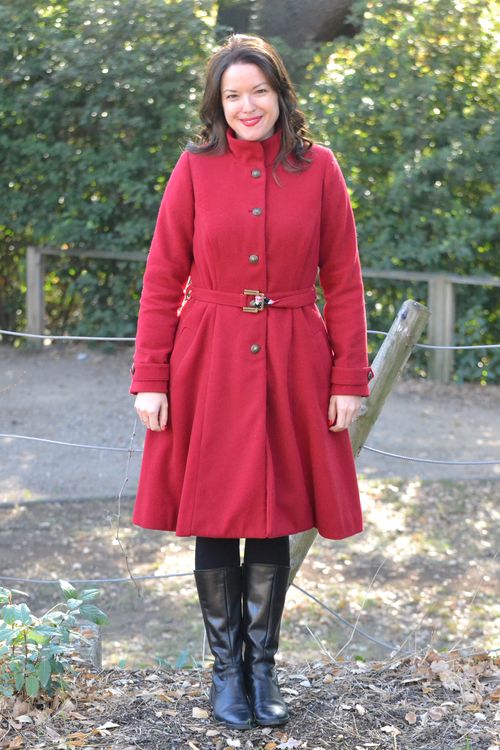 I was convinced that to have a warm coat, you had to choose a thick woollen fabric, triple the thing with fleece … basically sew a huge thing. My teacher told me that, on the contrary, the thermal quality of a sewing lies in the choice of materials. A 100% woollen fabric will be a good insulation. The choice of the lining is also important: silk being an excellent thermal regulator, it will keep you warm in winter. And for having tested my coat on a Parisian stay last week, I confirm it!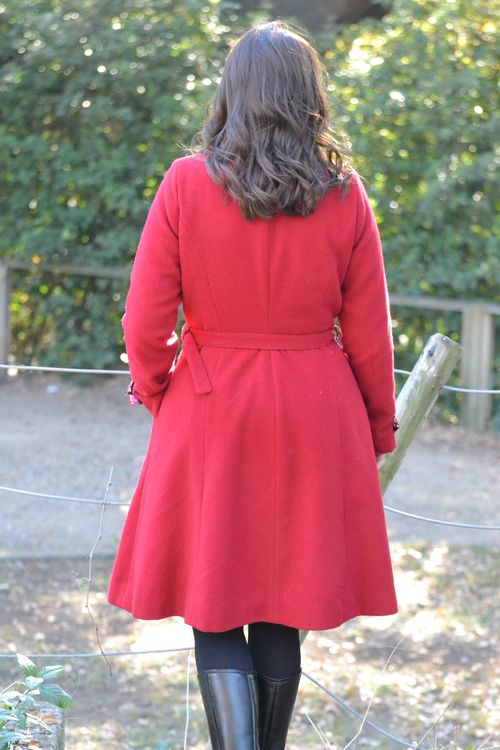 You can see on this photo the drape of my fabric, which suits my pattern.
And because we had to put flowers somewhere …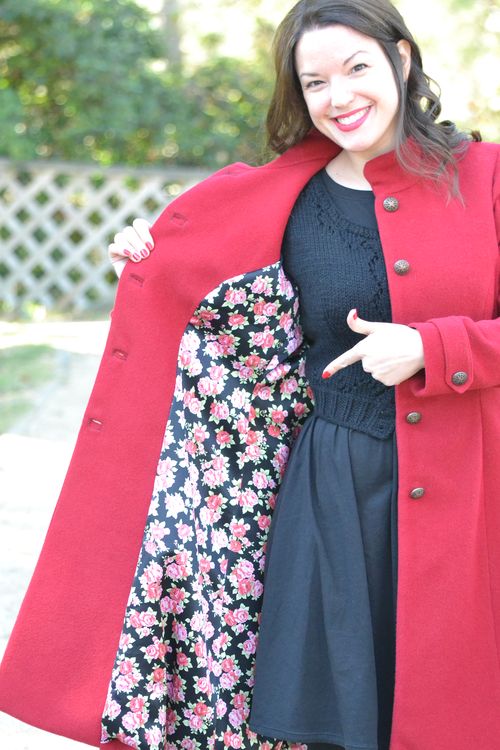 Beyond the beauty of the pattern, silk is delicious to wear. I don't know if a combination of fabric can look more like me!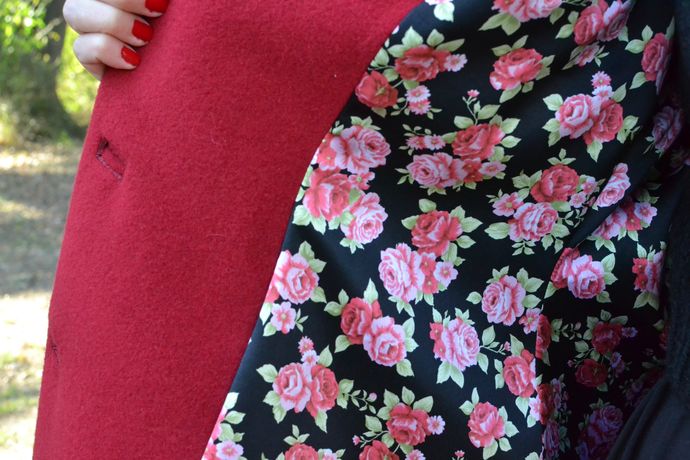 I opted for a stand up collar, which keeps me warm in windy days …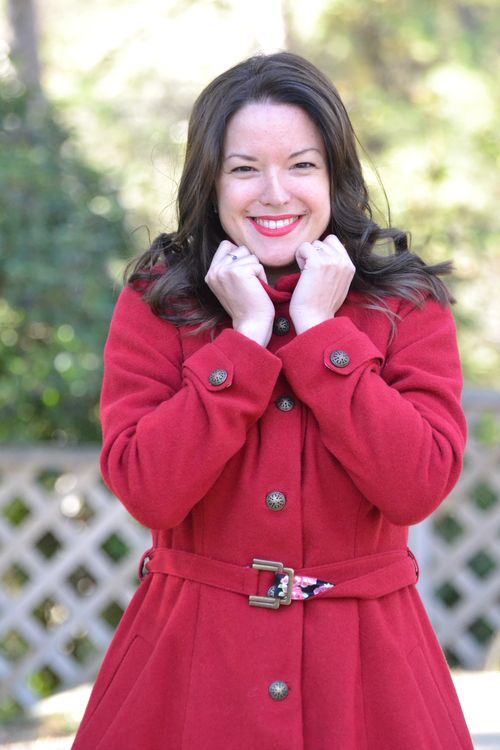 … added buttoned tabs to the sleeves …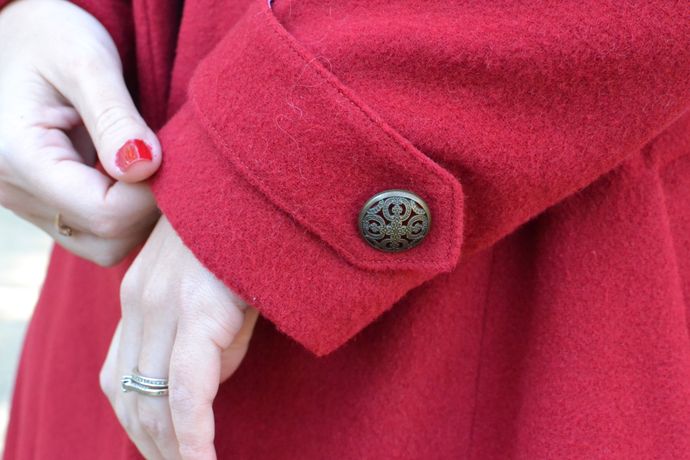 … and sewed a belt.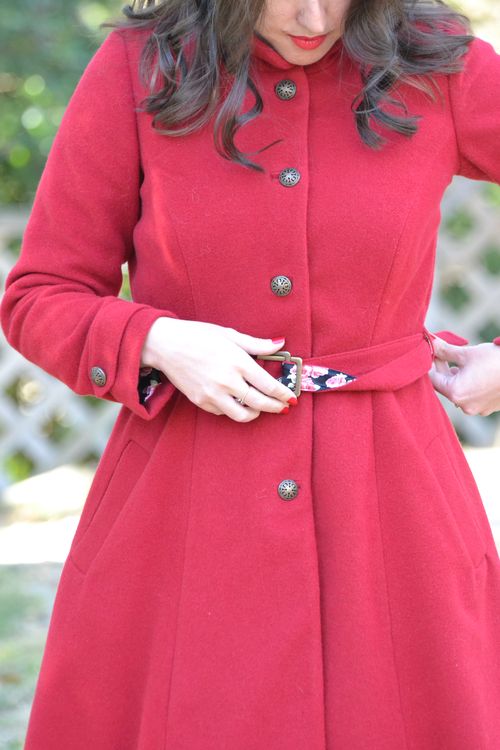 Regarding the buttonholes, I opted for bound ones, following the Deer and Doe tutorial.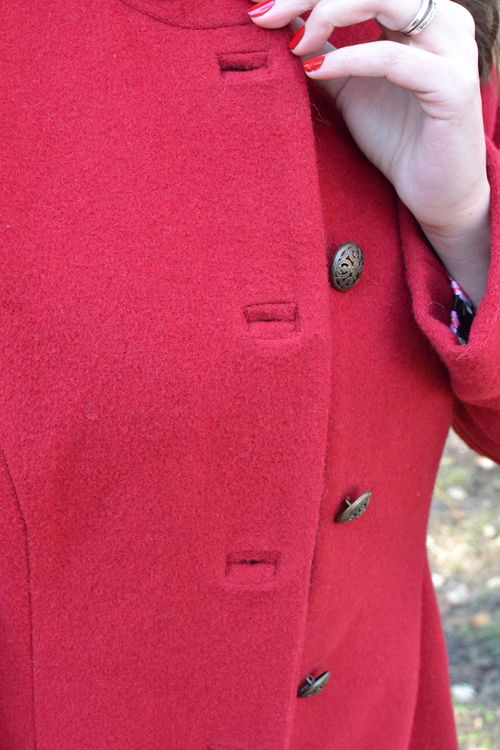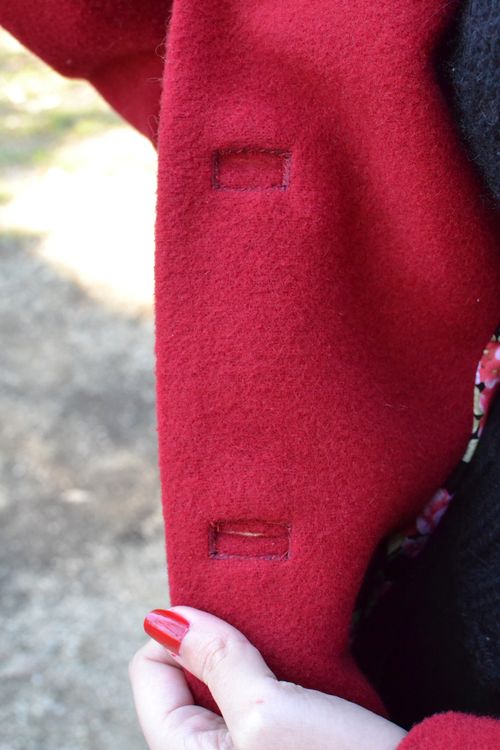 The buttons, as well as the belt buckle, come from la Droguerie : I had a crush on them for my first opus, and thank God they totally adapted to my red woollen fabric.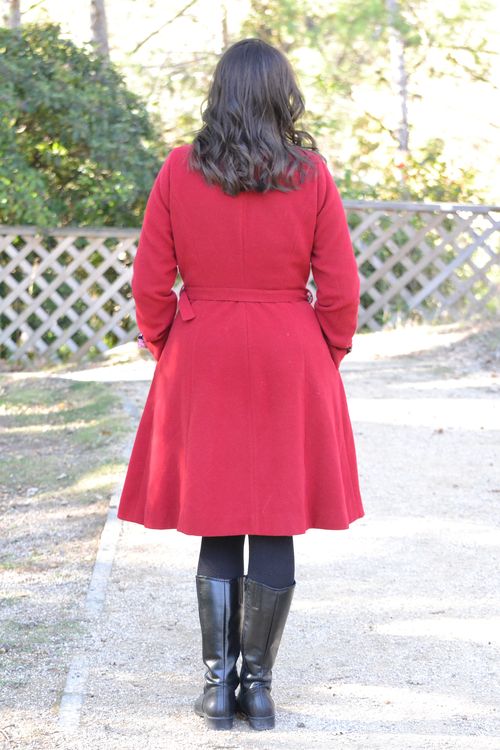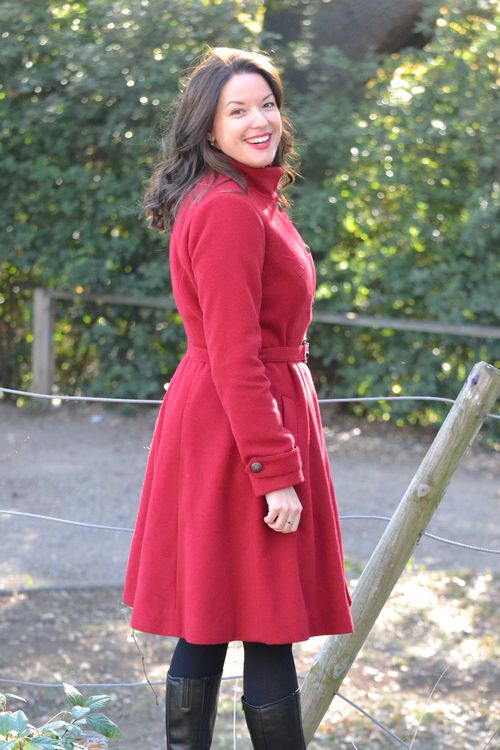 Collar, cuffs, hem values, piping and pocket flaps are stabilized with facing. The collar and the hem of the sleeves and coat are glazed (the lining and outside of the coat are held by a loose stitch, sewn by hand).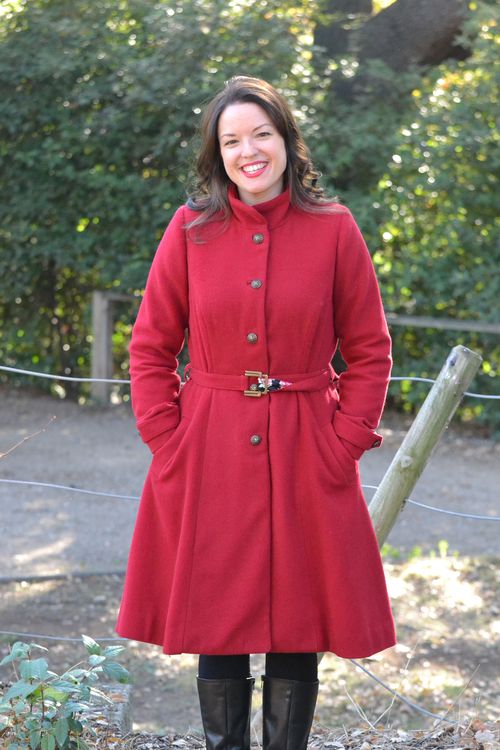 Verdict: I had a dream, it was to discover the Dior exhibition dressed in my coat. Until the night before, I was really not sure I could wear it. Nor that he would be successful. And it was in the middle of the night, cutting the last thread, ironing the hem one last time, that's it, I knew that the revenge was taken. My coat was finished, it was handsome, it was ready, it was falling to me as I hoped. What a joy and what a relief! See: we can make a complete mess, but REALLY a complete one, and get up. Can't we see how a seamstress is strong when she can turn the machine on again after a failure ?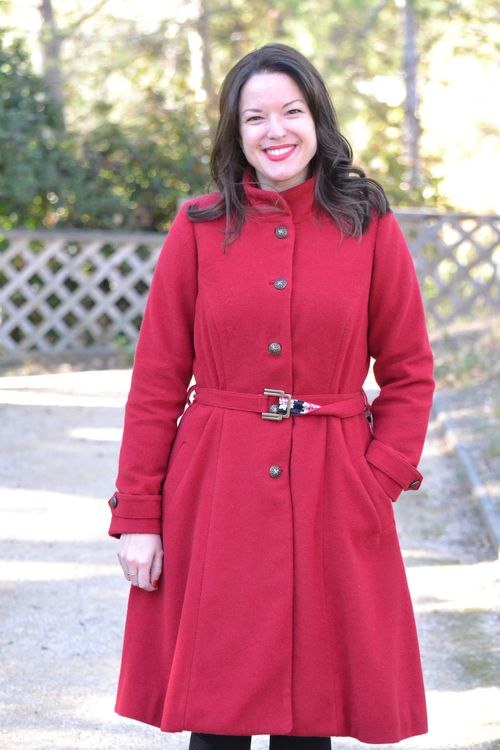 I wish you a nice weekend, and take care of yourself. ❤