… or rather, the Christmas B plane. Believe me, this dress comes back from a distance. Like many of my dresses by the way!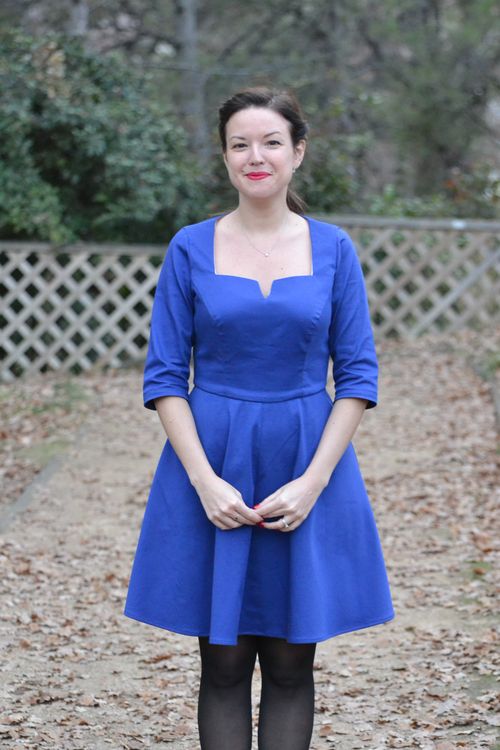 (In advance, I apologize for the creased appearance of my dress, I was able to iron it before taking pictures, she didn't like the micro ride, and I honestly didn't have any motivation to repeat the session. Not fashion blogger / blah blah blah / you have grasped the general idea 😀 )
WELL, I work since September in drafting class on a fairly complex dress. I really hoped to wear it for Christmas but it was clear that it wasn't going to be ready in time. So we were 15 days before Christmas, and I had to find a B plane : a dress with a pattern already validated, and fast enough and easy to sew.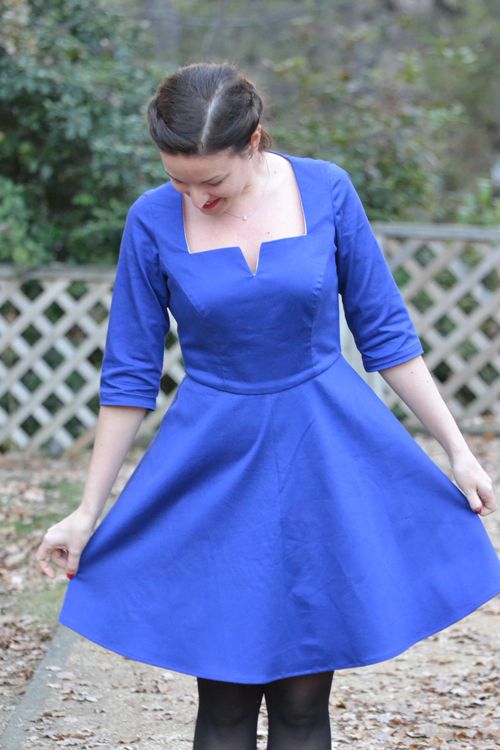 So I chose to start from my basic dress: bodice with its princess cutouts, and my half-circle skirt. But obviously, as I don't know how to do things simply, I wanted a neckline a little bit different. And it's by falling on Gertie's Instagram post that the idea was!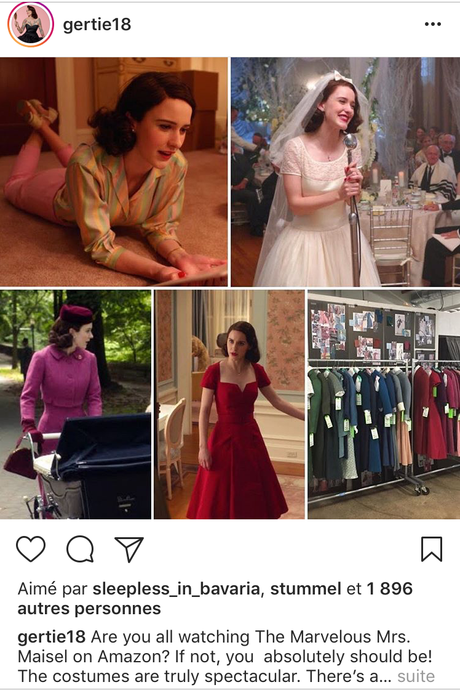 The red dress with the V notch, you see it? Superb, right ? The decision was made… but still had to make a small toile to validate my drafting job.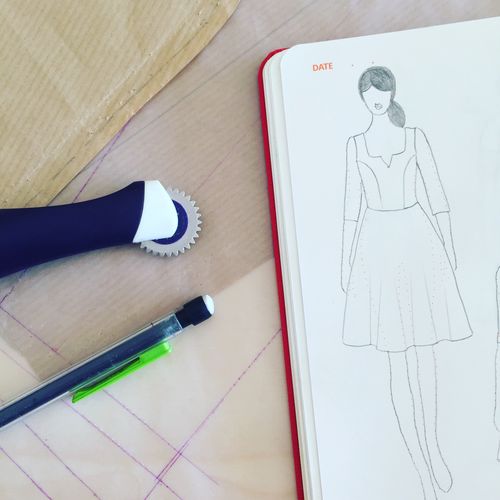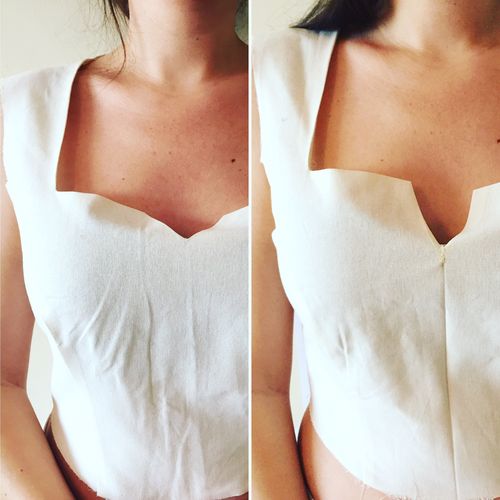 By practicality, I intentionally reduced the width of the neckline, in order to wear a bra. The photo on the left shows my first attempt: the neckline was too deep, the V too wide and not sharp enough. Rising the neckline of 1cm, and reworking the notch, the result was closer to my wish. The toile validated, I now had to find the fabric.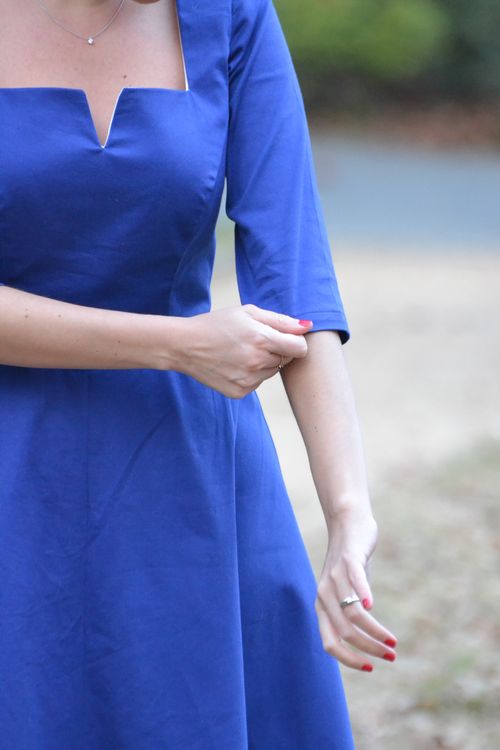 My choice was first posed on this floral denim from Papi: I had ordered 2m50, and prepared the pattern of Juliette's dress while waiting for its reception. You will see the dress in detail in a dedicated article, but what is important to know now is that it has a circle skirt. And you know it: a circle skirt eats up to death on a lay plan. And by receiving the flowery fabric, our dresses didn't fit into the ordered coupon. What's more, the flowery denim were too stretchy for my project. And the black background of the fabric was darker gray than black. In short, we had to find a B plane.
A day to return my stash in all directions, never finding any coupon large enough to fit our two dresses. Because obviously, Miss Juliette DEMANDED our dresses to be cut in the same fabric. (and honestly, I take advantage of it, before she is old enough to throw my sewings in my face 😀 ). 2 days in all shops in Marseille, because yes, a week of Christmas, there is no time to order online. To finally find the ideal cotton satin at "l'Aigle d'Or" in Marseille.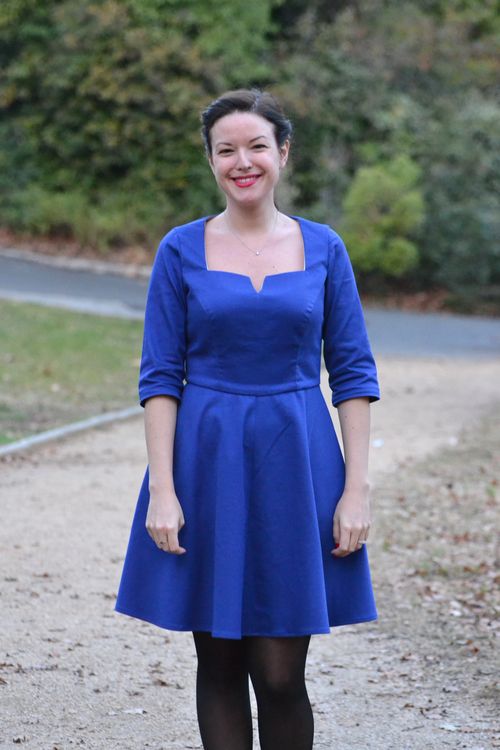 Surprising that in 8 years of sewing, this is the first time I walked in this shop, which is still a Marseille institution. And my drafting teacher who advised me the visit was right (as always): it's a real temple of Ali Baba. But expensive, the temple. I paid this cotton satin 17 euros/meter, which in itself should not seem exorbitant to the majority of you. But when you are accustomed like me to the market prices, it stings!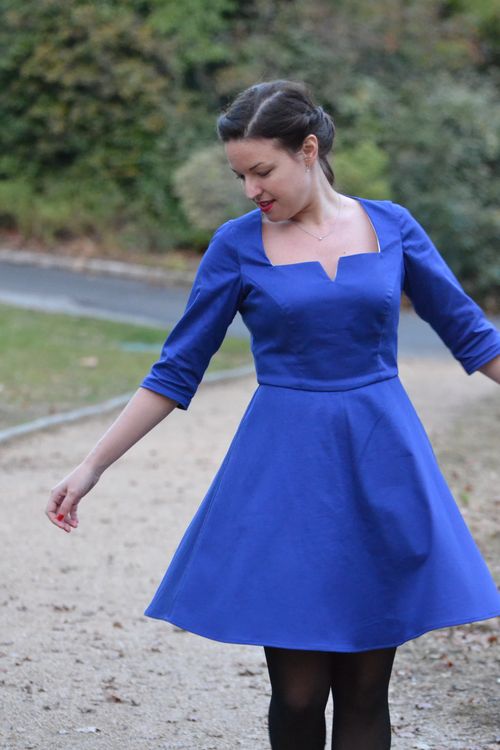 But let's be honest: this cotton satin is worth this price. It's of a very good quality, and its color is really bright.
The fabric finally under the arm, I could start the assembly of our two dresses: as they were built in a similar way, I sewed them simultaneously.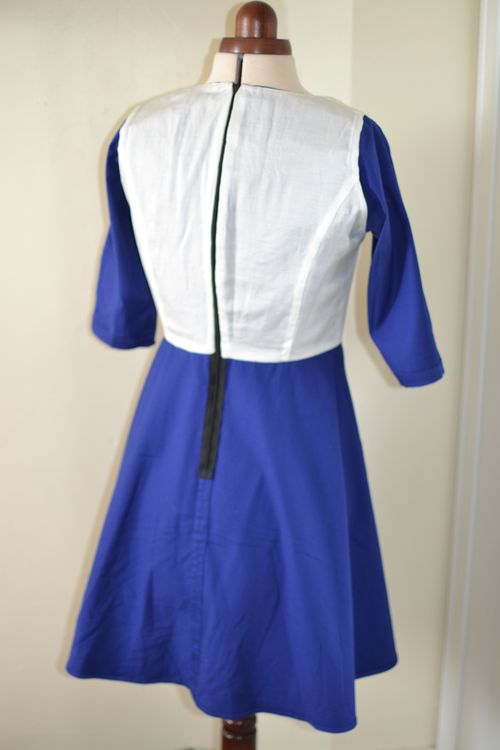 You see here the wrong side of the dress. I lined the bodice with a cotton / silk blend that I found at Bennytex. Not having the time or the desire to buy royal blue thread to overlock my seams, I thought it would be the perfect opportunity to test fell seams.
(Apart from Auntie Papillon's advice : When you are at 3 days of Christmas, you are not testing a new finishing technique. No. You take your blue overlock cones, which may not be the exact shade of your blue , and you're going to the simplest, it will save you from living on December 24 between panic attacks and uncontrolled screams, cutting the last thread of your dress at 6:05 pm WHEN YOU ARE EXPECTED FOR 18:45.)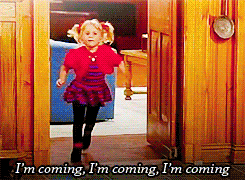 WELL, I had never sewed fell seams, and it is both simple and very clean. A little like French seams, except that these are folded and topstitched on the fabric. They were not easy to sew at the sleeves.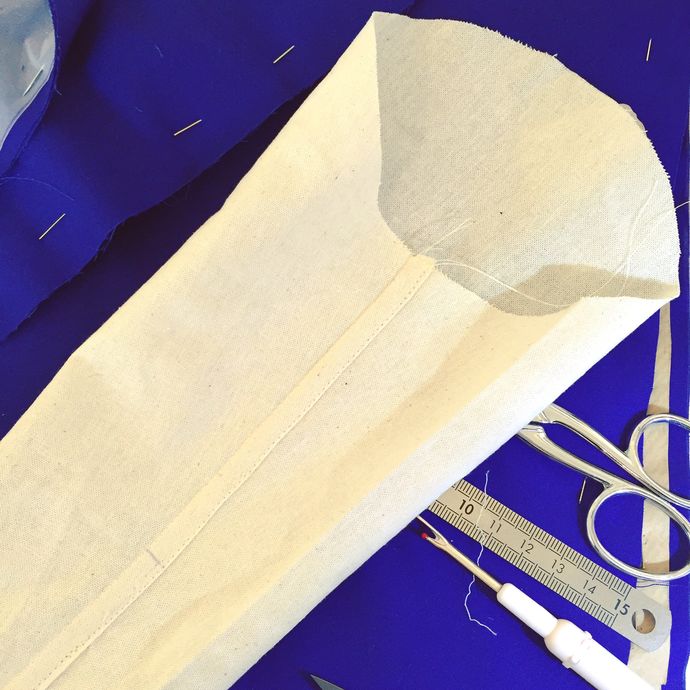 Especially on Juliette's tiny sleeves. The trick is to sew them on 2 steps : A first time from the top of the sleeve, we stop at about 2/3 of the round, and we finish from the bottom of the sleeve.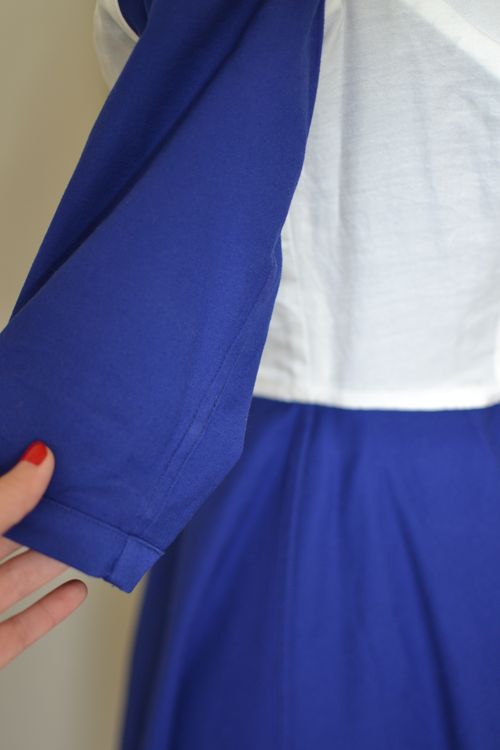 But where was the most difficult, it was on the back seam of the skirt: how to finish properly these seam allowances, while they will be lined on the bodice, and that there will be a zipper on part of the skirt ? If the dress had been fully lined, the worry would not have been posed. But here only the bodice was. In the end I managed to fold and topstitch the seam allowances, but believe me, it was not easy. And by being honest about my work, topstitching is not regular everywhere.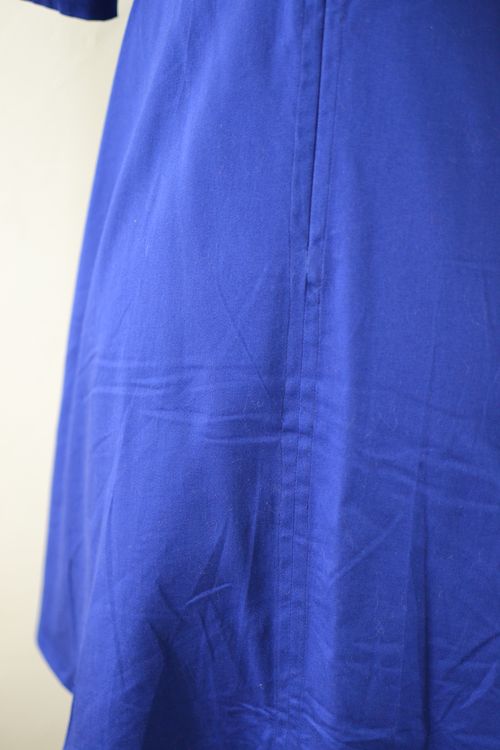 And that's where I forgot the essential: neat finishes inside a sewing is good. But when the wrong side becomes cleaner than the outside, it's a problem!  😀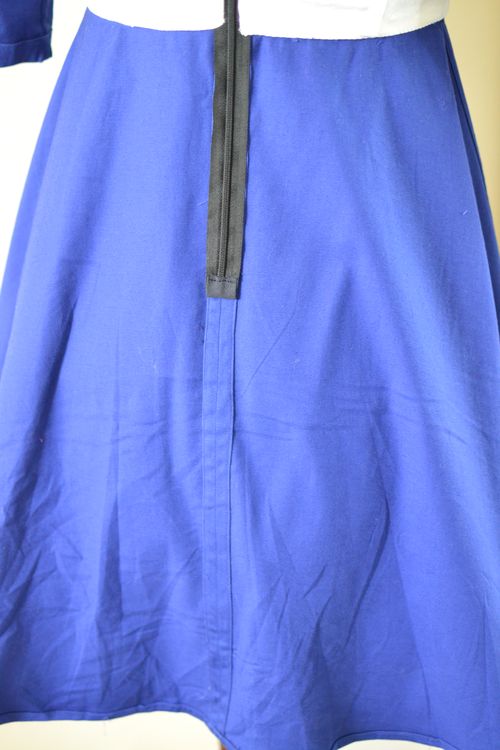 But again, it was a good lesson: the best is the enemy of good, definitely. And as my drafting teacher often tells me, perfectionism and fussiness must not be confused. (Hello the good resolution of 2018!)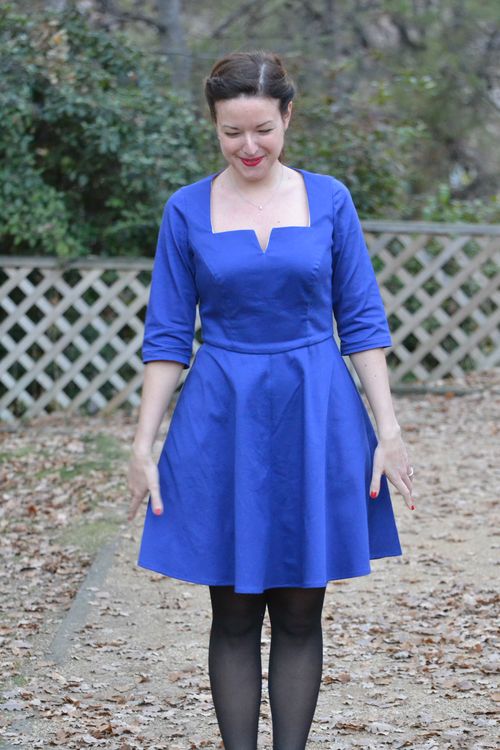 What more can I tell you about this dress? The sleeves are 3/4, and the back is finished with an invisible zipper.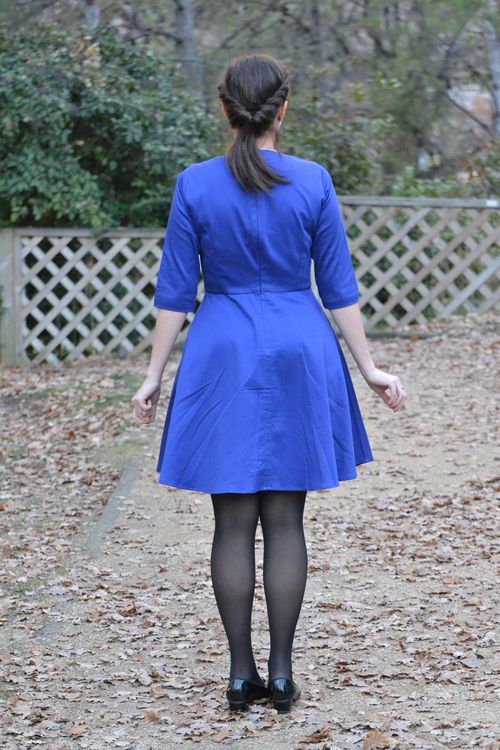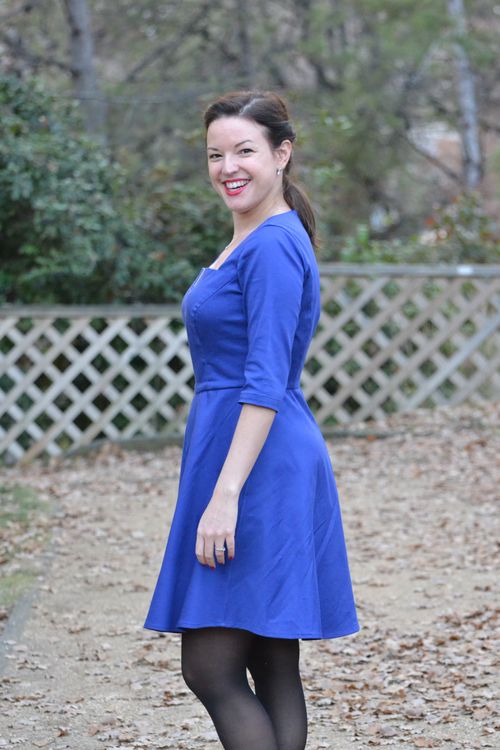 To ensure the stability of the V notch, I reinforced my middle lining with woven interfacing, and I stabilized the neckline of my outer bodice with interfacing ribbon.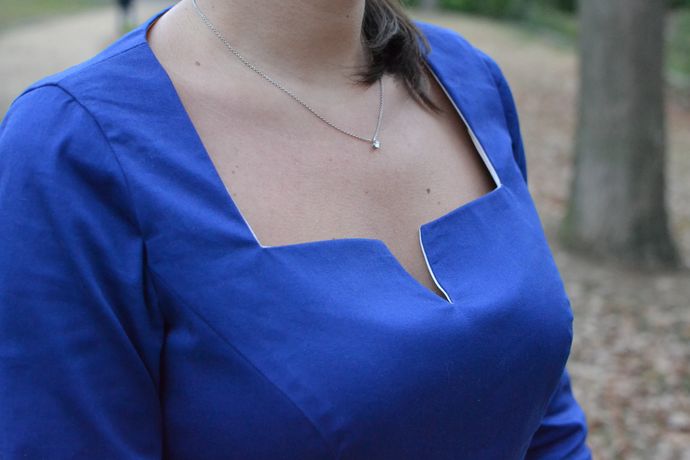 And I also pulled down a little the middle of my size, so that it's softer and that it follows my curves better.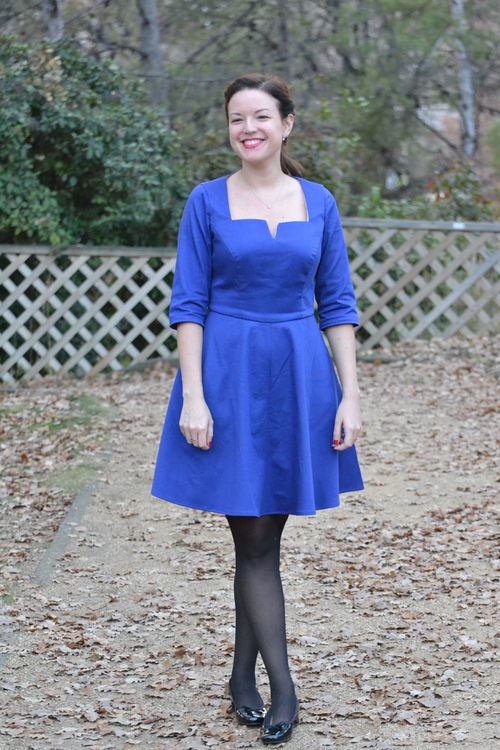 Verdict: I learned a lot of stuff with this dress. I discovered a new boutique, a new neckline, a new finish … and a new motto. While winning a new dress in which I feel good, and sticks to my style: it's still a nice gift right ? I wanted a fall-winter version of this dress, I've worn a lot in the spring and summer, and I think it's successful. 🙂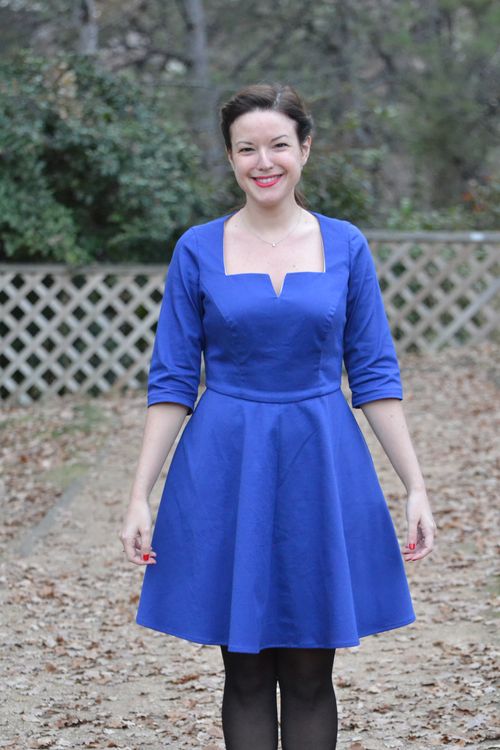 I take this ticket to wish you a happy new year 2018. Let it be creative, and above all, full of love, laughter, happy memories. Each year a word accompanies me and illustrates the tone that I wish to give to the next 12 months: "indulgence" will be the 2018 one. Because before being kind to others, you must be towards yourself. And that affording a good dose of indulgence, it helps: to forgive your mistakes, to agree not to be always successful, to embrace his faults and flaws, and accept that they are part of us. Sew at my own pace, publish at my own pace. Sewing with pleasure, what it makes me want, without knowing want / need to demonstrate anything.

"Start by changing in yourself what you want to change around you" (Gandhi)
And don't forget to take care of yourself. ❤