It's been a while right? I deserted this blog in recent months, it's true. And not only this blog by the way: Instagram, Facebook … I cut contact with many things. I needed it. Often you write to me that my smile is contagious. It is, especially because it is sincere. I never knew how to pretend. And I couldn't come here as I had lost my pretty smile. I couldn't give you the movie of the perfect life: I never knew how to lie. So I waited to be ready, to desire it. Let the smile come back. And since I told you the beginning of the story here, I had to tell you the rest, and the end. And the beginning of something else.
I had a lot of hope in these sewing classes. But things didn't happen as I would wish to. For many reasons: the schedules, already, which didn't agree with my family rhythm. I worked some evenings, on Saturdays too. My children didn't understand why I was going to work while they were coming home from school … and, really, me neither.
I also had difficulties with the organization of the workshop, very flexible for its students … but very stressful for me. I managed 4 students at the same time, who could come with the pattern of their choice. The students had the choice between several slots, managed by different teachers. My group of students was never the same, and I didn't always know what would be the project of their choice. And for me, who forced me to be the best teacher possible … it turned out to be a very stressful exercise. I was stressed before, I was stressed during the lesson … and I was stressed afterwards. How many times have I felt the ground shirking under my feet … because I stumbled on a stupid technical question.
Sewing, which was so necessary to my balance, which brought me so much joy, had become a source of anxiety. When I was seeing my sewing machines, I only remembered poorly adjusted tensions, unthreaded overlock machines. A new technique didn't thrill me anymore: it terrified me. Before all this, I adored analyzing clothes in the streets, fashion shows … but now all this left me indifferent. And worst of all … I didn't even want to buy fabric anymore. While for 8 years, the least free time, the least minute was spent on sewing … today was everything … except that. I saw my sewing corner take the dust … and it made me so sad.
Slowly, I faded. The smile was gone.
And then, by chance, I came across a job offer from an association, looking for an administrative assistant. A part-time job, in the morning, not far from home. By instinct of survival I think, I postulated, without really believing it. And it worked.
And I am so happy. It's a home help association for seniors, and I feel useful. The team is great. It's a very small structure. I have been working there for almost a month, and the pace is perfect for me and my family. Every day I'm happy to go to work, and I think it's a huge chance. I enjoy it.
I know that many will see this story as a failure, but not me. Our current society often pushes us to live our passion, to capitalize our "talent". Some people do it, and I admire their paths. Personally, sewing will remain a hobby. An escape, an outlet. One way to express myself. A way to spoil my children. Pleasure. Just pleasure.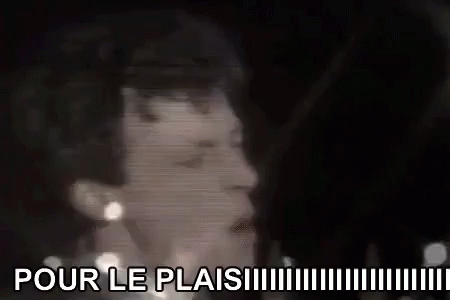 And now, we stop turning around my belly button, and we're talking about sewing. For real ! 😀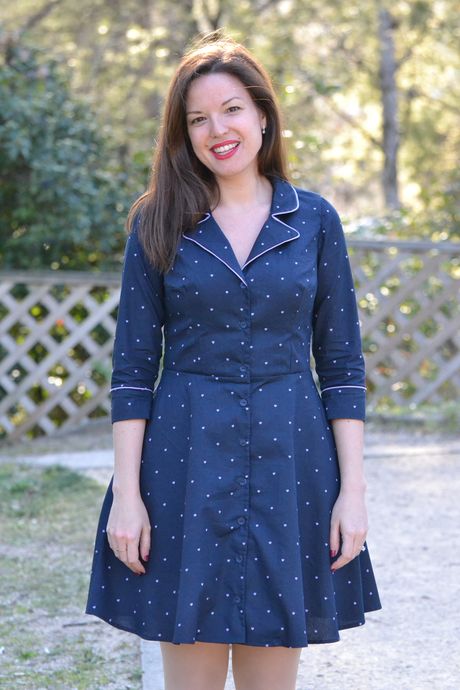 My passion for shirt dresses is well known. As soon as the Amal dress was finalized, a long-sleeved version was noted in my autumn-winter projects.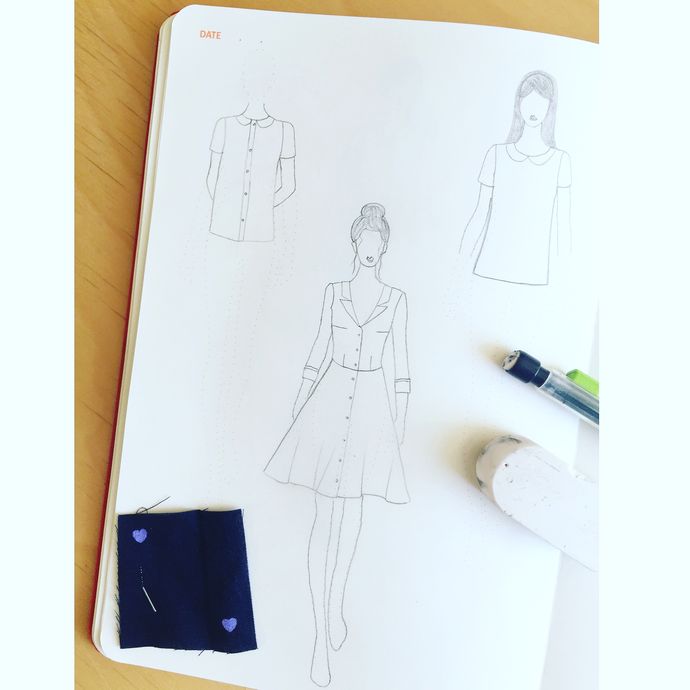 (The 2 small sketches are some scrap sewing for Juliette. ❤)
At the beginning, it was to be made in a marine cotton polka dots from Agnes B. But by finding the coupon in the stash in December, I realized that buying fabric for a winter project in the middle of summer was not smart: the cotton was actually ultra thin … absolutely unsuitable for a dress with sleeves, supposed to be worn in cold weather. And it's by turning the stash inside out for our Christmas dresses, that I fell back on this popeline from Mondial Tissus.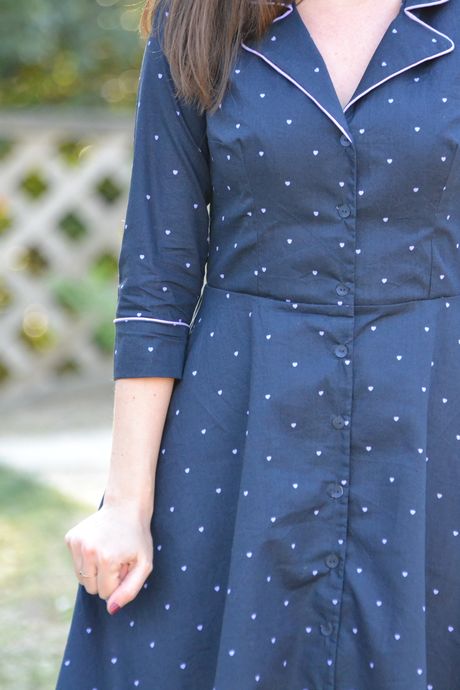 Purchased a long time ago to make a Bruyère-dress, this navy poplin, dotted with small purple hearts, was exactly what I needed for my dress shirt. I love to forget coupons in the stock: it feels like Christmas when we rediscover them! : D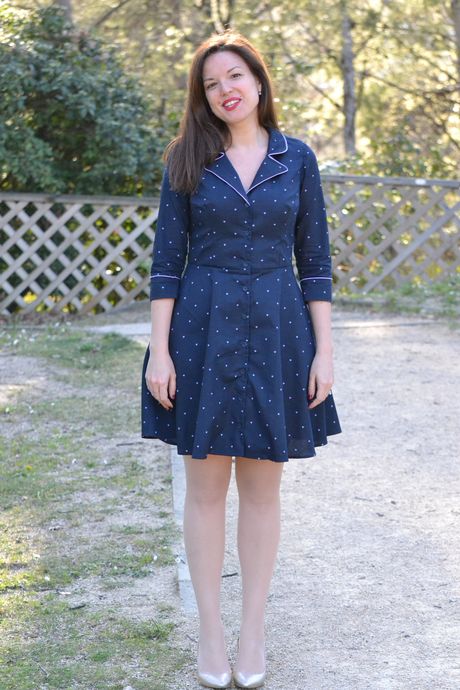 I started from the Sandrine dress, to which I simply added sleeves (taking over the armholes of the Amal dress). On impulse, I wanted 3/4 sleeves, highlighted by a piece of piping parma.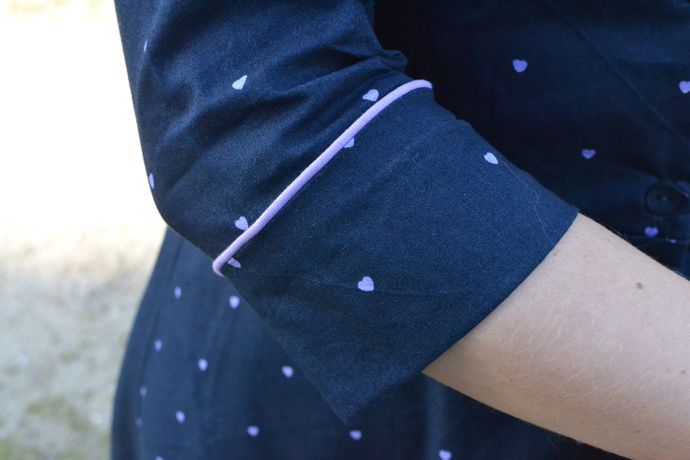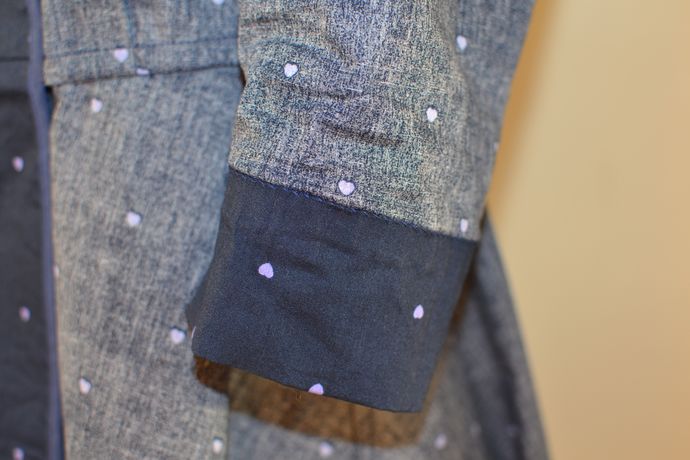 And well, after piping the sleeves, why not sewing some piping on the collar tailor! Having cut my piping in a small parma coupon (bought at the beginning to cut a contrast collar for Juliette's scrap sewing), I chose to piping only the collar and the lapel, and to die the piping at the overlap.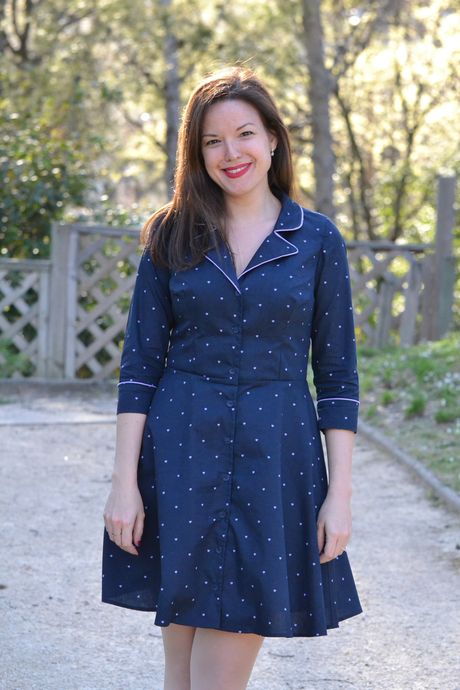 I always have a crush for tailor collars with piping. One of my favorite patterns is Heather's Carolyn pajamas. But as I'm a big lazy girl who prefers to buy her pajamas in RTW stores (WHAT ???) (Go ahead, judge me, IDGAF :D), it was the moment or never to try this technique.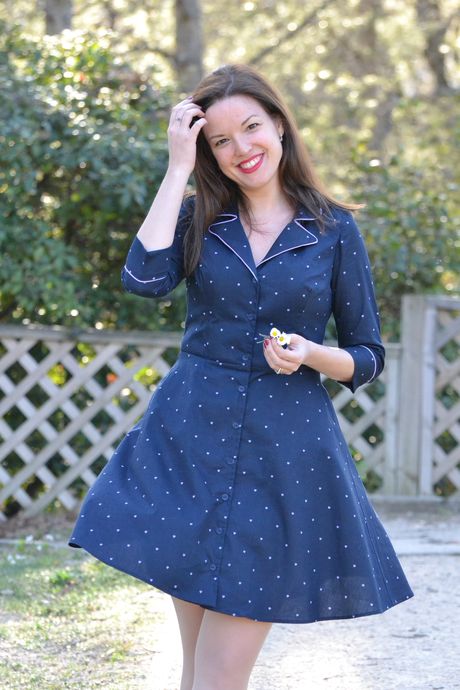 Well, the moment or never, I don't know, because sewing piping on a tailor collar, without any instruction to support me, and in a desert of motivation … that explains why this dress, which had to be at the begining a January dress, could be worn … at Easter. 😀 And of course, it was at the end of the project … that I thought of going to see how my pajamas with piped collar were sewn. A WINNER I TOLD YA, A WINNER!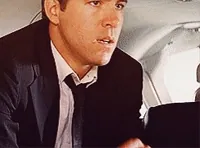 WELL, in the end I'm quite happy with the result, even if it would have been better to die the beginning of the piping of the lapel, rather than want to create an invisible joint with the piping of the neckline. This creates a thickness that wasn't necessary.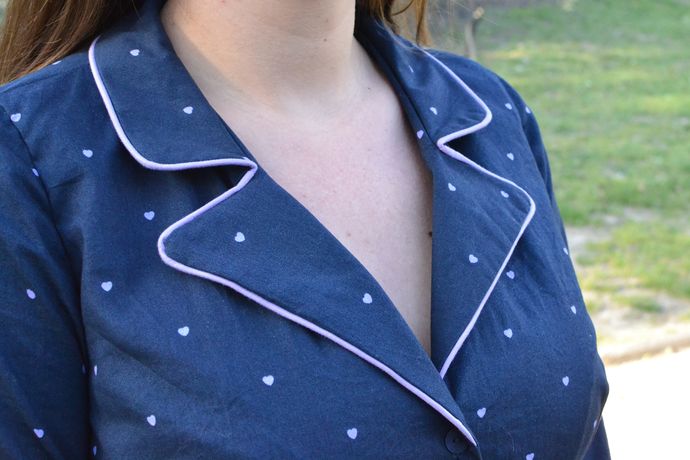 Still, it's a tiny tiny detail. Here, speaking of a tiny detail that hasn't escaped from the sweetie …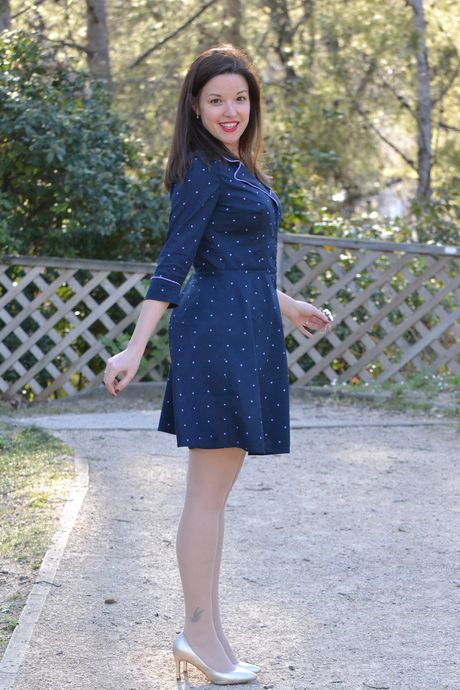 "YOUR DRESS ISN'T A LITTLE TOO SHORT ???"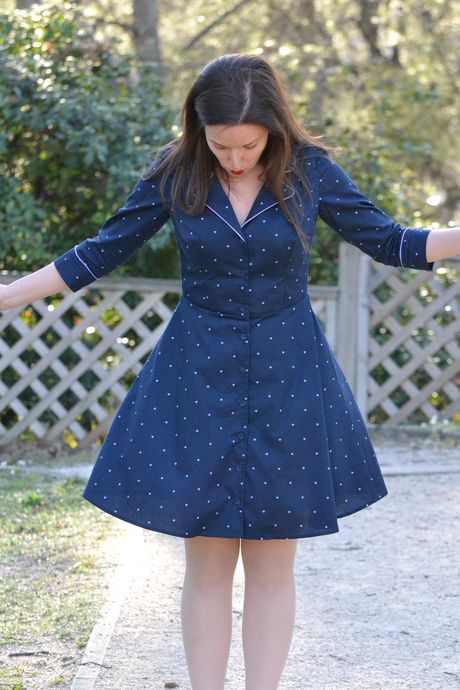 In general, my skirts always measure 50cms, and this one lost 2cms, without really understanding why. Of course the lost 2cms have not escaped the lynx eye of the husband. Note for the next one: we add the missing 2cms !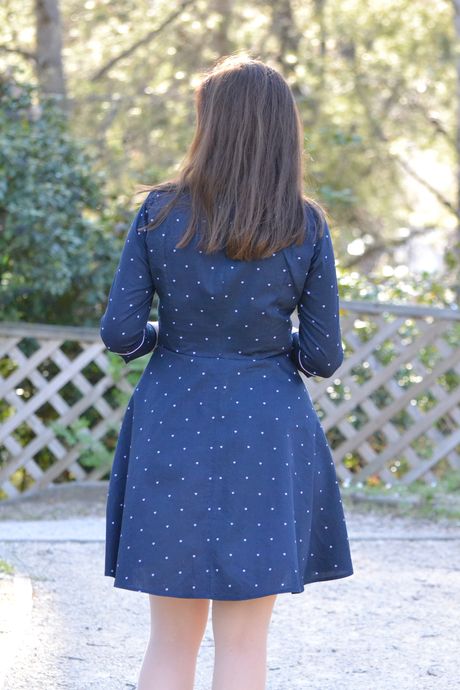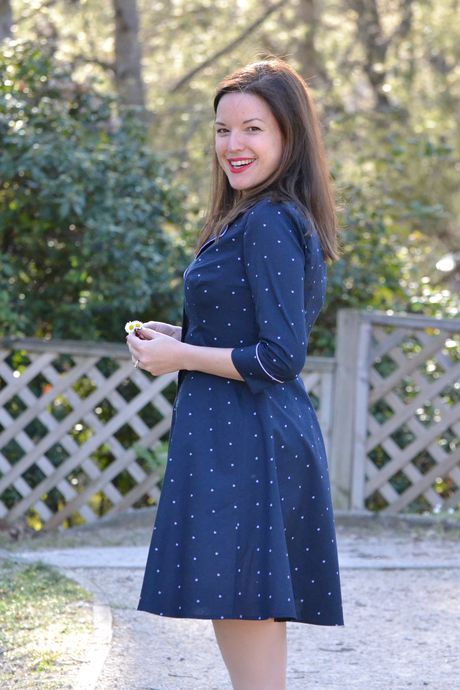 Regarding the interior finishes, I opted for a complete facing, which also includes armholes, allowing me to hide the seam allowance armholes.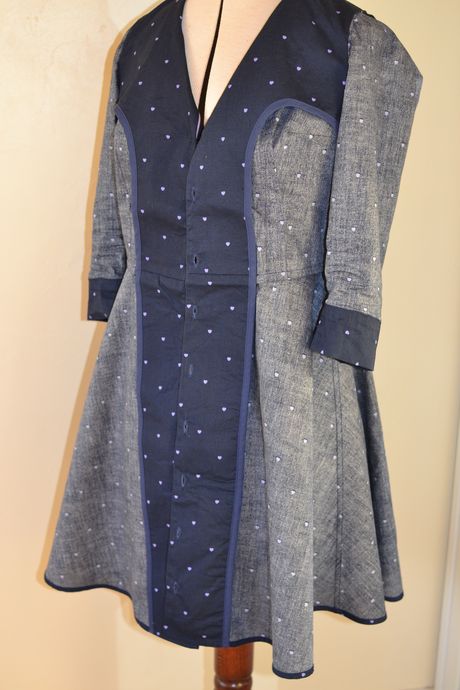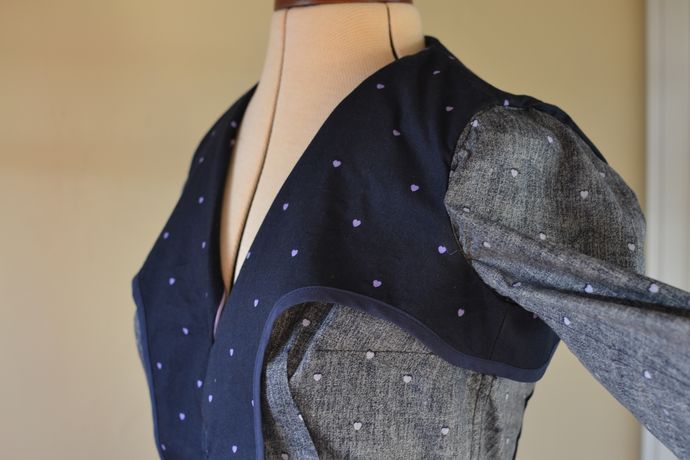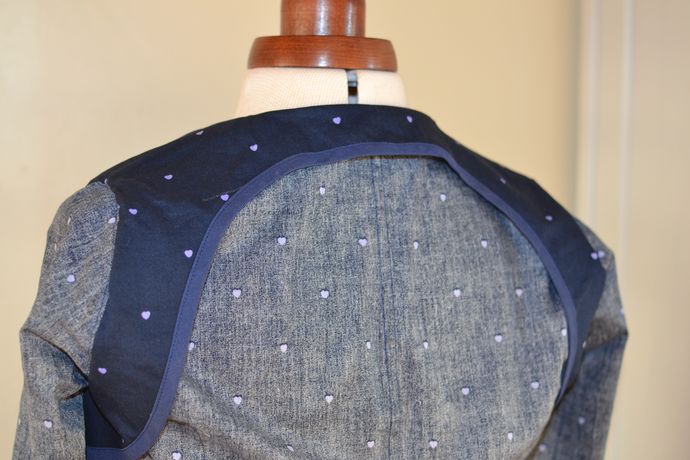 And as I sewn felled seams everywhere, I finished the facing with bias. The marine buttons in mother-of-pearl come from "La Maison d'Ursules".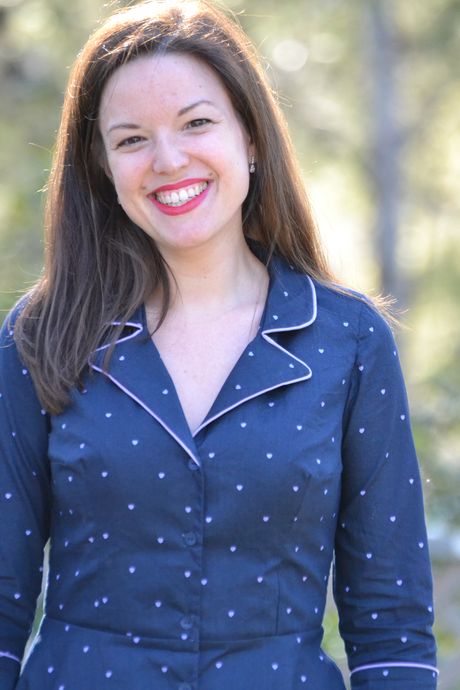 Verdict: listen, it's been months (or years) that I'm ULTRA critical on all my productions. There is always a detail that is wrong, a point that could have been improved. In passing this one for the first time, I just felt … a real satisfaction. It was pretty, It looked like me (TINY HEARTS !!!!), it was very well done and most of all … it fell to me perfectly. And for the first time, I allow myself to think so. To enjoy a sewing without being puffed by a useless perfectionism. It must be believed that the break has been beneficial on many levels. 😀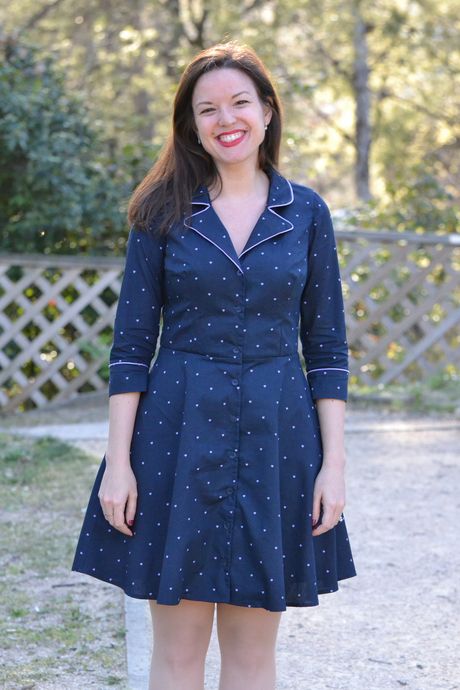 Before leaving you, I wanted to thank all the people who wrote to me, who worried about my absence. You know, I never took this blog seriously. I even self proclaimed me the "naught blogger". 😀 I refuse any partnership, any test (except those of Deer and Doe). I don't do podcasts, tutorials, birthdays, contests, or whatever else that would increase my followers. I don't a give a damn about all this.
So obviously, taking distances I didn't expect to receive so many messages. And your solicitude to all of you has touched me a lot, and helped me in those difficult moments. So thank you all.

A very nice week to all, and most importantly, take care of yourself. ❤
(NB: why the Claire dress? Because I had a student who adored piping on her sewings. By starting this dress I promised her that it would wear her name. It's done!