It's Friday, the man of the house is on holiday tonight, we leave in a week on vacation and this is the complete hysteria here! ❤ I take a micro quiet moment to share you my latest "Scraptastic !" … Juliet's dressing room has been spoiled this summer. ❤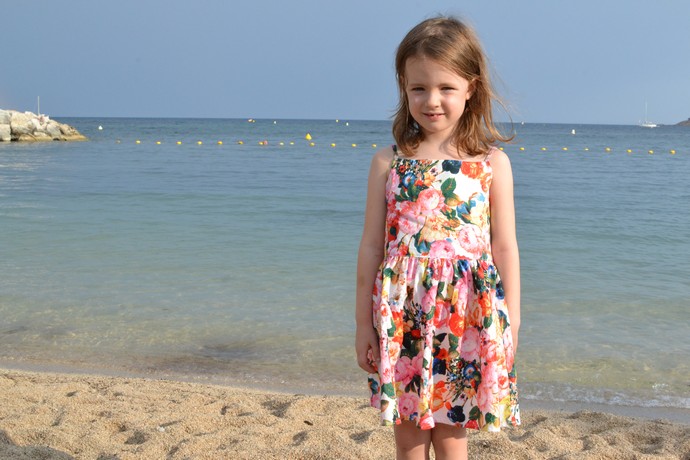 Remember Whitney dress floral fabric ? It came from Bennytex. And who says Bennytex, says generous yardage… very generous one! Like, you ask for … 1m50 and 1m85 you go with ! After cutting my dress, I still had a lot of fabric, and I decided to re-use one of my favorite dresses from Burda: 639 of the Special Children Edition 2012 (37H).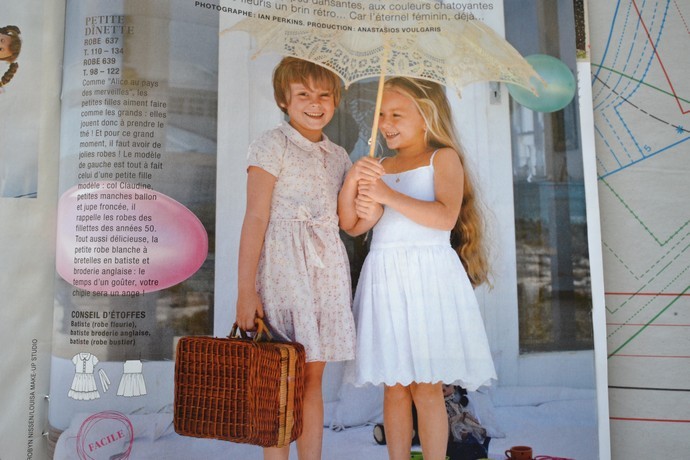 I had already sewn it last year in a very fluid cotton. After trying it this year, the 104 size was still ok on her, so I took my pattern, and adjusted the length of the skirt to her stature.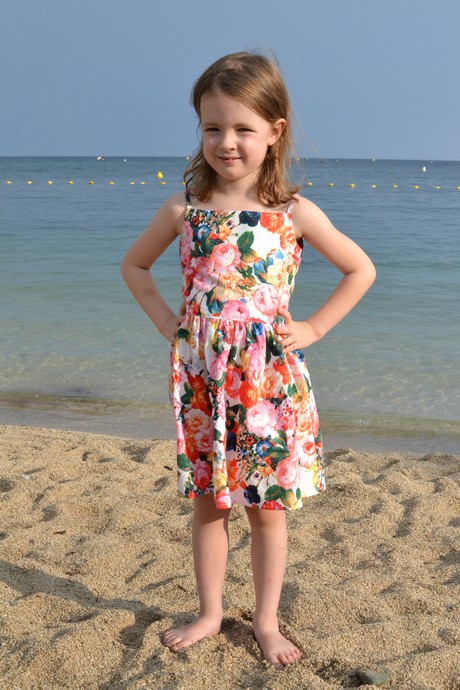 It's a really easy pattern: the bodice is fully lined, you get nice finishes. Not even need to hand-sew the lining, it is top stitched on the waist.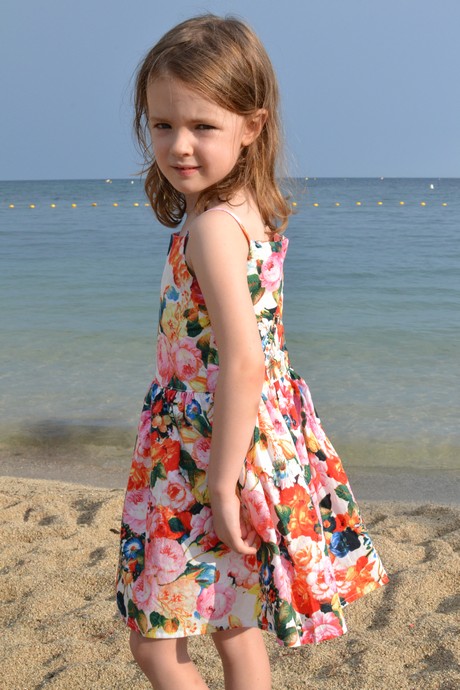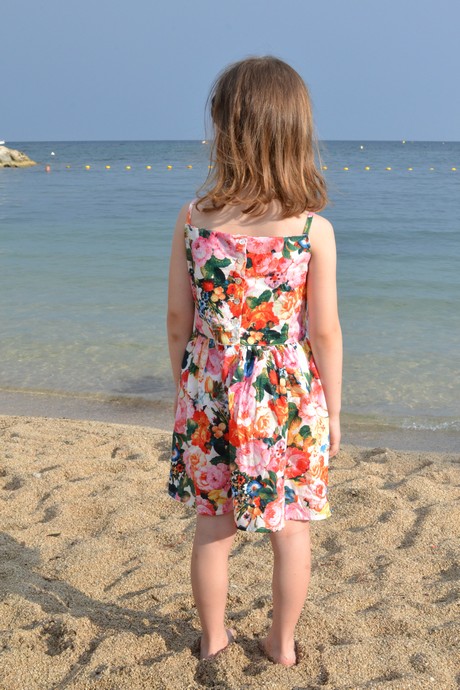 The back is buttoned with pearl buttons that come from La Droguerie.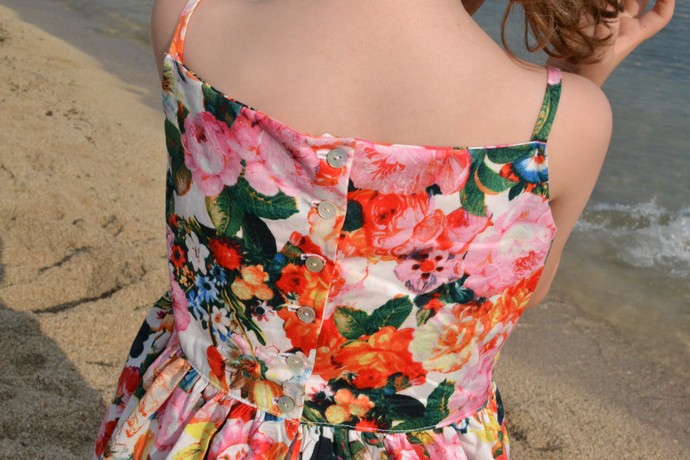 Conclusion: it's easy, it's fast, it fills the dressing and my sweetie is happy … I say banco! Let's see the Zephyr's scraps ?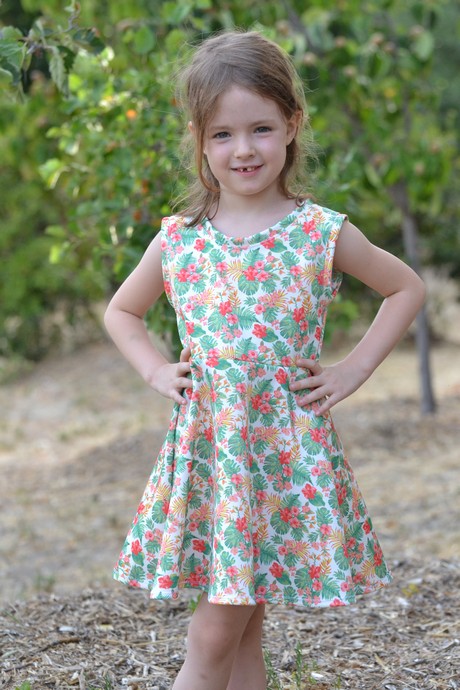 Well here I warn you right now: it's a fail. I act as usual : I had an idea, I jumped into it … and then thought about it. : D And in that order, necessarily, it does not work. : D But as I am a hopeless optimist, I will try to focus on the positive assessment of this job.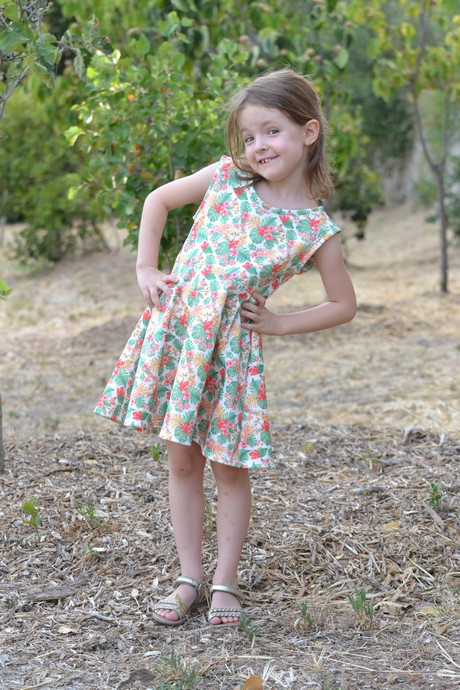 So I had 2m of this scuba, and once my Zephyr cut, I still had some fabric for Juliette. I had in mind a relatively simple dress: a fitted bodice and especially, especially a half circle skirt. Not finding much in my pattern stock I thought about this dress Juliette has since this winter and that fits like a glove: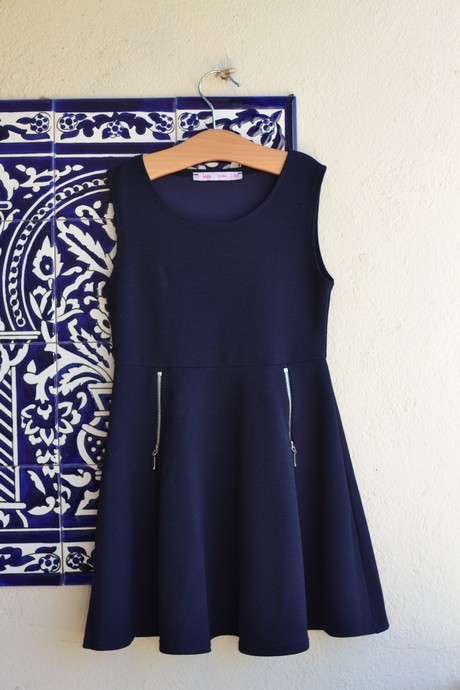 "Oh okay, huh, go, get out of your comfort zone, try to copy it! It should not be too complicated anyway!"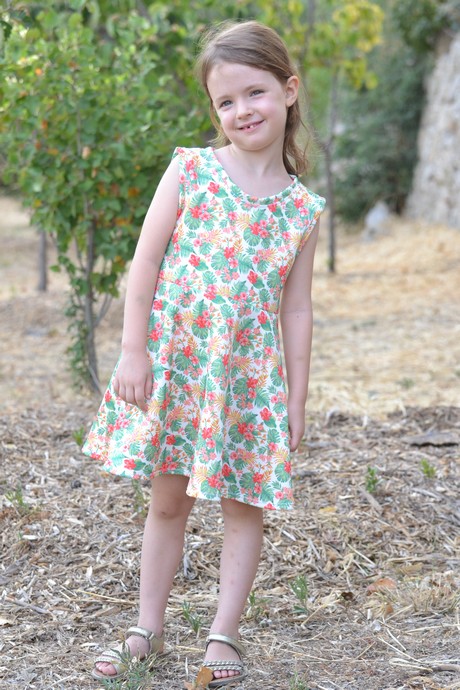 Except that in trying to go too fast, you make mistakes! One, I forgot to compare the thickness of the knits: scuba is much thicker than the navy knit of her dress. Two, I have only copied the top of the bodice, I drafted the half circle skirt alone … but I forgot to add sewing allowances at the waist sewing line, hence the waist is not that fitted. And three … I cut my neck and armholes bands too large.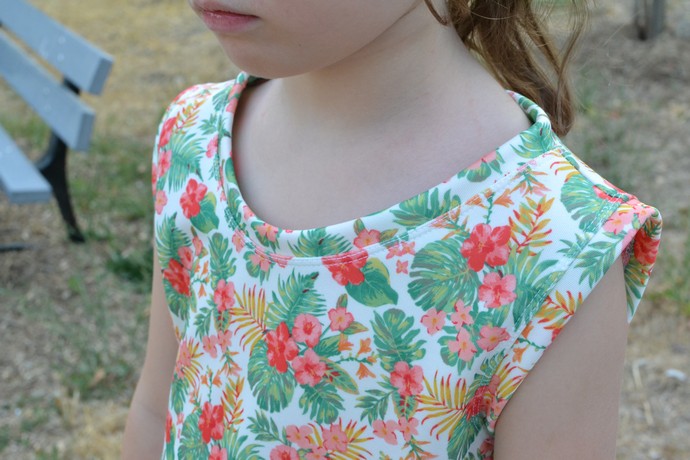 WELL, that being said, I'm still glad I tried copying the ready to wear clothes : I wanted it for a long time without daring, and while this first experiment is not successful, I'll learn from my mistakes.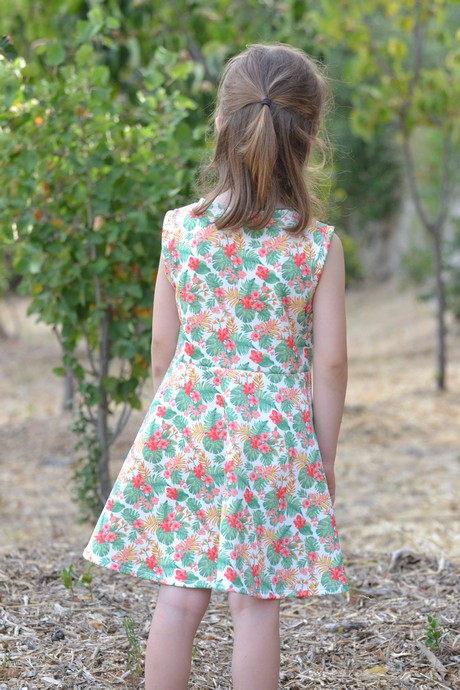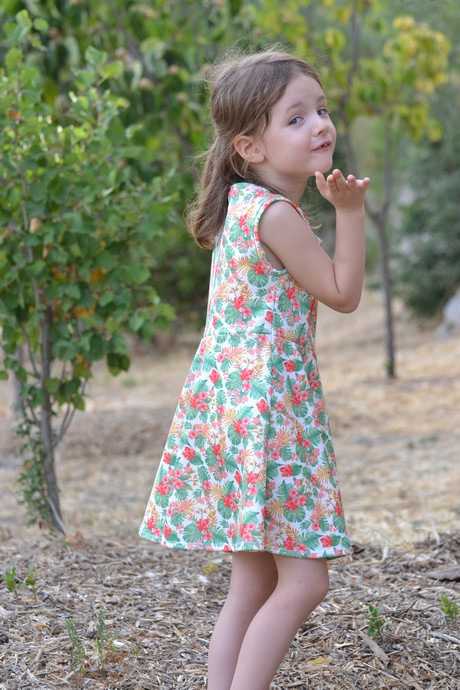 And beyond all that: Juliet loves it! We quickly forget our sewing problems and the fail feeling when we heard the laughters of a little girl who turns in her dress, right?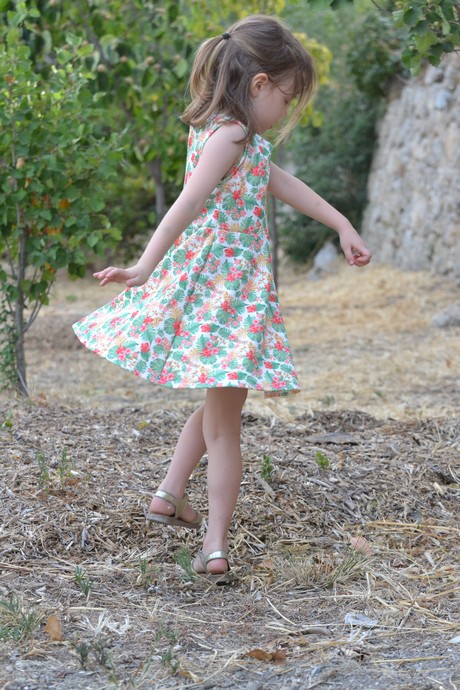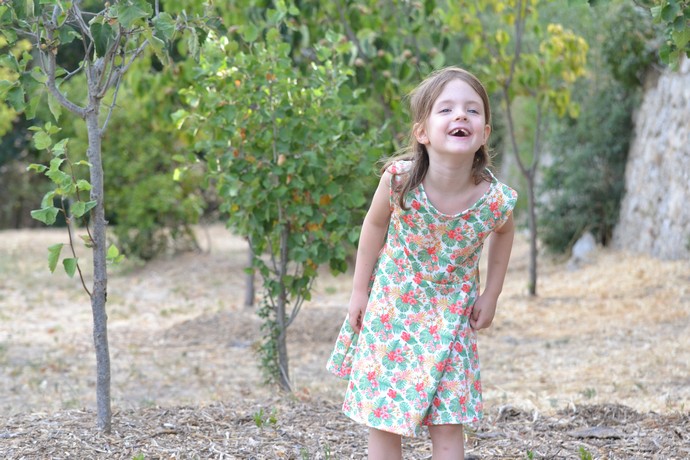 (Oh, one day I swear I'll eat this little cutie. ❤)
And you know what ? He even still had enough to spoil the last born of my dearest friend. ❤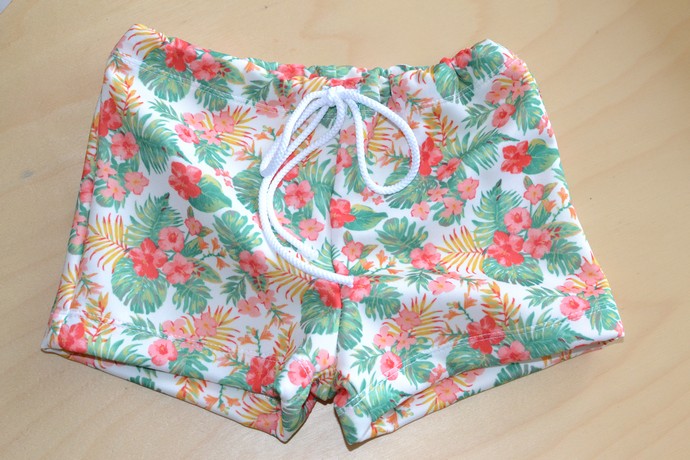 Impossible to not see a short in this tropical fabric, and I just had enough to sew my favorite short pattern, the 140 of June 2014 Burda (already sewn 2 times for Paul).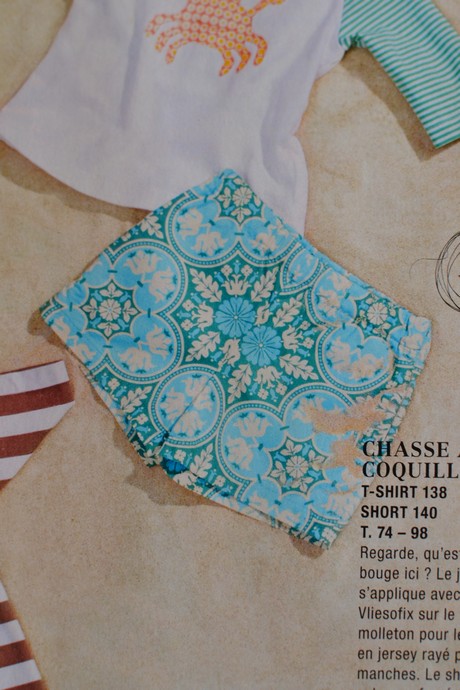 Ultra simplified here: without seam pockets or back pockets. And I replaced the elastic by a rope and 2 buttonholes.
Cut in the 74cms size, I hope the little Gabriel will love it. Anyway, I put all my love for him and his family. This is what is magical about offers sewn gifts: each point holds so much love! ❤
I wish you a good wk girls, take good care of you. ❤