Impossible to go on vacation without testing the gathered version of the Whitney dress: we spent a little time to draft the skirt, and I wanted to show a version to my teacher when school starts. And as often … I took a few detours before arriving at the final result. : D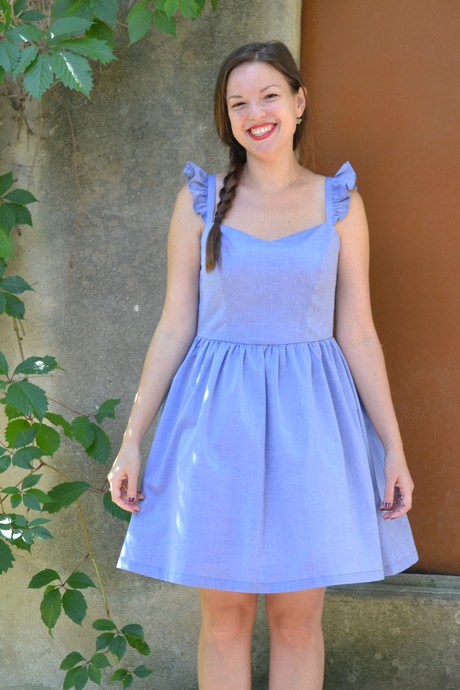 I dreamed of a skirt that give the illusion of wearing a pettycoat… without wearing one. To do so, we took the pattern of the skirt with box pleats, and expanded the skirt at the pleats, adding almost one and half times my size in width, to obtain a sufficiently large and gathered skirt, while keeping its flared sides. And then I hit my goal!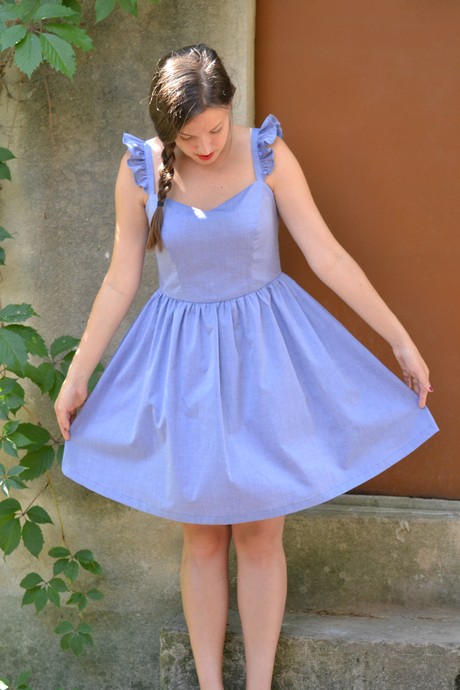 Who said gathered skirt, said lightweigth/drape fabric. I didn't have time to go shopping, I chose this very fine chambray, picked up at Agnès B sale in early July.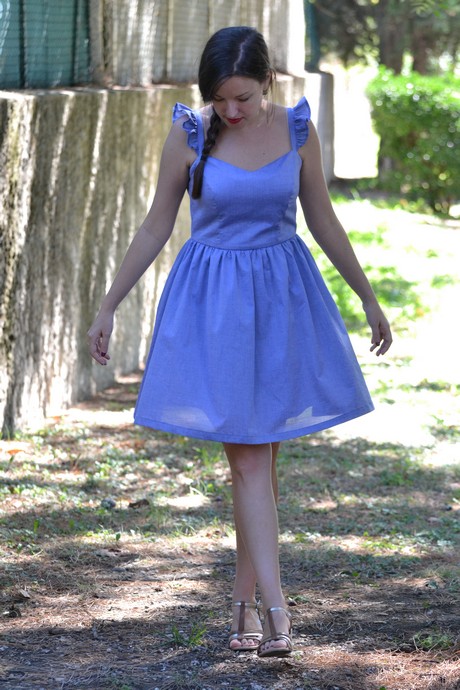 You can see in the picture how transparent it is: the addition of a lining was mandatory. So I sewed a second version of my dress, but this time with pleats instead gathers to avoid excessive thickness at the waist.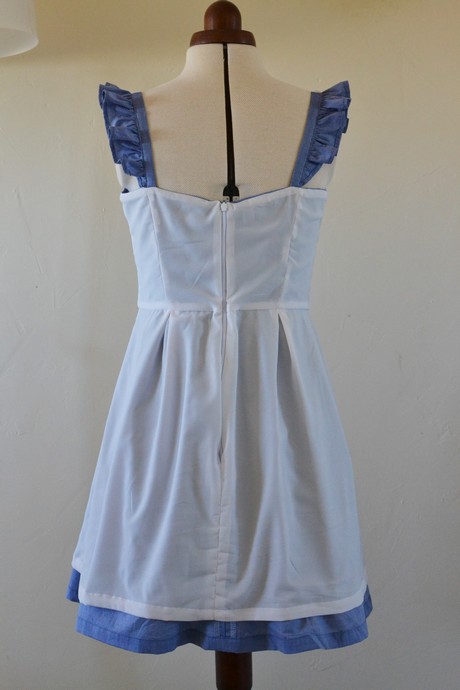 Let's be honest, we double the time required to complete the dress, the operation is time consuming. But then … I think this is the dress with the best finishes of all my dressing. When I was young and I was shopping with my mother, she had an obsession with lined clothes (probably from her sewing shool: it's not her job anymore but her eye has always been sharp on finishes). She said constantly "ah, and is it lined? Because it's good when it's lined, it is a guarantee of quality!"

Both say that today I feel like wearing a luxury dress! The lining is a viscose found at la Plaine Market, the same as my Mélilot.

And then, when I was about to cut the straps: what if I added ruffles? This is a detail I often see him on vintage dresses, and besides it balances pear shaped body, I find this detail absolutely charming. No problem here: I cut two long petals, I sewed a mini hem on one side, gathered the other side and slid in before sewing.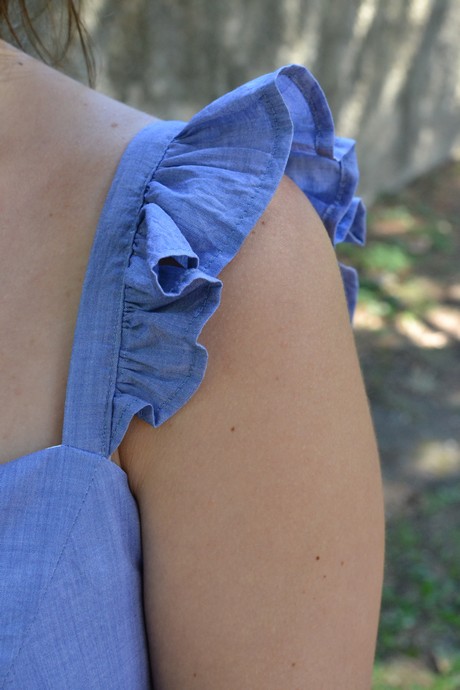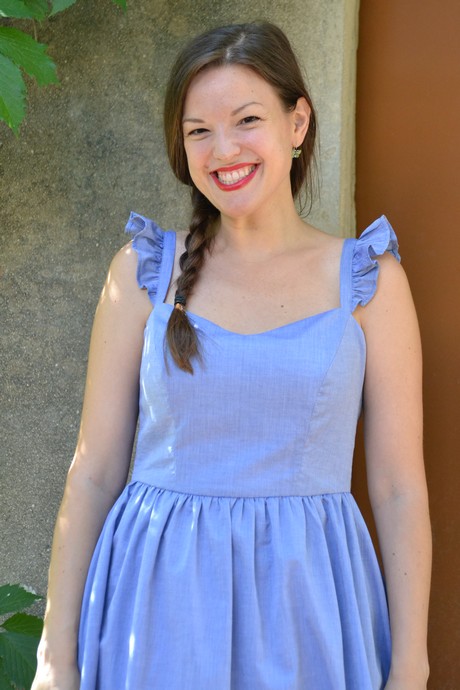 No but seriously, isn't it super cute ?? ❤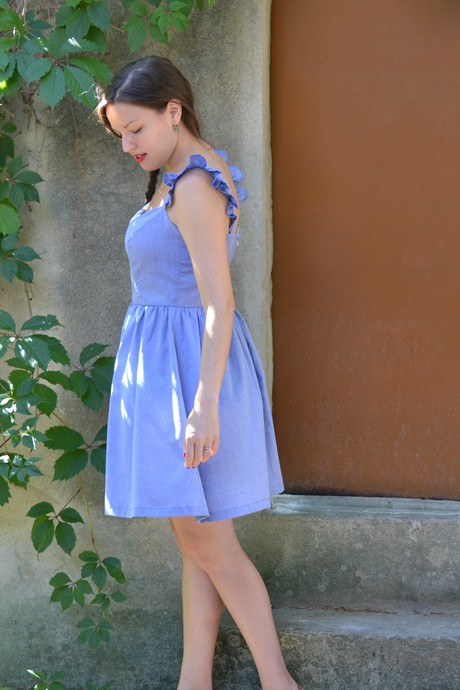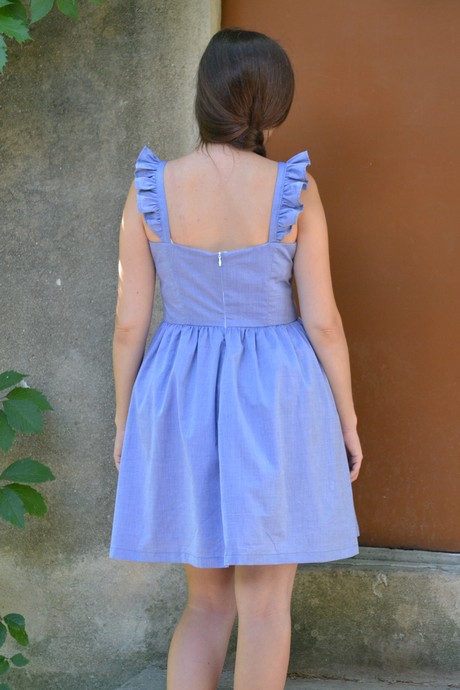 The rest of the dress is similar to the earlier one: the bodice has princess seams and a sweetheart neckline …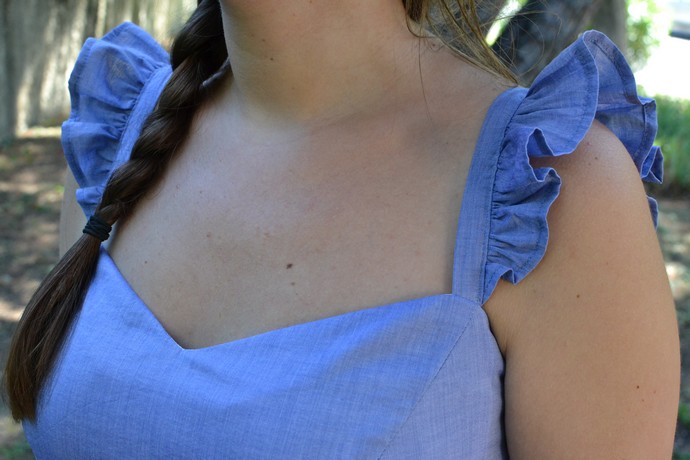 …and the back is closed with a concealed zipper.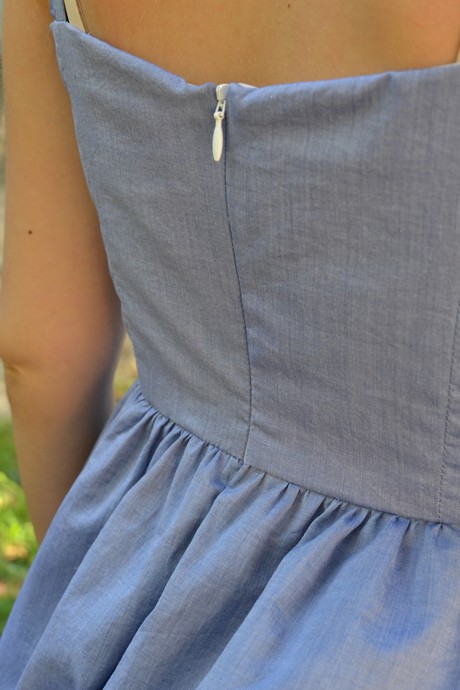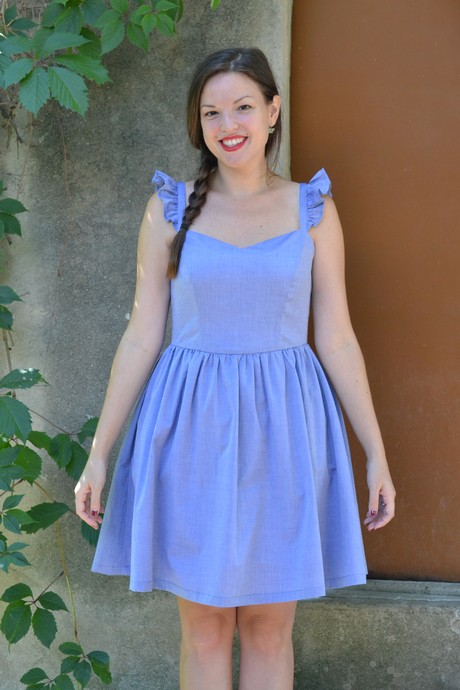 Conclusion : I was afraid that my chambray would miss some drape, but in the end I like the swelling of the skirt. Combined with the white lining, I really feel like wearing a vintage dress! I feel both very comfortable, feminine and pretty; and when I got those 3 points, it is key to success! 😉 There will inevitably be a new release next summer, this time in viscose, to see the gathered skirt in a more drape fabric.
And why Charlie ? Always immersed in Brazilian music, it would be hard to pick only one song, but here is one I particulary love.

It's time for me to wish you a good August : courage to those who are working, and happy holidays to the lucky ones like us who leave today! And especially take good care of you. ❤ See you soon ! ❤