I think my main flaw in sewing is impatience. It's very simple: it's always in the middle of a project that my head begins to think about the next one. Result: the finishes are often sewn fastly, which is, you will agree, very silly since they are just the first thing you see. And often, too often, this defect plays tricks on me. But I think the Nissa dress gave me a good lesson. 😉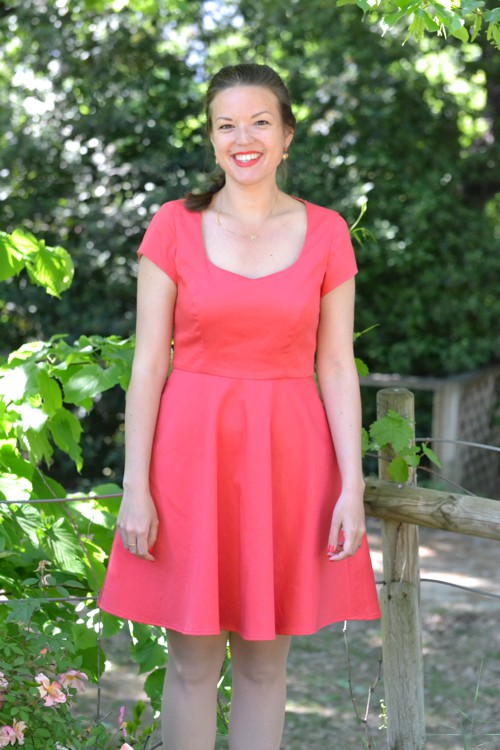 I had a revenge to take with my basic dress pattern : if I have since made profitable the sleeveless version and the bustier one, I still did not have a fully validated version with the sleeves. At the beginning, I wanted to sew it for Valentine's Day, in a beautiful red satin cotton. But my sprain + the inability to find the perfect fabric for my taste overcomed this project.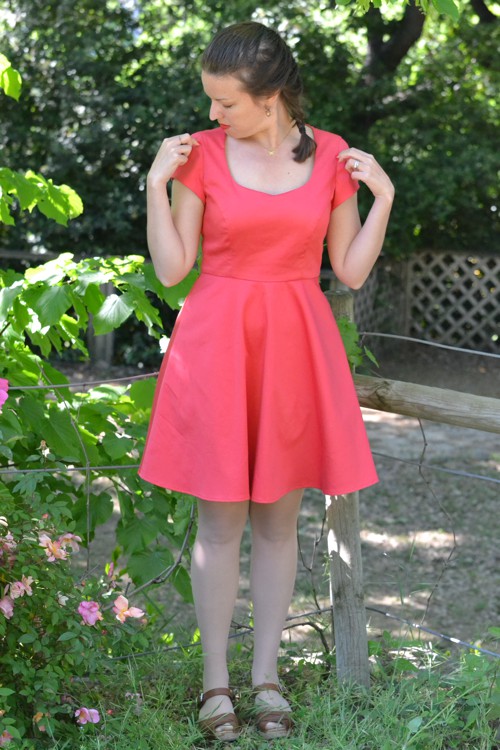 The weeks passed, spring arrived, as well as our Easter holidays expected for months. This year Nice hinterland was on the program, and I wanted to sew a dress to celebrate. And it's while surfing on Bennytex that I found this coupon of red coral satin cotton : its tone immediately reminded me of the Old Nice walls. Bright and vibrant: the revenge had therefore sounded, and it would be in Nice that it would be celebrated. ;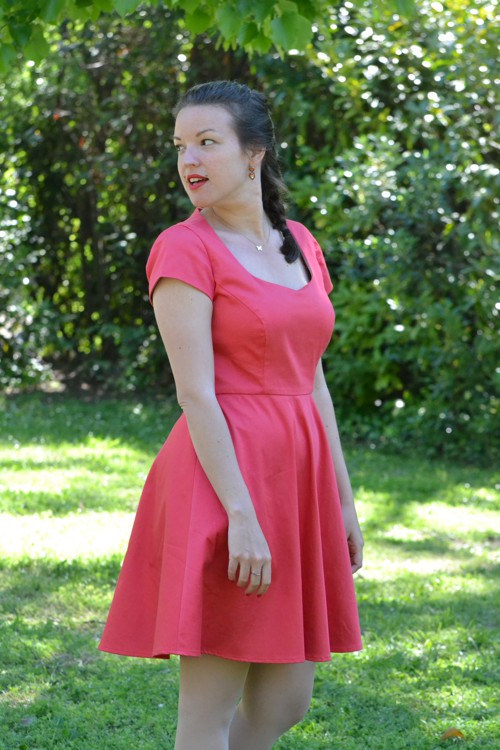 Just now I'm working on the sleeves drafting : after the Carrie dress butterfly ones, I wanted to draft cap sleeves. I loved this detail on the Rue dress from Colette : I find that they balance rather well the A line morphology. This type of sleeves not being developed in my drafting book, and not seeing my drafting teacher for a while, I drafted them by myself, helping me with DIY found on the net.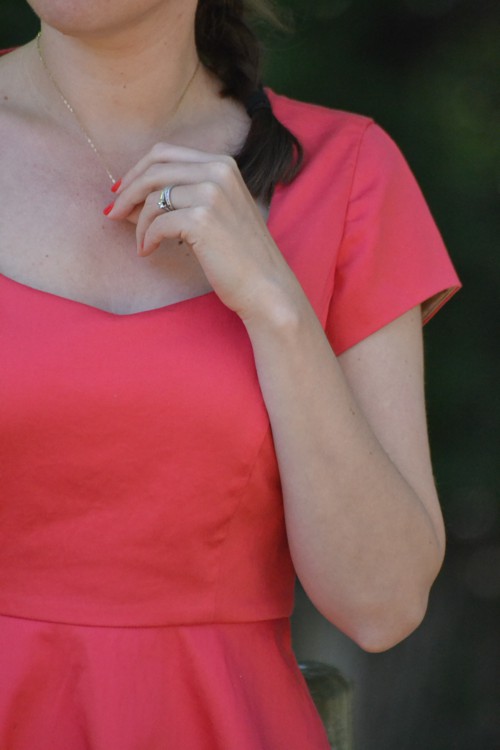 You can barely see it on this picture, but I chose to line the sleeves, to get a clean hem. I drafted a heart neckline, and a circle skirt on my measurements. (= Less flared on the back so as not to plump my silhouette, and more flared on the front to get a nice amplitude and hide my little tummy)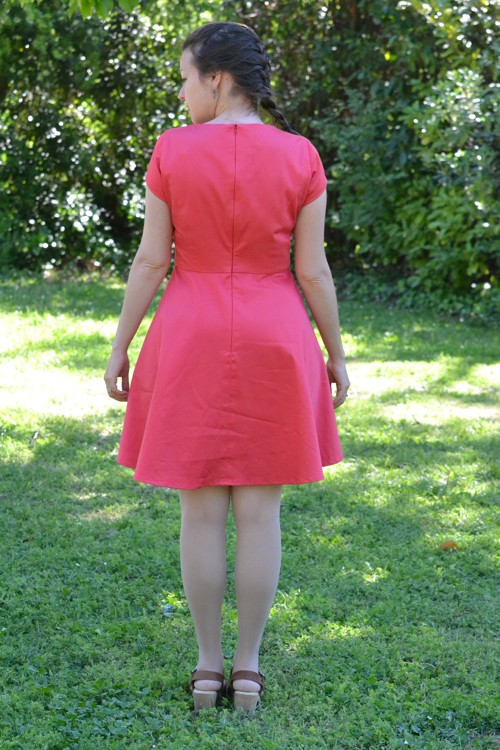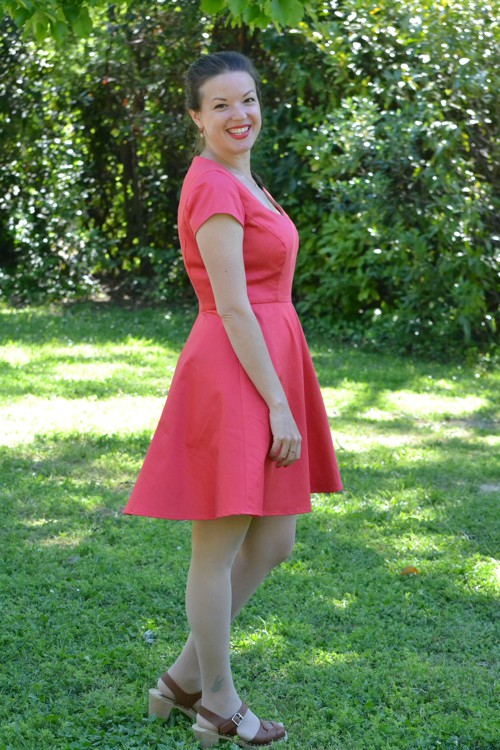 We are a few days from our departure, and I have to sew it fast if I want to slip it in our suitcases: I sew everything, make beautiful finishes, dress it up, and PATATRAS, I realize of my beautiful blunder … I forgot to stabilize my neckline with some straight grain.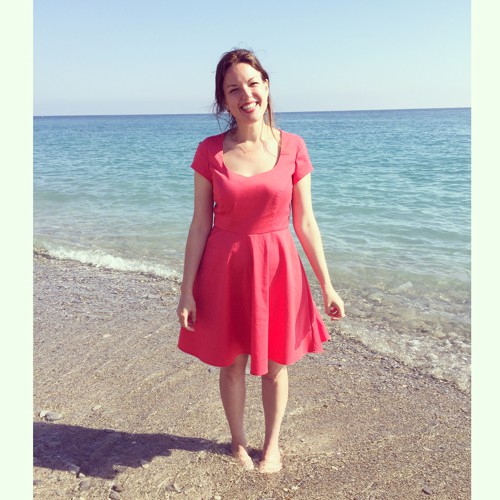 You see in this picture taken during our holidays: on the neckline, left side, the small wave on the neckline? The cotton satin containing spandex + the cut in the bias gave a fatal association: without surprise, the neckline had stretched.
That did not stop me from wearing it on our holidays, but still, I was pretty angry. Those holidays had been too beautiful for this dress, which would be forever associated with it, suffers from the slightest defect. Then I mustered all my courage, and seam ripped all my bodice upon our return.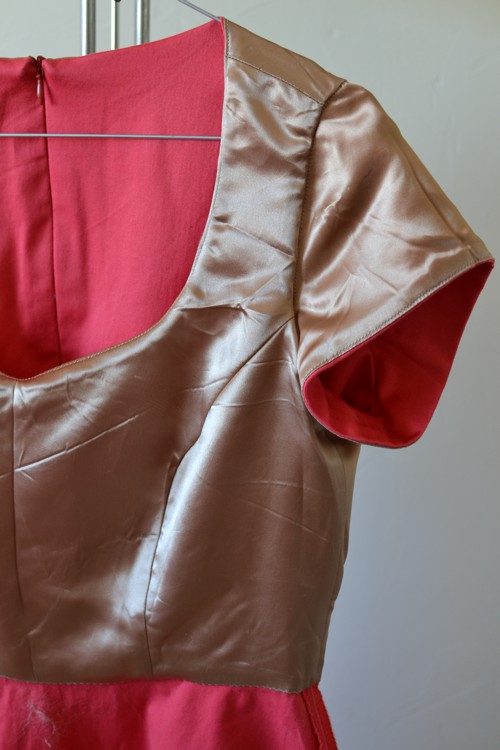 Yes, the hand stitching of the waist … the armholes seams (the result is always beautiful, but good Lord it's painful to sew!), My topstitch AND the seam of the neckline …
… as you say I have learned the lesson: ALWAYS. STABILIZE. THE. NECKLINE !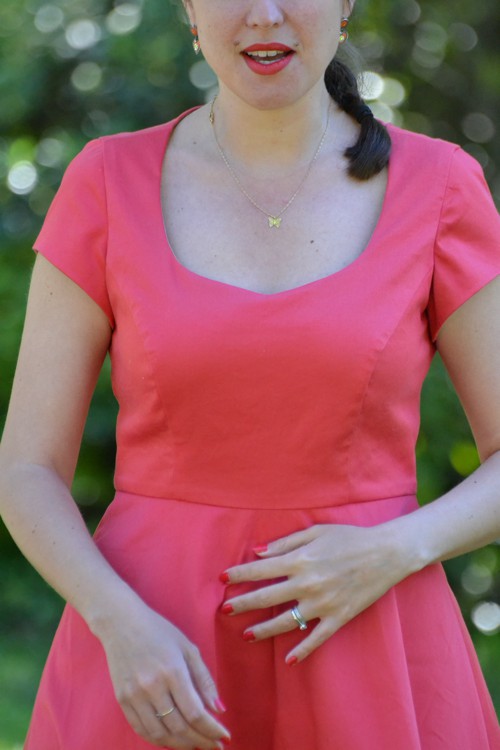 Well, we can barely see where the seam had stretched, my straight grain fusible didn't manage to make a complete miracle, but the result is still much nicer than at the beginning.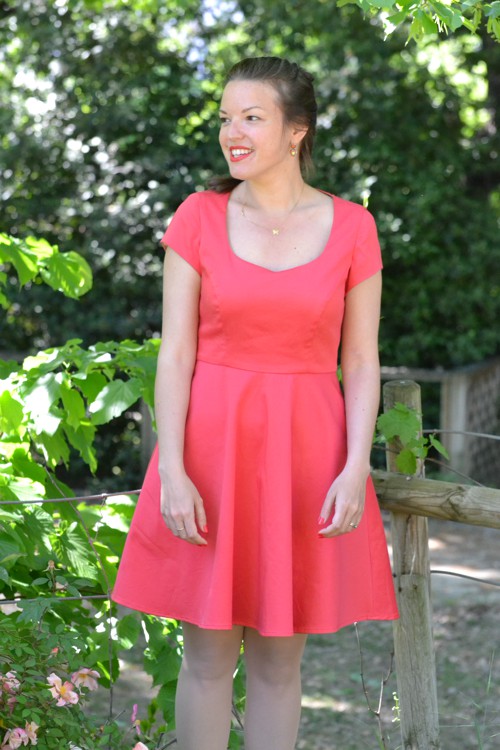 I am very pleased with this satin cotton, which is nonetheless offered at an unbeatable price. (Nothing sponsored here, I remind you) (well, it's the husband who offered it to me, it counts as a sponsor ? 😀 ). For this dress I barely used a little bit more than 1 m: I will preciously keep the rest of my coupon.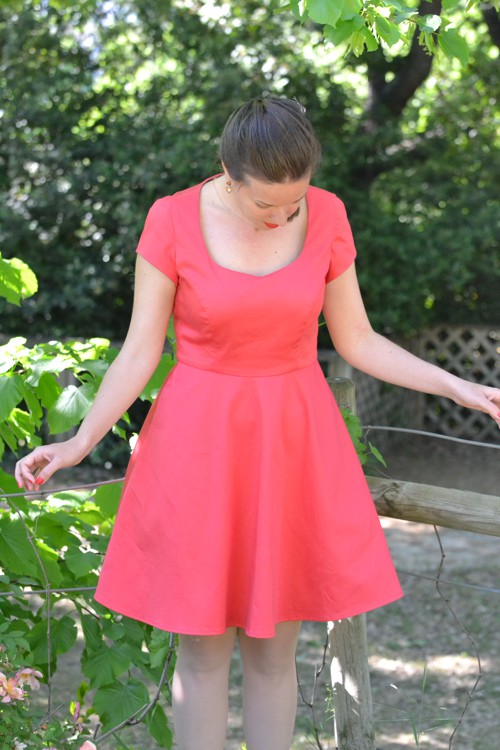 And the great advantage of cotton satin is its heavy weight! And so perfect for a skirt when you live in a windy country: no risk of seeing the skirt fly in the wind and discover your panties. 😉
"Do something with your hands, anything, but change your pose !"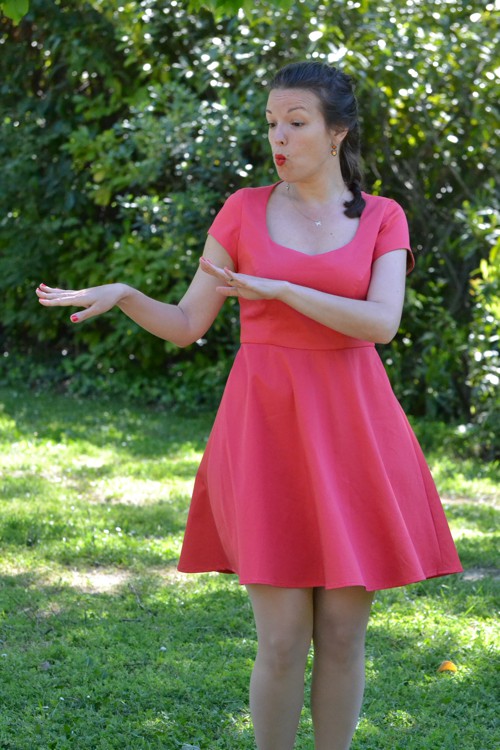 "Okay, okay, take your pose back." 😀 😀 😀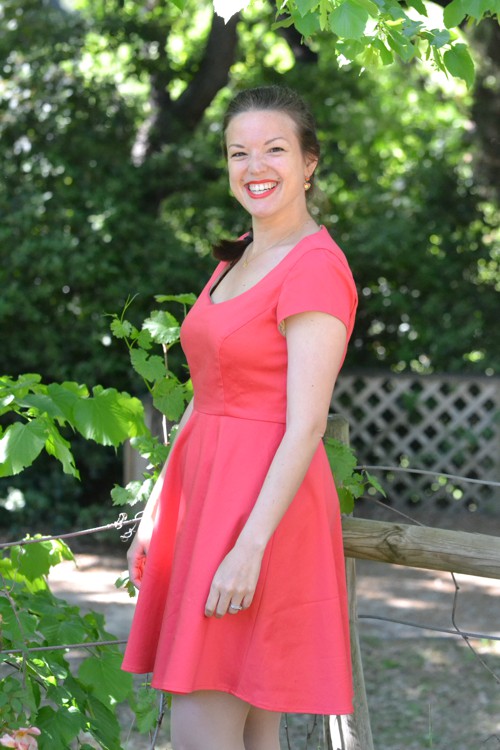 The back is finished, as always, by an invisible zipper, and the bodice as well as the sleeves are lined with a lining from Mr. Albert.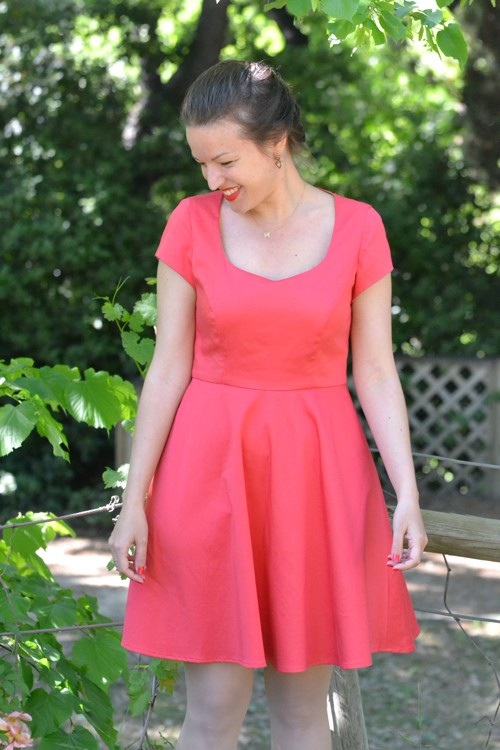 Conclusion : rematch taken, and challenge raised, I am really happy to finally have a validated version of my basic dress with sleeves.This color is a joy to wear: very flattering, it gives me full of get-up and go. And I am still a fan of cotton satin: appreciating to wear my clothes well adjusted, the spandex it contains allows me to draft with little ease, while denying my comfort: magic!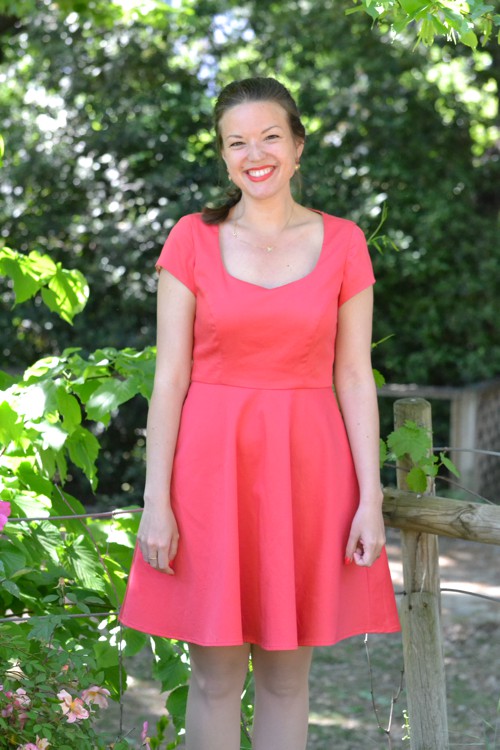 I wish you all a great weekend, and take good care of yourself.❤