Since the time you must know me: I hate to remain on a failure. The Myrna cardigan was one, and it was obvious that the 2017 summer would not pass without a revenge … the story I tell you today. 😉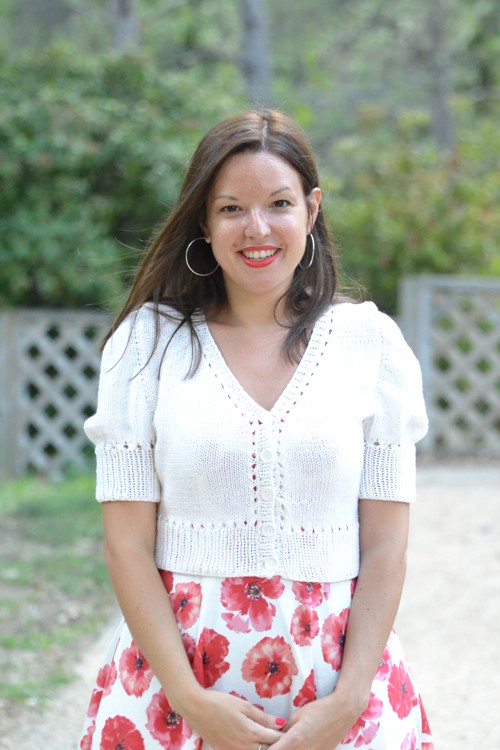 It was bedridden with my wounded ankle in February that I went in search of the perfect wool. I realized, after research, that a cotton wool would be better if it was composed of a little wool. And it was surfing from site to site, that I came across the wool Adriafil Duo: composed of wool and cotton, its gauge was closer to the one recommended for Myrna. True, it was a bit expensive, but given the fiasco of my first try, I wanted to put all the chances on my side.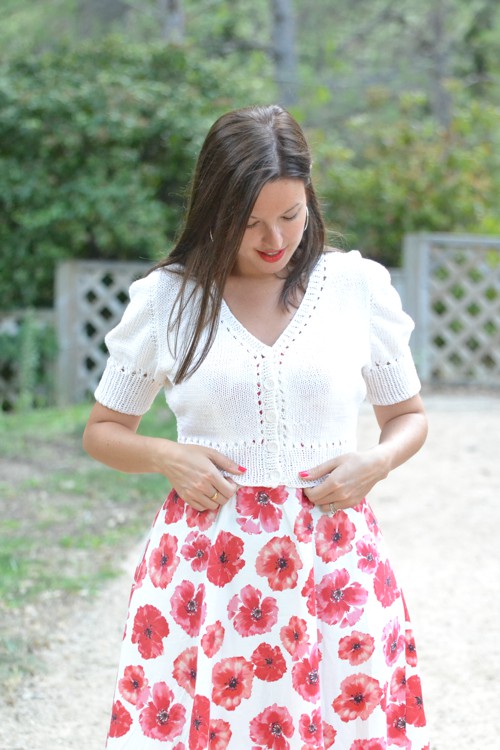 I will be honest with you: at the start of the project I pretended to knit a gauge, like, a dozen rows for 20 stitches. By measuring it quickly, I tought it was ok with the one asked. Without thinking, I went on a size S, because it's the size that suits me with Andi patterns. And arrived in the middle back … I realized that even Juliette could not fit in. It was ridiculously small. It was definitely time … to actually knit and analyze a gauge.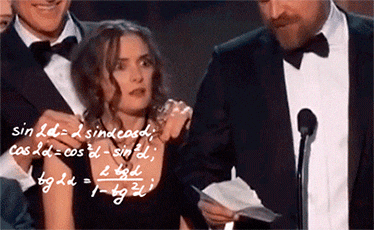 (me, as soon as I read "rule of three": D)
WELL, I REALLY knitted my gauge, which I SCRUPULED compared to the one requested by Andi, and necessarily, it did NOT stick to the whole. So I had to choose another size, and it is thanks to this website that I understood that I had to knit a size L!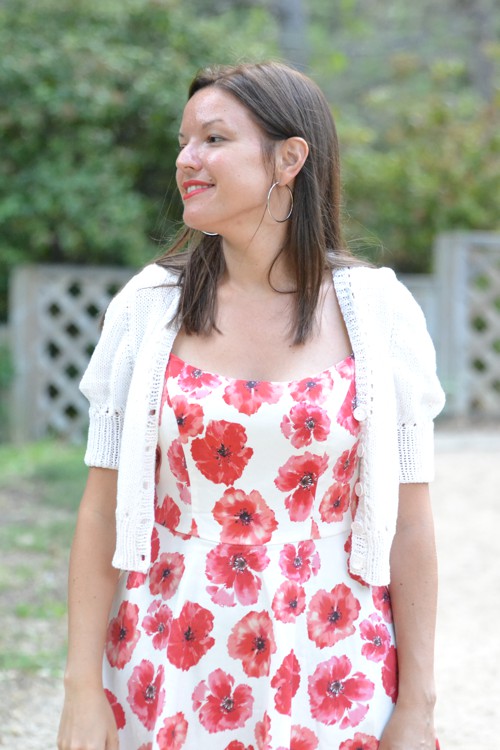 And inevitably, when you choose a size in correspondence with your wool, it goes immediately better! You can see on the pictures that the fit at the bodice is great.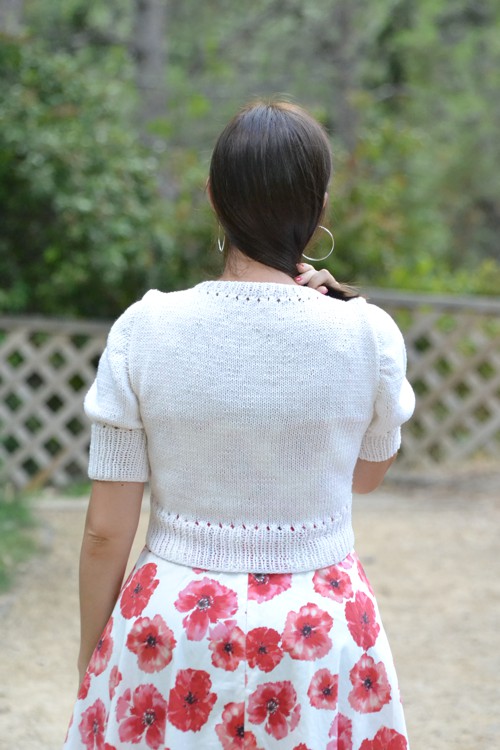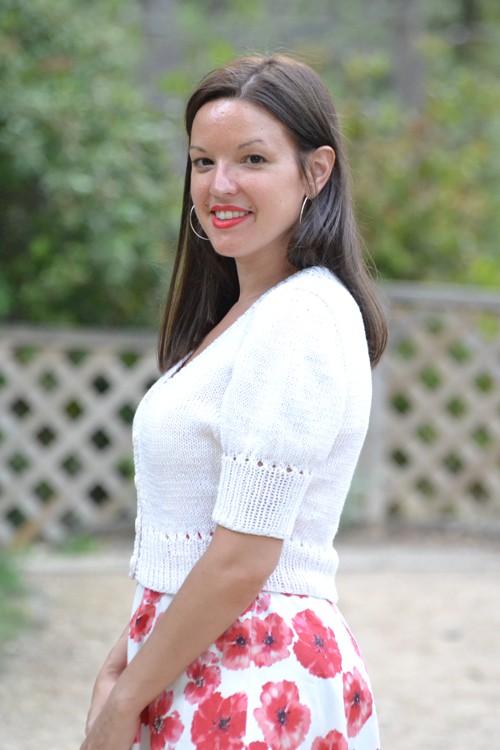 My only downside is for the sleeves: I don't know if it comes from my wool (cotton) or my way of knitting the sleeves (I use mini-needles and a short cable not to have to do the magic loop) but I find them very "puffy". You will say "Well Emilie, it's the design of the pattern!", But I still find that you can hardly guess the "puffy" side of the sleeves on Andi's presentation, while for me they're quite large. I think I would have preferred shorter and smaller sleeves. (Yes I'm a pain in the ass ! 😀 )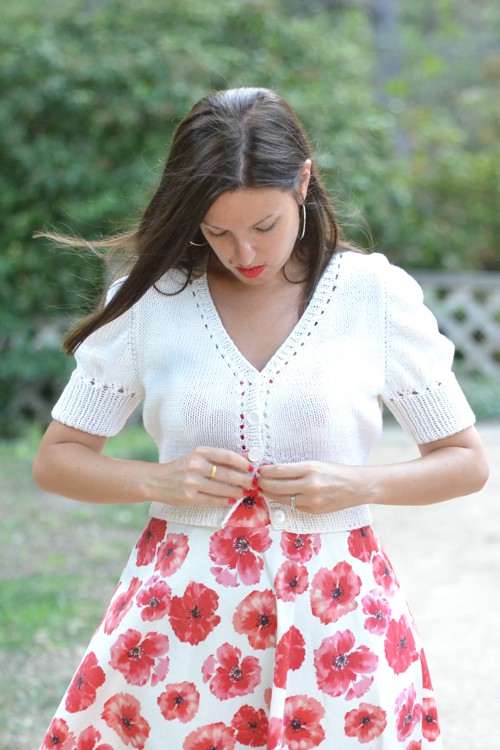 As on the previous opus I did not knit the small hole in the upper back. The buttons come from a small haberdashery in Italy. (great moment of loneliness, when you want to speak sewing with a person who does not speak your language, and you do not master her either. 😀 )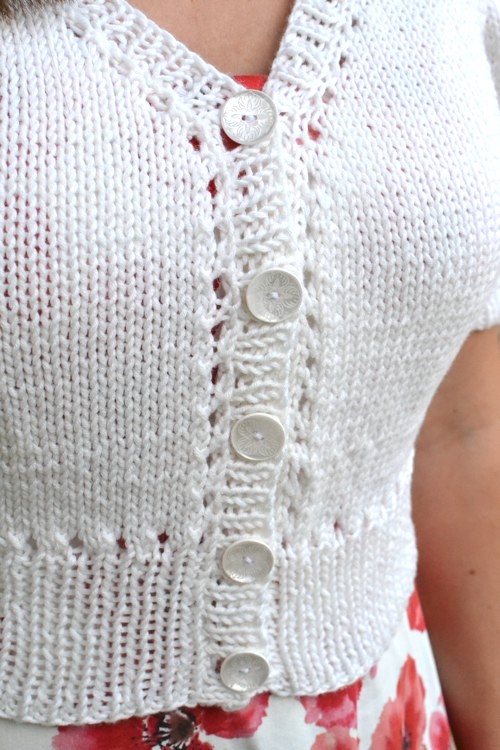 Verdict: Listen, if at the time of the fitting I was a little disappointed with the result (with the anguished husband in the background who asked me "but you are not going to knit it A THIRD TIME ?) when discovering those pictures I kept things in perspective, and I'm sure that over time I will learn to love these puffy sleeves, which give the model its originality. It harmonizes well with the great majority of my summer wardrobe, and I know it will be worn. And just for having FINALLY figured out all the interest of a gauge, I think this cardi will go down as a red-letter day !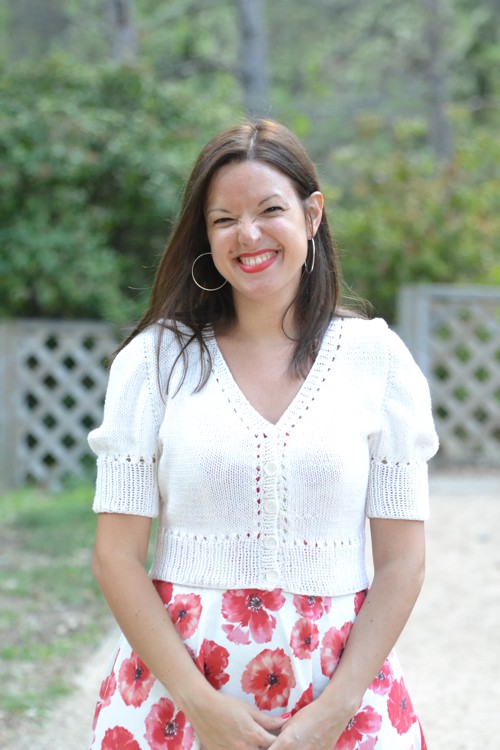 A good weekend to all, and take good care of you!❤