I think you enjoyed my last year's summarize: we're doing it again this year?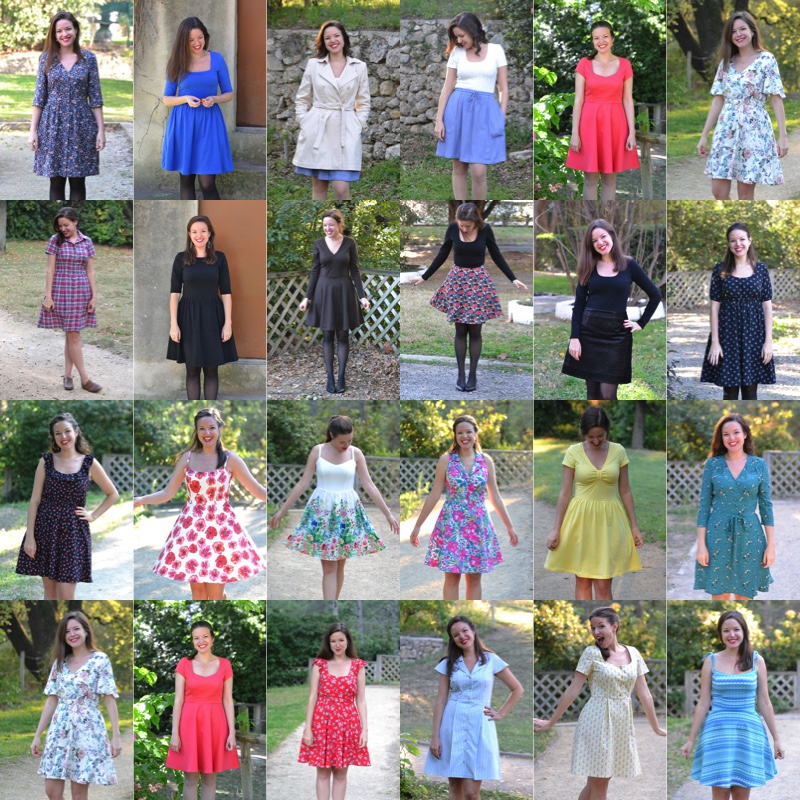 Let's sum up the rules ? In general, I publish my sewings as soon as they are finished. I don't really have the perspective of their portability. This summarize over a year allows me to see the worn sewings, those that were less, failures, success … and prove to you that:
yes, I have room to stock all my dresses, because they are not all winners
yes, even with experience, we can still fail … and it doesn't matter!

~~~DECEMBER 2016~~~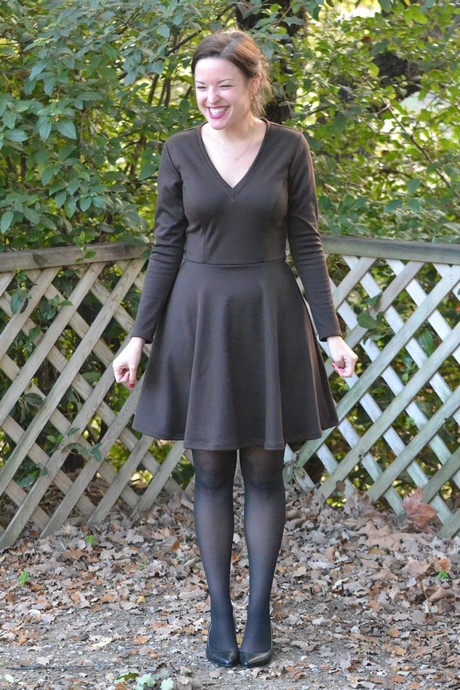 Long sleeved Zephyr : Half-fail. I don't like this dress: first, its composition 100% polyester makes that I sweat a lot. And then, I find this milano too soft: it sticks my shapes and makes the dress much less flattering than desired. But now, we don't fight against knit comfort: I wear it all the same, "secret pajama" vibes ! 😀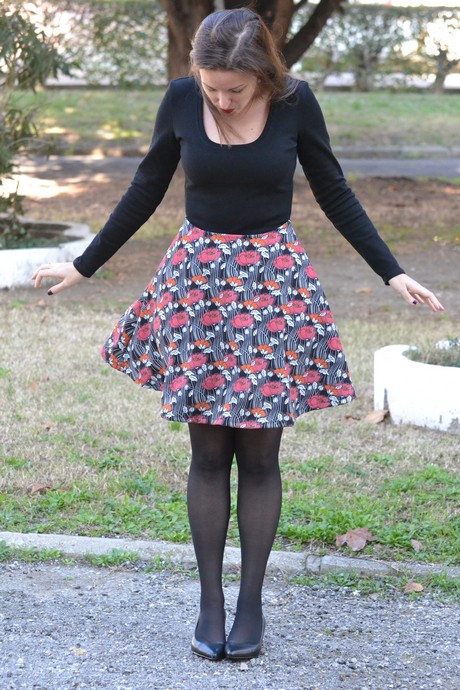 Nettie & Zéphyr, the new besties : Let's take the pieces here separately.
Nettie: 100% WIN! It's one of my basics. Even if I wear it too little for my taste: I love skirts, but definitely, I have the reflex to wear a dress in the morning. And it's even worse in winter.
The Zéphyr skirt: Half-fail. Never worn since this post. And I realize it's a shame. (That's why I categorize it in half-fail: I've never worn it but I intend to do it one day! Conversely of fails that have not been worn and will never be.)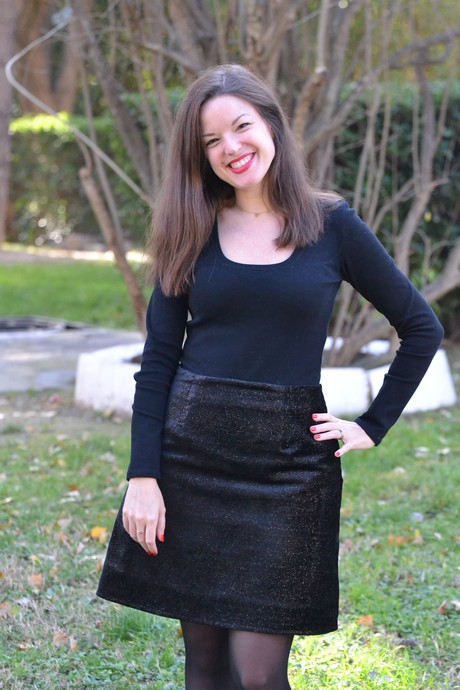 The Christmas Skirt : Half-Fail. Let's call it the syndrome of the cursed skirt: you like the style, you like to sew it, you like to wear it for the pictures … but you don't think about it afterwards. (Resolution 2018: stop putting pressure on me + wear my skirts in winter!)
~~~ JANUARY  2017~~~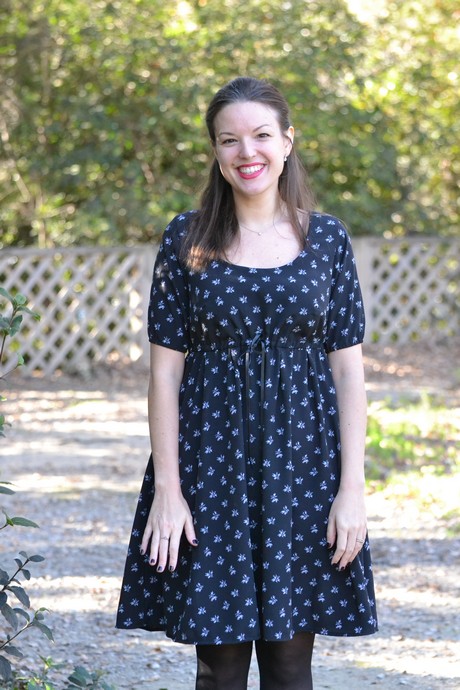 Cathy dress, winter Aubépine : 100% WIN ! I wear this dress a lot, it's a real cuddly toy. And each time I say the same thing: make a new one !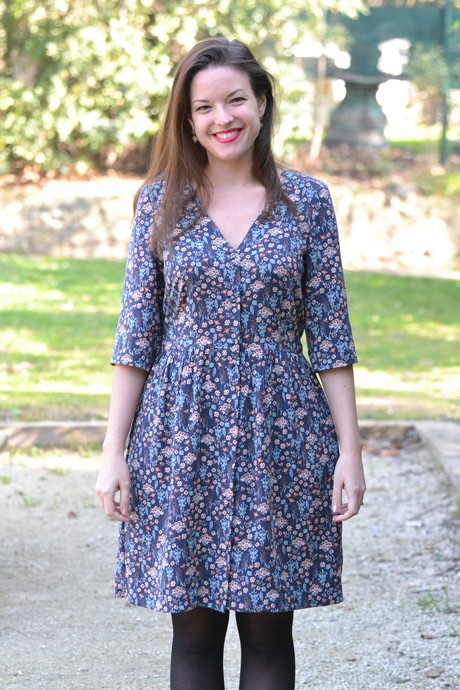 New Darling Ranges : 100% WIN ! I love this dress too, I love to wear it in spring and autumn. Naked legs and camel derbies: it's my easy dress.
~~~MARCH  2017~~~
(No publication in February – thank you sprain)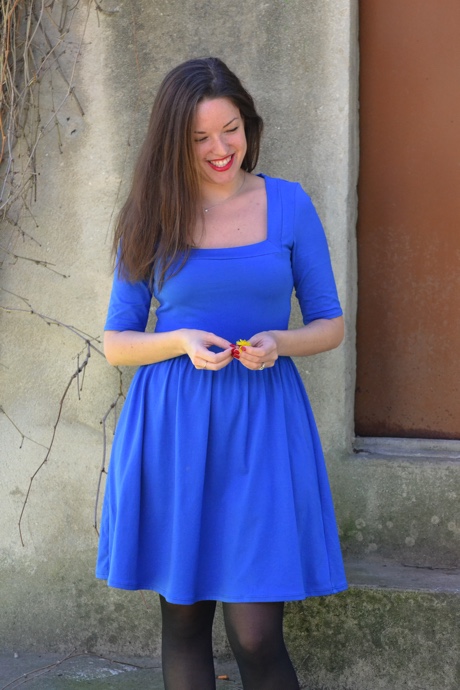 When Wanted meets Moneta : 100% WIN ! Even if in terms of sewing it has defects, I wear it all the same. I love its color, the femininity of the bodice. And then, the comfort of the knit fabric … (Must have a hashtag right ? Like #secretpajama ? #theknitforce ? 😀 )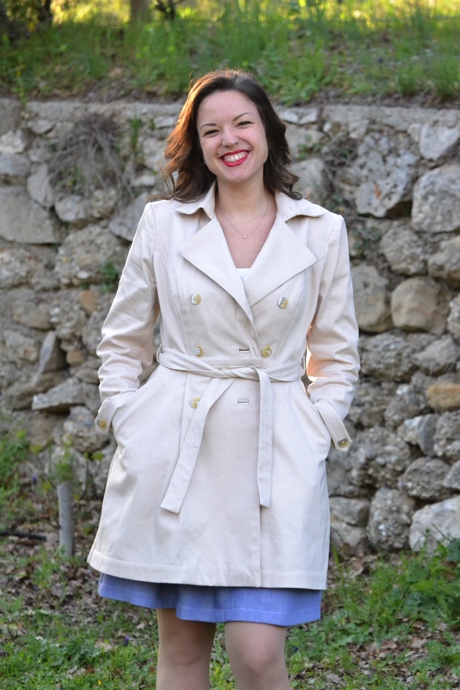 Luzerne : 100% WIN ! Didn't leave me all spring, and a good part of this fall. So much so that I intend to sew a more autumnal version in 2018, because the beige doesn't stick to my autumn-winter wardrobe.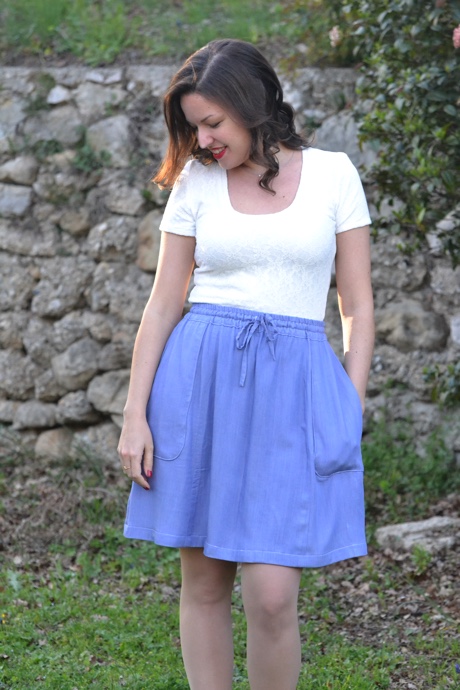 Goji : 100% WIN ! And I write it to you with a lot of surprise, because I didn't think I would wear it that much, and indeed, yes ! It's super comfy: associated with a small red raspberry polo and white sneakers, I get a sportswear look but always feminine. (God, I'm talking like a women's magazine. 😀 )
~~~APRIL 2017 ~~~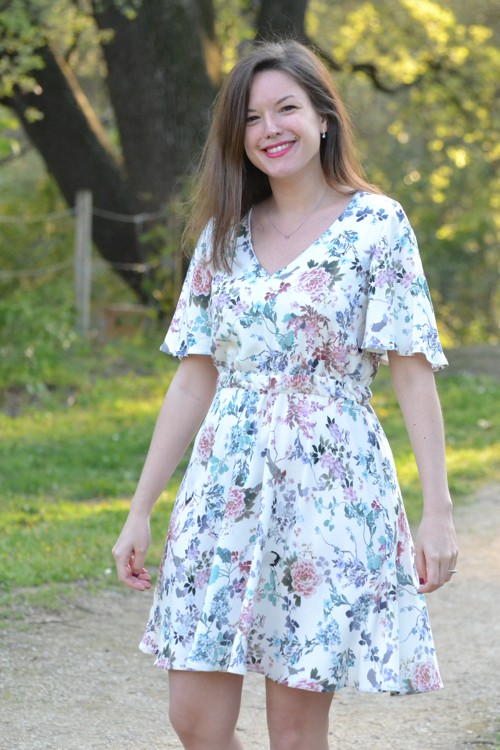 The Carrie Dress : Fail ! It's with this dress that I understood the interest of the colorimetry. And definitely, the pastel colors don't suit me at all. When I see it in my wardrobe, I feel like meeting a nightgown. I had to wear it 2 times following this article.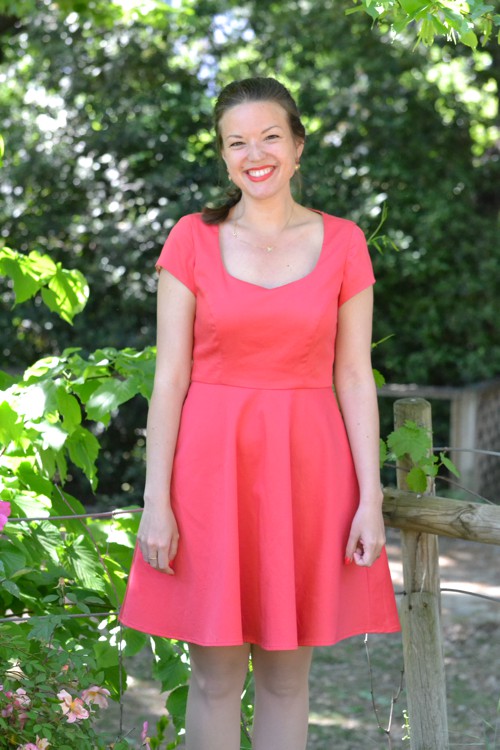 The Nissa Dress : 100% WIN ! See, coming out this picture, a huge smile appeared on my face. That's exactly what gives me this dress: an immense joy! I love this dress, its color, its comfort, the memories associated with it. This is the dress that I have worn the most this year I think. She looks like "me".
~~~MAY  2017~~~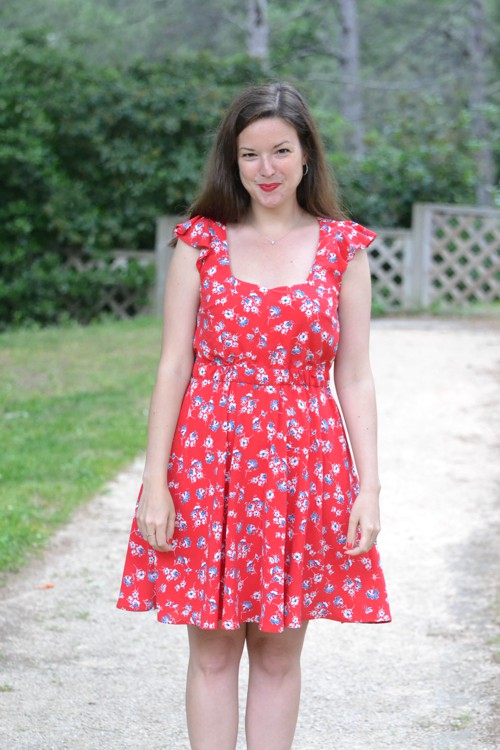 The Lio Dress : Half-fail. In fact, if we see it in a "everyday use" point of view, it's a Win because I have worn it a lot. I'm crazy about this pattern and this bright red. But if we take a "comfort" point of view, it's a Fail, because the bodice is too short, the elasticated belt always goes up. I'm still trying to replace it, which ruins the pleasure of wearing it. Half-Fail so.
~~~JUNE 2017~~~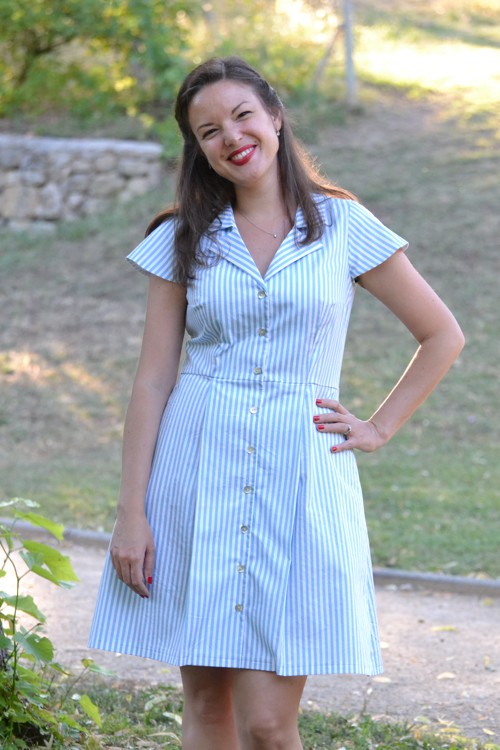 The Amal dress : 100% WIN ! Even if I admit that I choose the days I want to wear it. The small cap sleeves give a very distinct style to the dress, it's a detail that must be assumed.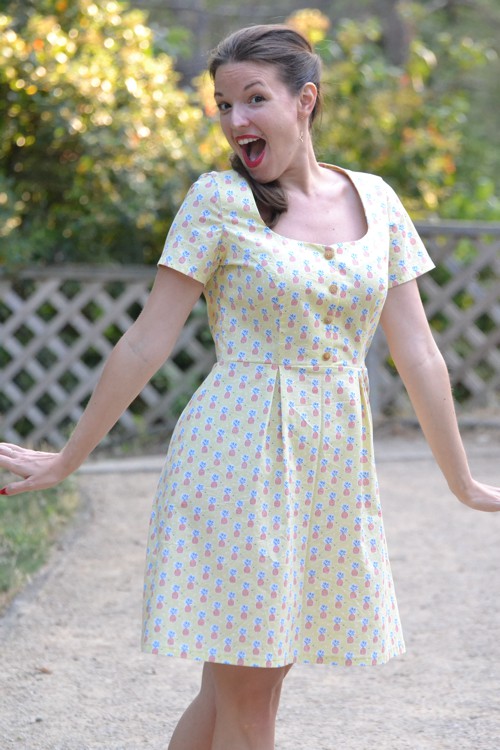 The Katy dress : 100% WIN, and believe me, this too is a surprise! I really thought that I wouldn't wear this faded yellow, and in fact, this dress became my 2017 vitamin dress. As soon as I felt sad, a little grumpy: PAF, I took it out of the closet, and HOP, like magic, I found myself so much better. Do you think that wearing pineapples has therapeutic value? 😀
~~~JULY 2017~~~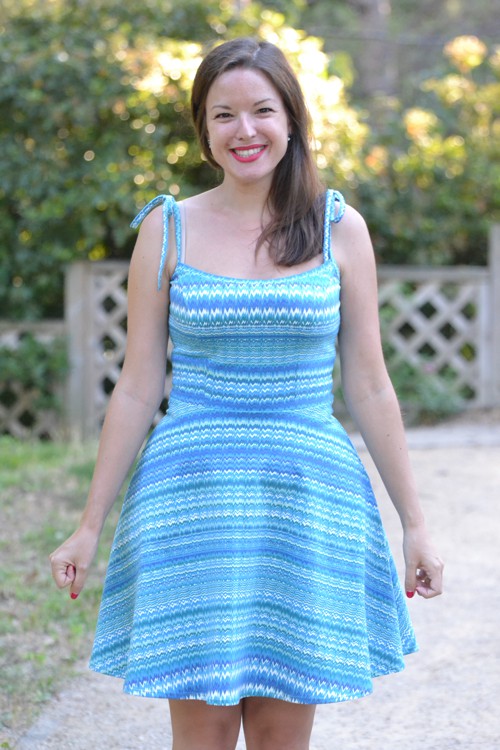 Straps Zéphyr : Half-fail. Retrospectively, I find that the horizontal stripes of the skirt weigh down my figure. So I wore it, but without much enthusiasm. I carefully keep the pattern, and search for the perfect knit to reproduce it this summer. 😉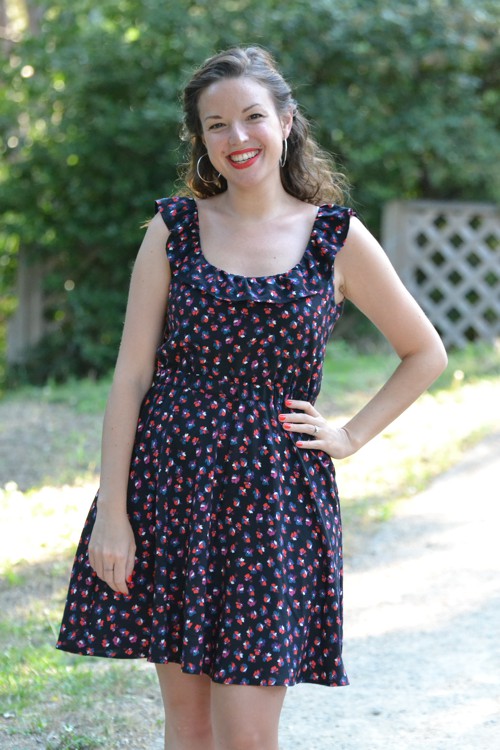 The Juliette Dress : 100% WIN ! I liked to wear it so much … it remind me of our Italian holidays … (here we come officially at the time of the summarize where I'm going to cry all 3 sentences, based on "winter stinks " or other "I miss my summer wardrobe so much" and the famous "anyway spring is in 70 days ")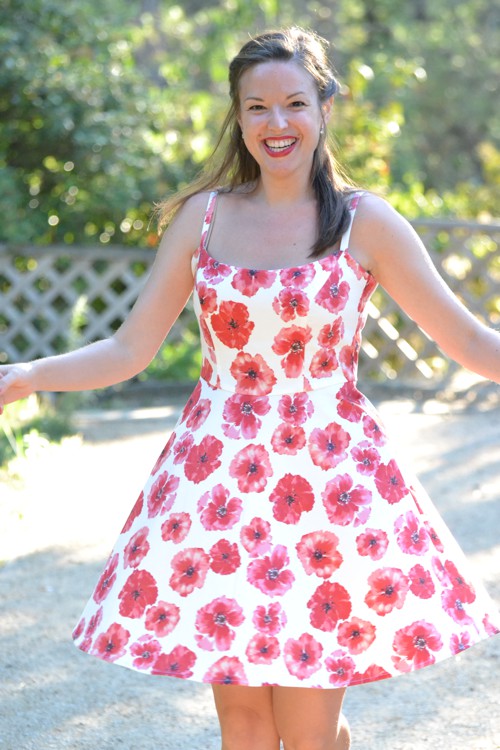 The Donna Dress : (I just shouted "MY BEAUTY !!!") (True story ! 😀 ) 100% WIN, of course. ❤ How I love this dress! ❤ Without doubt my favorite of this year. ❤
~~~AUGUST 2017~~~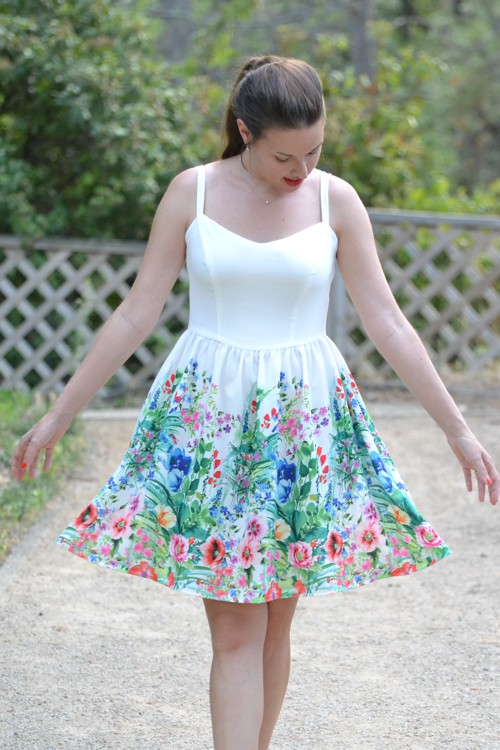 The Catherine Dress : 100% WIN ! I have worn it a lot too, it's so thin that it's ideal in our scorching countries. (And that's when I realize that really, I'm more inspired in the summer, I have more ideas, more inspiration, more desire.) (Maybe I'm a bear and I have to hibernate ???)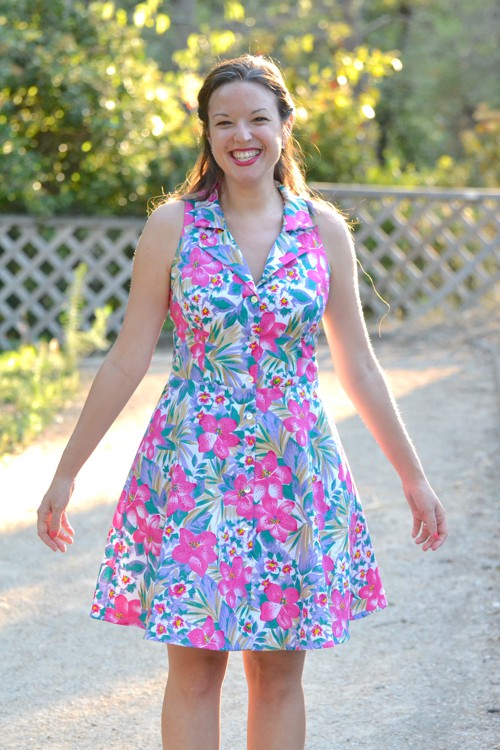 The Sandrine Dress : 100% WIN ! Oh yes, but no, my favorite dresses for 2017 are the Donna dress AND this one. This one, I'll be honest with you: I still have not recovered from its comfort. Sometimes I passed it by saying to myself: "Oh yes, but poplin shirt dress with a cinched waist, zero elasticity, arf, I will feel maybe a little squeezed". BUT NO ! I think of all my creations this year, this dress has the best fit.
~~~SEPTEMBER 2017~~~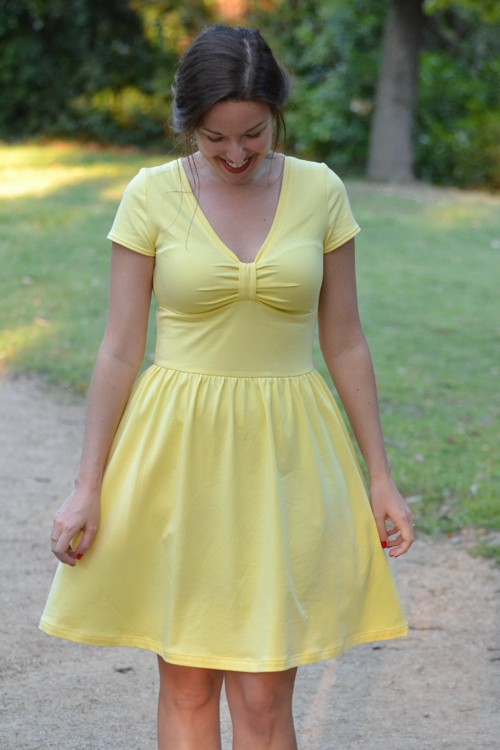 The Diana dress : 100% WIN ! Such a Win that by the time I write to you, I'm sewing the little wintery sister. ❤
~~~OCTOBER 2017~~~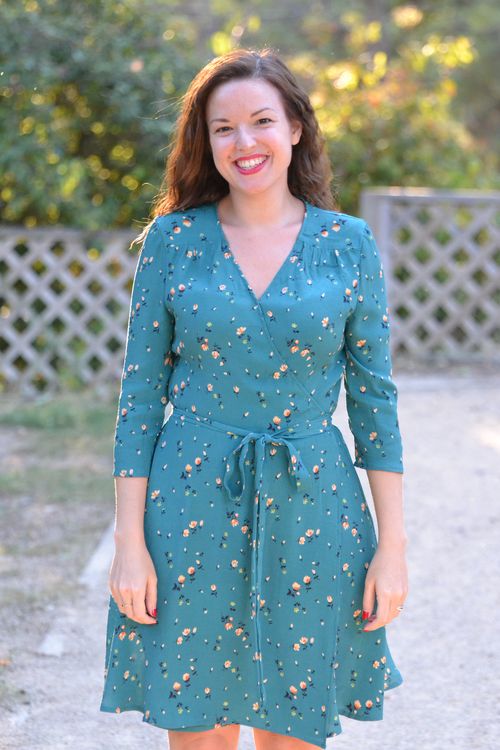 The Eve Dress : Half-fail. I have not worn it much since its realization, which is a shame. I will probably wear it more in the spring, because the crepe is thin.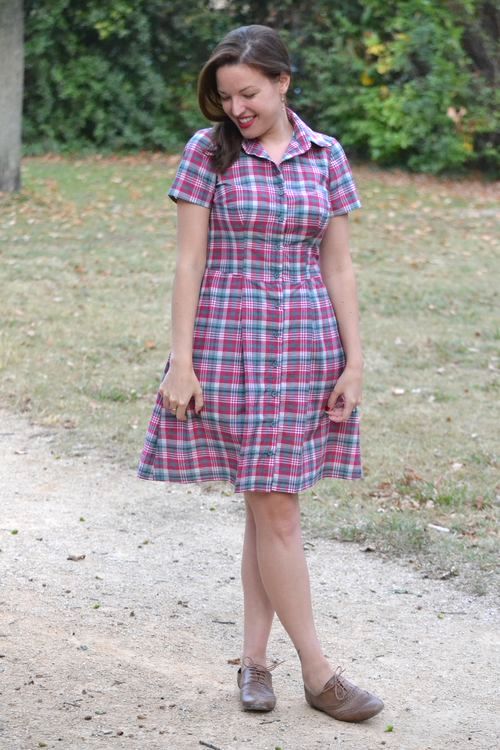 The Clémence Dress : Half-fail. Difficult to evaluate this one because it is a short-sleeved dress sewn just before the fall of the temperatures. It has necessarily been little worn for now, but I think it will be in the future. I notice that I prefer small dresses to large ones. I like to feel "contained" in my clothes: in a previous life I was sure wearing corsets. 😀
~~~NOVEMBER 2017~~~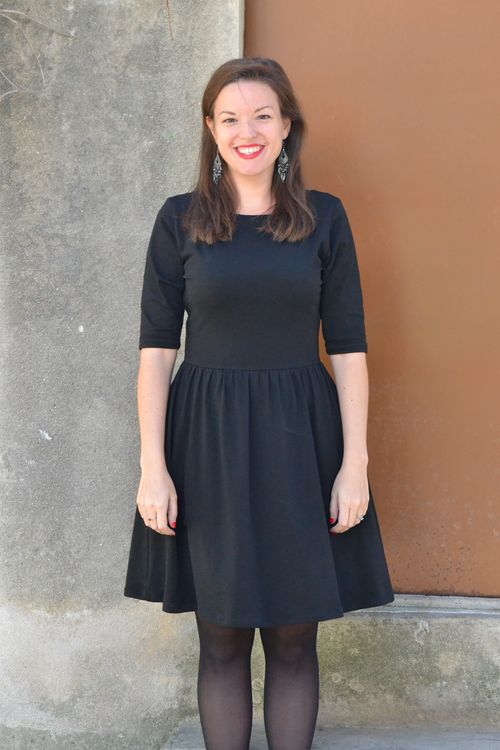 Witches Duo : 100% WIN ! Right now it's my dress "I don't want to think". Not motivated? Hop, lace tights, my Miette cardi in black, beautiful jewels, a red lipstick and presto! Ready to run the world. 😉
~~~
Let's sum this up ? 15 WIN / 7 Half-Fail / 1 FAIL. Last year, I had listed 32 sewings (14 WIN / 11 Half-Fail / 7 FAIL). This year 23. The difference is explained by the fact that a good part of the sewings of 2017 are self-drafted : it's obviously more time consuming than using a pattern. This also explains the predominance of WIN: a dress designed for my taste and my measures will be more likely to end in WIN than FAIL, even if in the end, the record shows that no one is safe from a bad choice of fabric.
So what to retain from this summarize ? Certainly not those numbers that mean nothing. Some will say that I have great productivity: believe me, if you compare to other bloggers it's not much. No. What must be remembered is that everyone, I say everyone, fails. For a long time, I said that sewing was easy. It's wrong. To succeed to associate a style, a morphology, a pattern, and a fabric, it's hard. Very difficult. But that can be learned. By dint of manipulating fabrics, by sewing them, to wear them, you will gain experience. Made summarizes : this will allow you to see the parts you wear a lot, the ones you wear little. This will allow you to target your style. Test pattern designers : they each have a style and especially a basic block. Be faithful to those who sublimate you, to those who fit you well. And don't be afraid to fail, oh no : they are not failures, but lessons. 😉
Kind regards, and take care of you. ❤