I knew this combo would work…but not that it would become one of my fav outfits ! ❤

Let's start with this new Chardon : 2 years ago I realized this summer version, but in fact it was a fail. The chosen linen was not adapted to this pattern : too sheer, and not holding itself. I needed a new one.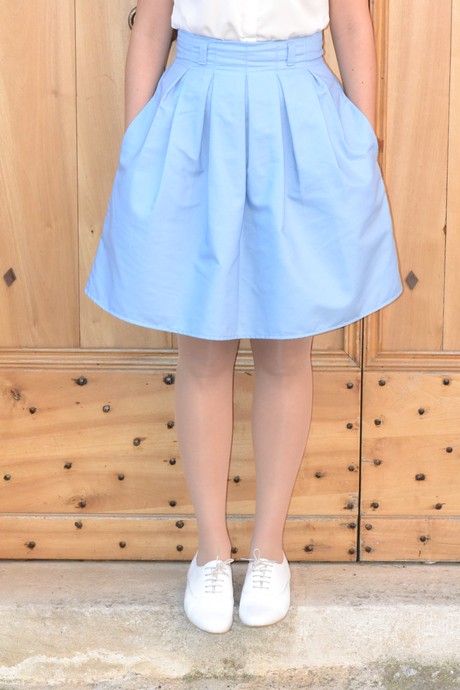 I found this little piece of gabardine at my favorite retailer Monsieur Albert, I traced my pattern in 38,5, I refined my finishes and when it was time to dress-up, distaster…it's really tight at the waist.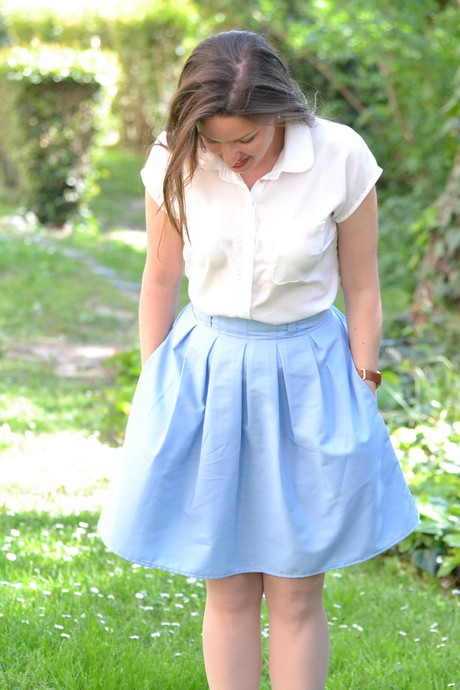 I'm confused : my 38-size versions are ok, why would this one be smaller than the other ones ? Simply because I made a big mistake at the beginning : my fabric was too small to keep with the straight grain, I used cunning by cutting my pieces in the other direction. And the result is not the same ! Finally I can wear it, but obviously, comfort is not the same.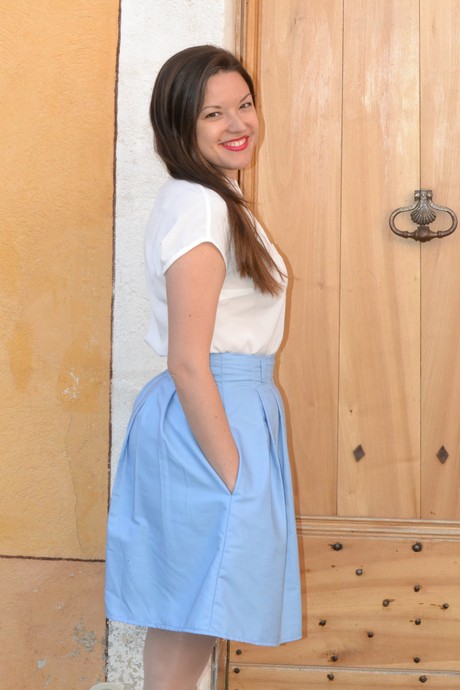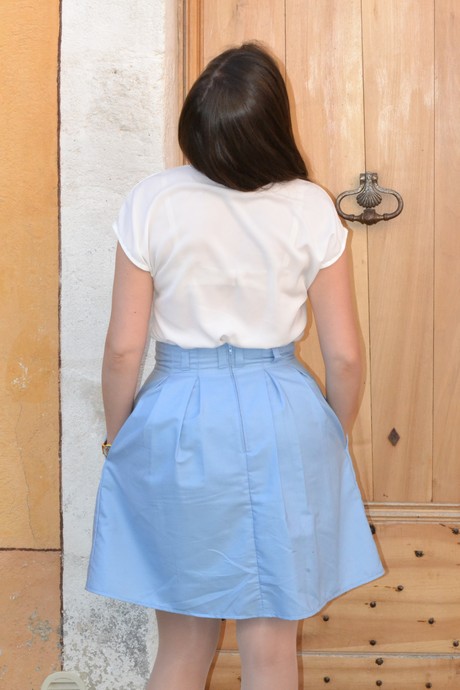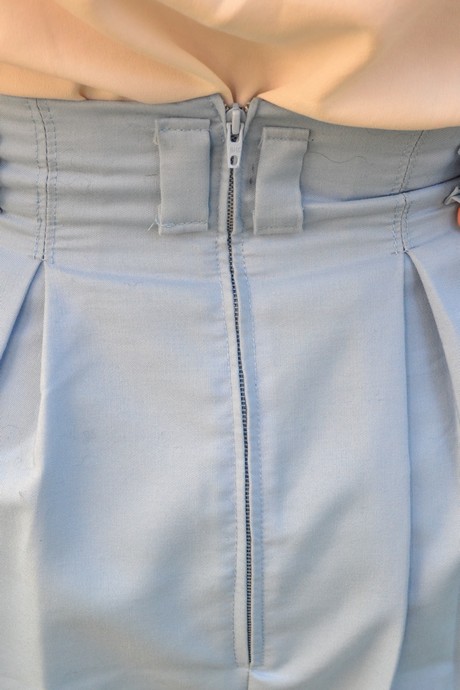 For the first time I sewed the zipper as explained in the booklet : I really love the more subtle result on a regular zipper. And I finished the facing with bias.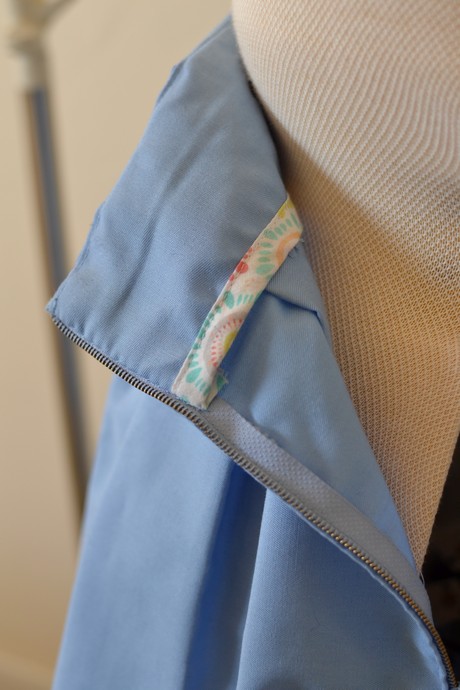 Let's see this one as a practice for the next perfect one !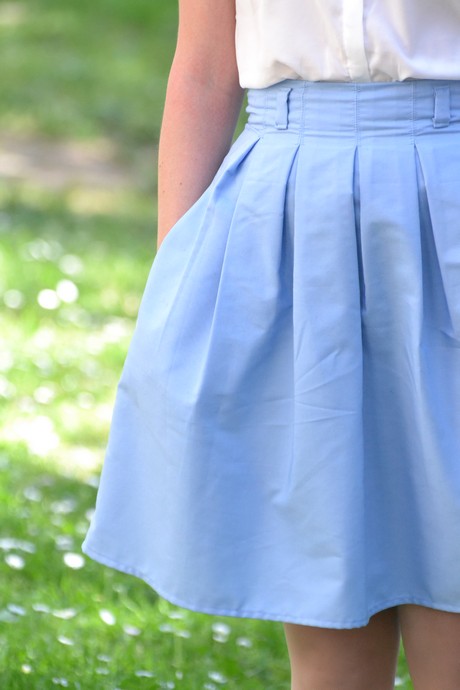 Let's switch to Mélilot ?

I had a real crush for this little collar, and when I met the white viscose version of the shooting, I needed the same. Summer version to wear it right now !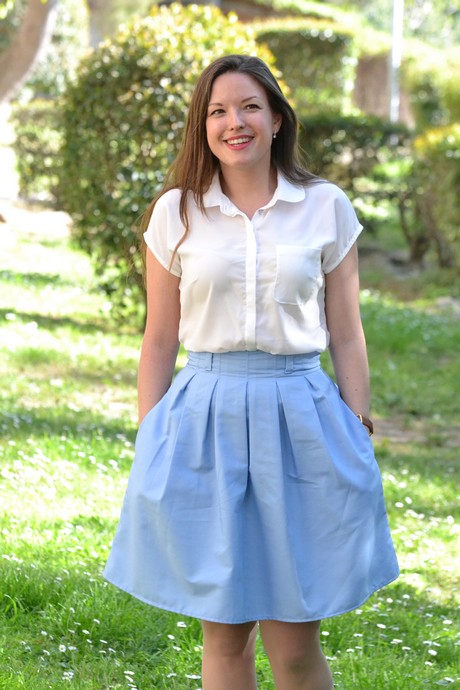 It was hard to find the right fabric : it needs to be flowing and nontransparent. Finally I found it in la Plaine Market : a white viscose. Sewing it was not easy, but really, I dit not regret it : I'm crazy of this shirt.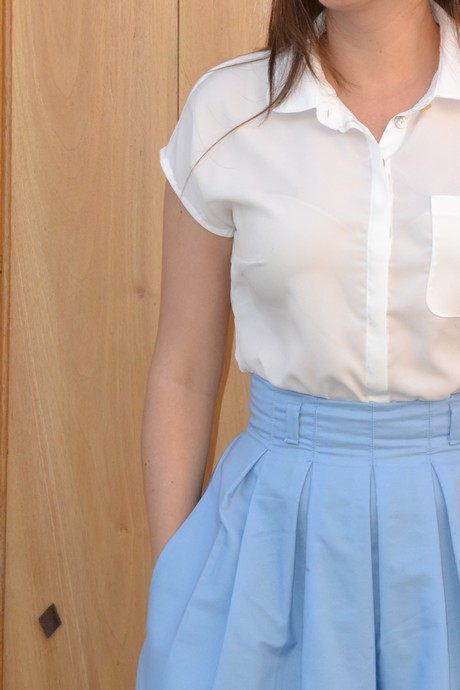 I made a mix between the A and B version : instead of the cuffed short sleeves, I finished the armholes with bias cut in my viscose scraps. We can see the hand sewn stitches, but I really love the result.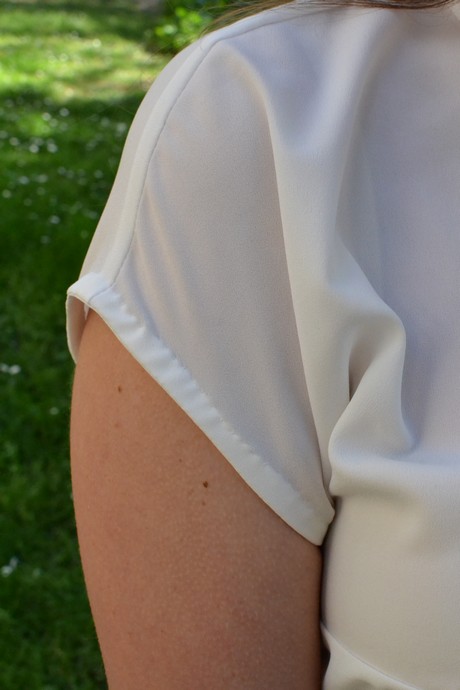 The hidden buttonband is so classy, and associated to this little round collar, the whole thing is just adorable.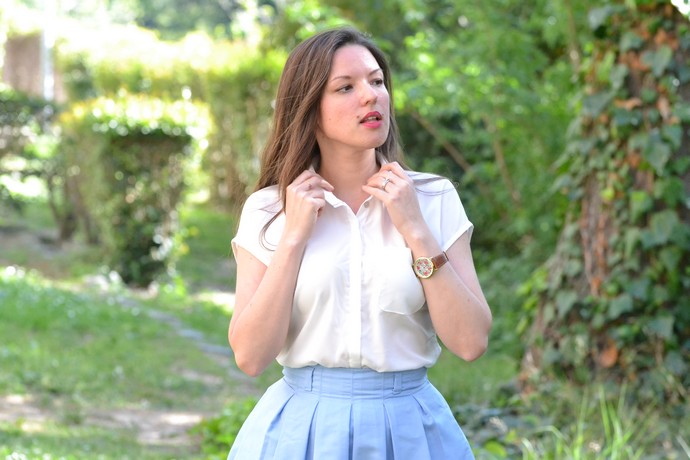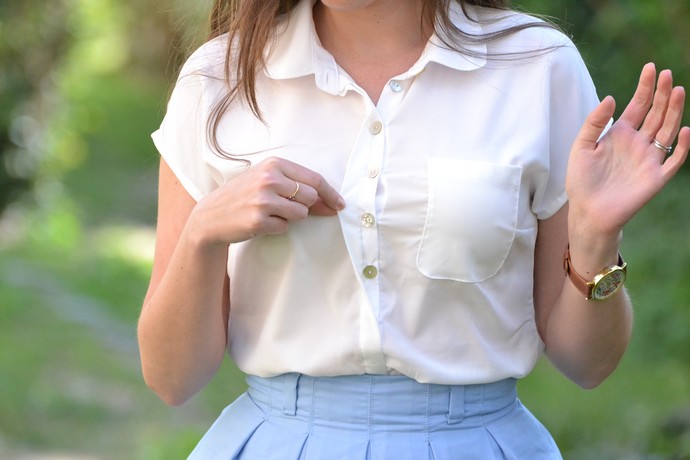 I know some of you asked me how the Melilot shirt turns on me non-tucked into something, so we took some pictures with a pair of jean.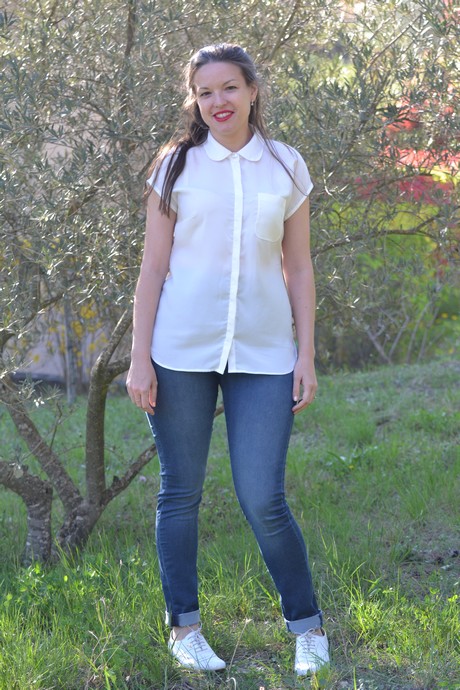 I traced a 38,5 for the bust and enlarged from the waist to the hips with a 40,5 size and the fit is really good !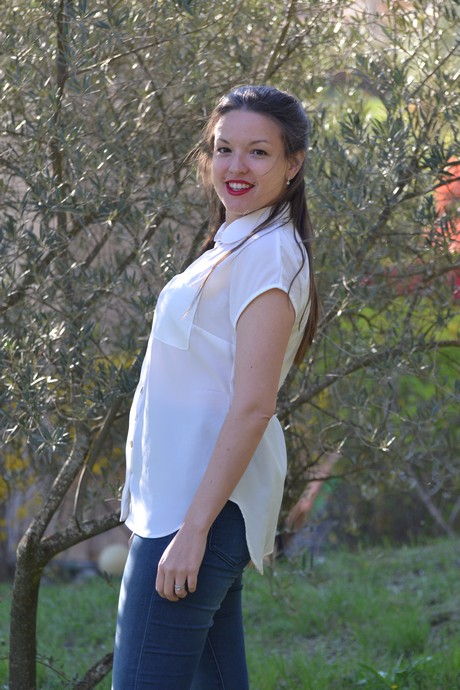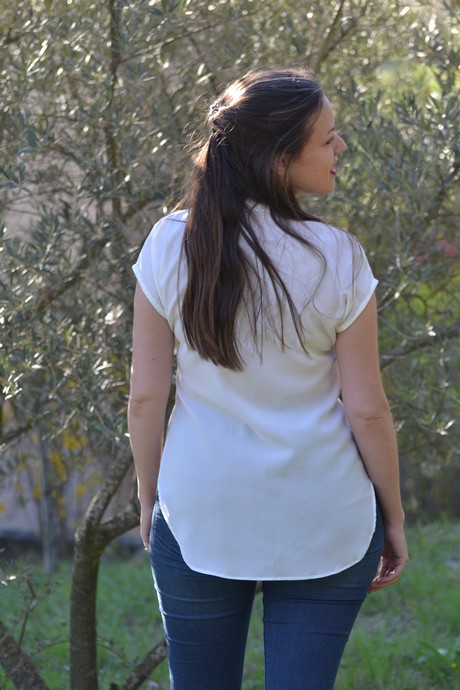 The pearl buttons come from "La Droguerie". I've got some difficulty to sew the upper hidden buttonhole : so I ripped my collar a little bit to reach it. Next time I will sew this buttonhole just before sewing my collar, it will be easier. Or maybe you have a tip ?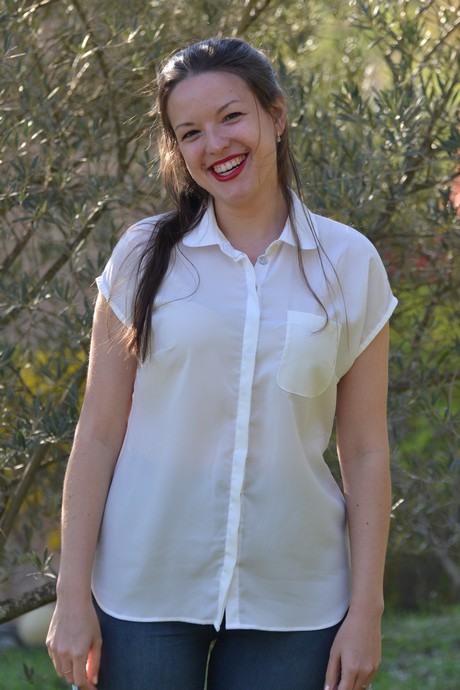 Conclusion : I 'm crazy about this outfit , both very modern and vintage . The shirt opens me infinite perspectives : worn over shorts, in jeans, in a skirt, under a sweater in the fall … a real basic . And Chardon… although slightly too tight, it reminds me of my favorite movie whenever I dress it…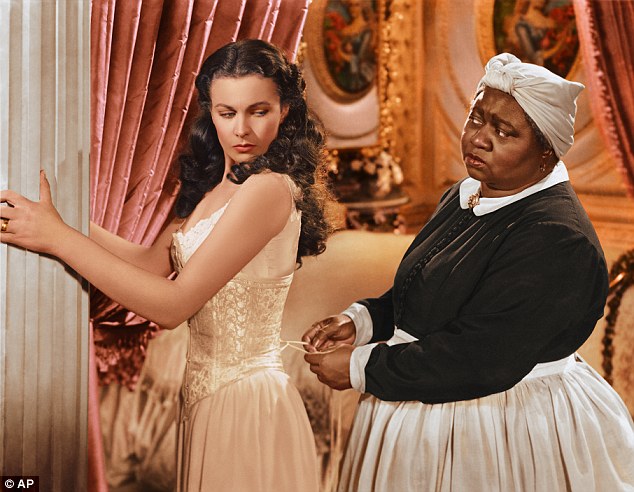 …and only for this reason I love it ! 😀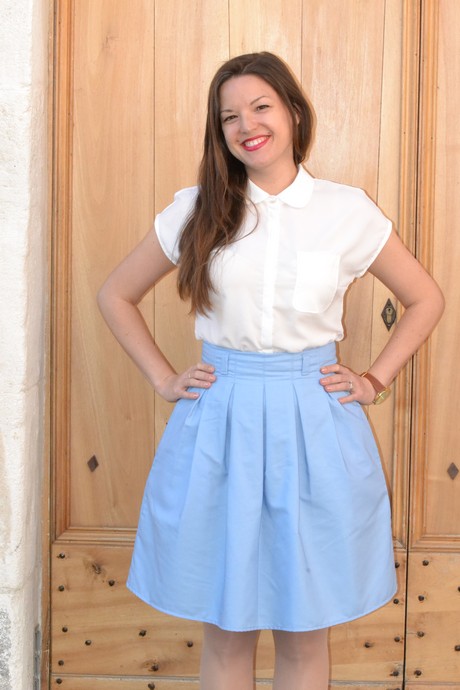 Have a great week Ladies, and take care. ❤